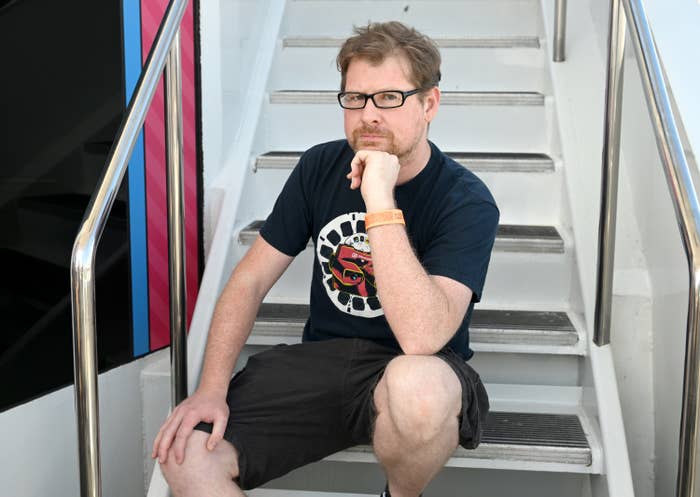 Rick and Morty star and co-creator Justin Roiland will no longer voice both Rick and Morty in the animated series following news that he has been charged with felony domestic abuse.
"Adult Swim has ended its association with Justin Roiland," Adult Swim/Cartoon Network/Boomerang's Mairie Moore said in a statement to BuzzFeed News on Tuesday.
Adult Swim distributes the hit comedy series, which is currently in its sixth season.
Moore's statement was also shared on the official Rick and Morty Twitter account, which said that the show will continue with other voice actors.
"Rick and Morty will continue," the tweet said. "The talented and dedicated crew are hard at work on Season 7."
Court records show that Roiland is facing felony charges in Orange County of corporal injury on a spouse or cohabitant and false imprisonment in connection with an alleged Jan. 19, 2020, incident. He has pleaded not guilty and was released from jail after his arrest on $50,000 bond.
His next court hearing is scheduled for April 27.
NBC News first reported the existence of the criminal case earlier this month. According to the criminal complaint, the allegations involve a woman identified only as Jane Doe, whom Roiland was dating.
In a statement earlier this month, Roiland's attorney T. Edward Welbourn called the media's coverage of the case "inaccurate." It wasn't immediately clear what the attorney considered to be inaccurate.
"To be clear, not only is Justin innocent but we also have every expectation that this matter is on course to be dismissed once the district attorney's office has completed its methodical review of the evidence," Welbourn said.
Kimberly Edds, spokesperson for the Orange County district attorney's office, told BuzzFeed News on Tuesday that prosecutors are not dropping the charges.
In addition to his voice acting for Rick and Morty, Roiland is also executive producer for Hulu's Koala Man, which premiered Jan. 9, and co-creator of Solar Opposites, in which he also voices the main character.
Hulu Animation and 20th TV Animation told BuzzFeed News on Wednesday that they have ended their association with Roiland. Koala Man and Solar Opposites will continue without him.
Welbourn did not respond to BuzzFeed News request for additional comment.