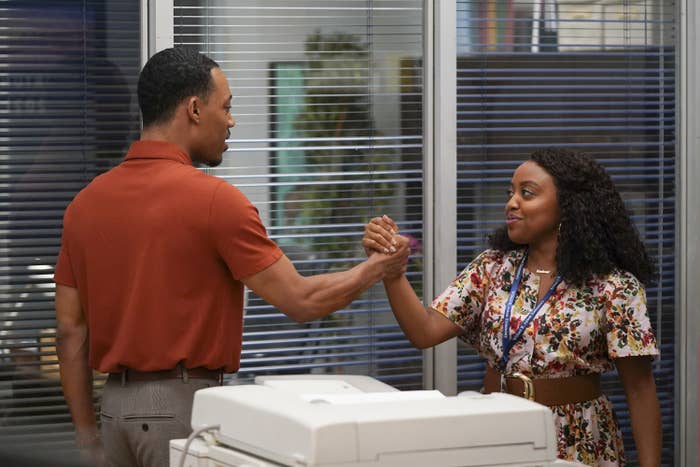 Janine and Gregory's romance on Abbott Elementary might be the latest in a long line of classic sitcom love stories, but star Tyler James Williams still hopes to keep their arc fresh.
Williams plays the cranky first-grade teacher Gregory alongside creator Quinta Brunson as the overly cheery second-grade teacher Janine on the ABC sitcom. Hints at a Janine and Gregory romance began in the first season and quickly became a fan wish.
The potential for a budding relationship continued in the second season, which returned on Jan. 4. While Gregory and Janine might be the modern Ross and Rachel from Friends or Pam and Jim from The Office, Williams says he hopes to show a sitcom relationship that deviates from the standard slow-burn love story.
"Hopefully their legacies are that we've found a unique way to tell a 'will they won't they' even in the midst of television history being that for so long," Williams told BuzzFeed News at the Golden Globes on Tuesday night. "How many ways can you reinvent the wheel? Hopefully we can find a way to enhance all of us."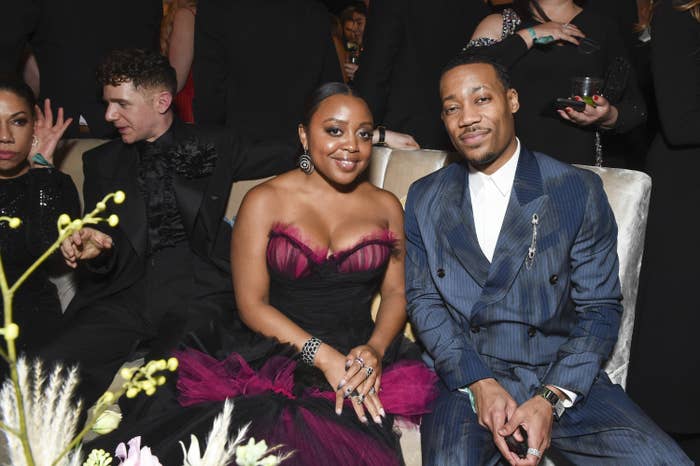 It was a big night for Williams, who won the award for Best Supporting Actor in a Television Series Musical-Comedy or Drama. The last time he attended the Golden Globes was in 2006 for his sitcom Everybody Hates Chris. He was 13 years old at the time. The Let It Shine star also told reporters that he's aware not all former child actors go on to have successful careers as adults.
"I've seen a lot of people I came up with, very talented people who either wouldn't have the roles or weren't in the right place at the right time," the Emmy-nominated actor said.
On Abbott Elementary, Williams regularly works with a large number of child actors who play students. However, he says he doesn't often have advice for the young actors but does try to provide a fun, inquisitive atmosphere.
"Hopefully 30 years from now there's somebody from Abbott standing here, and they say they felt comfortable performing on a set for the first time," Williams said.
Williams wasn't the only Abbott Elementary winner last night. Quinta Brunson won in the Best Performance by an Actress in a Television Series – Musical or Comedy category, and the show took home the award for Best Television Series — Musical or Comedy.