Even if you don't live in a medical marijuana state, chances are you've seen or heard of CBD extracts.
CBD is short for cannabidiol, and it's one chemical compound — aka cannabinoid — in marijuana that's been getting major attention lately.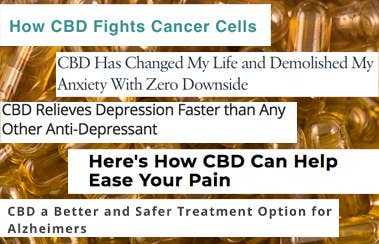 CBD started getting more attention, thanks, in part, to Dr. Sanjay Gupta's CNN special about medical marijuana, Weed. But that also led to confusion about what it could actually do.
The truth is, the only thing CBD may treat effectively — through clinical trials on humans — is severe forms of childhood epilepsy. All other claims are based purely on anecdotes.
But still, there are lots of people who advocate for CBD after it helped them get better.

Unfortunately, with marijuana still being illegal on a federal level, it's pretty hard to find out if any of this anecdotal evidence can apply to the broader population.
Researchers need to obtain a schedule I license to research and really understand CBD.
And because medical marijuana and CBD products aren't drugs with FDA-approved medical benefits, they aren't tightly regulated. That means that, like supplements, the product manufacturers are responsible for making sure the content and labels are accurate.
And to be honest about what they're selling.
So basically, it's a "buyer beware" type of situation.
UPDATE
This article has been updated to reflect that Epidiolex is under review by the Food and Drug Administration.