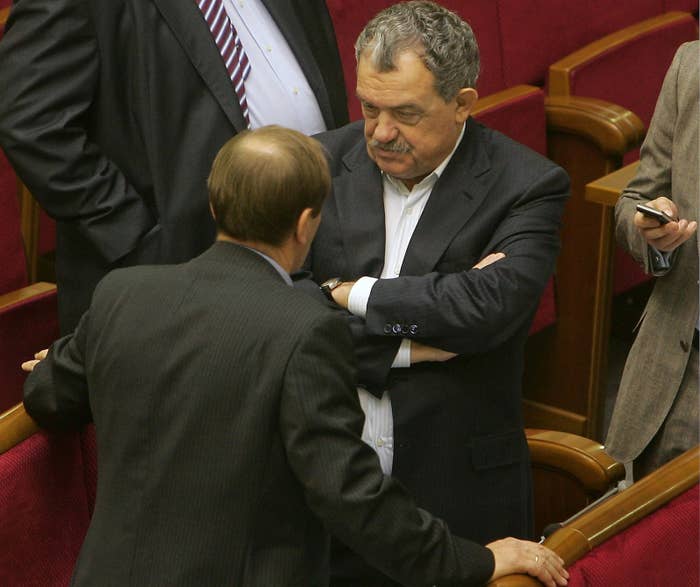 Before he became President Donald Trump's personal lawyer, Michael Cohen worked on behalf of a company controlled by another wealthy and well-connected man: Viktor Topolov, a politician whose associates are members of the Russian and Ukrainian underworld.
The leader of Ukraine's coal ministry and a personal friend of that country's president, Topolov had been a board member at a state-run bank, the top executive at a construction company, and the president of a professional football club. But beyond his official titles, Topolov has also been investigated twice for money laundering and embezzlement, and the FBI has said his associates are "well known" members of the Russian mafia.
Back in 2006, he co-owned an ethanol company with his longtime business partner, Alex Oronov. The two men wanted to build a factory in Ukraine, so Oronov tapped his son-in-law, Bryan Cohen, along with his brother, Michael Cohen, to pitch the deal to American investors from Morgan Stanley. Both Cohen brothers today insist they knew nothing about Topolov when they tried to raise money for his company.
In October 2006, the Cohens gathered the bankers in a Kiev conference room with other consultants, analysts and engineers. None of the Americans bit. The factory was eventually funded with the help of a multimillion-dollar loan, but no ethanol was ever produced.
Topolov was a powerful ally, with access to Ukrainian banks and politicians. He also ran a conglomerate, Kyiv-Donbas, that employed three executives the FBI described as members of a violent Russian organized-crime network.
One was a mob enforcer who admitted taking part in at least 20 murders, and who was closely associated with Semion Mogilevich, a powerful boss in Russian organized crime. The other two were twin brothers who the FBI said are well-known in Russia's criminal underworld, and who are believed to have ordered a hit on another gangster.
A Ukrainian court document shows that Topolov was questioned as part of a money laundering scheme, and a prosecutor said that he ignored subpoenas and lied about his role in a money laundering and fraud investigation in the late 1990s.
Asked recently about employees with documented ties to organized crime, Topolov said he had no connection to their activities. "That wasn't the kind of life I led," he told BuzzFeed News, speaking in Russian. "People who were part of that life can talk about that. My business was doing business."
The normally loquacious Michael Cohen initially declined to answer detailed questions, aside from a curt text message: "You are wrong almost 100%." When later told that business documents list him as a director of a US company tied to the deal, and that multiple people recall seeing him at the investors meeting with Topolov in October 2006, Cohen insisted he played only a small role in raising money for the ethanol factory.
He said that meeting was the only time he was with Topolov, and that he didn't know how Oronov, who died earlier this year, and his partner first met. "Neither Bryan nor I know, have a relationship with, or invited Viktor Topolov to the meeting in Kiev," Cohen said. "Your attempt to concoct a scenario between this individual and me is ludicrous."
Asked if he should have known on whose behalf he was working, Cohen did not answer directly: "Everybody sort of brought somebody to the table. How he got there, I don't know."
Cohen said he and his brother were in charge of attracting American investors. One of the financial firms that sent representatives was Morgan Stanley, which declined to comment on the matter. Cohen said the representatives expressed reservations about Ukraine's political instability and declined to invest, and that once they walked away, so did he and his brother.
Topolov's involvement in the ethanol deal, which has not been fully reported before, sheds further light on Michael Cohen's connections to Russian and Ukrainian business interests.
In the past, BuzzFeed News has reported that Cohen ran a casino boat with help from a lawyer close to a Meyer Lansky associate and two Ukrainians whose associate was tied to the Russian mob. In a separate incident, court documents show that Cohen could not account for $350,000 that was deposited into a trust account he managed, during an episode that swept in a mysterious Russian businessman, his young girlfriend, a Moscow-born taxi baron, and a professional hockey player threatened by the mafia.
Last week, Cohen became part of the investigation into possible collusion between Trump's campaign and Russian officials. After Cohen initially declined to turn over documents, congressional investigators issued a subpoena to him and others seeking records about their interactions with people connected to the Russian government. Cohen has said he will cooperate with the subpoena. There is no indication that the ethanol plant is part of that investigation.
ABOVE THE LAW
By the time of his meeting with the Cohens, Topolov was one of the richest men in Ukraine.
Authorities say his wealth came in part from criminal activity. Detectives investigated him in 2001 for money laundering, following his time as the leader of the CSKA Kiev football club. Law officers say there was evidence Topolov transferred phony player contracts to shell companies and directed CSKA Kiev to pay them. He was never charged, but the detective who worked the case — Oleksiy Donsky, who now holds a top position in the Ukrainian general prosecutor's office — said officials developed information that Topolov had lied to investigators. They tried to question him further, but by then Topolov had been elected to parliament and "would throw a subpoena in the face of my investigator." Donsky says Topolov appeared to have been tipped off before a raid of his apartment.
"Here, the MPs are above the law," Donsky told BuzzFeed News, speaking in Ukrainian. "If they don't want to come to an interrogation, they don't come. Therefore, we were not able to do it."
Topolov left CSKA Kiev and was replaced in 1999 by a close associate, Andrii Artemenko, who spent two years in custody for his alleged role in the embezzlement scheme before his case was dismissed following political pressure by top lawmakers. Artemenko attracted international attention earlier this year, when it emerged that he personally had handed Cohen a controversial peace plan for Ukraine. As a result, the country's top prosecutor opened a treason investigation into Artemenko in February.
Reached through his American lobbyist, Dale Armstrong, Artemenko did not comment.
In the late 1990s, Topolov was also in charge of a construction company, Kyiv-Donbas. At least three of the company's employees have documented ties to the Russian mob, including a hulking hitman named Leonid Roytman who served as vice president of the company, and whom the FBI has linked to the gang led by Mogilevich, a Russian who is one of the most wanted men in the world.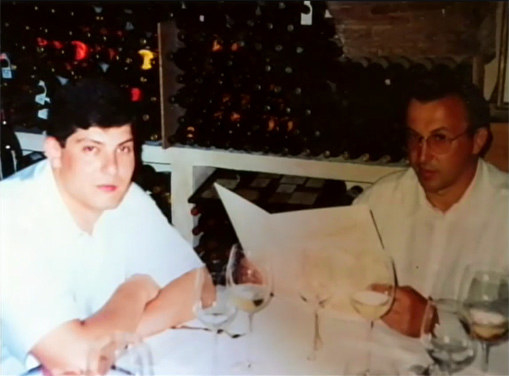 Roytman, now living in America, cuts a menacing figure, with a large, square head, dark eyes and few smiles. When he visited BuzzFeed News for an interview, he showed the Kyiv-Donbas business card he still carries listing him as a vice president, but said his real job was to protect board members from rival gangs.
"I was part of a criminal organization that backed Viktor Topolov," Roytman said, speaking through a Russian translator.
"We were personal security," he said. "We would meet with other criminal organizations, like in shootouts." He added, "It was a semi-legal, semi-official business."
Topolov said he was not a party to such activities. "I can tell you there were no instances where Leonid Roytman or any other persons … were involved in anything violent or shootouts that had anything to do with me," Topolov said. "No matter who saw me, even if they fought and argued, I was never involved in any altercations with anyone."
Twin brothers Slava and Alex Konstantinovsky, known as the "Brothers Karamazov," were also employees of Kyiv-Donbas and are said by the FBI to be Russian mafia lieutenants suspected of organizing an attempted hit on one of the most notorious and feared members of the Russian criminal underworld.
One of the brothers, Slava Konstantinovsky, told BuzzFeed News that Kyiv-Donbas was a completely legitimate business, and challenged the FBI to arrest him if they had evidence of his mob ties. He dismissed claims made by Roytman.
"How could he make security for me? He can't protect anyone," Konstantinovsky said. "He can't even protect himself."
But in an interview in 2012 with Forbes Ukraine, Topolov acknowledged that he kept his business off the books to protect himself.
"As Rockefeller said, 'I can report for every million I made, except for the first one,'" Topolov told the magazine. "We're no Rockefellers and no mafiosos, either, but we can't discuss it quite yet. It was the early '90s. I can openly say that the only people who had any power in our country at that point were criminals."
THE END OF THE VENTURE
With no American investors to fund the ethanol plant, Topolov went to another source: Ukreximbank, the import-export bank on whose board he served. KoronAgro, the company that he and Oronov founded, borrowed tens of millions of dollars. The plan was to open the plant by 2008, produce 100,000 tons of ethanol per year and, if the venture was successful, build more plants across the country.
But the operation fell apart. The facility never opened and KoronAgro ultimately filed for bankruptcy protection. A Ukrainian court ordered Topolov's company to repay $50 million to the bank.
The plant, or what is left of it, is still standing in Zolotonosha, a small central Ukrainian town about two hours outside Kiev. Topolov said he still hopes to complete it one day. A fence surrounds the property, and two guards watch the facility. People in the town regularly loot the plant, stealing equipment and selling it on the black market, according to those who live nearby.
After a short stint in parliament, Topolov returned to the business world, where he now builds banks and sells them off at great profit.
Michael Cohen, meanwhile, went on to a lucrative career with the Trump Organization. He has become known as one of the president's fiercest defenders. Following the election, Cohen became a national fundraiser for the Republican National Committee, and has partnered with powerhouse law firm Squire Patton Boggs, working out of the company's offices in Manhattan.
Bryan Cohen became a chief administrative officer at Douglas Elliman Real Estate in New York City.
As for the executives with differing accounts of how Topolov's business operated, Slava Konstantinovsky, now a member of Ukraine's parliament, insists that Topolov's business was legitimate, and that Roytman was a "liar" and an "idiot." There may be a reason for the invective: Roytman served seven years in a US prison for trying to have two people killed. The intended victims were the Konstantinovsky brothers, his colleagues at the company led by Topolov.
Got a tip? You can email tips@buzzfeed.com. To learn how to reach us securely, go to tips.buzzfeed.com.