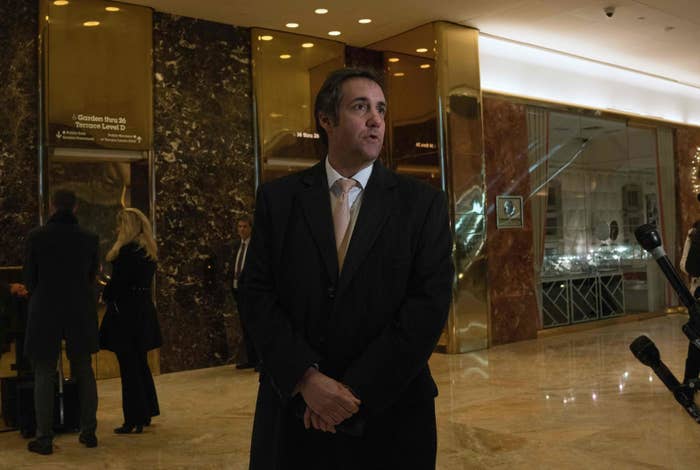 President Donald Trump's personal lawyer, Michael Cohen, said claims made about him in a dossier alleging collusion between the campaign and Russia are "profoundly wrong" and that Congress should investigate who paid for the 35-page document, according to a letter delivered this week to lawmakers.
Cohen emerged as a key figure in the dossier, which was researched and written by a former British spy and published by BuzzFeed News in January after security officials had briefed President Barack Obama and Trump, who was then president-elect, about it. The dossier asserted that Cohen visited Prague to meet with Kremlin officials and was an important player in the "ongoing secret liaison relationship" between the Trump campaign and Russia.
In his letter to Congress, written by his attorney, Cohen strongly denied these claims and told lawmakers that he should not be called to testify until they "obtain independent and reliable corroboration" of the allegations, which he believes does not exist.
The letter also said that Cohen has uncovered no documents that tie him to the dossier and that his passport — which he showed to BuzzFeed News in May — shows that he had not traveled to Prague or Russia in the past decade. It is the only passport he holds, the letter stated.
"We believe the committee should discern and publicly disclose the entity or entities that paid for the 35-page dossier," wrote Cohen's lawyer, Stephen Ryan. "It should seek all the work papers of the dossier's author, MI-6 former intelligence agent, Mr. Christopher Steele."
Congressional investigators first asked Cohen for records in May, and lawmakers had expected him to testify in September. It is unclear whether he will do so.
Cohen, 51, is a close confidante of Trump and is often seen as an attack dog who will fiercely defend the president. He worked for the Trump Organization for nearly a decade, and is a native New Yorker who became a millionaire following successful turns in real estate and the taxi business.
Since Trump took office, Cohen has joined a vital Republican fundraising committee and works with a powerful lobbying firm.