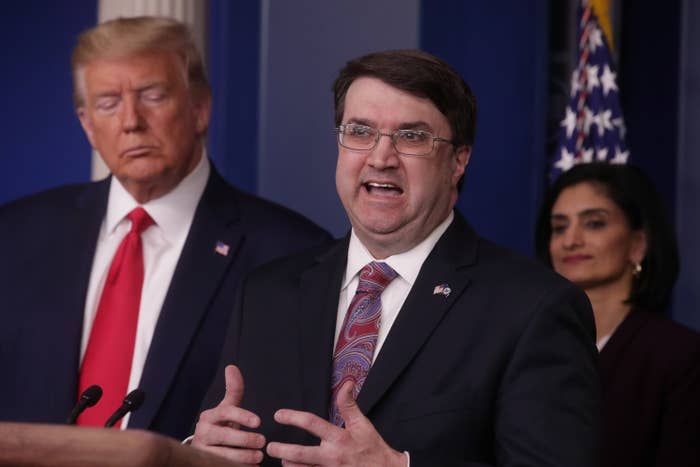 The journalists at BuzzFeed News are proud to bring you trustworthy and relevant reporting about the coronavirus. To help keep this news free, become a member and sign up for our newsletter, Outbreak Today.
On Friday, a top official at the Department of Veterans Affairs wrote to all of the agency's nearly 400,000 employees with a "safety brief" on personal protective equipment, the critical masks, gloves, and supplies that keep workers safe as they care for patients battling the novel coronavirus outbreak.
Lawrence B. Connell, the VA's chief of staff, told workers that the supply chain for the department, which runs 170 medical centers, had "kicked into full gear" and that officials "remain confident that our current supply levels are adequate."
Less than 30 minutes later, however, an official from Los Angeles's sprawling VA hospital system gave staffers the opposite message: Leaders there were preparing to ration supplies.
The situation had grown so dire, according to documents obtained by BuzzFeed News, that medical personnel caring for patients who had tested positive for COVID-19 would receive only a single surgical mask per shift rather than the N95 respirators recommended by the Centers for Disease Control and Prevention.
Those working in parts of the hospital without positive COVID-19 cases would be issued only a single surgical mask each week. The more protective N95s, wrote Dr. Steven R. Simon, chief of staff for the VA's Greater LA Healthcare System, would be "restricted to procedures and settings in which aerosolization is expected" — such as when patients were placed on a ventilator.
The use of a single surgical mask to treat COVID-19 patients contradicts guidelines from the CDC and underscores the growing anxiety inside the VA, a sprawling network that is supposed to back up America's hospitals in times of emergency.
Publicly, the VA has said it is prepared to handle a wave of overflow COVID-19 patients if public and private hospitals fail. But documents and interviews with half a dozen insiders suggest that the VA is subject to the same scramble to obtain important equipment as other health officials across the country.
"What's concerning is that this is happening to the wealthiest institution in the world — the United States government," said one VA worker who asked not to be named for fear of losing their job after the department sent a note in March telling employees not to speak with the press.
A spokesperson for the VA in Washington said that all facilities were equipped with "essential items and supplies," but the department was "continually monitoring the status of those items to ensure a robust supply chain." A spokesperson for the hospital in LA said that the facility's use of face masks conformed with the CDC's guidelines.
"The premise of your inquiry is false," said Steven Ruh.
Ruh pointed to CDC guidelines for the use of protective equipment during a crisis, which sometimes allow for the use of surgical masks rather than N95s when supplies get low. But the website that Ruh referred to says those surgical masks are appropriate when patients are also wearing masks and when medical personnel stay 6 feet away, conditions that do not apply in this case.
The hospital's workers regularly get within 6 feet of patients, two sources told BuzzFeed News, and the chief of staff's email says that the VA "will not be providing masks to veteran patients who pass our screening to enter our facilities." Two sources inside the LA facility said COVID-19 patients were not wearing masks inside their rooms.
The VA's guidance also contradicts rules by the CDC that say surgical masks should normally be "discarded after each patient encounter" and that they do not "provide the wearer with a reliable level of protection from inhaling smaller airborne particles and is not considered respiratory protection."
If you're someone who is seeing the impact of the coronavirus firsthand, we'd like to hear from you. Reach out to us via one of our tip line channels.
The situation inside the LA facility is similar to others playing out in hospitals across America, where front-line workers such as physicians and nurses say they are being asked to care for COVID-19 victims with inadequate equipment. This week, nurses at the Brooklyn VA called for the federal government to provide more masks, gowns, and other supplies.

The VA began gearing up for the crisis in January, when officials started buying ventilators, beds, and other equipment for patients. Since March 1, it has awarded at least $6.7 million in contracts and purchase orders to acquire protective equipment for its health care workers, according to federal contracting data.
About a week before the VA's chief of staff told workers it had an adequate supply of equipment, unions that represent employees wrote a letter to Congress warning of serious shortages. They later filed a complaint with the Department of Labor alleging that workers weren't being provided with appropriate protective gear.
Also in March, the inspector general visited 50 VA facilities across the country and found that more than half the sites didn't have enough masks and gloves for workers. Leaders in LA reported that they had an adequate supply.

On the ground, physicians, nurses, technicians, and other workers began seeing a squeeze. N95 masks were kept under lock and key, and staffers were required to track them the same way they do for narcotic drugs, according to two people with direct knowledge of the matter.
Ruh, the VA spokesperson, said that the hospital has set up a supply room to track all incoming personal protective equipment and expenditures.

"I was like, 'Fine, I guess they're trying to conserve them,'" said one employee. "But then this email comes out and we're like: 'Wait, now we only get one?'"
The LA facility has 32 intensive care beds and is already beginning to see an influx of COVID-19 patients. There are 22 veterans with COVID-19 in the VA's Greater Los Angeles Health Care facilities, according to agency data. At least two VA patients in LA have died because of complications from the virus.
According to Reveal from the Center for Investigative Reporting, at least three VA workers have died from COVID-19.
The virus began spreading recently among patients at the LA facility's nursing home, and about eight of those patients were transferred over to the hospital, two sources said. So far, these patients are isolated and in negative-pressure rooms, which prevent contaminated air from leaving.
But the physicians, nurses, and other staff members treating these patients are protected only by the surgical masks. Without proper equipment, staffers fear contracting the virus themselves — or passing it to other patients.
"The public needs to know we are not equipped to take care of you guys," the worker said. "We're barely equipped to take care of our so-called nation's heroes."