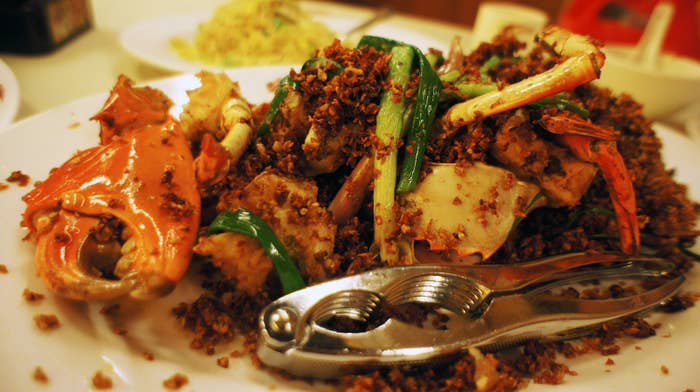 Kimberley Hasselbrink and her family have been making Dungeness crab for the holidays for about 20 years. She usually makes it a few times over the month of December: On her birthday, during a winter feast with friends, and on Christmas eve.

"It's very mild," Hasselbrink, a photographer and cookbook writer from San Francisco, told BuzzFeed News. "And sweet when it's fresh. And delicious."
Mostly she boils it with white wine, herbs, and butter, but on Christmas Eve, the family makes cioppino, a rich Italian seafood stew.
Crab, any preparation of it, is a Christmas tradition on the West Coast. But thanks to a massive algal bloom, caused by a little-understood blob of hot water in the Pacific, the government has put a moratorium on crab catching across the Western Seaboard, deeming the creatures too toxic to eat. So this year, Dungeness crab won't be on Hasselbrink's menu, or anyone else's.
"It feels like something is missing without it," she said.
This minor irritation -- a traditional Christmas item disappearing for a year -- is perhaps unremarkable. But beneath the irritation lies a deeper fear: What if this year's Christmas crab is just the first culinary casualty of a changing climate? Some scientists say that the crab crisis, caused by warm waters, portends things to come.
The oceans have been weird this year, that's for sure. On the California docks, stories are passed around. Someone caught spiny lobsters, usually found far south, on a local beach. Jack mackerel, rare in the region, are being caught inside of the San Francisco Bay. Meanwhile, news outlets report that starving seal and sea lion pups are washing ashore.
"This gives us certainly an indication of what might happen in the future."
"If your life is dependent on the oceans, it makes you worry," said Kirk Lombard, who runs the company Sea Forager, which provides community-supported fish to the Bay Area. "This kind of thing always happens during El Niño, but I worry that it's going to become the new normal."
The presence of unusual species can indeed be linked to El Niño, a disruption in normal ocean temperatures. But the blob of hot Pacific waters that sparked the toxic algal bloom is actually an unrelated event – it happened before this year's El Niño came, and its patterns are different than El Niño's.
What happened to the crabs is fairly easy to understand: The water got warm. An algae called pseudo-nitzschia bloomed. That pseudo-nitzschia released a toxin called domoic acid. That toxin got caught in animals, like clams and mussels, which filter water. The crabs ate those little animals -- and their toxins. Now humans can't eat the crabs.
What's not known is why this happened. Vera Trainer, program manager for the Harmful Algal Blooms Program at the National Oceanic and Atmospheric Administration, explained that scientists on the West Coast are still looking for the root cause. They don't think it's climate change, but they're calling it a "dress rehearsal" for it.
"It's not thought to be climate change, but it's giving conditions to the ocean that are similar to what we might see with a changing climate," she said. "This gives us certainly an indication of what might happen in the future."
And that's exactly what has people worried. If more algal blooms are possible, it means more potential disruptions of the food chain. And more pauses on fishing for those whose lives depend on it.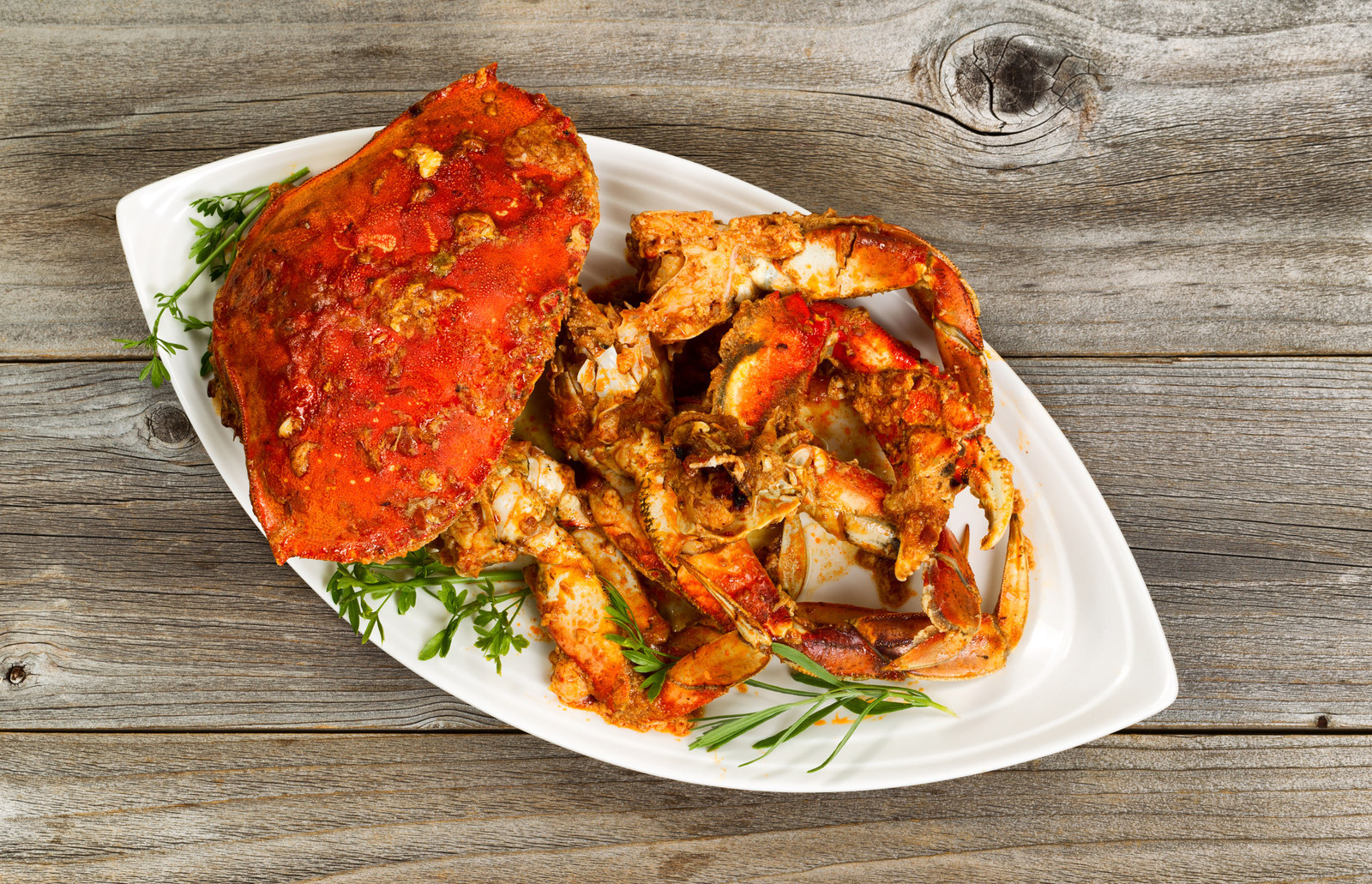 Dungeness crab fishing is a relatively small industry – there are only 561 permit holders in California, and no enormous corporations that operate off the California coast – but there's real money to be made.
Niko von Broembsen is a fisherman who leased 175 crabbing traps, called pots, this season. He had anticipated making a total of $100,000 over the eight-month season, and profiting about $35,000 of that. But now he's not sure he'll make anything from crabs.
"You talk to people around here – and it's all the way from deckhands to guys who own multiple boats – and it seems like the problems are on different scales but they're just as real to the individuals," he said. Some fisherman, he added, expect to lose hundreds of thousands of dollars thanks to this year's pause on crab catching.
For that reason, fishermen are eager to downplay concerns of toxic fish. Von Broembsen said that he's skeptical of the threshold – 20 parts of domoic acid for every million parts crab meat – above which the state has determined crabs can't be caught. He says that scientists need to do more research to land on a firm number. At the same time, he recognizes that even one person sickened by a crab would tank the industry further, spooking consumers into avoiding the crab altogether.
(Jerry Borchert, a coordinator of Washington state Department of Health's Marine Biotoxin Program, acknowledged that the acid threshold is "very conservative" and that "it usually takes ten times or even over that level for anyone to show symptoms." But he cautioned that there are always unknown circumstances, and the Food and Drug Administration would rather be cautious.)
"I've been fishing off the coast for about 15 years, and I have never seen the ocean like I saw it this year."
Even when crabbing returns to its normal state, which could come as soon as next month on some parts of the West Coast, fishermen who depend on the ocean will still be worried about warming waters.
"I've been fishing off the coast for about 15 years, and I have never seen the ocean like I saw it this year," von Broembsen said. "I hope it's not the new normal."
What's normal these days is still up for debate. The algal bloom was definitely a sudden anomaly, but other warm water threats to the fishing industry have been a slow burn. Warmer waters in the Gulf of Maine, for example, have kept cod from rebounding after a 90s fishery crash there. That same warm water is also slowly shifting the location and breeding patterns of lobster, while inciting the spread of a shell disease that makes the animals harder to sell.
For Evan Allumbaugh, chef de cuisine at San Francisco's Flour + Water, these changing conditions have been part of the daily challenge of cooking at a locally-sourced restaurant.
"Talking to all the farmers, the weather definitely affects how they do what they do," Allumbaugh told BuzzFeed News. "It's about learning how to adapt to the changes that are going on, and to products that we're not normally getting in."
So while Dungeness crab is a "hot ticket item" for the restaurant, he says he'll be able to make do without it.
After all, the crab shortage is nothing, he said, compared to what he dealt with due to the drought. One farm that he's used a lot has had to drastically cut back on water, and crops he usually gets won't be available until spring. "We learned to adapt this year, I guess."