Anne Helen Petersen / BuzzFeed News
WARREN, Michigan — "I am not a paid protester!" Natalja yelled, still breathless after four men forcefully pushed her from the arena at Macomb Community College. She's a 19-year-old political science major at the college, currently enrolled in Intro to American Politics, and came to the rally not because she was a Trump supporter, but because her professor had offered extra credit for a member of the class to attend and report back. Natalja only recently decided to vote for Hillary Clinton — during the primaries, she'd been Bernie Sanders all the way. She even went out and canvassed for him. She had no official ties to the Hillary campaign; she'd only been working to convince her friends that a third-party vote was a vote for Donald Trump. This was the first election she could vote in, the first political rally she's ever attended.
And today, she was forcefully thrown out of it by four men after attempting to protect another woman — a woman she'd never met — after that woman had yelled "Donald Trump is a rapist!" After exiting the building, a crowd chanting "lock her up" told Natalja she should move to Cuba, and asked her how much she was paid to fake protest. "I was just trying to help a woman," Natalja said.
Here's how the situation devolved.
Three hours before the Trump rally in Warren, Michigan — a suburb to the northeast of Detroit, known as a center of the auto industry and the home of the "Reagan Democrats" — the lines were already snaking all the way around the college's Events and Expo Center. The temperature had dropped; everyone was underdressed. The guy selling Trump hoodies and stocking caps was doing brisk business.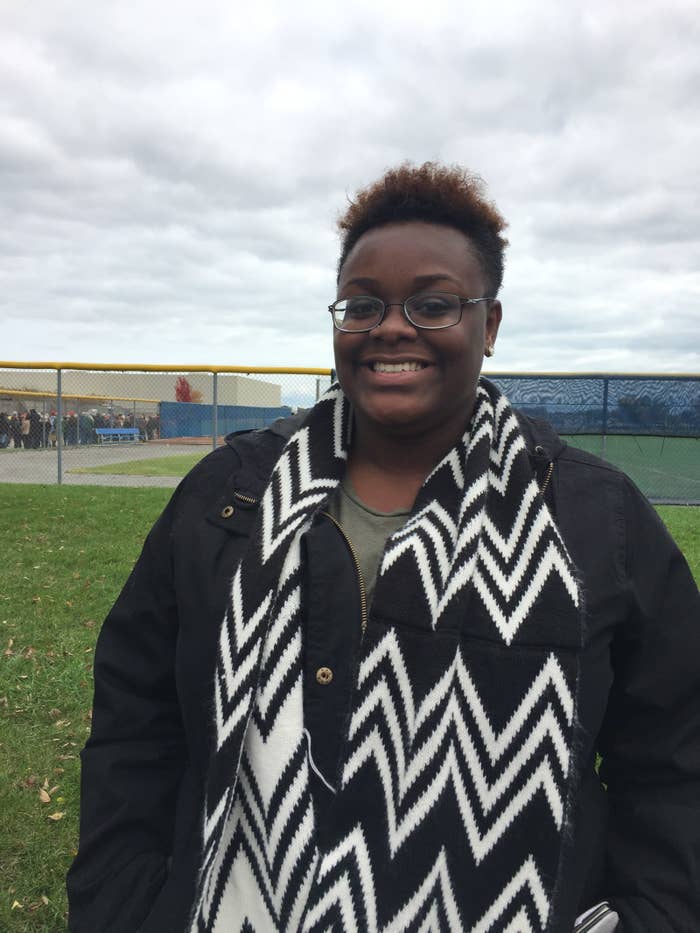 Natalja was one of a few dozen college-age people waiting in line. She wore a black and white scarf, a black coat, and glasses. The first thing she said to me was "I'm not for Trump, because he's not for women." She was nervous about whether she'd be able to take enough notes on her phone to bring back to her class, since the guards had said they weren't allowed purses or notepads. "I want to go on and get my master's in public administration," she told me "and work in government not on the elected level, but for the city."

A car pulled up aside the line, its windows open, blasting a song with the lyrics "Fuck Donald Trump."

"Oh, I saw a video of those guys on Facebook!" she said.
Natalja also said that she can't rag on Ivanka Trump, because to associate Trump's daughter with Trump's actions would be hypocritical, since she doesn't like to associate Hillary's actions with Bill's while he was in office. Still, she was disturbed by the various allegations against Trump. "I'm just surprised there are so many women here," she said. She was not surprised, however, that there were so few black people in attendance.
Fast-forward five hours. The Backstreet Boys' "I Want It That Way" was already on its third loop. Trump had been scheduled to appear at 3 p.m., but as the clock neared 5 p.m., trickles of supporters from the estimated crowd of 3,000 to 4,000 were leaving the building. Earlier in the afternoon, a few speakers had come out to warm the crowd up, but that warmth was slowly dissipating into frustration and pained backs and feet.
A man collapsed in the corner and was taken out by paramedics — people said it was diabetic shock. In the hallway outside the arena, people slouched down the walls. An elderly woman with a cane wondered if there was a way to get a drink of water — they'd made her throw out her water bottle when she came in. One man was lying down, his hands behind his head as pillow.
The crowd was on edge. A man dressed as a "Trump Zombie" wandered the crowds, intermittently staggering and making zombie faces for the cameras around him. Every time a man with any amount of hair on the top of his head walked through the doorway, people started cheering. Every so often a cry of "lock her up" would gain strength and ripple through the crowd.

It was against this backdrop — of two hours of stale anticipation, boredom, and eager excitement — that Trump finally took the stage. Famed Indiana basketball coach Bobby Knight had introduced him, twice proclaiming that he liked to refer to the candidate as "Saint Trump." Trump's opening was practiced, measured — none of the meandering or free association that can sometimes overcome his speeches. He talked about the failures of Obamacare, and the 650,000 new Clinton emails, to which a woman beside me whispered, "What do you even do with 650,000 emails?"
Suddenly, there was a churn from deep inside the crowd. From the outskirts, people started asking, "What's happening?"; others replied, "Protesters, paid protesters!"
Trump looked down and said, "All right, get 'em out of here, get 'em out of here," smirking and shaking his head. "A paid protester, a paid protester."
Over the past month, the idea of the paid protester had become a regular fixture in Trump's rhetoric. At the third debate, he proclaimed that "[Clinton]'s the one, and Obama, that caused the violence" at his previous rallies. "They hired people — they paid them $1,500, and they're on tape saying be violent, cause fights, do bad things." At a rally in Delaware, Ohio, Trump said that "the Clinton campaign has paid people to disrupt, violently, our rallies, and to incite absolute, total bedlam."
The truth is much more complex: A video sting, led by Conservative group Project Veritas Action, recorded Democratic operative Scott Foval speaking about "conflict engagement" at Trump rallies. Those engagements included "baiting" Trump supporters outside of rallies. Foval was fired immediately after the release of the video, and the DNC has unequivocally renounced the tactics described therein, which "do not in any way comport with our long-standing policies on organizing events."
But at the rally, Trump's messaging about the presence of paid agitators proved effective. The crowd began chanting "USA! USA!" as a group of four men led the protester — Natalja — through the parted crowd, who jeered at her. Trump walked away from the podium, clapped, and observed the crowd. "Look at the cameras are finally looking over there," he said. "Finally — they never want to show the massive crowds that we have."
Trump repeated the claim that the emails from Clinton's staff showed that the campaign was offering protesters $1,500 to be violent at one of his rallies. (No emails obtained from the Clinton campaign have indicated as much.) "I wonder if that's one of them," Trump continued. "No, doesn't look too violent to me. Doesn't look violent to me."

Though it wasn't clear in the moment, the initial protest came from a white woman, somewhere in her twenties, dressed in a hooded sweatshirt. She preferred not to reveal her name, for fear of Trump supporter retaliation. She had come to the rally today because she had been reading about a civil complaint a woman recently filed against Trump, accusing him of raping her in 1994 when she was 13 years old. Trump has vehemently denied the rape claims, which are being filed in a New York civil court for a third time. Trump is accused of raping the woman at a party at the New York apartment of billionaire convicted pedophile Jeffrey Epstein. The woman also claims Epstein raped her twice at two such parties.
The woman in the hoodie had been talking with other attendees leading up to the rally, she said, but assumed that everyone knew about the case and was simply refusing to acknowledge it. "I heard that he was going to be here today," she would later explain, "and I came here to show my discontent that someone like that can be a candidate for president ... It's hypocritical when they talk about any indiscretions by Bill, or by Hillary — without mentioning any of this. He does not deserve to be in the Oval Office."
As she recalled after the fact, a mix of Trump supporters and Secret Service agents descended upon her, grabbing her arms and putting her in cuffs. Sometime around that point, Natalja saw what was happening and made her way through the crowd to protect the woman in the hoodie. Both women said that they'd never met or spoken with one another. "I only went over there because they were attacking a woman," Natalja later said. "Hillary supporter, Trump supporter, you don't let a man hit a woman. They were pushing her back and forth, yelling in her face, yelling Trump, Trump, Trump."
It's unclear what amount of force was used on the woman in the hoodie. She said she had bruises that she could show later; a man walked by, after the fact, and said, "She's faking." What is clear is that Natalja was forcefully taken from the arena by four men. A man in a suit and a red "Make America Great Again" hat, who'd been making the rounds in some capacity for the Trump campaign, screamed at her to "GET OUT, GET OUT." A small group of Trump supporters outside the door began to yell at her. Natalja was worked up, visibly distraught, yelling, "This is racist! Get your hands off me!"
"If you were in Cuba, you'd be strip-searched right now," a thirtysomething man in a jean shirt said. "You should be put in the clown wagon, bitch," an older woman in a salmon pink suit jacket yelled after her. As the confrontation escalated, two policemen approached and backed her off. Another man yelled "Put her in jail!" as the crowd outside began chanting "Lock her up!" Natalja pointed to the female police officer walking her off the grounds and said ,"And you should be ashamed of yourself — you're a woman!"
Natalja explained that she was thrown out only because she was trying to help the woman in the hoodie. She tried to move the woman away from the crowd, and they started pushing her. "I thought all the police were rushing over there to help her — they grabbed her and grabbed me!"
"And I don't even know where she is," Natalja said. "What did they do with her?"
Moments later, the woman in the hoodie was escorted out of the arena in handcuffs. "You set foot on the property again," the policeman told her, "and you will be arrested."
"All she did was call Donald Trump a rapist!" Natalja said.
As the woman explained her objections to Trump, Natalja continued to talk with passing Trump supporters. When asked if they knew each other, she responded "No, but thank you!" blowing a kiss in Natalja's direction. "Love you. Love you." She affirmed that she had not been paid in any way to appear at the rally.
A steady stream of Trump supporters began walking by, interjecting as the woman in the hoodie recalled what had happened to her. "She's lying," one man said. "I saw, I have photos on my phone." When asked by BuzzFeed News to produce the photos, he could not find them on his phone.
Trump was still inside, and would continue speaking for another 40 minutes. But for many, the time allotted to attend a rally had come to a close. Walking back to their cars, a group of six men and women joked about the protesters. "They get paid $1,500 apiece now," one woman said. "And an iPhone too, I heard!" another man added. "That big woman was foaming at the mouth," an elderly man explained, when asked for details for what he saw. "The colored one. She worked herself up on purpose. The other woman, she was big — she must have been 6'4", 6'5"! She threw herself on the ground, I saw it."
It was all for show, they agreed.
"My first rally, and I've never seen anything like that in my life," one man said, "and I probably never will again." The woman with him shook her head, chuckled, and answered, "It's just unreal."