"It's Bloomin' Monday!" the server at Outback Steakhouse in Louisville, Kentucky, told us. "That means free bloomin' onions," Sarah Karr whispered across the table to me. "Sure, we'll have one," she told the server.

"Did you know they actually don't eat blooming onions in Australia?" said Sarah's son Evan, a disarmingly self-possessed 13-year-old with a wave of thick, dark hair. He'd picked the restaurant — his favorite — as a sort of celebration before Thursday, when he will undergo open-heart surgery. Evan was born with tetralogy of Fallot, a four-part heart defect, and the surgery, his fourth open-heart procedure, will replace the left and right pulmonary artery branches with a valved conduit, as well as his pulmonary valve
A few miles down the road, the security precautions for President Trump's rally at the Louisville Expo Center, which would start in a few hours, were underway. Helicopters buzzed overhead; cops were posted up every quarter-mile along the freeway. People wore shirts that said "MAKE KENTUCKY GREAT AGAIN," and "BUILD THAT WALL," with a map of Kentucky and a little walled area referring to Louisville — one of just two counties in the state that Trump did not win.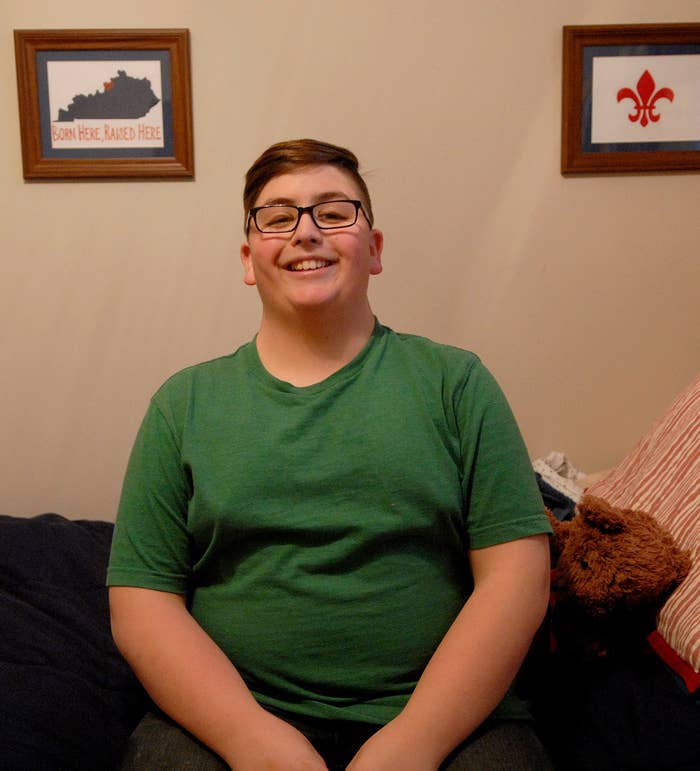 Evan has the sort of confidence that kids who grow up only children often do: He knows how to speak like an adult to an adult; how to make small talk like a mini politician. For many reasons, he seems much older and more wise to the world's complications than a 13-year-old should. After surgery, he'll have three weeks of recovery, one of which is his spring break. Sarah — a 39-year-old single mom — will take her vacation days, her sick days, and her unpaid family leave days to be with Evan the entire time. They have insurance through Sarah's job at UPS; his prognosis is good. And that, of course, is what his mom cares about most.
"Every parent I know with a sick child will do whatever it takes to make that child well," Sarah said. In the past, she'd charged co-pays for Evan's medical care and anything their insurance wouldn't cover — between $3000 and $5000 — to credit cards. But this time, five of her friends from work decided they would do what she wouldn't have been able to bring herself to: put a page up on YouCaring, a health care crowdfunding platform, to ask for help with the $5,000 co-pay for Evan's heart surgery. With two days until the procedure, she'd raised just over $2,900.
This is the state of health care in America: Even the insured may go deeply into debt or resort to crowdfunding to keep themselves or their children alive. Evan has a relatively rare condition, but the Karrs' situation is far from unique. In 2016, the annual cost of health care for a typical family of four with employer-insurance coverage was $25,671 — with 43% ($10,473) covered by the employer. That's triple what it cost to insure an average family in 2001. One in three Americans have problems paying their medical bills: They pay them with credit cards, they struggle to keep up with hospital payment plans, they're forced to declare bankruptcy. Those who struggle the most with medical debt are, ironically, the insured — who, like the Karrs, struggle to cover the accumulated costs of monthly premiums, deductibles, co-pays, and out-of-network fees.
Today, Republicans in Congress are working to rescind the Affordable Care Act and replace it with a plan that would result in skyrocketing insurance premiums, rising deductables, and the loss of coverage for an estimated 18 million people. For people with chronic illnesses — who don't have financial safety nets — anxiety will become the norm.
Even with the insurance they have now, Sarah and Evan are on a knife's edge. And their fear and anxiety is, in many ways, the country's. Paying for health care is already hard. And there's a distinct possibility it's about to get worse.
When Evan was born, Sarah was instructed not to let him cry, because his heart wasn't strong enough for it. She was 26, married to Evan's father, whom she'd met at church, and in her eighth year of working for UPS. She'd found that job when she was still a senior in high school, had stuck with it while she attended the University of Louisville, majoring in vocal performance, and returned to it after graduation.
"There's this list of '20 Things Not to Do in Louisville' that goes around on Facebook," Sarah told me, "and one of them is 'get a job at UPS in high school,' because once you get that job, you never leave."
You don't leave, in part, because the work is solid, the benefits are good, and there are opportunities to move around within the company. Sarah started in invoicing, and over the last 20 years, has shifted to handling stats for the tech support team. The Louisville UPS facility, like a handful of other massive shipping facilities, including ones for Zappos and Gilt, is just a 15-minute drive from where she lives.
Open-heart surgery costs hundreds of thousands of dollars — numbers that whizzed by Sarah when she was a new mom, just trying to care for her baby. "I remember some bill that said one night in the ICU, just paying for the room, was $35,000. Just one night!" Back then, UPS was on a different insurance plan, and Sarah came away from Evan's first two surgeries having paid little more than a $15 co-pay. When Evan needed his third surgery, UPS had changed insurance plans, and the charges became more complicated. During that surgery, one of the doctors in the operating room, unbeknown to Sarah, was out-of-network. That meant an extra $3,000, along with other costs, to put on her credit card.
Sarah was also diagnosed with MS when Evan was 4. She hasn't had a flare-up in months, but when she's tired or stressed, her motor skills decrease; she gets tongue-tied. Last year, her doctor told her to switch medications — to a drug called Tecfidera — to better control and contain the lesions on her brain. The cost would've been $600 out-of-pocket, every three months. But that was money the family didn't have, so Sarah decided she'd simply go without.
"The doctor told me that if I didn't start taking these meds, and keep things under control, it could mean I wouldn't be walking in 10 years," Sarah said. Together, she and the doctor found a co-pay assistance program, funded through the drug company, which meant she wouldn't have to pay the $600 — though that waiver could go away at anytime, meaning she'd be faced with a similar decision again. Her cousin, who also has MS, can't work. A coworker at UPS who'd been struggling with MS for years went on disability last year; he's no longer with the company. When Sarah tells me about these people, her voice gets quiet, and she looks at the ground.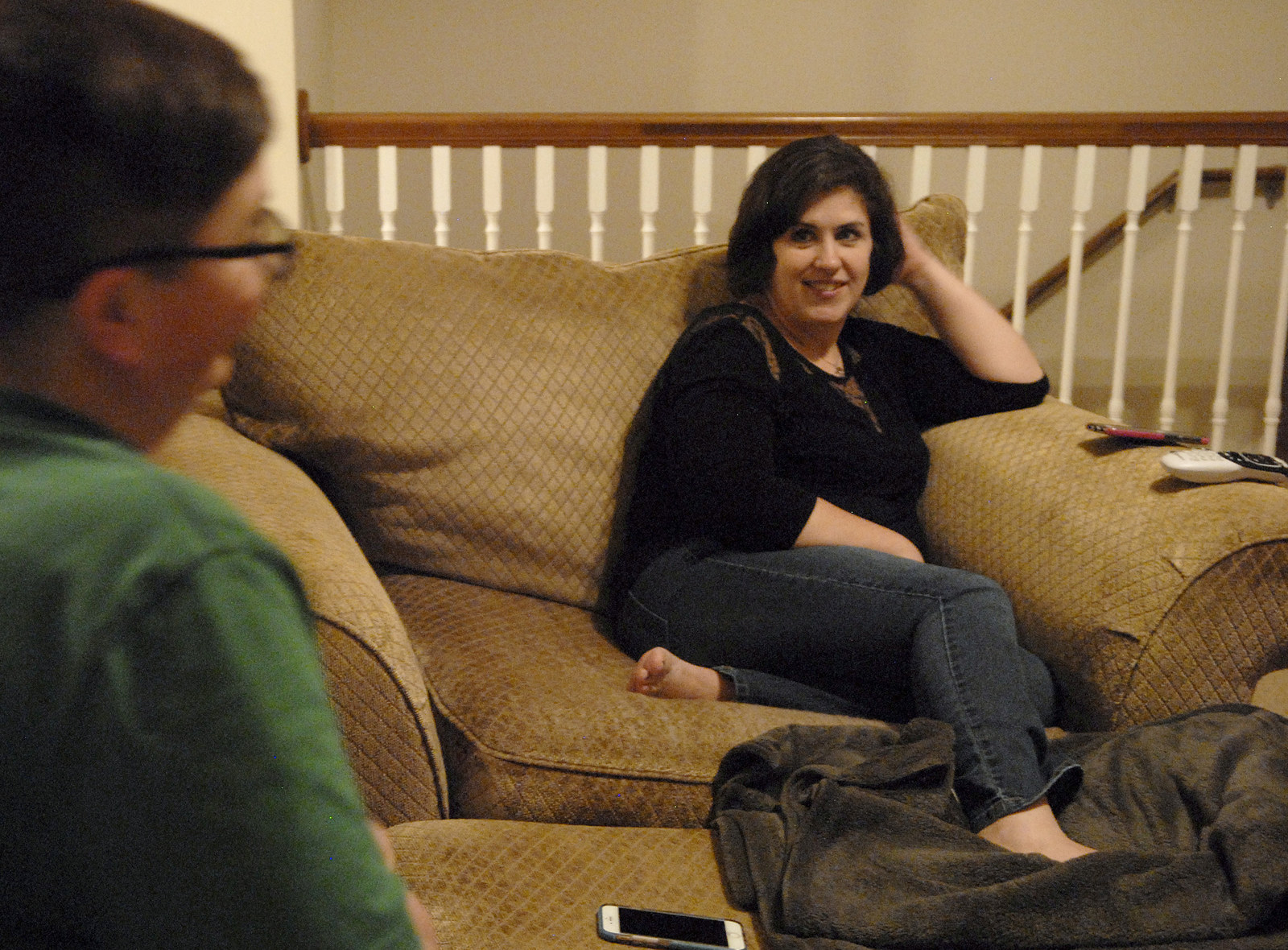 Evan and Sarah have the sort of easy companionship that any only child, especially one who grew up with a single mom, will recognize. They finish each other's stories. They love watching This Is Us and American Idol together. They tease each other relentlessly, and know exactly what the other likes on the menu at Outback Steakhouse.

"I don't feel like I'm any different than any other kid," Evan said. "Everyone goes to the doctor. I just sometimes have to have heart surgery."
"Everyone goes to the doctor. I just sometimes have to have heart surgery."
"He made sure to schedule it so that he could back to school and get all the sympathy from all the girls," Sarah added.
Evan chuckled, blushing. "The only time I think about my heart is when I'm at the pool, and you can see my scar."
In this way, Evan is typical. One out of every 100 babies is born with an abnormal heart of some kind, but most of those kids go on to live generally normal lives. Thousands, however, deal with complications. Some can't walk; others require heart transplants and are in and out of hospitals for most of their childhood.
"Heart research, especially for kids, just doesn't have the same visibility as cancer research," Sarah said. Heart problems are also just less visible, in general: Kids with abnormal hearts don't get chemo, they don't lose their hair. They don't signify as sick — which might also explain why people aren't as educated about their condition.
"When Evan was born, I'd never even heard of kids with abnormal hearts. I felt so alone," Sarah said. When she met another mom from the area who also had an infant with an abnormal heart, they bonded immediately and, later, founded Brave Hearts, an organization to help families of children with abnormal hearts. They provide fellowship and welcoming services for families; they're working with Norton's Children's Hospital to raise funds for a new pediatric cardiology ICU. In 2016, Jennifer Lawrence, a Louisville native, donated $2 million towards the project. (When they announced the donation at a ceremony at the hospital, Evan put his fingers up in the Mockingjay sign from Hunger Games.)
Evan's phone is filled with pictures of other kids, many of them in wheelchairs, who've become his friends through Brave Hearts. Many have donated to Evan's co-pay fund. Some are on Medicaid, or Kentucky's expansion of Medicaid under the ACA. Earlier this year, a mom went into a local jeweler to sell her wedding set — even though she was still married — in order to pay for her child's heart surgery. The jeweler bought the set for far over market price, and was so touched he invited the moms of Brave Hearts to the store on Valentine's Day to give them each a gift.
Sarah's not ashamed of her YouCaring page, but it's been a humbling experience: It's one thing to raise money for a foundation, another to raise money for yourself. "Whatever we receive over the cost of the co-pay for Evan's surgery, we're donating to Brave Hearts," Sarah said. "That makes me feel better about this whole thing."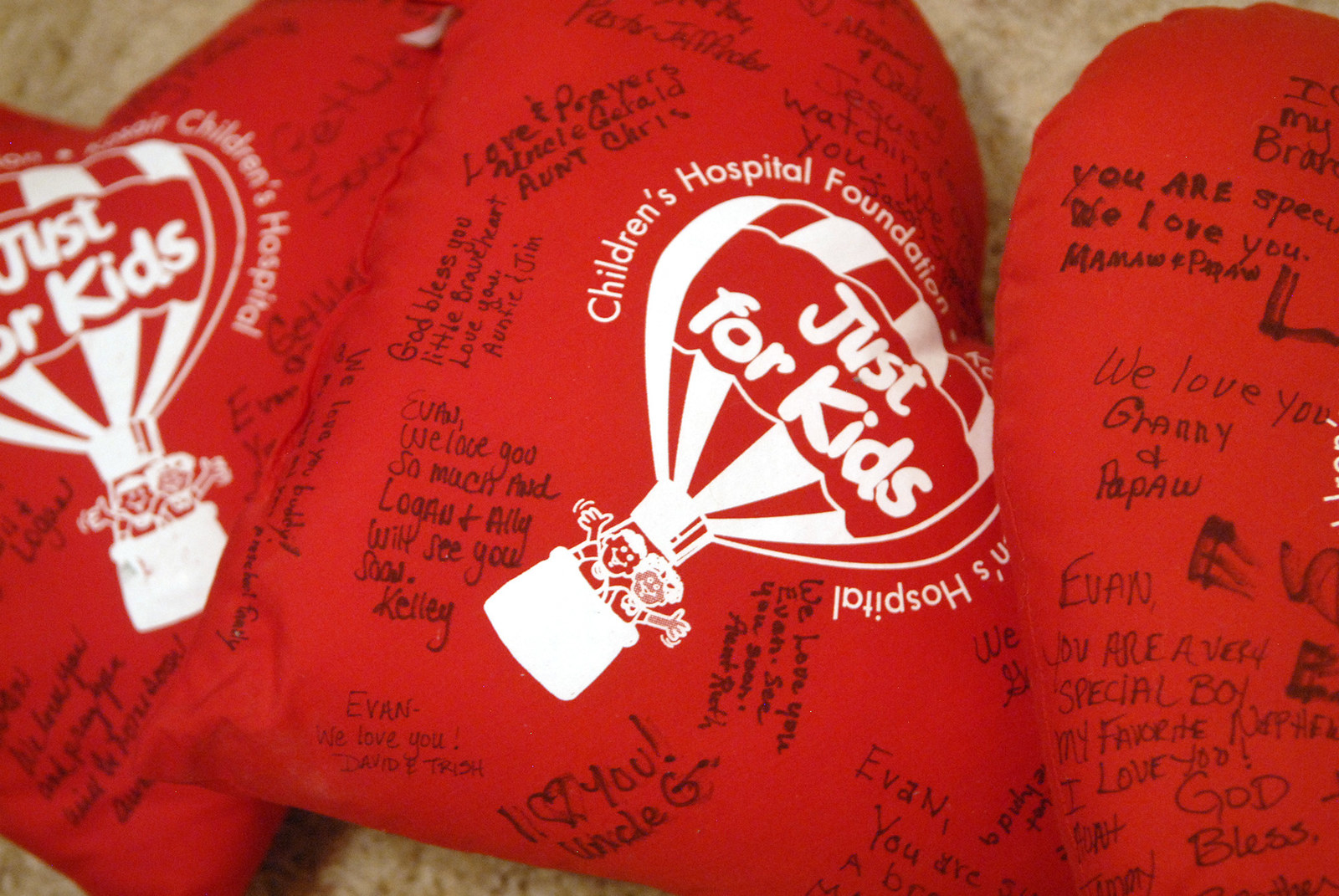 It's been a tough year. Evan's father left last June. The following month, they had the test that showed Evan would need another heart surgery. Sarah receives child support, and they own a small, cozy home, but they keep their lives simple. Sarah drives the same car she's had since college. She recently lost 40 pounds, and doesn't have any clothes to fit her. Her parents live in Louisville, but she can only ask so much of them.

Crowdfunding health care is a funny thing: Evan's fund has received a few donations from strangers, but most of the donations have come from people she knows — which might be part of why the fund has only raised $2,900. There's a hierarchy in health care crowdfunding; the stories that go viral, and go on to raise hundreds of thousands above their ask, are generally those with very small children or extremely tragic circumstances. "I thought about the pictures — I mean, should I include a picture of him in the ICU, with an IV? Is that what makes people give? It's a strange thing," Sarah said.
"I'm only scared of three things," he told me. "God, heights, and my mom."
No picture can adequately convey the complexity of Evan and Sarah's situation — or Evan's particular charisma. He is, as your mom might put it, just a riot. Earlier this year, he refused to sign a pledge at school that said he wouldn't use drugs and alcohol. "I mean, in my life, I'm gonna have a drink," he explained to me back at his house, twirling around expertly on his hoverboard. He asked me, "You know who Fetty Wap is, right?"
He gestured towards a painting of himself hanging on the wall — in which he wears a sort of Sherlock Holmes cap — and said, "Look at that dashing portrait of me." He knows all the words to "Ice Ice Baby." "There are only two cuss words in it," he said. "And some small allusions to drug use." He's currently reading a World War II novel about a Polish family's escape from a concentration camp aloud, to his mom, at night. ("Mom, put your hands over your ears, I'm going to tell her how it ends.")
Evan's not scared of Thursday's surgery. "I'm only scared of three things," he told me. "God, heights, and my mom, because she holds me accountable, and I don't like to disappoint her. I don't like to disappoint anyone."
When his parents split up, Evan took extra care of his mom. "I'd always made his world perfect," Sarah said, "but now he was forced to see things that weren't perfect, and he grew up fast."
Things might not be perfect, but Evan will almost certainly be okay. He and Sarah live just outside of the Louisville city line, in Bullitt County — where the median income per household is $50,000, 98% of residents are white, and Trump swept the presidential election, with 75% of the vote. Until recently, their modest two-level house was surrounded by farmland, where Evan used to build forts and roam wild with his friends for hours. He goes to a good school, surrounded by people who've known him his whole life. He's a remarkable kid, but his family's situation is not remarkable: Like many solidly middle-class families, they have little to insulate them from the effects of a lost job, or even a slight change in their current coverage — like, say, the removal of a lifetime max, or the end of the co-pay assistance from the company that makes Sarah's MS drugs.
"No one should have to prove their worthiness in order to be cared for."
As the evening light started to fade, Evan and Sarah took up their usual spots in the living room: her, in a comfy, overstuffed chaise lounge; him, in an office chair close beside. Ten miles away, Trump was speaking to a packed house of thousands of their neighbors, but he didn't mention any specifics of health care, other than to promise that Mitch McConnell has the replacement bill under control. Kentucky had one of the most successful implementations of the Affordable Care Act in the nation: Over 500,000 people gained coverage; the state's uninsured rate dropped from about 20% to 7%, the second-highest drop in the country, after Arkansas.
But the state voted overwhelmingly for both Trump and its Republican governor, Matthew Bevin — both of whom promised to eliminate the ACA. "Bevin's like a mini Trump," Evan told me. "I don't like him." Under the Republican replacement health care plan, analysts have speculated that 1.4 million Kentucky residents could have caps implemented on maximum insurance payouts over a patient's lifetime or even a year.
"I've always been the most liberal at our church," Sarah said. "They sometimes joke, 'That Sarah, she loves Jesus, but she loves to curse.' Some people even call curse words 'Sarah words.'" (During our entire time together, I didn't hear Sarah curse once.) "I was for Bernie, I really was," she told me. "And then when that didn't work out, I was for Hillary. I thought we were moving forward when it comes to tolerance, to all of that. But it turns out I was wrong."
"With Obama, I always felt like he had our best interests at heart," she told me, with something like resignation in her voice. "And I just don't feel that with Trump."
It's hard to talk to people about it. "Sometimes I want to be like, look at Evan, look at what a remarkable kid he is, look at what he's going to do to change the world — you're not wasting anything if you pay for him to live. But I also think that no one should have to prove their worthiness in order to be cared for." ●