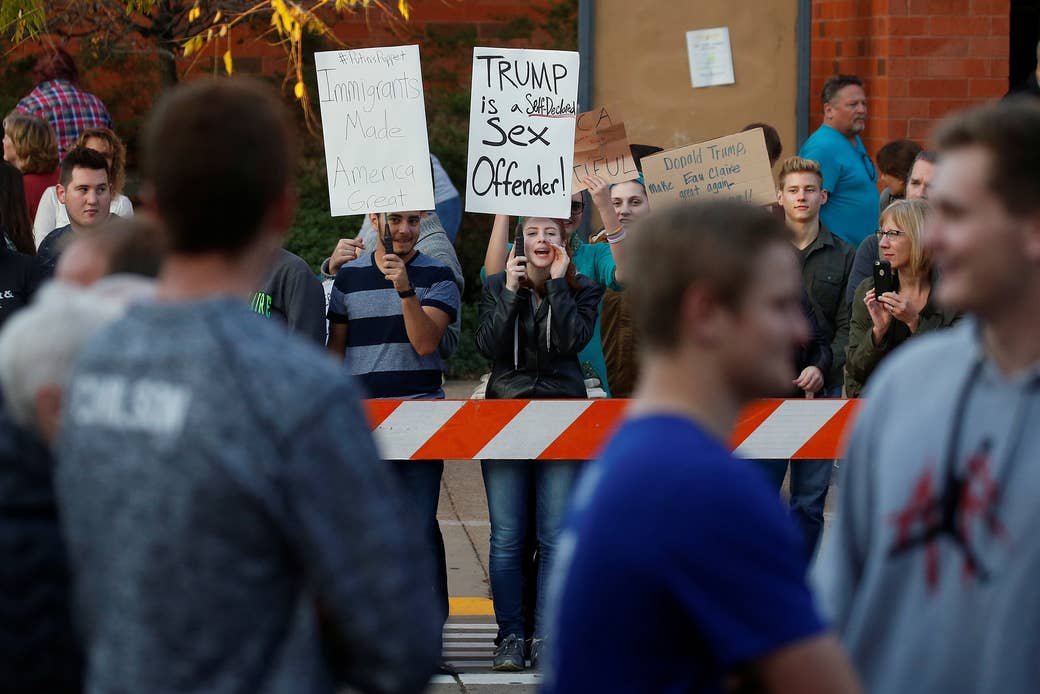 EAU CLAIRE, Wisconsin — On Tuesday morning, a student at the Eau Claire branch of the University of Wisconsin brought a "Make America Native Again" sticker to Zorn Arena, where Donald Trump was scheduled to speak that night. She had classes in a neighboring building throughout the day, and she wanted to see what the scene would be like — but she also wanted to come prepared. So she found two friends, also students of color, and wrote "NATIVE LIVES MATTER" on a piece of notebook paper, then headed to the arena.

The student — who identifies as multiracial, of black, white, and Cherokee descent, and does not wish to be publicly named, for fear of retaliation — wanted to scout the area, but she was also ready to engage in "a respectful conversation about the election with the supporters," because she'd only met a handful of Trump voters in person.
When the group of students arrived around 9:30 a.m., they saw around 20 Trump supporters already lined up (the doors were set to open at 4 p.m.). She called campus security as a precaution, but the man who answered was confused as to why she wanted a security presence. As she tried to explain why the space would be unsafe for students of color and other marginalized identities, someone from the crowd of Trump supporters yelled "Go back to where you came from!" and "Open your eyes!" and "Trump, Trump, Trump!"
Over the course of the day, several other students reported similar behavior — shouting, racial invective, spitting — from Trump supporters, the news of which spread swiftly through Facebook posts, including one from the student above, whose post has been shared 635 times.
"My fellow UWEC students of color," she wrote. "It is not safe to walk past the Trump supporters ... Campus police told me 'not to rile them up' because they're 'pretty radical.' So, my very existence is making them upset. So I have to hide myself on my own campus?" She described what happened and called on the university to fix the situation. "You do not have security down there," she wrote. "You are not keeping your students safe."
An overwhelming number of responses to the post were supportive, but one white male did suggest she stop "making this into a race thing." (Replies to him included "Are you seriously just saying this or ... ?" "No just stop. Don't whitesplain," and "She deserves to be feel safe on campus. Drop it.")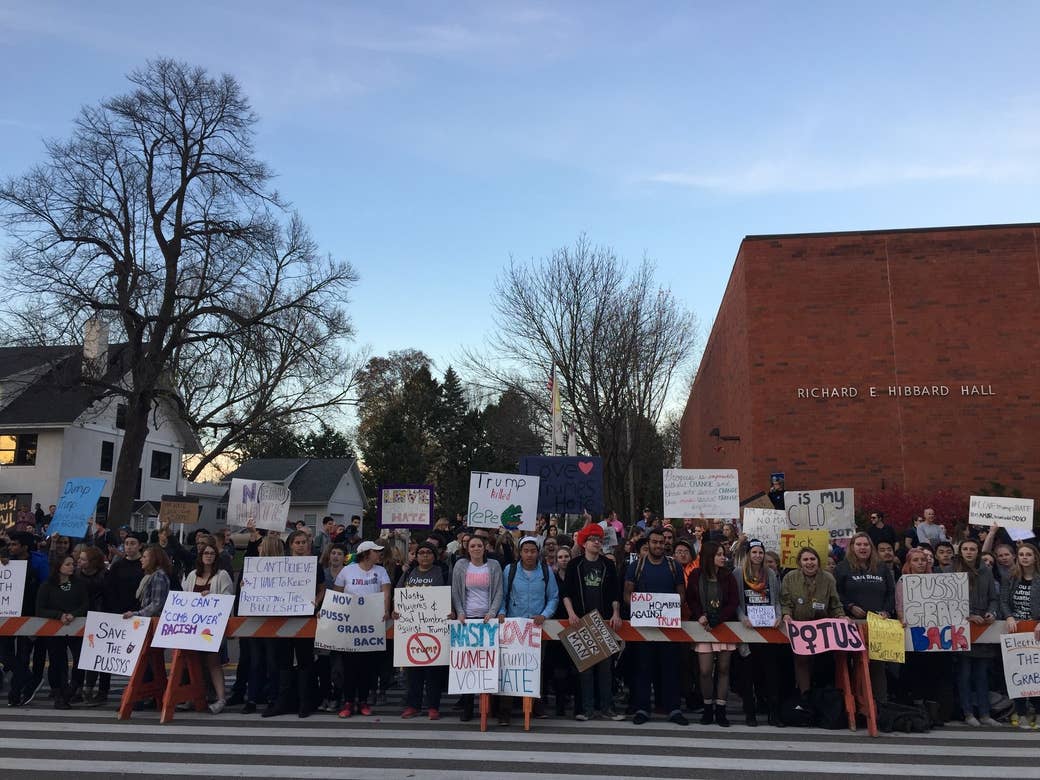 Later that day, around 200 students amassed outside the arena to hold signs and chant slogans like "Love trumps hate" at the thousands waiting to enter the rally. And while many Trump rallies have attracted protesters, this particular protest, coupled with what happened earlier that morning, took place amid nationwide interrogations of the need for "safe spaces" and trigger warnings on college campuses — and larger questions of whether speakers like Trump, intended to spark "conversation," also incite trauma and violence.

Just two days before the rally, a Muslim student at the University of Wisconsin-Stout — just 30 minutes away — had been beaten to death on the street outside the local bars. Police are still investigating the murder and have neither confirmed nor denied that it was a hate crime. But for several students, the optics of the murder, occurring so close to the rally of a candidate whose rhetoric is often strongly Islamophobic, were terrifying — and indicative of larger racial, ethnic, and religious undercurrents that many in Wisconsin, and on the UWEC campus in particular, have ignored or discounted.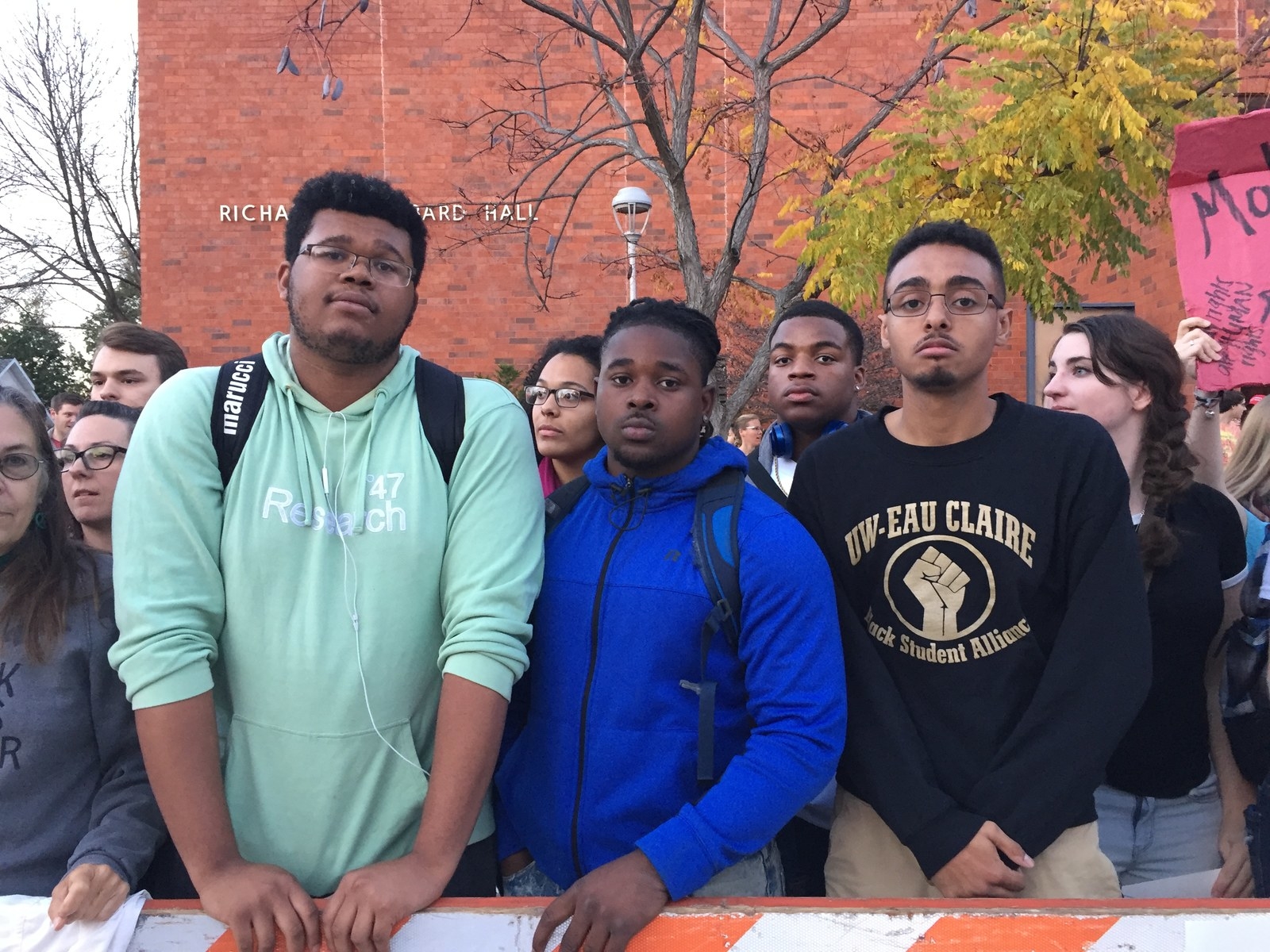 "I look over there, and I see all these people I'm Facebook friends with, all these people I've partied with, all these people in my classes," said Isaiah, a sophomore psychology major. He was gesturing, from behind a police barrier, at the line snaking into the Trump rally. "And it doesn't feel good. I mean, I know some of them are going in for class, but others, they're like the guy who says, 'I'm not a racist, I have a black friend.'" Isaiah and two friends went on to describe an incident from earlier in the year, when someone wrote "UWEC IS RACIST" and "TRUMP SUCKS" in bold black paint on boards set out for free speech on Constitution Day. (Students had written dozens of other statements, including "DICKS OUT FOR HARAMBE.")

The boards were removed at the end of the weekend — because they were scheduled to, or, as several students suggested, because officials didn't want a truth like "UWEC IS RACIST" out in the open. The incident sparked a campus-wide discussion of diversity and privilege, played against the university's public commitment, announced at the beginning of 2015, to raise the current percentage of "diverse" students from 10% (the current level) to 20% (by the year 2020).
"The thing is, the school is racist," Isaiah continued. "And the chancellor just doesn't get it."
"You don't see him really trying to understand what it's like on this campus," added Larrick, a junior social work major from Brooklyn Center, Minnesota. "You don't see him going to BSA [Black Student Alliance] meetings. And now you don't see him standing here."
Chancellor James Schmidt, whom multiple students referred to as "Chancellor Jim," had briefly surveyed the crowd of protesters earlier in the afternoon. He told me that he'd just returned from Washington, DC, with his family, and they'd gone to the Holocaust Memorial Museum and the Lincoln Memorial, and learned about how democracy works in this country. The rally, as he saw it, was a chance to see history in action — and for students to exercise their right to free speech, and watch as others did the same.
Earlier in the day, he'd sent a campus-wide email explaining that "Passions are running high on both sides," which had "led to strong opinions being expressed by candidates and their supporters." Nevertheless, he believes that "there is no idea too controversial to be discussed on our campus." Still, several professors had canceled class after students expressed concerns about going near the rally site.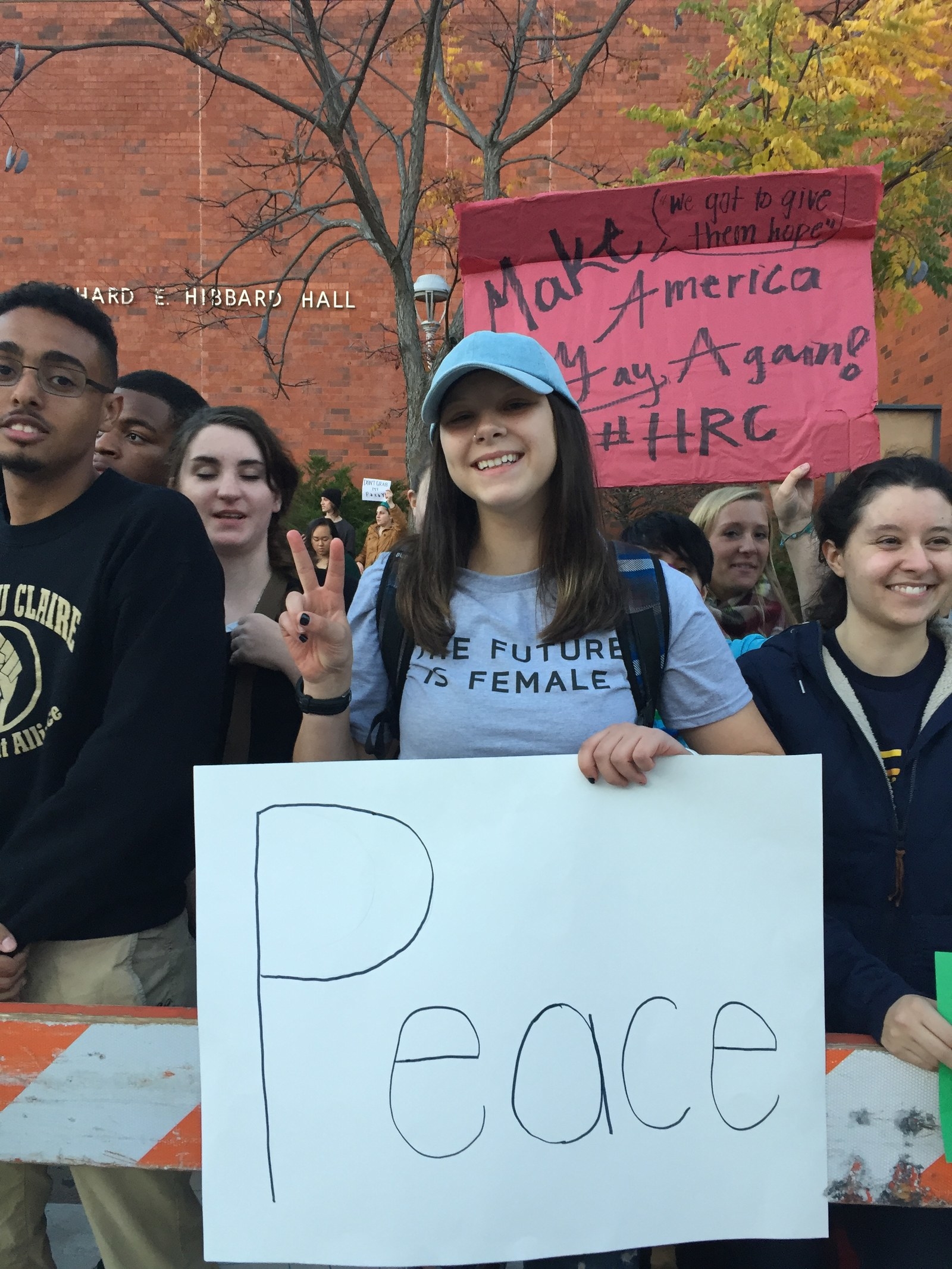 A freshman named Shannon, wearing a shirt that read "THE FUTURE IS FEMALE," said that she'd been asked to be part of the chancellor's planning committee to increase diversity. "I'm deaf/hard of hearing," she explained, "which is part of diversity here on campus. But Trump makes fun of people who are disabled. I purposefully wore my hair down today so no one could see my hearing aids, because I didn't want supporters to make fun of me." She's considering withdrawing from the committee: To her, hosting Trump suggests that the university is not authentically invested in encouraging diversity.
A tight cluster of freshman girls, dressed in shirts emblazoned with "MAKE AMERICA HATE AGAIN" and "I LOVE HUMAN RIGHTS," sang along as a loudspeaker blared Queen's "Bohemian Rhapsody." They came over together, three hours before the start of the rally, and had plans to walk back in a large group. They brought up the murder of the student at UW-Stout — how close it felt, especially since he'd been airlifted to the hospital just down the road in Eau Claire, where he was later pronounced dead.
"I wouldn't want to be a woman, alone, walking home," said Stephanie, a freshman from Oswego, Illinois, who is half Hispanic. "One of my biggest fears coming to college was being raped. I never feel unsafe on this campus, but I do tonight — all those Trump supporters are going to come out and it's pitch black."
"I don't feel like it's a racist campus," said Evelynn, from Oshkosh, Wisconsin. "But I have white privilege, so of course I wouldn't feel it." A male student who'd just come out one month before — but still hadn't come out to his family — wore an LGBT flag tied around his neck and held a sign that read "LOVE TRUMPS HATE." He just wished that both sides could actually have a conversation.
"Some of the students in line, they came over here and gave us hugs," he said. "Which is great. But it's hard to reconcile those hugs with the policies of both Trump and, when it comes to LGBT rights, Pence in particular. "It's a direct contradiction, saying they support me, then saying they support Trump." Ben, from Wausau, Wisconsin, said that the dean of students had told him that the rally was "healthy." "How can he say that?" he asked. "This is bigotry!"
As the sun set and Trump entered the arena, there were hundreds outside in line, still hoping to make their way in for a glimpse. Trump's speech was piped through loudspeakers for those standing outside, but most weren't paying attention — a few didn't even seem to realize he'd started speaking. A group of five freshman girls, all from the same dorm, said they were all undecided — and didn't really follow politics: "We're more political wallflowers," one said. Some of the girls from their dorm were over there on the other side, protesting, but that sort of thing, all the yelling, it wasn't for them.

Another group of girls, also undecided, said that their parents were proud of them for going to the rally: "Just remember, everyone's entitled to their opinion," one of their dads had texted them. When Reince Priebus stepped out of the arena and the crowd flocked to shake his hand, they followed. "Who was that?" one of them asked. When they learned it was the chair of the Republican National Committee, another let out a small yelp: "What is life?!?!"
Most students, regardless of race, sexuality, or ability, reported that the day had been filled with tension and hostility. There were the Trump supporters at the center of campus, but there were also people getting in fights on Facebook, getting angry at the chancellor and the administration at large, getting upset that protesters would occasionally shout, "Fuck Trump."
Several students told me there's a phrase that people like to say at UWEC: "Not on our campus." It's mean to suggest that bad things, hurtful things, unfair things happen on other campuses, in other places, but not there. Not because every student is perfect, but because they've worked hard for an open, communicative, productive environment.
But Tuesday's rally was very much on their campus, as were all the feelings and tension the candidate inspired. "It's gonna be hard to go back to class, remembering all those people I saw over there, in that line," Isaiah said. "Instead of over here with us."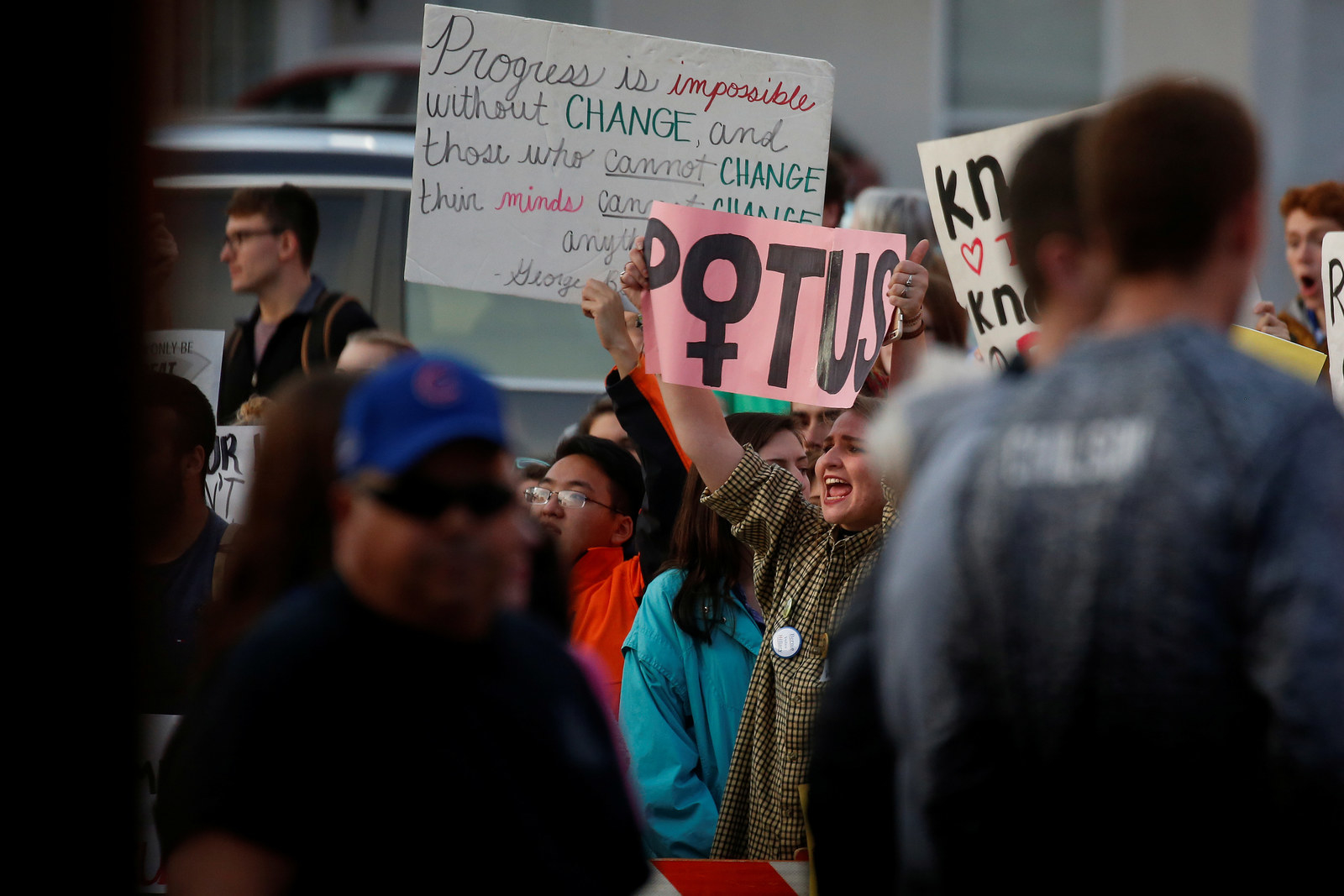 CORRECTION
The student who wrote the Facebook post was holding a sticker that said "Make America Native Again." An earlier version of this post said she was wearing a Native Lives Matter shirt.