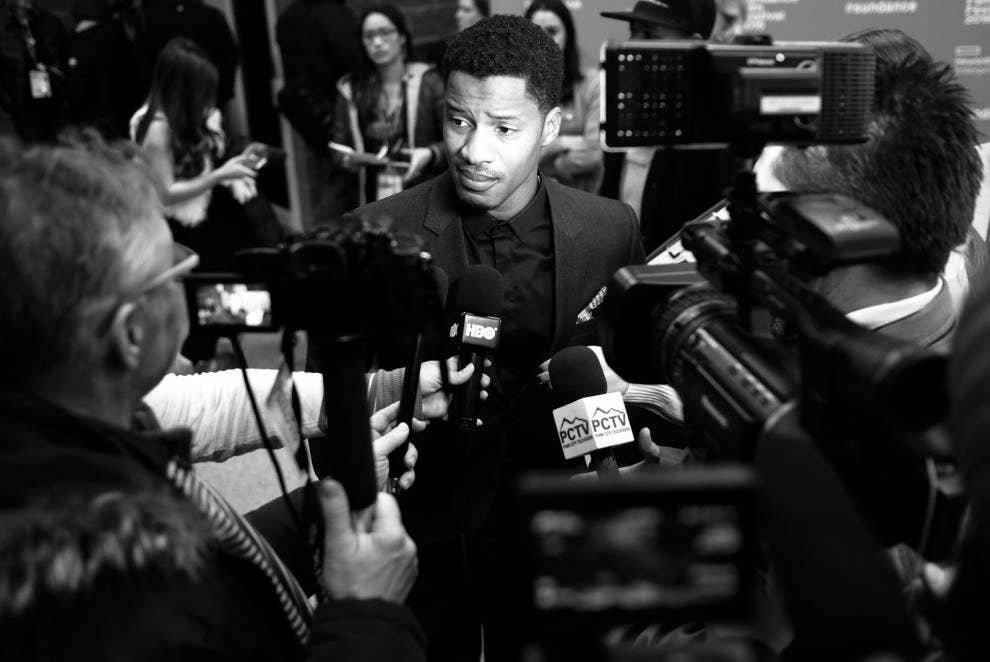 On Jan. 25, 2016, there was one ticket that everyone in Park City wanted: The Birth of a Nation. Written and directed by Nate Parker, who also played the starring role of Nat Turner, Nation had swiftly become one of the most buzzed-about films of Sundance. No matter that Parker had never directed, had appeared in just a handful of films, or that many in America had never heard his name: It could potentially reproduce the prestige and profits of 12 Years a Slave, which won three Oscars and grossed $188 million, and turn the handsome, charismatic Parker into the next black auteur.

The Birth of a Nation felt like the right movie at the right time, a perfect antidote to #OscarsSoWhite and continued controversy over the ways in which people of color have continued to be shut out, unrecognized, and otherwise excluded from Hollywood. It was certain there would be a bidding war. The question was how high it would go.
The atmosphere in the massive high school auditorium where Birth of a Nation was first screened was, as many reported at the time, electric. As I waited for the film to start, I read reports of his anti-gay remarks and the allegations of rape that took place at Penn State in 1999, when Parker was a sophomore in college. I'd been scheduled to interview Parker the next day and was doing my research — including reading his Wikipedia page, which, on Jan. 25, included a paragraph on the rape case under "Background."
Even then, amid the haze of hype, it seemed clear that this wasn't going to go away. It might not be a Cosby situation, but it would hover over every interview, every profile, including my own. How could it not? Parker had been found not guilty, but it was still an alleged rape on a college campus — one that also involved the man who'd helped Parker formulate the story for the film.
But then the lights fell and the phones went away and the power of the film took hold. At several points, the sound of weeping was audible among the thousands of audience members; the film does not flinch from depicting the realities of slavery, including a brutal rape that serves as a pivot point in the film. Even before the credits and the standing ovation, executives and assistants "worked multiple cell phones" in "fevered discussion" about the "awards-bait film"; at least six different distributors made pitches directly to Parker and his producers, rushing, as a source told Variety, "to cook up slides to outline the details of their release strategy."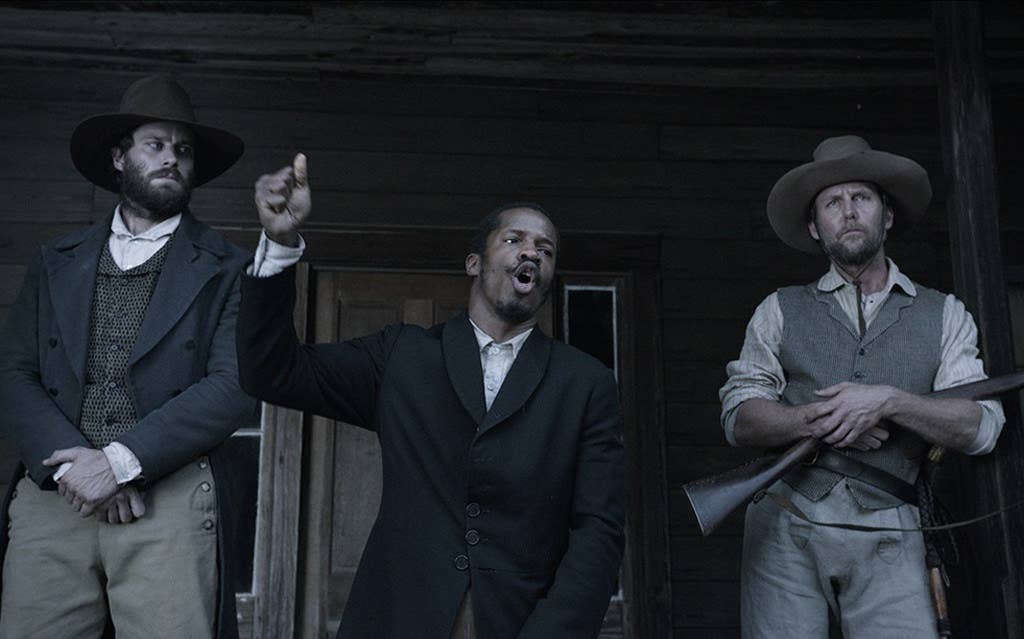 The game was to win over Parker — not research his past. Whispers of an escalating bidding war circulated late into the night. Netflix offered $20 million and a streaming and theatrical release strategy similar to that of Beasts of No Nation, which Parker was reportedly "turned off" by, instead opting for a $17.5 million deal from Fox Searchlight that would include a "road-showing" of the film at schools, churches, and colleges. It was a "big risk," but potentially a brilliant one. Parker did not sleep that night, and did not sit for press interviews the next day, as the trade press pushed its reviews and the record-breaking deal — the highest ever at Sundance. Anticipation outside of Sundance began to build on Twitter and via pieces in nontrade publications, with headlines exclaiming, "Sundance Roars for Black Film, and Fox Searchlight Bids $17 Million" and "What to Know About Nate Parker and His Sundance Sensation The Birth of a Nation."

That post, published on Time.com, is a perfect encapsulation of the narrative that had already begun to coalesce around Parker and his film — that Parker had become disenchanted with the "majority of roles available to him" and "drew a line in the sand two years ago: his next role would be Nat Turner or nothing at all." He spent seven years putting together the funds to make a film that would rectify that oversight and "hold [audiences] hostage in the theater, where they have to see these images, and they have to see the parallels and the themes that are echoing right now in 2016."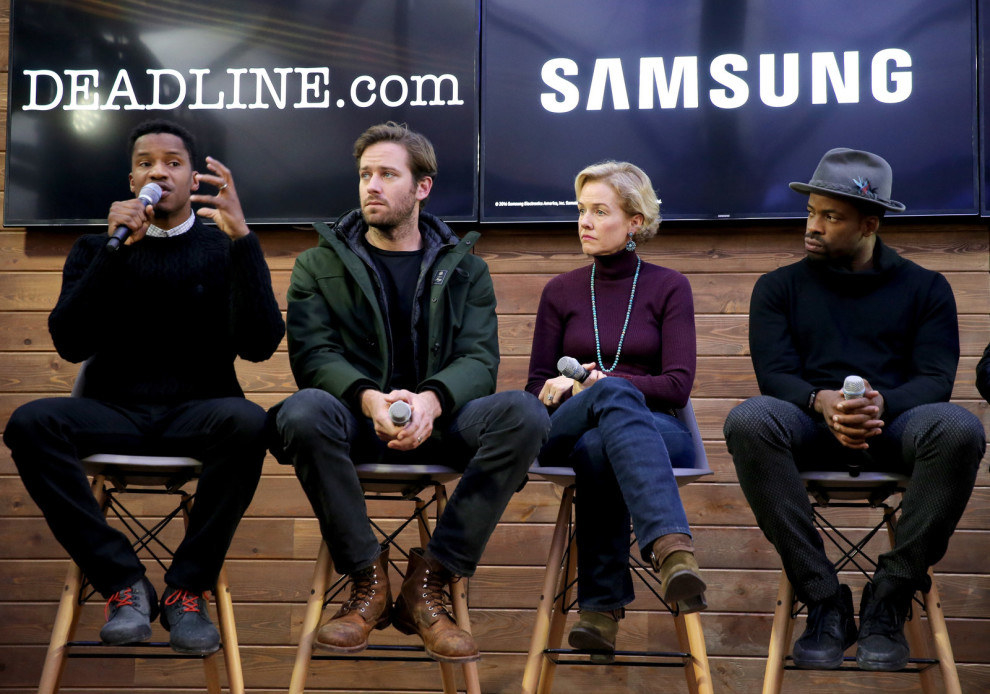 A day after the film's first public screening, the contours of the Oscar campaign were already in place: Birth of a Nation is a passion project with Parker as its auteur; it rectifies historical oversight; it provides necessary insight on our racially fraught present; its triumph is a triumph against racism. Fox Searchlight, like the rest of the bidders, knew they had a powerful film before them. But they also knew they had a face, presence, and charisma nearly unprecedented in its potential to beguile both audiences and Academy voters alike. Many Oscar campaigns have leveraged the narrative of the auteur (Scorsese, Allen, Iñárritu) and the indie struggle (Benh Zeitlin, Kathryn Bigelow, Richard Linklater). Very few — Kevin Costner, Mel Gibson, Clint Eastwood — have so thoroughly aligned a single artist as the face of the film.
Of course, that's part of what Searchlight was betting on: the simple allure of an auteur and his singular artistic vision to usher a film to greatness. They simply failed to fully research, contemplate, or understand the implications of that alignment.
No trade or mainstream press around the debut of Birth of a Nation included the details of the rape allegations and trial that spanned Parker's sophomore and junior years at Penn State, from 1999 to 2001. Instead, details of the event resurfaced the way scandal so often does: through the gossip press, where the Cosby allegations also percolated for years. Here they arrived through Oh No They Didn't, a popular user-run-and-vetted site and one of the most influential blogs to emerge and challenge the mainstream publicity apparatus in the mid-2000s.
The post, published two days after the premiere, detailed the allegations, citing a news item on a suit filed against Penn State by a women's rights group on behalf of the victim and an interview with Parker, published in the Virginian Pilot in 2007, in which Parker and his mother address that period in Parker's life.
The Women's Law Project sued Penn State on behalf of a former female student who went to police in 1999 to say that she was raped by two university wrestlers, identified as Jean Celestin and Nate Parker.

The female student also said the two men began stalking her.

"They followed her. They called her names. They publicized her name. They tortured her. And the school's response was a slap on the wrist," said [Susan] Frietsche [of the Women's Law Project].

The university allowed the two men to remain in school and as members of the wresting team under scholarships.

Both men were charged. Parker was acquitted, but a jury found Celestin guilty and he was sentenced to six months in jail after receiving letters of support from university administrators. [...]



According to Variety, executives at Searchlight only learned of the allegations when they "started to trickle out on smaller blogs," and "by then, the ink had already dried on the deal." While it boggles the mind that no one on the Searchlight team had thought to look at Parker's Wikipedia page, even if they had, they might have seen "acquitted" and conceived of it as a challenge, but one that their publicity team, coupled with the power of the film, could easily surmount.
Searchlight would have at least six months before Parker started publicizing the film and the Oscar campaign began in earnest. Precedent was seemingly on their side: For years, studio fixers, working in tandem with the fan magazines, had covered up sexual "indiscretions" of the stars, protecting them from press and legal scrutiny. In 1943, classic Hollywood star Errol Flynn was acquitted on two cases of statutory rape; his image was sullied, but he nonetheless went on to make over two dozen films and host a television show named for him.
Roman Polanski, who pleaded guilty to a charge of statutory rape in 1977, served 42 days, was released, and fled the country when the terms of his plea bargain were reversed. He won an Oscar for Best Director for The Pianist in 2003. Woody Allen has been plagued by sexual scandal since separating from Mia Farrow in 1992: he faced molestation charges, later dismissed, from his 7-year-old daughter Dylan Farrow, and married Farrow's adopted daughter, Soon-Yi Previn, in 1997. The molestation charges were reintroduced during the 2014 awards season, when Dylan Farrow penned an open letter concerning the alleged molestation.
Allen responded; Farrow countered; the back-and-forth dominated the press cycle and threatened to doom Blue Jasmine's chances at Oscar. And while Allen did not win an Oscar for Best Original Screenplay, Cate Blanchett went on to win Best Actress. Today, the who's who of Hollywood stardom continue to clamor for the chance to appear in his films.
The lesson was that the specter of alleged sexual assault could be circumvented, and a male auteur could continue to win awards, obtain funding, and attract stars to collaborate with him. Or so it seemed. The context that distinguishes Parker's case is, in many ways, what Searchlight failed to understand — and also so tangled that it's best presented as a list:
1.) That the allegations against Allen and Polanski arrived after they had established themselves as behemoths of Hollywood art cinema, not as they were attempting to do so.
2.) That during and after the allegations, neither Allen nor Polanski starred in their films, only directed them, and thus were not the public face of their films.
3.) That Parker's alleged abuse took place on a college campus — the current flashpoint when it comes to malfeasance and mishandling of sexual abuse and sexual abuse victims — and that the university's claims that they properly handled the case would be called into question.
4.) That at Penn State, Parker was a member of the wrestling team, and the suit against Penn State for mishandling the Parker case took place just as the university was beginning to investigate football coach Jerry Sandusky, who was later found to have molested eight boys over the course of his tenure at the school.
5.) That Parker's accuser attempted suicide in the aftermath of the harassment, and would later commit suicide by swallowing 199 sleeping pills.
6.) That Parker is black and his victim was white, and the allegations and trial became racially charged, dividing the campus and pitting women's rights advocates against black student groups.
7.) That Parker's sexual history takes place against a long history in which black male sexuality has been portrayed as animalistic and predatory, especially when it comes to "vulnerable" white women, and that a black man's relationship with a white woman has been cause for castration or lynching.
8.) That Parker had already drawn scorn for his prescriptive understanding of how black masculinity should be represented on film, declaring that he would not play a gay character because he wanted to "preserve" black masculinity.
9.) That transcripts of both the trial and the subsequent case against Penn State, detailing the night of the alleged assault, Parker's subsequent attempts to diffuse the event, and the victim's harassment, were not only publicly available but would circulate broadly on the internet.
10.) That Parker's acquittal would be viewed not as an exoneration but as a failing on the part of a system that, as demonstrated by myriad cases over the last decade, has systematically failed victims of sexual abuse.
11.) That a distinctly old-school approach to neutralizing scandal would crumble when exposed to the policing force of social media — and Twitter in particular.
Very few of these realities were confronted in Searchlight and Parker's first and primary attempt to address the scandal, which took the form of two interviews: one with Variety, the other with Deadline, both published on Aug. 12. The placement in the trades, whose primary audience remains those affiliated with the industry, is not accidental. As Deadline explains, "Having become fully aware of those old charges in the months since it bought the film, Fox Searchlight has been looking to pre-empt any late-season bombshells that might land while voters have ballots in hand."
Deadline has earned a reputation as the go-to trade to "tell the talent's side": a safe harbor for stars and directors where they can talk about their art without tough questions about things they'd rather not talk about. Various publications have taken this role historically — People is where celebrities go to "set the record straight"; Vanity Fair seemingly permits powerful stars to guide profiles in directions of their publicist's choosing. It's part of the symbiotic relationship in which publications promise a certain sort of coverage for a certain sort of access, and it's been the foundation of more than a century of Hollywood publicity: a way to deftly guide the narrative surrounding the films coming your way and the stars you're supposed to love in them.
Parker's approach has all the markings of a carefully crafted publicity maneuver: His team invited Deadline and Variety to have the exclusive interviews, which would take place on their terms and at their behest. Variety emphasizes the length of the interview — two hours — while Deadline points out that they were invited to Parker's house to "look him in the eye and discuss the case" and "face this 17-year-old legal matter head on."
Parker also employs a well-worn Hollywood publicity tactic, wielding his children as a deflecting shield. He brought his 6-year-old daughter to the Variety interview, which is mentioned right before he "declined to speak about the specifics of the case." Of course it would be inappropriate to go into detail about what happened with his young daughter in the room. The Deadline interview took place with "remnants of the five daughters who live with him all around," and Parker repeatedly emphasizes his commitment to them and their safety: "I was cleared of everything, of all the charges," he says. "I've got five daughters and a lovely wife. My mom lives here with me; I brought her here. I've got four younger sisters." His status as a family man becomes an implicit indication of his attitude toward women: Could a man who allegedly raped a woman love these other women this much?
Throughout the interview, the tone is set to transparency: "I've always been an open book," he told Variety. "I am open to the scrutiny. I will never hide anything from my past." He repeated a variation on that theme to Deadline: "It's public record, and in fact, this isn't the first time I've talked about it on the record. ... I never hid it from Fox. The last 48 hours, it was something we discussed and I've always said I live in truth."
He's not trying to manipulate that truth: "I don't know how these things work, who to talk to and what to say," he said, pointing to his apparent lack of knowledge about how to handle scandal. "But I have been very clear with everyone. Anyone who wants to talk to me, I will talk to them."
Put differently, Parker has nothing to be ashamed of, and Academy voters and audiences should follow that lead, resisting distraction from the real issue at hand: his film. He was "determined not to let his worthy film be defined by that case," according to Deadline, "lest it detract from his mission to use Turner's story as a catalyst for discussion on the turbulence between blacks and whites that has roiled major cities across the country this year."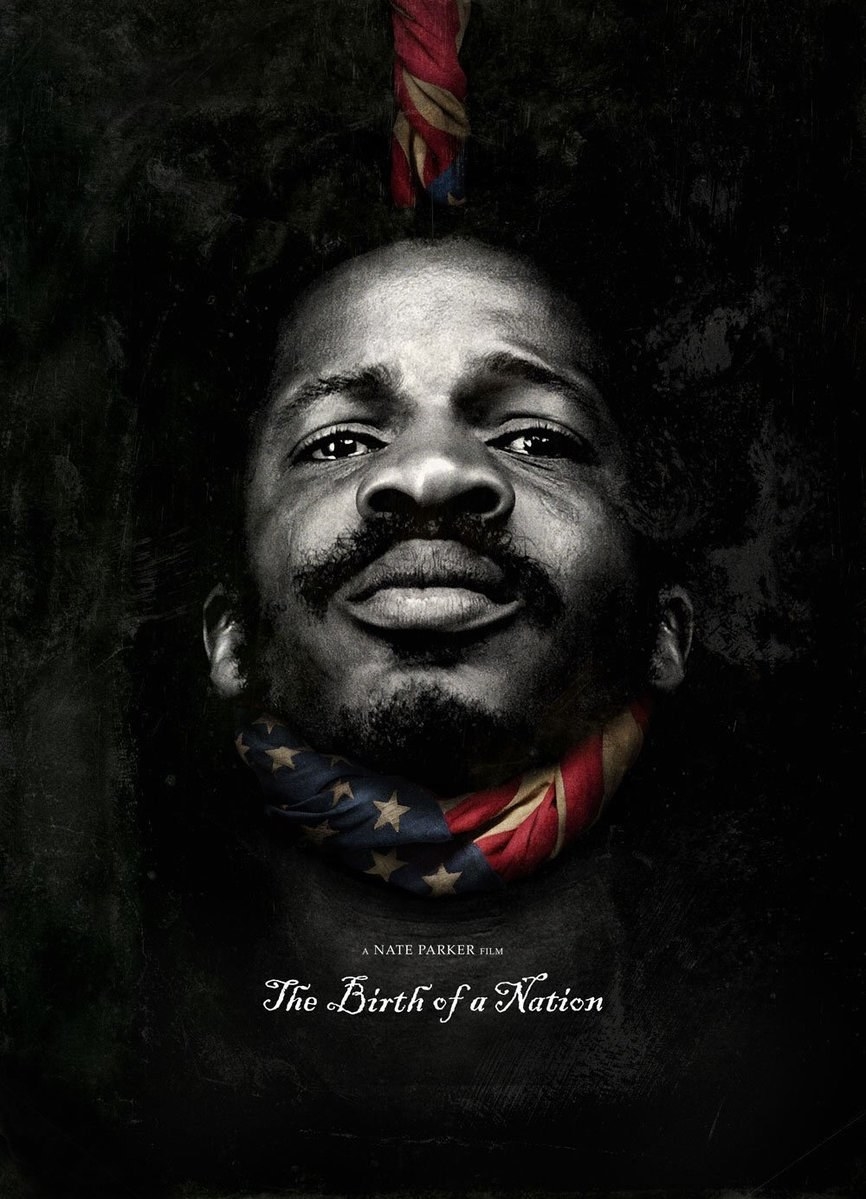 To fixate on this alleged 17-year-old rape, then, is to willfully turn away from both Turner's story and American race relations, whose history is powerfully evoked in a poster for The Birth of a Nation, in which Parker's face appears with the noose made of the American flag. After all, black men have been lynched, both literally and metaphorically, for transgressions into all manner of supposedly "white spaces": the sidewalk, the white woman's bedroom, positions of power or influence. The allegations against Parker and the controversy that followed are as much a part of that history as his film — but he sees them as something far in his past. As one observer put it, "Nate Parker wrote a movie about something that happened in 1831 and then said his rape charge was a long time ago and he's moved on."
Parker repeatedly emphasizes just how difficult the memory was; in both tellings, he pauses as he recounts the incident. In Deadline: "I stand here, a 36-year-old man, 17 years removed from one of the most painful … [he wells up at the memory] moment in my life. In Variety: "The reality is" — he took a long silence — "I can't relive 17 years ago. All I can do is be the best man I can be now." Apart from the repeated emphasis on "17 years ago," which works to distance him from the allegations, the accounting of the scene can either be read as an accounting of genuine emotion or, less generously, as stage direction.

Parker does admit that "I can imagine it was painful, for everyone." He also explains that "the reality is, this is a serious issue, a very serious issue, and the fact that there is a dialogue going on right now around the country is paramount," without ever enumerating that the "this" in this instance is "sexual assault," and says that "I want women to stand up, to speak out when they feel violated, in every degree, as I prepare to take my own daughter to college." He never refers to his victim in any capacity, save the gesture toward the pain "for everyone" — effectively focusing the event, and its ramifications, on him.
Parker's actions and rhetoric were honed into a fine point through the framing of Variety and Deadline. Variety's introduction and editorializing is minimal, with a straightforward explanation that the trial "threatens to cast a shadow" and "deflect" from the film. The piece is a third the length of Deadline's and written by Ramin Setoodeh — who, four days later, would publish an interview with the victim's brother, breaking the news that she had committed suicide in 2012.
By contrast, the rhetoric of Deadline's piece, written by Michael Cieply and Mike Fleming Jr., is highly suggestive: It is a "brewing controversy" that "threatens to challenge the trajectory of [Parker's] inspiring narrative"; the rape charges were "waged" against Parker and roommate/collaborator Jean McGianni Celestin; the trial itself was a "sordid he-said-she-said affair"; Celestin "prevailed" in court after requesting a retrial and the victim opted not to testify again; the "harsh light" of the awards season is unforgiving, "especially in a post Bill Cosby and Roger Ailes era when even an allegation of rape creates stigma, and where Mel Gibson was ostracized for merely saying objectionable things while drunk."
There is no mention that Gibson's "objectionable things" were misogynist and anti-Semitic epithets, that he told then-girlfriend Oksana Grigorieva that if she was "raped by a pack of niggers," she would be at fault, or that he pleaded no contest to misdemeanor battery charges related to domestic abuse — just the implication that, in Hollywood today, you can be "ostracized" for your words.
The Deadline piece does link out to several court documents — including the transcript of a phone call, recorded by the victim, in which she and Parker discuss her level of consciousness and her attempts to discern the identity of the third person in the room — watermarked with Deadline's logo. It summarizes several events of the original case while omitting details of the civil case brought against Penn State, which included the allegations that Parker and Celestin had hired a private investigator to seek out information that would discredit the accuser and harassed her, in ways explicit and psychological, to the point that she attempted suicide and eventually dropped out of school.
Still, the overall tone of the piece is that of moving forward — that the "sex case" that "could tarnish" the film should and will not do so.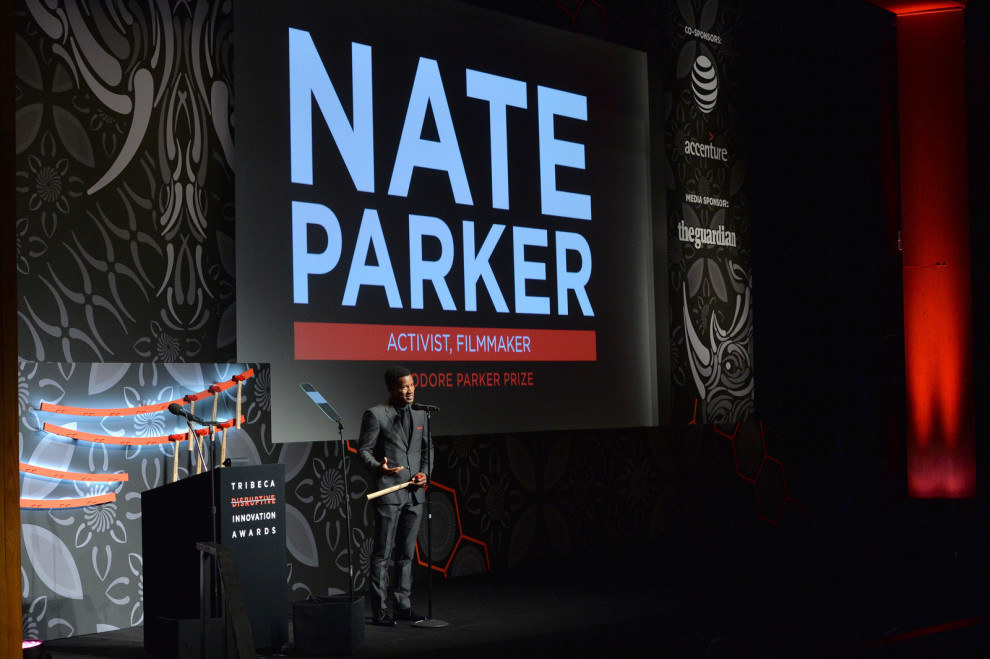 Studios have wielded the trades, the gossip press, and mainstream publications against competing films, stars who've misbehaved, and agents, publicists, and interlopers who've threatened the integrity of a large-scale operation in which a cluster of high-powered men (and a select few women), almost entirely white, decide which projects are deserving and what sort of talent gets to control them. The same operation that decided, based on the combination of the subject matter, the power of Parker's film, and ostensible marketability of his image, that he would be the new chosen one.

Everyone loves a new great hope, a new story of the power of film, a new way to change the conversation from the ways Hollywood is failing to the ways it's fixing itself. But this isn't classic Hollywood, when brushing over scandal was as simple as bribing a police officer or slut-shaming a potential accuser, or the '90s, when Harvey Weinstein both planted and rebuked smear campaigns with something approaching glee. Today, the "harsh light" of this awards season won't be led by the studios, but by Twitter, and the vast sea of thoughtful, bullshit-calling audience members, cultural critics, and sexual assault survivors and advocates that populate it.
It's Twitter, after all, that first led me and others to the allegations; it's Twitter that began to question the framing and rhetoric of the Deadline piece. It's through Twitter, and blog posts linked therein, that many have addressed the conspiracy theory that Hollywood is waging a war on Parker in order to prevent his entrance into its elite echelons, pointing out, in no uncertain terms, that "There's No Good Reason to Support Nate Parker." It's on Twitter that black cultural critics like Ashley Ford have highlighted the failure of Parker's intersectionality, declaring, "Important black narratives and stories should not be traded for the bodies of women." And it's Twitter that refuses to let the fire of this story fade to embers the way Searchlight needs it to.
These Twitter power users admittedly compose a small portion of the moviegoing audience. But as the reception of everything from the Ghostbusters trailer to the contemporary yellowface of Ghost in the Shell has demonstrated, Twitter has also succeeded in wresting control of various Hollywood narratives away from their makers. While Twitter's means of "discipline" can be unruly, arbitrary, and intermittently impotent, any producer or publicist underestimates its power at their peril.
Ultimately, what you believe about whether justice was served in 2001 matters little. The same goes for whether or not you believe that an audience should or shouldn't separate the art from the moral character of the artist. The new celebrity calculus is not only that all art — especially that of an "auteur" like Parker — is inextricable from one's past and present actions, but the victimization of women, at any point in one's career, is no longer something one can "move on" from.
This is the reality of the "Bill Cosby and Roger Ailes era" — not because the allegation of rape creates stigma, as Cieply and Fleming put it, but because those allegations have proven that we should believe women. That view may not be held by all of America, or even all of Twitter, but it is the one that has come to guide the popular conversation about sexual abuse.
And that is what Searchlight has failed most dramatically to understand. They believed the power of a film, and the potency of Parker's narrative, would be enough to "deflect" from the events "17 years" in the past. But even Parker's recent Facebook post, and its declaration that "as a 36-year-old father of daughters and person of faith," he now looks "back at that time, my indignant attitude and my heartfelt mission to prove my innocence with eyes that are more wise with time," feels like the words of a desperate man backed into a dismal corner — not one who has contemplated the way his defense, both then and now, contributes to rape culture, or considered its potential effect on his co-star and rape survivor Gabrielle Union, or what binds the rape that takes place in the film with what happened in his dorm room in 1999.
For years, the indiscretions of powerful men, especially when it comes to the exploitation of women's bodies, have been facilitated by the silence and spin of those who work beside and below them. Whether implicitly endorsed, tactfully ignored, or otherwise blunted by members of the press hungry for access, their power has gone largely unchecked. There is no accounting for the tens of thousands of women who have been shamed, forgotten, elided, or left behind; until the '90s, there wasn't even language to describe unwanted but nonviolent sex.
Which is not to suggest that forgiveness and redemption are impossible, or that an accusation of rape means one should never create or work again. But a different mode of accountability is necessary: on the part of those who perpetuate the abuse, but also from those within the industry whose machinations have, in the past, made it disappear and, in so doing, effectively enabled its continuation. To "spin" a story, after all, is to discredit, erase, or deflect so that one's client's viability within the industry remains unfettered — which is exactly what has happened to victims of sexual assault for decades.
Parker wants us to look unflinchingly at white supremacy in America — to realize how the events of the past have ramifications on the present. Today, others are demanding that he — and, by extension, the studio that stands to suffer from its oversight — do the same for the treatment of women.