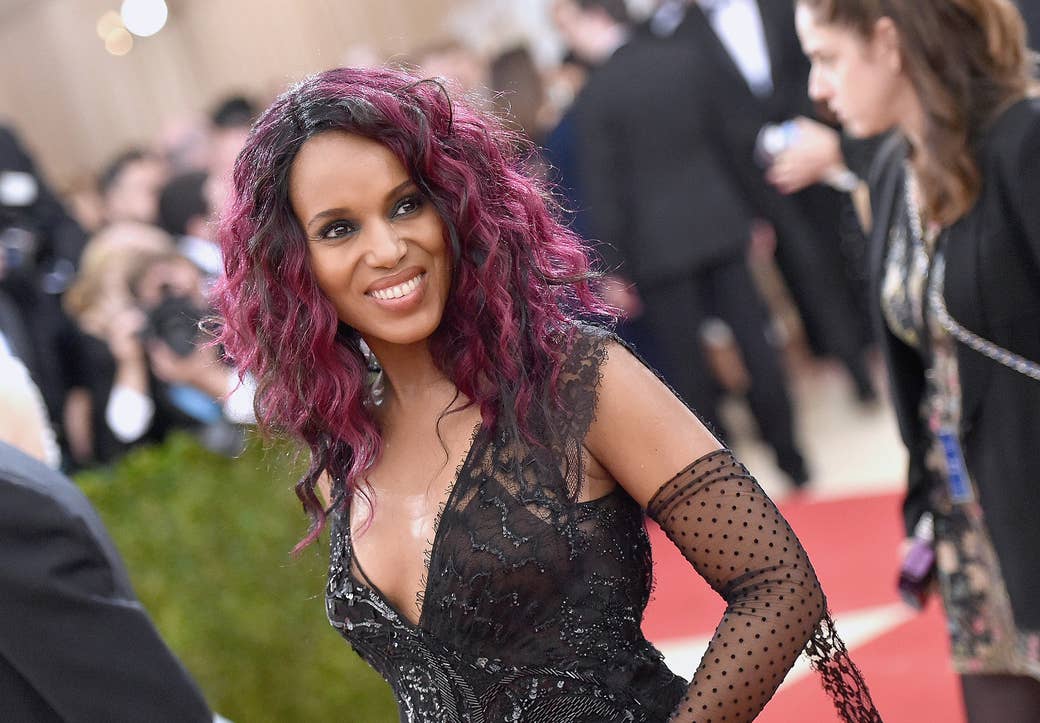 If you search FameFlynet, one of the most popular repositories for paparazzi photos, for "Isabelle Amarachi" — the name of Kerry Washington's daughter, age 2 — only one set of images appears: Washington, with husband Nnamdi Asomugha, on a nondescript deck, a bundle of white fabric in her arms. Elsewhere, you can find a single picture of Isabelle, head wrapped in a blanket and held close by a nanny as Washington and Asomugha leave a New York hotel.

And that's it. She's not on Washington's Instagram, which she posts to near daily; she's not mentioned to her 4 million followers on Twitter, or in the dozens of interviews Washington sits for every year. Washington didn't even alert the world that she'd given birth to Isabelle until two full weeks after the fact, constructing a veil of secrecy that she's similarly pulled around her relationship with Asomugha, whom most did not even know she was dating until the two married, near Sun Valley, Idaho, in 2013. When she announced her second pregnancy earlier this week, it reminded the world of just how effectively and consistently she's excluded her massive fanbase from what, for many stars, would be central to her appeal.
At some point in the late 2000s, Washington made the radical decision to become one of the most private celebrities in Hollywood. Radical because fame, especially today, and especially for a woman, is predicated on steady access to the intimate: The more details about a celebrity's private life, the more pictures of her "real" life, the more she tweets about her awkward interactions, the more authentic, relatable, consumable she becomes. In an industry in which many black women still struggle for steady work, the logic would suggest that Washington would want to make herself more consumable, not less. Yet Washington's managed to become more visible while firmly closing the door on her personal life.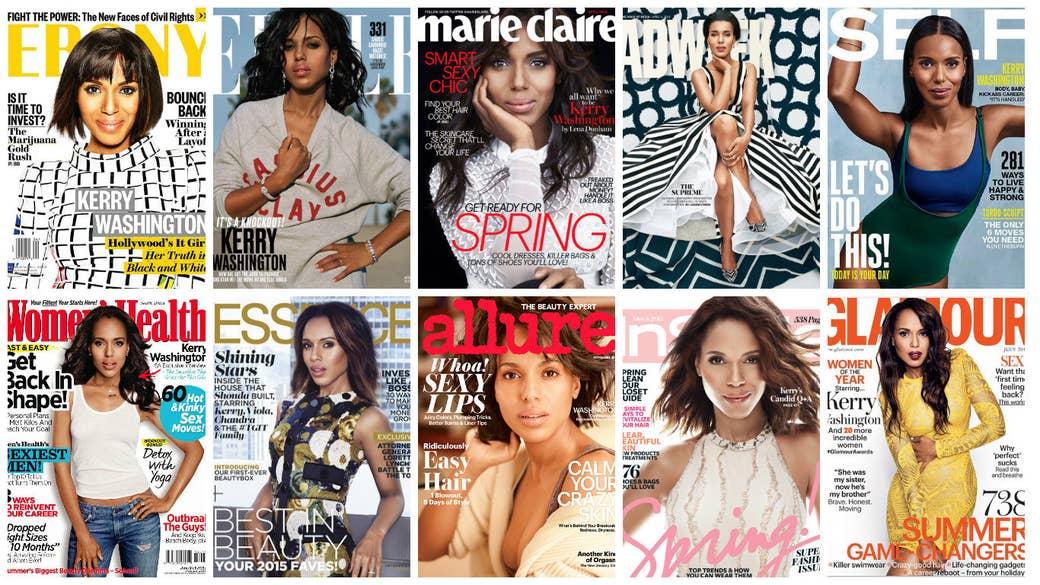 There are plenty of celebrities who have sheltered their private lives, but that requires a separate primary source of fame: Meryl Streep, Jessica Chastain, and Cate Blanchett are such superlative actors that they've never needed to talk about their private lives. Their skill is interesting enough. Which isn't to degrade and devalue, say, the Kardashians, who smartly recognized that their font of interestingness is rooted in the minutiae of their "private" public lives. Meryl and Kim reside on opposite ends of the celebrity spectrum: on one side, a fame rooted wholly in performance of someone else; on the other, the performance of self.

Most celebrities find themselves somewhere in between, with the general rule that the less skill (at acting, at being a chef, at sports) demonstrated, the more "self" the celebrity must perform in order maintain visibility. Even the few remaining legitimate movie stars (Angelina Jolie, Jennifer Lawrence, George Clooney, Will Smith) and the British royalty offer slivers of access, however controlled, into their private lives, so as to maintain the essential balance of extraordinary (nothing like us) and ordinary (just like us).
What makes Washington remarkable is the manner in which she's secreted certain sectors of her life — and deflected dissatisfaction that could have resulted from it — while maintaining her status as one of the most popular, most visible, and highest paid actresses in television. It's a classic magic trick: with one hand, Washington directs you towards Scandal, her politics, her feminism, even her dog, and you forget to watch what she's doing with the other. She hides, but she does it right before our eyes.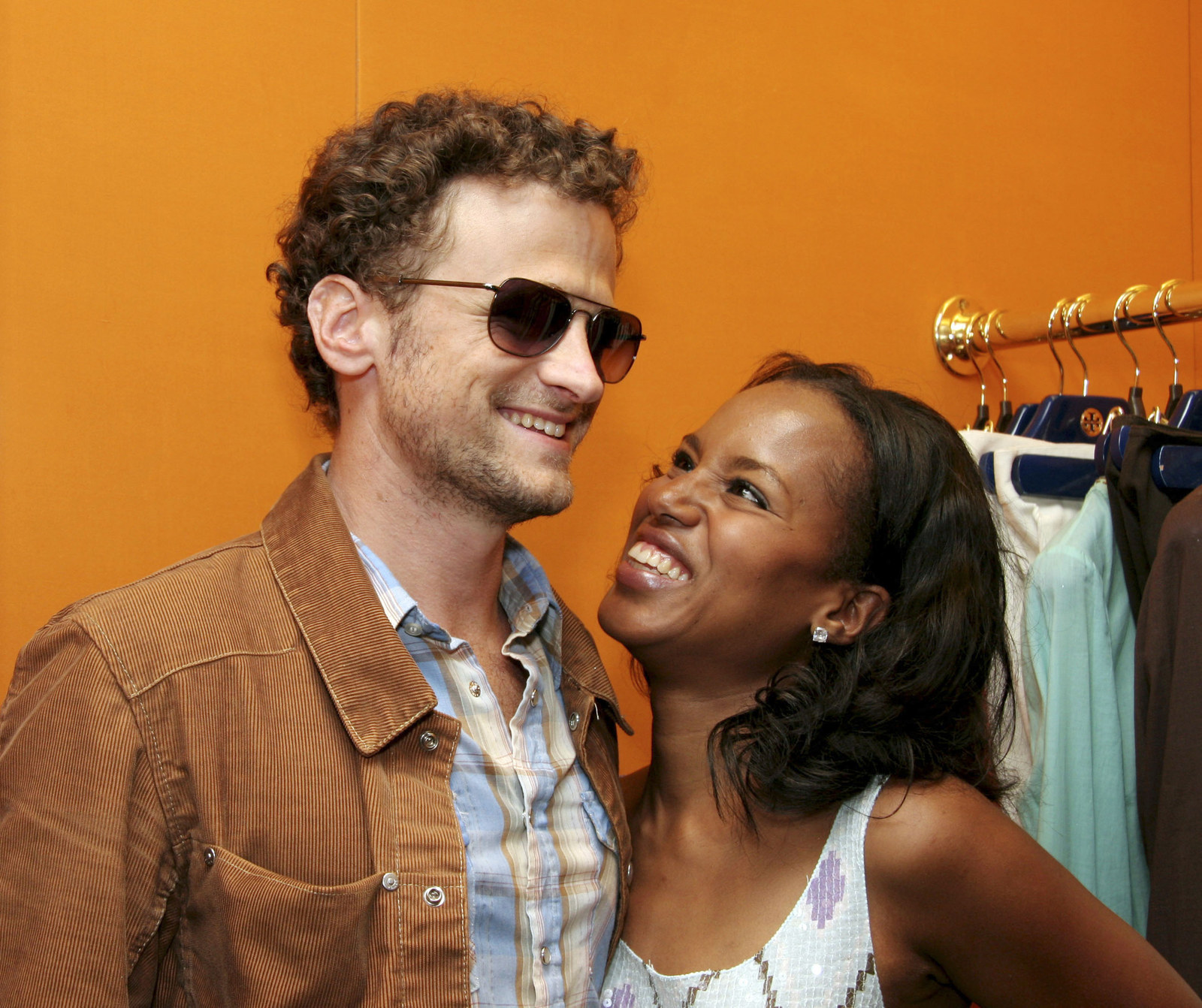 It wasn't always this way. For the first decade of her career, Washington talked openly and often about her personal life, her struggle with an eating disorder, her relationship with parents, and her three-year engagement to actor David Moscow, best known for playing young Tom Hanks in Big. Her family was upwardly middle class; in an anecdote she told widely during press for her supporting roles (in Ray, Mr. and Mrs. Smith, Fantastic Four, The Last King of Scotland), she recalled her 18th birthday as an opportunity for her parents to take her to dinner and discuss who she would vote for in the next election. She attended Spence, the upper-crust Manhattan private school, on scholarship. At school, she crossed paths with Gwyneth Paltrow; back home in the Bronx, she took dance lessons from the same man who molded Jennifer Lopez.

Over the course of the 2000s, Washington let the New York Times hang out in the back of her limo; she posed on the cover of a bridal magazine; she spoke, at length, about the demise of her relationship and the particular struggles of her eating disorder. The message: Beautiful Kerry Washington struggled with love and body image, just like us. Plus she'd checked all the limited boxes then currently available to a black woman in Hollywood: supporting role in a comic book franchise, Oscar bait, Spike Lee movie, Tyler Perry movie, hip-hop object of affection. But it wasn't enough, or wasn't interesting enough, to bolster her status to the sweet spot on the fame spectrum, still dominated by the (white) likes of Jennifer Aniston, Anne Hathaway, and Kristen Stewart, whose personal lives were imbued with lingering intrigue and scandal.
And Washington was fine with that: "I learned through experience that it doesn't work for me to talk about my personal life," she told Glamour earlier this year. "I've had earlier times in my career when I did talk about it. I was on the cover of a bridal magazine. But I couldn't just turn around and say 'I only want to talk about the good stuff, not the bad stuff.' So I just thought, OK, no more."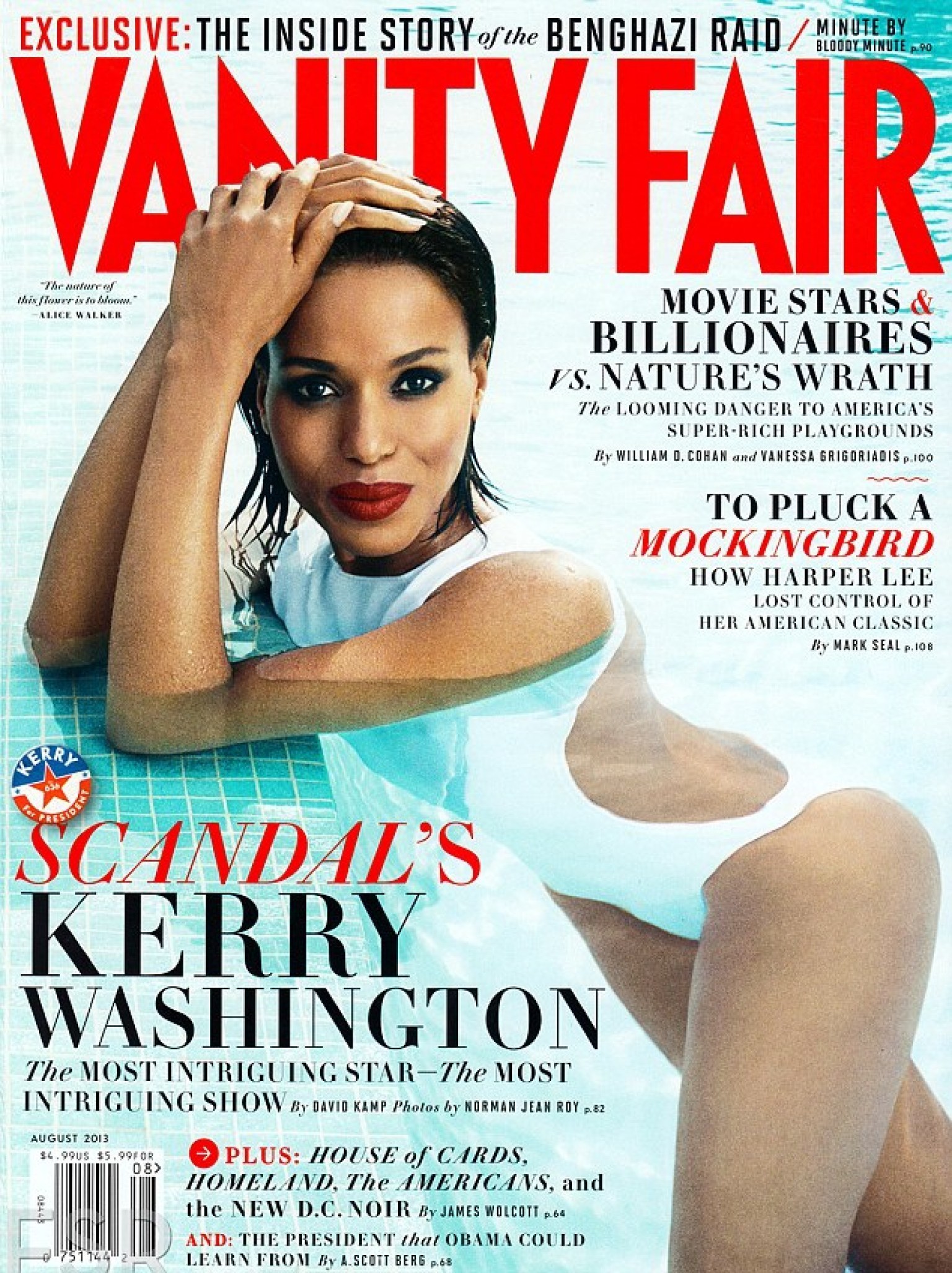 Washington's decision roughly aligned with the unique, layered, delicious, life-changing role of Olivia Pope. Pope's image (and wardrobe, and private life, and vocal phrasings) was so potent that Washington's, which had never fully coalesced in the public eye, could easily slide behind them. Who needs paparazzi photos of Washington when you watch GIFs of her making out with Fitz on Tumblr?

And yet, as the Scandal freight train gained steam, Washington seemed to be doing all the things that as a star on the rise. She appeared on the August 2013 cover of Vanity Fair in a bathing suit; she became an active Twitter user; she started appearing on "Best Dressed" lists. But in a rarity for the magazine, the Vanity Fair feature is, in truth, a profile of Scandal, not Washington, and includes no revelations or commentary on her private life — all the more remarkable when news of her "secret" marriage broke just as the issue went public. It was another bit of PR magic: Everyone was too busy talking about the first solo black woman on the cover of Vanity Fair — and the ability to pull off a secret marriage — to actually delve into the marriage itself.
As for her social media, it's always centered on the show, which she helped make the top tweeted show on television. On Instagram, she loves taking selfies with co-stars and celebrities — and her dog. Together, they create an aura of intimacy and authenticity while remaining firmly within the sphere of her professional life.
Washington's newfound role of a fashionista was yet another way to attract attention while deflecting it from her actual life. "There were a couple of actresses whom I felt were having the upper hand careerwise," Washington explained, "because they knew how to work that red carpet. I was like 'I'm missing a really important tool. If I am the CEO of the Kerry Washington Corporation, my marketing department is really lax.' So I sort of developed a new character: Red-Carpet Kerry."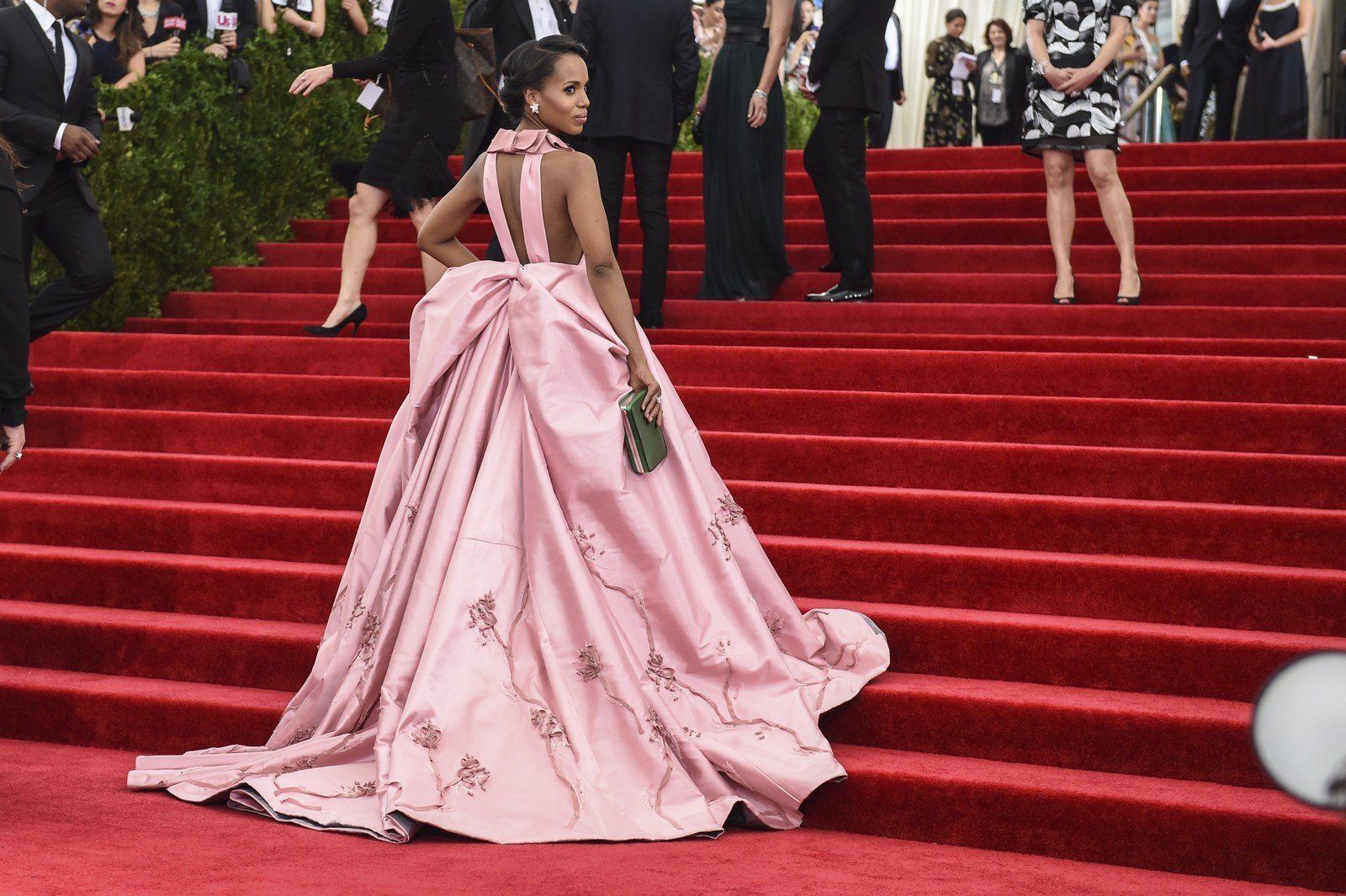 Every star is a corporation unto herself, the layered labor of publicists and trainers and makeup artists and performances and personality, but few are willing to speak about it so explicitly. To understand a star as a brand, after all, is to admit that you're being sold something, usually an ideology. Yet Washington doesn't shy from conceiving herself that way. In addition to Red Carpet Kerry, and Olivia Pope Kerry, there's also "hip-hop Kerry and Kerry from the Bronx," which, as she told AdWeek, "was a part of my brand that I wasn't doing a good enough job getting out there." Thus: the Apple Music commercial with Mary J. Blige and Taraji P. Henson.

"There aren't a lot of products and a product space that live in that part of my identity that I would necessarily want to partner with," Washington said, referring to "hip-hop Kerry." But "Apple Music was a no-brainer." Put differently, Washington — who has partnered with Neutrogena, OPI Nail Polish, The Limited, and Movado Watches — is eager to incorporate a certain level of "Bronx" into her brand, but only if processed through the bourgeois filter of Apple.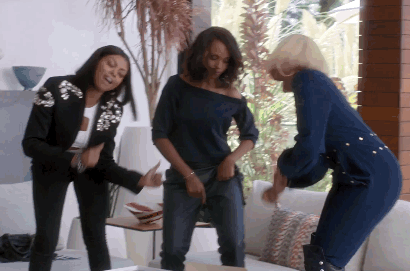 Still, that Apple commercial offers a convincing portrait of the "real" Washington: Filmed by Golden Globe–nominated director Ava DuVernay at Blige's gorgeous, straight-out-of-West-Elm house, Washington shares musical tastes (spanning Puff Daddy to Phil Collins) with two black women whose images, unlike Washington's, were already firmly rooted in hip-hop culture. It overflows with a sense of off-the-cuff intimacy — and Washington's ability to seamlessly unite her "Bronx" and bourgeois selves.

No matter that all three women are perfectly styled and producing practiced marketing lines (Washington: "It's like you have a boyfriend that makes you a mixtape in your laptop!"). The ad, like the rest of Washington's image, is a marvelous sleight of hand: so charismatic and convincing you forget how effectively your attention has been directed.
It's not that Washington is publicity shy. She's been on a half dozen magazine covers since the start of Scandal; she just insists that they're interviews, which she's able to guide, instead of profiles, in which authors grasp, construe, and otherwise elucidate intimacy. She spoke at the Democratic National Convention! She's #WithHer, repeatedly! She eviscerated opponents of affirmative action on Bill Maher, and speaks forcefully, and convincingly, about a wide variety of issues relating to feminism, social justice, and her specific struggles as a black woman in Hollywood. When she was pregnant with her first child, she wore a crop top to the SAG Awards. Which is another perfect metaphor: Washington's not ashamed, or shy, about her personal life. She's happy to flaunt it; she just won't let you access it.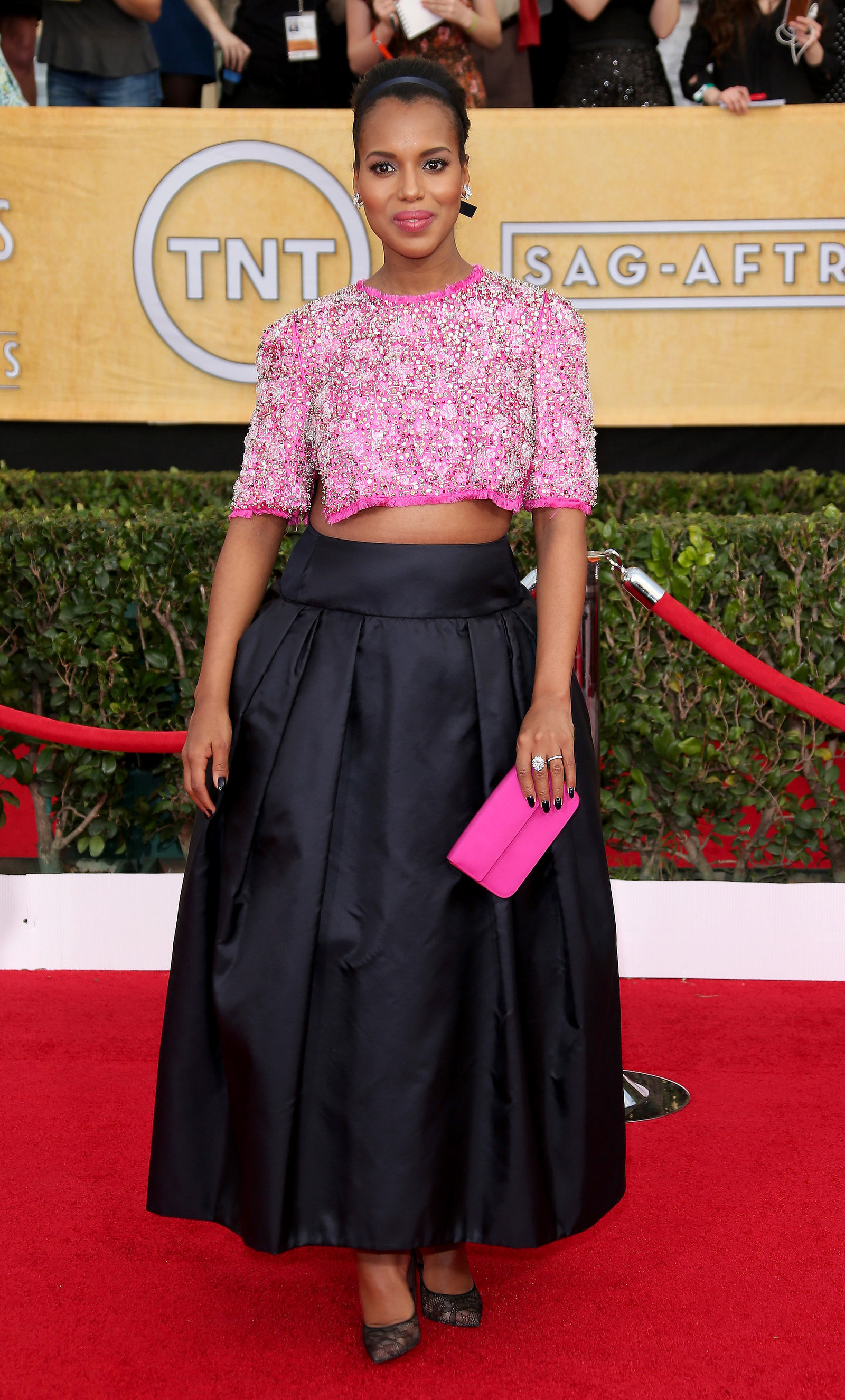 In this way, Washington's image speaks truth to the lie — or, at the very least, the complaint — that Hollywood stars cannot protect their children from exposure, voiced most forcefully by Kristen Bell, with support from Jennifer Garner, Halle Berry, Amy Adams, and others. If no one's photographed Washington's daughter's face in two years, it's possible for other celebrities to do the same — they just can't go to the Brentwood Farmers Market. Or build brands contingent on their roles as mothers. And it's not just Washington who's done it — Eva Mendes and Ryan Gosling and Channing Tatum and Jenna Dewan have been similarly, and successfully, vigilant about their children's privacy; January Jones even refuses to identify the father of her child.

Celebrities don't have to be as extreme as Washington — they can move to New Mexico, as Julia Roberts did all the way back in 1995, and paparazzi interest in both you and your children will decrease. It's not that Washington wants to control what the press does with photos of her kids — the guiding tenet of Bell's boycott of magazines that printed paparazzi photos of children.
Like Olivia Pope, Washington's savvier than that: If you don't put the commodity on the market, you don't look like a control freak when you try to dictate what others do with it.
Sticking to a hard line of privacy helps, too — and engenders respect. Take her response, at SXSW, to divorce rumors: "If I don't talk about my personal life, it means I don't talk about my personal life. That means not only did I not tell you when I was getting married, it also means if somebody has rumors about what's going on in my marriage, I don't refute them, because I don't talk about my personal life."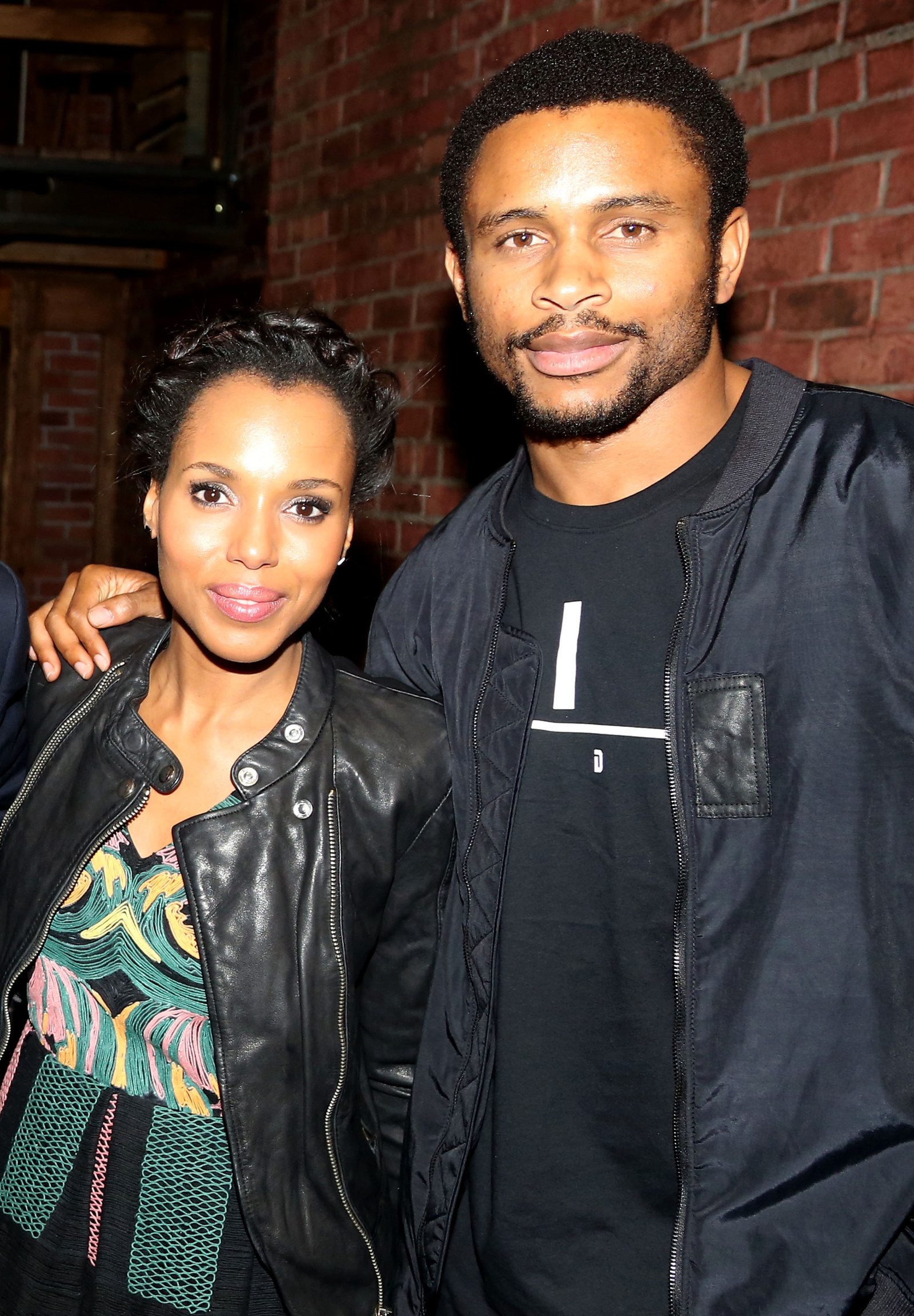 Yet Hollywood, and the gossip that fuels it, abhors a vacuum. In the absence of a narrative — whether of domestic bliss or disrepair — gossip will create one. Depending on the site you read, you could be convinced that Washington and Asomugha's marriage is for show, that Washington is gay, that Asomugha is gay, that both are gay, or that Washington realized she was getting older and simply wanted a baby. There's also the narrative, held by a dwindling yet devoted group, that "Olitz" (the fan term for a relationship between Olivia and Fitz) is real, and that, in a plotline fit for Scandal, Washington married Asomugha so as to distract from her actual relationship with the (married) Tony Goldwyn.

There's little evidence to support any of those theories, save Washington's general reticence to appear in public with Asomugha. Recently, Washington's resolve may have cracked, however slightly: Three weeks ago, she reposted an Instagram of Usher meeting with Asomugha to promote their charities along with hashtag #ProudWifeyGram. Still, the post had nothing to do with their relationship and everything to do with Asomugha's philanthropy work — a far cry from the way other celebrities regularly distract from rumors of infidelity and family distress by appearing in public parks with their children.
When it comes to representations of family, Washington, like Beyoncé or Will and Jada Pinkett Smith, understands that something more than her personal success is at stake. White men and women have hundreds of years of seeing themselves, and their negotiation of domesticity, femininity, and partnership, played out in public view, whether in the popular press, the fan magazines, or onscreen. The sheer multiplicity of representations means that no one celebrity or star comes to bear the weight of proving his or her worth, or merit, or perfection. Black celebrities simply do not have that privilege: How they act out family is overdetermined with political and cultural significance.

Washington, Beyoncé, and the Smiths have chosen distinct routes to negotiating that reality. Yet criticisms of Beyonce's control, or Washington's near-absence, or even the Smiths' willingness to let their children be weird in public neglect the care and consideration with which a black person of power must negotiate her space in the public eye, and the significant costs if she missteps. Each of these parents' decisions — whether to give Jaden free reign on Twitter, or post an Instagram of Blue Ivy on a yacht — is saddled with infinitely more import than, say, Reese Witherspoon's daughter's pink hair.
Washington was the first black woman in 38 years to be cast as the lead in a primetime series. And regardless of Shonda Rhimes' significant power in the industry, her road after Scandal, now in its sixth season, will be fraught: No number of Twitter followers has changed Hollywood's trenchant racial logic, in which women of Washington's caliber remain relegated to the role of the black best friend or historical (and often subservient) figures.
Which is why Washington's publicity strategy, and its pointed focus on the political and the intersectional, isn't just a magic trick, but a reality check. It's incredibly hard to live your life in public, but it's equally arduous to speak out about the conditions, expectations, and systems against which black celebrities have labored for nearly 100 years, and to work to correct them. Which is precisely what Washington is doing, whether in her role as Anita Hill in HBO's Confirmation or by heading up her own production company, which recently signed a deal to create broadcast, cable, and digital content for ABC.
Images matter, of course, and a true panoply of them — not just on the screen, but in the gossip mags and Instagram — go a long way toward fighting pernicious stereotypes and the dichotomy of "positive" and "negative" representations. But fighting words, like the ones Washington has never shied from, and toward which she's cleverly guided our attention — those are just as essential.