On Oct. 18, Air Force One touched down in the college town of Missoula, Montana. It was the president's third trip to Montana — a state of just over a million people — since July. For each of these trips, Trump spent the majority of his Montana-focused time attacking Democratic Sen. Jon Tester, pausing only briefly to introduce Tester's opponent, Matt Rosendale, and acknowledge the other Republican running for national office: Rep. Greg Gianforte. "Any guy that can do a body slam," Trump said, to escalating cheers, "he's my guy."
Trump was referring to one of the more surreal moments in recent political history, when Gianforte — then running in a special election for Montana's sole congressional seat — physically assaulted Guardian reporter Ben Jacobs on the night before Election Day. Jacobs, who had been attempting to ask the famously press-averse Gianforte a question about his support for the GOP health care bill, got audio of the incident. Yet Gianforte's campaign issued a statement blaming the attack on "aggressive behavior from a liberal journalist."
Less than 24 hours later, Gianforte was declared the winner of the congressional race. Three weeks after that, he pleaded guilty to assault. He apologized and began modulating his tone with journalists. But a year and a half later, there he was with Trump, as the president reminded Montana voters who Gianforte was: the type of guy who would rather knock a journalist down than answer a question about his own platform.
As the sun set on Trump in Missoula, Kathleen Williams — Gianforte's new Democratic opponent — was seven hours across the state, speaking at an event in Miles City. Her campaign had just released a new ad, overlaid with audio from the assault: "Greg Gianforte. Assault and lies," a voice intones. "This is not who we are." But as the cheers at Trump's rally made clear, for many Montanans, a guy who assaults a journalist is their guy. That guy may be the "definition of a flawed candidate," as one GOP operative put it, and "Montana's version of Ted Cruz: Nobody likes him," as one resident said to me. But he's still the Republican candidate in a state that voted overwhelmingly for Trump. So how do you campaign against him?
Williams thinks she's found the way, and it's old-fashioned. She's not drawing massive crowds or money like Beto O'Rourke, or releasing viral ads like MJ Hegar. She doesn't have the kind of charisma that's built for the internet, and, as Montana State University political science professor David Parker explains, "she doesn't channel anger." Instead, she's chosen to go town to town, voter to voter — building specific plans to address the issues that Montanans are actually worried about (health care, Social Security, agricultural security) rather than the ones they're told they should worry about during election cycles (guns, Muslims). She also fits the magic Montana formula for a Democrat to win statewide: appealing to the "Base Plus Plus," or "Progressives + Independents + Moderate Republicans." She talks about compromise like it's all she's ever known. She's slightly awkward in a way that feels authentic, while also exuding a sort of radical competence.
Our current political environment is defined by bombast and hyperpartisanship and ideological appeals to people's hopes and fears — a strategy that Gianforte hasn't necessarily embraced so much as allowed himself to be swallowed by. And while Gianforte doesn't speak or tweet like Trump, he's also careful not to denounce the president. By contrast, Williams' campaign feels out of a different time, and it's not just the folksy ads and the camper trailer. She's appealing to an idea of Montana as a place where people vote for the person, not the party; where collaboration isn't just the best way to get things done, but the only way; where people say "we agree on more than we disagree" and mean it.
Williams is appealing to Montanans' core sense of themselves: Are we scared and angry, her campaign asks, or are we kind and conciliatory? Are we exclusionary or inclusionary? Are we partisan or independent? How effective that message is remains to be seen this Election Day, but the problem with its appeal is not limited to Montana. Because, of course, there's the way we say we are, and the way we think we are — and then there's the way we actually vote.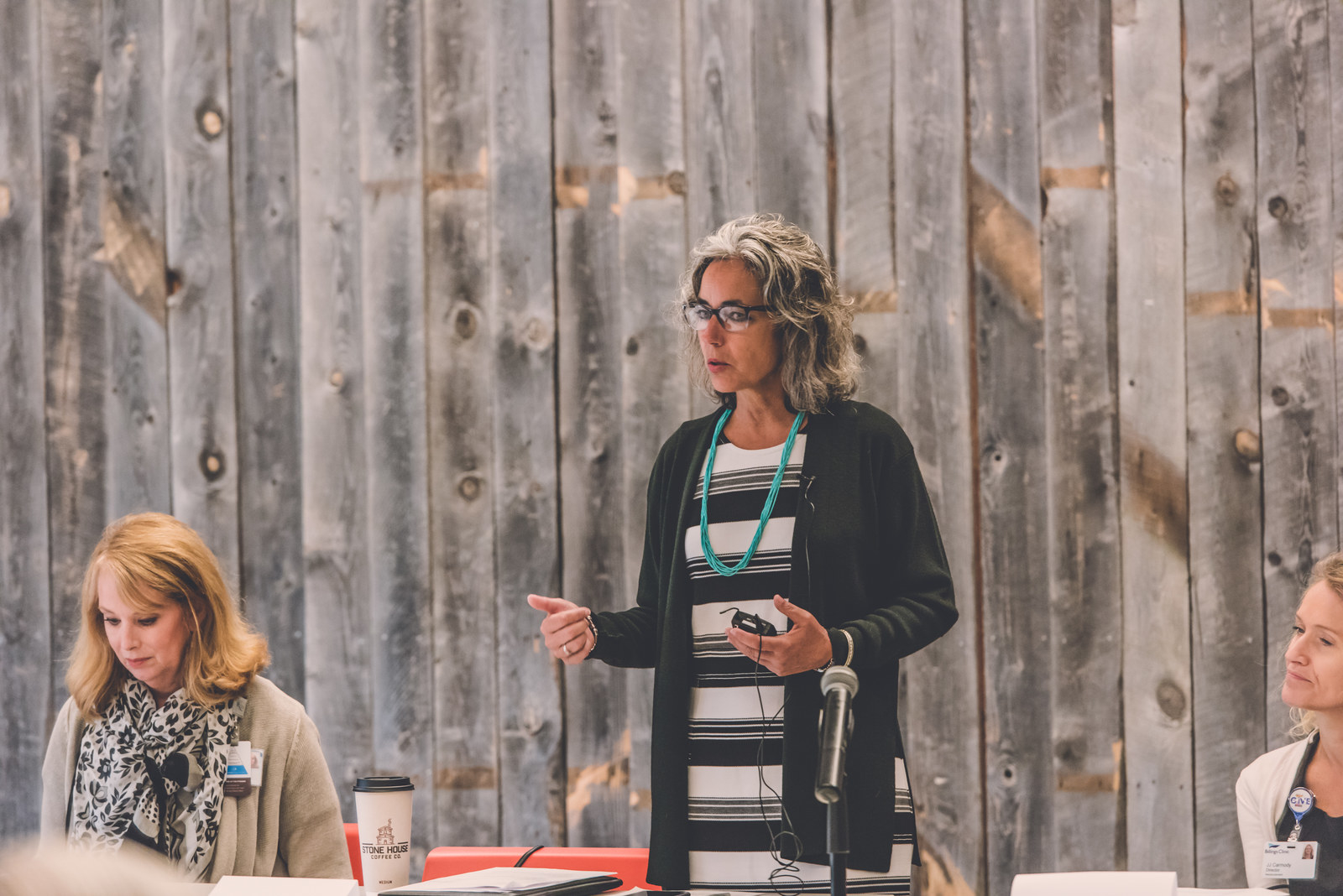 Montana political candidates take it as pretty much given that recent transplants to the state will vote along party lines — urban liberals for Democrats and rural conservatives for Republicans. So they spend the bulk of their time hunting an elusive breed, but one that still exists in Montana: a theoretically persuadable group of voters that used to be called "gravel road Democrats" — past and present foresters, miners, and union workers, many of whom have lived here for generations and find themselves reluctant to identify with either contemporary party.
Republicans try to convince the 3–7% who might vote for the Libertarian candidate that they're Libertarian enough; Democrats appeal to voters who believe they vote for the person, not the party. Republicans promise not to raise taxes; Democrats promise to protect the services (Medicaid, Social Security) those taxes shore up. And everyone talks about public lands, and access to them — it's the one thing almost all Montanans can agree matters, even if they can't always agree on what "protection" looks like.
You could call these voters "independents," or cross-ticket voters, or just what makes Montana so consistently unpredictable and politically interesting. And they're exactly who Williams is betting she can persuade, one-on-one, person-to-person, in the lead-up to this election — in part by providing them with an opportunity to say that Gianforte is not who they are.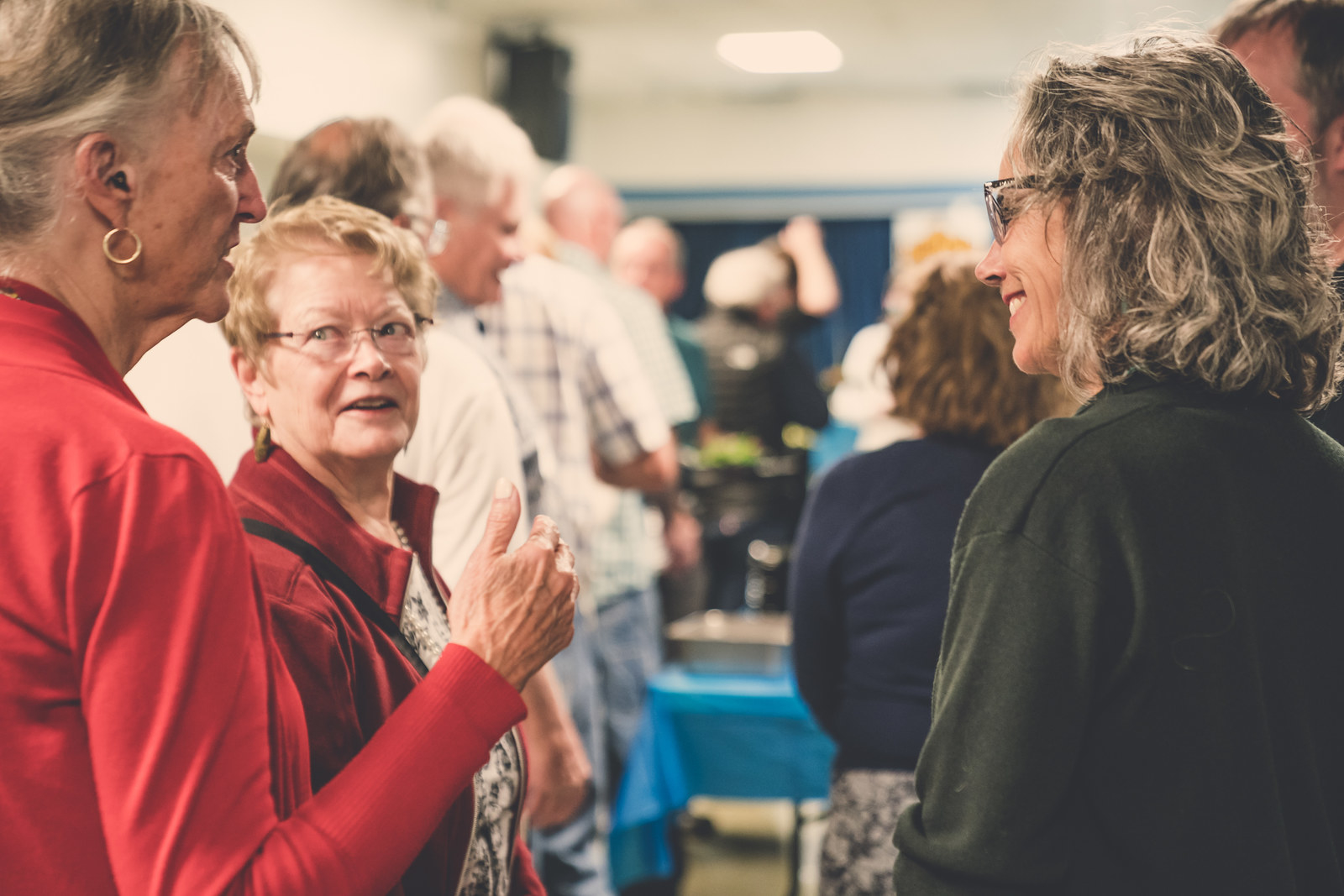 On a Thursday morning in early September, Williams had drawn a crowd that packed the basement of the library in Livingston, Montana, population 7,529. She was there as part of a series of public forums — on public lands, Social Security, health care — that brought together concerned citizens and experts from the community. Today's conversation would focus on Medicare. "This is not a campaign rally," Williams told the crowd. "This is an opportunity for discussion of issues."
Gianforte had been invited, just as he had been invited to previous forums. His absence was part of the point: Two weeks before, Gianforte had infuriated public lands advocates by holding a "public meeting" (in this case, about the fate of 29 Wilderness Study Areas) that was announced just three days ahead of time and included no time for public input or comment.
It was a typical move for Gianforte, who rarely gives advance public notice of his appearances, largely limiting them to GOP-friendly events; when he holds "town halls," they're virtual (online only) and all questions are screened by staffers ahead of time. An aura of inaccessibility has gathered around him, driven home in a recent Williams ad in which various Montanans describe their unsuccessful attempts to write, talk, or engage with Gianforte. (Gianforte's campaign did not respond to a request to comment for this story.)
"Gianforte's an unusual candidate, in that the more people he meets, the less chance he has of winning the election," Matt McKenna, a veteran Democratic political consultant based in Bozeman, told me. "He's such a flagrant, unlikable asshole, you have to keep him buttoned up and expose him to as few voters as possible."
In the overflowing Livingston library basement, Williams was exuding a very different sort of aura: open to actually having conversations with constituents, and eager to get into the nitty-gritty of health care problems and solutions. Williams, age 57, was one of the youngest people in the room — but she has been negotiating the health care system since she was 11, when her mother was diagnosed with early-onset Alzheimer's. For the next eight years, Williams and her father served as her mother's primary caregivers.
Since she first went up against five other Montana Democrats vying for the chance to unseat Gianforte, that childhood experience — along with her three terms in the Montana House of Representatives, and career in water conservation — has been a centerpiece of Williams' campaign. At no point during the primary was Williams labeled the frontrunner: She wasn't the first out of the gate. She wasn't the most progressive, or the most energetic. She didn't raise the most money, not even close. And she isn't a man.
They'd say, "'Can a woman win in Montana?' And I'd reply, 'Hell, not if people keep asking me that! And not if you keep thinking like that!'"
In Democratic primaries this year, women across the country ran — and won — in historic numbers. But in Montana, a sort of accepted wisdom prevails, even among the most avowed progressives: A woman can't win top spots in a statewide election. The thinking goes that while Montana may be a purple state, it's still a traditional one. No matter that the state elected the first woman in Congress, Jeannette Rankin, all the way back in 1916 — four years before women were given the right to vote. It hasn't elected one since. As the Guardian's Kathleen McLaughlin points out, the first and last time a woman was elected governor of Montana — Republican Judy Martz, who served from 2001 to 2005 — her term was "marked by tone-deafness on issues affecting women" and cut short by a grisly scandal. Democrat Denise Juneau, who challenged Republican incumbent Ryan Zinke for the congressional seat in 2016, lost by 16 points.
In the lead-up to the June 5 primary, I talked to a lot of people who thought Williams was the most articulate Democratic candidate on policy positions, and clearly the most qualified. Yet they thought they should cast their vote for one of the men running against her. "I like Kathleen," the refrain would go, "but I just don't think she could win in the general."
"God, that was so frustrating," Williams later told me. "Especially when it was a woman who'd say it to me. When people would first say that, I'd cite statistics. But by the end of the primary, I was getting more blunt. They'd say, 'Can a woman win in Montana?' And I'd reply, 'Hell, not if people keep asking me that! And not if you keep thinking like that!'"
On primary night, Williams pulled off an upset, ending up with 33.5% of the vote — just under two points ahead of her closest competitor, but a decisive victory nonetheless. "She really pulled a rabbit out of her hat, winning that primary," Margie MacDonald, a three-term Montana state senator, told me. (Over in the Republican primary, four candidates were vying to run against Jon Tester for his Senate seat, while Gianforte was running unopposed. Still, nearly 17,000 primary voters opted not to fill in the oval next to his name.)
In the aftermath, many Montana analysts positioned her win within the national, record-breaking wave of 200 women who won House primaries. These days, Williams no longer hears questions about her gender. "I'm not getting that at all now," she said. "And if you combine the two frontrunners, I was outspent 6 to 1. Talk about winning, right? We kinda did it big!"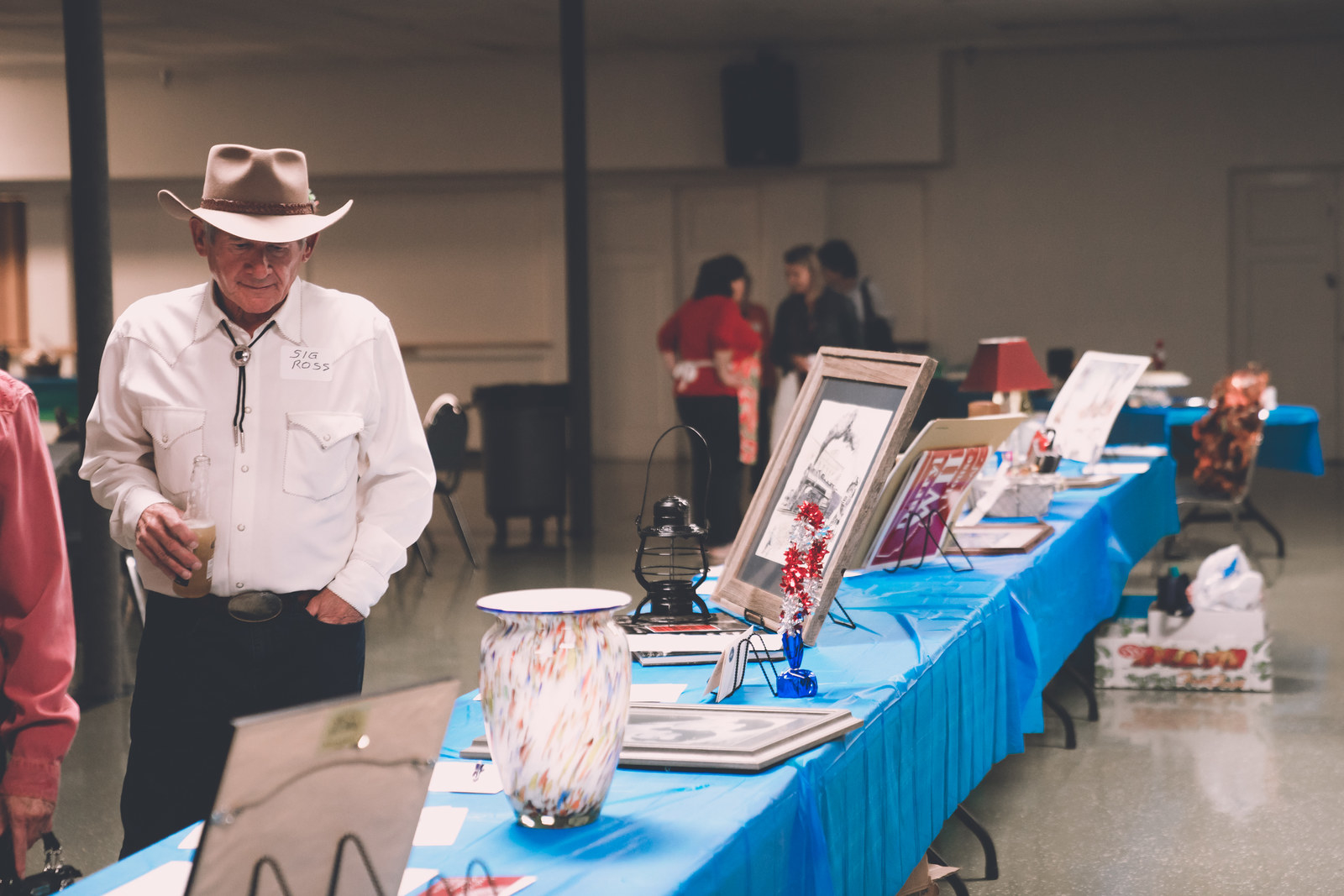 Since the early '90s, an influx of new residents has fundamentally altered the political texture of Montana. The larger cities have grown more liberal and more expensive, as they've filled with Patagonia-wearing, mostly progressive transplants priced out of other urban areas. At the same time, conservatives fleeing liberalizing states (California in particular) have moved into the valleys outside those cities, which have been parceled up among Republicans far more ideologically conservative (and, generally speaking, outwardly religious) than those who've been here for generations.
Both Williams and Gianforte make their homes in Bozeman — and, more than any other candidates in recent memory, represent the complicated shifts in Montana as a whole. Before Bozeman went full yuppie, it was, as Montanans put it in the least derogatory way possible, a cowtown — the ag school counterpart to Missoula's liberal-artsy college town.
Then "the movie," as people refer to it, happened: 1992's A River Runs Through It. Set in Missoula and filmed in Livingston and up and down some of the most beautiful county in the West, that movie planted a new vision of the state of Montana. The millionaires started moving in, and then the billionaires. They bought land cheap, parceled together ranches from landowners whose relatives had homesteaded it, and built sprawling faux-Western mansions. It happened all over the state, but the nexus of change was in Bozeman, a jumping-off point for Yellowstone National Park, skiing at Big Sky, and the exclusive development of second homes known as the Yellowstone Club. From 1990 to 2017, the population of Bozeman ballooned from 22,827 to 46,596; in 2018, it was named the fastest-growing city of its size. That might not sound like a lot, but in a state that barely tops a million, it's a growth that's deeply felt.
Both Williams and Gianforte moved to Montana during that period of explosive growth. Williams was a military brat, moving across the US before enrolling at the University of California, Berkeley, later receiving a master's degree in recreation resources before going to work in water resource management. Over the course of the '90s and 2000s, she worked for the US Forest Service, for nonprofit conservationist groups, and for the state of Montana. Her focus was always on water, and how various groups (miners, conservationists, sportsmen, recreationists, ranchers) could collaborate to use and protect it. She became a sort of textbook Montanan conservationist: She may have lived in town, but weekends were largely spent out on the land — especially during pheasant and turkey season.
Gianforte was born in San Diego, grew up on the outskirts of Philadelphia, and went to college in New Jersey. Along with two friends, he founded a software company that he later sold to McAfee for $10 million. Afterward, he moved his family to Bozeman and started a new company, RightNow Technologies, which he then sold to Oracle — this time for $1.5 billion. Gianforte is an avid sportsman, and — like his former employee Steve Daines, now serving as one of Montana's senators — an evangelical Christian. Over the years, Gianforte's family foundation has donated millions to Christian causes, including a creationist dinosaur museum in Glendive, Montana. Before 2016, Gianforte was primarily known as an entrepreneur who could use his business acumen to bring new industry to Montana's dwindling small towns. You'll still find him described that way on his website, but over the course of three campaigns and a guilty plea to assault, that image has largely shifted.
If Gianforte no longer seems to represent who Montanans are, Williams needs to introduce herself as someone who does represent who they are, regardless of party. And defining herself — her platform, but also familiarizing people with her name — is a challenge in a campaign against an incumbent running his third statewide race. Back in 2016, Gianforte ran for governor against Democrat Steve Bullock, losing by just under four points, even as Trump took 55.6% of the state. When Gianforte ran against Rob Quist for the congressional seat in the special election, it was essentially a consolation prize. "Impressions of Gianforte are pretty fixed," David Parker, the MSU political scientist, told me. And they're fixed, as Parker points out, in a way that's not exactly warm and fuzzy. "He won the special [election] because it was about party, and because Quist was so flawed. But Quist made a lot of inroads: Juneau lost by nearly 16 points; Quist by less than 6."
"My opponent is doing nothing. He told the press, 'I don't support tariffs.' Well, then do something about it!"
These are the inroads Williams is trying to capitalize on. She's going to rural counties where Juneau, as a Democrat, polled poorly in 2016 but Bullock, also a Democrat, fared much better. Places, in other words, that are open to a cross-ticket vote, for the right person. Williams, who vice-chaired the state agriculture committee and has worked closely with ag providers throughout the state, believes she might be that person. "When you've helped someone with their water rights, it's like you've helped raise their children," Williams told me. "Those issues run deep. Some of these relationships were built 20 years ago."
Every underdog in a race like this campaigns tirelessly, but when you're campaigning across a 147,040-square-mile state, that calculus takes on new meaning. After absentee ballots went out on Oct. 12, Williams drove from Billings to Culbertson, in the far northeast of the state (4.5 hours), then, over the course of the next week, to Plentywood (45 minutes), Sidney (90 minutes), Lewistown (4 hours), Dillon (4.5 hours), Hardin (4.5 hours), Choteau (5 hours), and Conrad (45 minutes). The biggest town on that list: just over 6,000 people.
How does she connect? First, by acknowledging anxiety about the end of their way of life. Williams told me that she often brings up a town called Moccasin as "the poster child of the change that's happened" throughout Montana. "There's the remnants of what was a vibrant little town. I was talking to a gal about it, and she grew up down the road, and said, 'Did you know that the last wall of the school in Moccasin just fell down?' I tell that story, and people feel it."
But Williams also wants to do more than simply create an emotional response in struggling towns. "I talk about what kind of farm bill is gonna work best for Montana," she said, and she tells people that she'll defend the state's agriculture industry. "My opponent is doing nothing. He told the press, 'I don't support tariffs.' Well, then do something about it!"
Like other Republican candidates, Gianforte has shied from publicly criticizing the president — regardless of the subject or its potential bearing on Montana. That reticence is one of many reasons some moderate Montana conservatives, convinced that the GOP has left them behind, have found themselves increasingly willing to support Democratic candidates. In Bozeman, I met with Martin Coleman, who'd recently joined the "Republicans for Tester" statewide campaign.
"These upper-class Republicans around here, they all voted for Trump. But I don't think they will again. All these elections are for Democrats to lose."
In many ways, Coleman is a typical Bozeman transplant: After years in investment banking in Manhattan, he came to Bozeman in the late '90s to find a better, more balanced life. Fiscal conservatism was the heart of Coleman's Republican loyalty, and what he brought with him to Gallatin County, where he quickly became the local GOP's chair. Around 2004–2005, though, the elements of what would become the tea party started filtering into the state and the local GOP. "All these tea partyers that came in here, there's not a single one of them who was from here originally," Coleman said. "They're all transplants."
As the tea party began to swing the GOP away from what Coleman saw as its core, he was becoming friends with two men in his tax bracket who, he thought, shared his political views: Steve Daines and Greg Gianforte. He hunted with Gianforte, went to Bible study with Daines. And he voted for them both. "It's more than just, 'I like them,'" Coleman said. "I love them. But I don't know what they stand for."
Since he moved to Montana, Coleman's politics had shifted from those of a transplant to those that more closely resembled a longtime Montanan's. He found himself voting for Conrad Burns (the Republican senator Jon Tester beat) in 2006, then voting for Max Baucus (a moderate Democrat, and Montana's longest-serving senator) in 2008. "They both saw these big issues about how to help the most Montanans," he said. "But now, who's helping these farm kids? There's never gonna be more farm jobs." Coleman voted for Gianforte in 2016, he explained, because Gianforte was trying to start businesses in farming communities up on the Hi-Line. "But he stopped that," Coleman said. "He ran for Congress, and he was like, 'Trump's my guy.' But Trump's nobody's guy."
So Coleman wrote a letter to Gianforte, explaining why he couldn't support him during this election cycle. "These upper-class Republicans around here, they all voted for Trump," he said. "But I don't think they will again. All these elections are for Democrats to lose."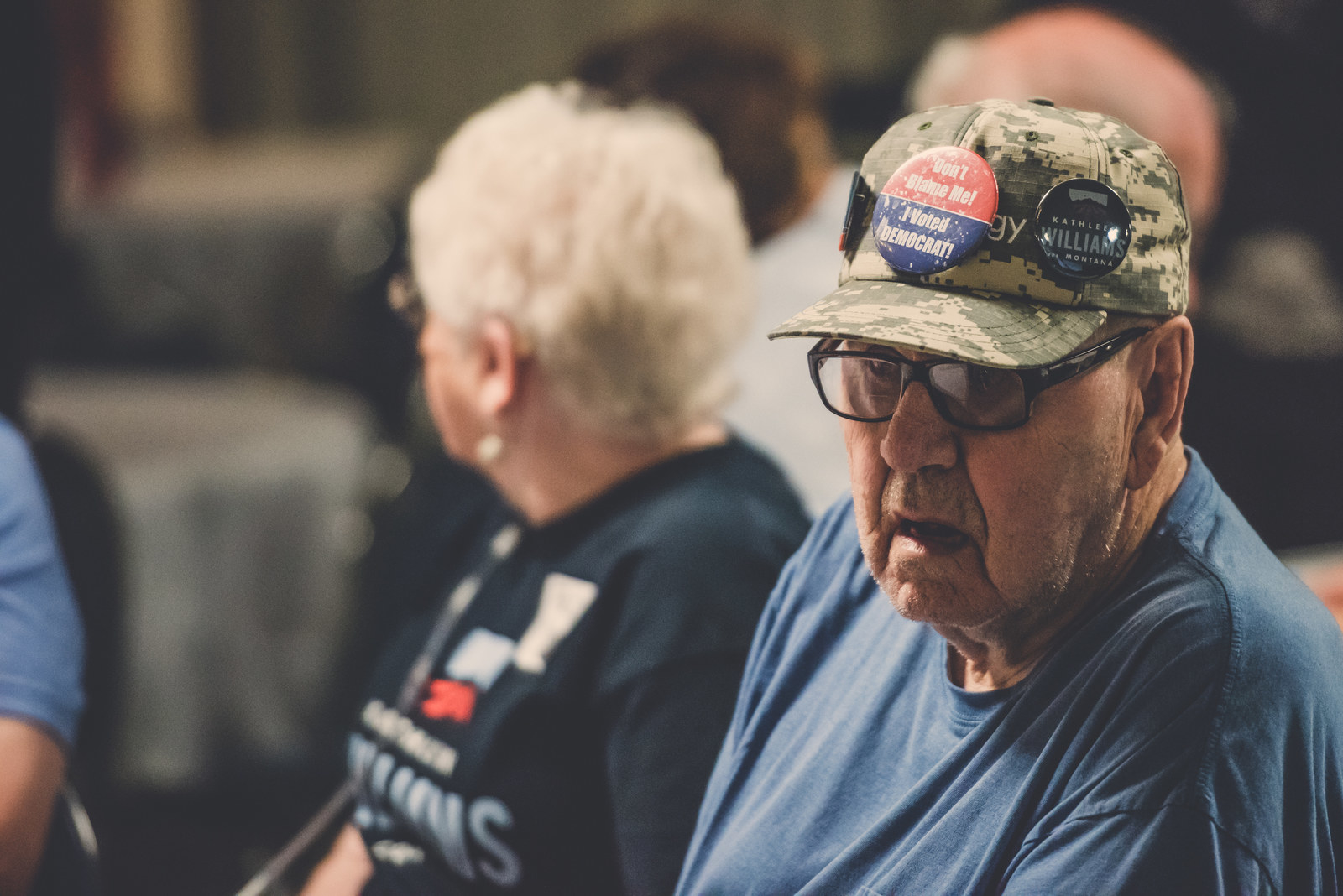 As Cameron Kroetz, the copresident of the College Democrats at Montana State University, told me, "When people think of Democrats, they think of Nancy Pelosi, but that's not what Montana Democrats are." Williams has tried to avoid being tied to establishment Democrats like Pelosi by publicly declaring that, if elected, she would vote for new party leadership; afterward, Gianforte borrowed footage to suggest the opposite — that she would vote with Pelosi on liberal policies. On campus at Montana State, the Democrats are recruiting kids energized by March for Our Lives, but they're also talking to ag kids who've seen how the tariffs are hurting their parents. "We want to go back to our old base," Kroetz said, "while still maintaining our new base."
You could see that idea in practice back in Livingston, where leaders from the different corners of the town's Democratic base gathered around a conference table after Williams' Medicare discussion. Livingston was originally a railroad town, which meant that it was also a union town, and a town that voted Democrat. It was economically decimated in the 1980s, as the consolidated rail line gradually laid off its workforce, and began to recover with the tourism boom of the '90s and the arrival of thousands of followers of the Church Universal and Triumphant, which relocated to a ranch south of town in 1986.
Today, downtown Livingston manages to feel at once preserved in amber and incredibly vibrant, a mix of old-timers, young families, retirees, hippies, former church members, recreation guides, and hundreds who take the daily bus to work at the East Boulder Mine, 38 miles out of town.
The six people gathered around the conference table represented a different sort of union between the old base (working-class Democrats) and the new (liberal transplants). There was Dan Vermillion, a fly-fishing guide and the Democrats' best chance to swing a bright-red state Senate district blue. Across the table, Mike Bunker, the chair of the local Democratic Party, and Laurie Bishop, who's currently running for reelection to the Montana House, detailed the struggles the community's faced over the last year, as the state slashed budgets for social services, including the Office of Public Assistance, mental health care, and job services. Locals say that before the railroad cut jobs, a person could buy a house for $20,000, but now affordable housing is nearly impossible to find; the owner of the local newspaper bought an apartment building just so young reporters could have a place to live on a small-town paper salary.
There are new families moving in, but care for the aging population — Montana is poised to become one of the five "oldest" states in the US — remains a major concern. At the roundtable, the primary emotions in the room were uncertainty and fear. One woman talked about her frustration that Medicare didn't cover dental care, leaving her with the decision to either lose her teeth or lose her house. Others were terrified that funding would be slashed, and they'd have no way to pay for insulin — which already took up a significant portion of their monthly budget.
Like Williams' other roundtables, this event communicated, in vivid terms, how broken our social services are — and how much work and cooperation will be necessary to fix them. Who's the type of person who could do such a thing? The same person who put together the panel, who took notes on questions and followed up afterward, who listened to various solutions proffered by panel members — forcing Medicare to negotiate drug prices with pharmaceutical companies, for example, or extending Medicare to age 55 — and then made the point that they were already part of her platform. (Gianforte once argued that since Noah — of the Ark — didn't retire, he doesn't think retirement, or "cashing Social Security checks," is biblical. He also supported Republicans' attempts to weaken or kill the Affordable Care Act.)
"We're just amazed at the people who show up to see her," said Dixie Hart, who grew up in Livingston and now heads the local Indivisible group. "People you never see at rallies. Democrats are finally getting the word out about what we stand for: What you're losing? That's what we spent decades building."
In some areas, older, old-school Democrats — many of whom have been putting in organizing work for decades — have clashed with the new, often more progressive and more inexperienced groups that popped up after Trump's election, like Indivisible. But not in Livingston. "We've seen an incredible increase in energy this election," Bunker said. "But it's not necessarily under the umbrella of the Democratic Party. There's high school students, there's Indivisible. It's coming from so many different directions," he said, clearly thrilled. "But we're all gonna meet at the ballot box."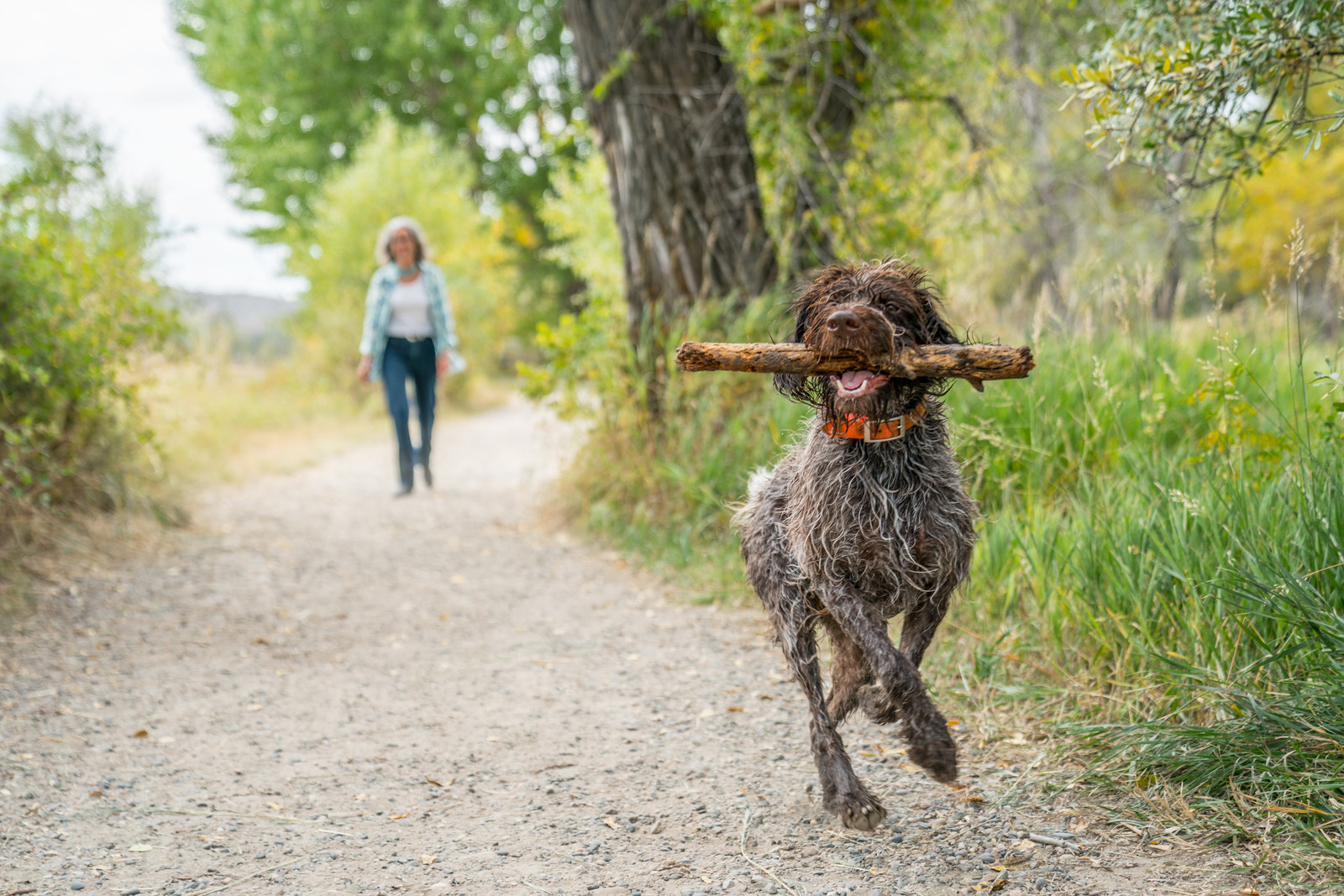 Most political candidates root the imagery of their campaigns in family, the bigger the better, to suggest stability and relatability. Not Williams, who's managed to convey those qualities through other kinds of messaging. But Montana is a small state, at least populationwise, and many people know her story: that her husband, fellow conservationist Tom Pick, died suddenly in January 2016, while skiing in the backcountry near Yellowstone. He'd recently returned from a multiyear stint with the US Department of Agriculture in Iraq, and Williams had delayed plans for a congressional run in order to spend time with him. Life took a turn. Now, Williams' primary campaigning companion is her dog, Danni — a rambunctious 4-year-old German wirehaired pointer.
Danni travels with Williams, in the RV, whenever possible. "She's part of the brand!" Williams told me. "She's got her own commercial!" She's also a signifier of something that might be even more important, at least in Montana, than a family: hunting. "Plus, she's just so funny."
At a Billings coffee shop, I asked Williams what people were responding to most on the campaign trail. "Health care," she replied. "Across the board, it's the deepest, and the most urgent — it really cuts across all sorts of political stripes." But people were also talking to her about civility — not in terms of protests, just that nothing seems to get done, and no one wants to compromise, and everything's partisan. She has a ready answer: Her entire way of operating is, and always has been, the opposite. When she initially ran for the legislature, she wanted to run as an independent — but was told she'd just split the vote between the two other candidates.
During that time, Williams also talked about being a "true representative, grounded in the hopes and dreams and struggles of my district," as she put it. "But you don't know those unless you get out and talk about them. And you don't know what the good ideas are until you start pulling people together and saying, 'Okay, what's the state of the game here? Who's that good for? Who's that not good for? What are the good ideas I can pursue?'"
"My career in natural resources, I did the same thing," she continued. "When you work with water, you cannot solve those issues without bringing a bunch of people together. Sometimes it gets a little wild, because people care so much. But that's how you come up with actual solutions. You can't get anything done on the land without 20 partners." And you can't get anything done in the legislature without at least as many. "People want to affiliate themselves with something, with someone, who is positive and forward-thinking and solutions-oriented," she said. "People want to see that you're committed to solving problems."
Take her approach to gun control — one of the stickiest issues for any candidate running in the state. During the primary, Williams was the only Democrat willing to say that she'd support regulating assault weapons — a point that the Gianforte campaign has used to beat the drum that she's against the Second Amendment. Like every other Montana candidate for a statewide race, Williams is a hunter and a gun-owner, and supporters say her stance on AR-15s suggests that she's actually been listening to her potential constituents: "Kathleen's the only person talking clearly about gun control," Billings resident Jennifer Merecki, running for the state Senate, told me. "Because when it comes down to it, people don't want to see kids killed."
"Montanans have been too redneck to vote for a woman. But people are starting to see women as people who can come together and find solutions, whereas the men are just so stuck."
Later that night, Williams was slated to be the keynote speaker at the Yellowstone County Democrats' Steak Fry — a tradition now in its 25th year. Like so many political events on the county level, the event is a mix of Americana and hobnobbing, well-seasoned with Bud Light and large servings of meat.
A Democrat running for state Senate had told me earlier in the night that Williams' primary skill is making people who feel neglected — by whatever system, including the political one — feel not just listened to, but important. I'd watched Williams do that over the last three days, over six hours of roundtables, where her only words were spent introducing the panel and directing the Q&A. She was listening. Of course, listening is a skill that's often associated with women — including Hillary Clinton — and passivity. Men talk; women listen. But women also get things done. "Montanans have been too redneck to vote for a woman," Becky Riedl, running for Yellowstone County auditor, told me. "But people are starting to see women as people who can come together and find solutions, whereas the men are just so stuck."
Stuck in thrall to the president, regardless of his stances, or rhetoric, or tariffs. Stuck in obedience to the NRA, or party purity tests, or big donors. Stuck in an ideology that demonizes compromise. For many Montanans, their identity hinges on the idea of being un-stuck: independent, cross-ticket voting, open-minded. Theoretically, Williams' candidacy offers a chance for all of those things: a chance to elect a woman to Congress for the first time in a century; a chance, as MSU's Cameron Kroetz put it, "to show we're not just Trump country — we send leaders willing to compromise."
Montana is ideologically and politically unique. But that doesn't mean that it's not filled with people who sometimes act — and vote — counter to their perception of themselves, and their community, and their state. And while Williams is hailing one understanding of who Montanans are, Gianforte is accessing another: "This election is a choice between defending our values and allowing the left's extreme agenda to run wild," he recently tweeted. "Montana needs you."
Polling in Montana, like any rural, sparsely populated state, is notoriously unreliable. Recent polls have placed Williams anywhere from seven points down to one point up — but always show that a significant number of voters are still undecided. A win is contingent on Montana voters deciding that "our values" aren't just single issues like protecting public lands, or the right to own firearms, but also an ambiguous, historical, and powerful sense of independence.
Williams is marketing herself as the candidate who matches and understands those deep-seated values. And she knows as well as anyone that if a voter is truly independent, no candidate can tell them what to do, or who they are, or — most crucially — how to vote. ●

CORRECTION
Democrat Denise Juneau is not the only woman to have attempted to run against a man in Montana since Judy Martz's election, as an earlier version of this post reported; that detail has been removed. The location of Culbertson, Montana, was misstated in an earlier version of this post.