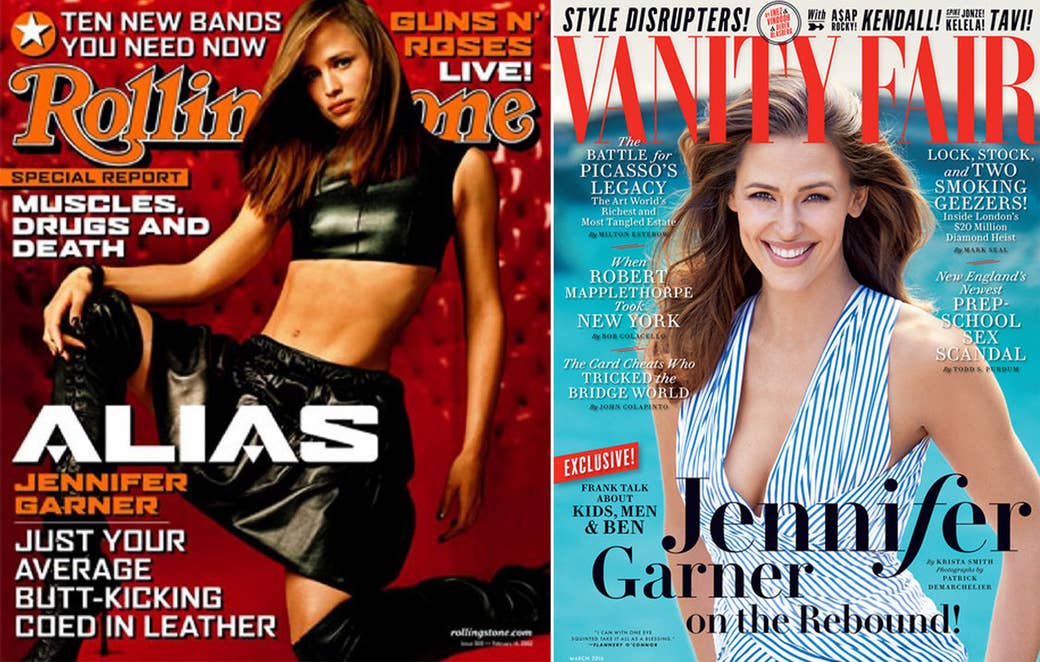 According to J.J. Abrams, Jennifer Garner is "a beautiful girl with an ugly girl's personality." At least she was back in 2004, when Abrams was the go-to source for every profile of her appeal, which, at that point, was heavily rooted in the classic virgin-whore tension: On Alias, she oscillated between "spy" mode (costumed almost entirely in what can only be described as tactical fetishwear) and her "normal" life as Sydney, all turtleneck sweaters and Chapsticked lips.

That year, Garner was Maxim's Sexiest Woman Alive, an Esquire "Woman We Love," and "the ass-kicking babe of the moment" with "one of the sexiest strides on television" who scored a Rolling Stone cover replete with a bare midriff and black leather getup. But she was also "a nice girl from the Bible Belt" and "a nifty girl from West Virginia" who showed up to every interview in a ponytail and no makeup. She described herself as "a bit of a goody-goody." (Until the release of The Kingdom, in 2007, her mother had never heard her use the F-word.)
After 13 Going On 30, Garner was poised to become the next Julia Roberts: a rom-com queen who could act, America's Next Fresh-Faced Sweetheart, equally at home on the cover of Good Housekeeping and lad mags, with a love life that hit the sweet spot between wholesome and gossipworthy. But then, Ben Affleck happened.

After their wedding, Garner — whose first marriage to Scott Foley was rumored to have fallen apart because of her rising star — allowed her career to take a backseat. She had three children, stopped showing her midriff, and started covering her shoulders. While she was still as beloved as ever, she gradually segued into roles as a supporting actress, the mom in children's films or, most recently, in "mainstream" faith-based fare like Miracles From Heaven.
Garner's appeal is no longer sexual, but emotional: When she appeared on the cover of Vanity Fair this month, it wasn't actually to promote Miracles so much as her own resilience after the scandal of the last year: Affleck's public dalliance with the family's former nanny. Yet the success of Garner's image transformation serves as a powerful reminder of the sort of traditional femininity still cherished by a vast and influential swath of the American public. Garner may no longer be "cool" or "sexy" or even a mainstream actress — but she's also never been a more powerful, or ideologically potent, star.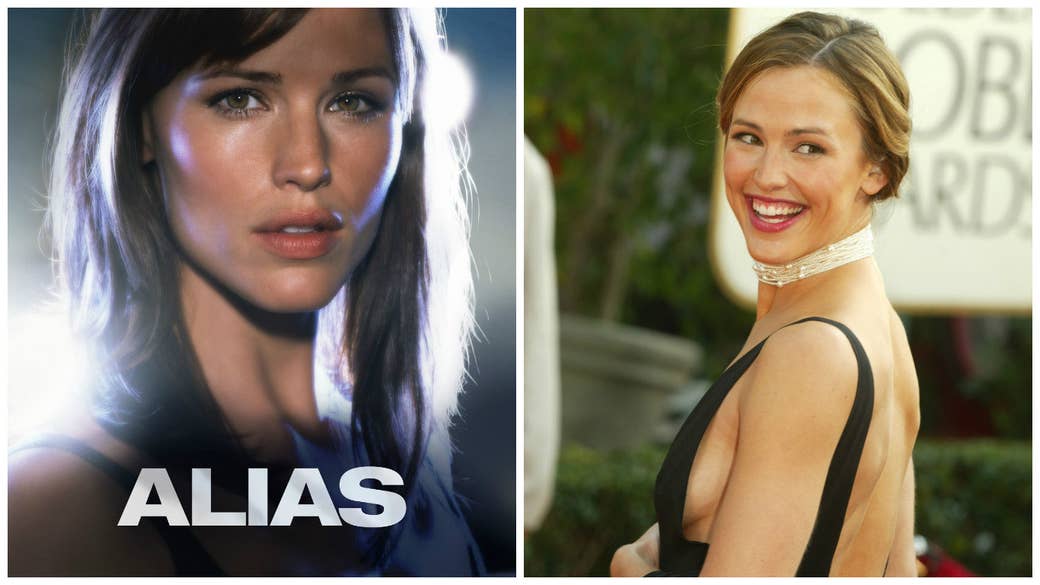 The Jennifer Garner of the early 2000s had a long, angular, endlessly expressive face: On Alias, she looked perpetually prepped to break into tears; off-set and on the red carpet, you couldn't find a picture of her without a broad, giggling smile. It was the face that differentiated her from Angelina Jolie, to whose hard-body "kickassery" she was most often compared. Garner could exude the cool and control of Tomb Raider, but unlike Jolie, who was all glamour and darkness and vials of blood around her neck, it was clear that Garner was going home to a nice love seat and pastel curtains. If Jolie was womanly, Garner, three years her senior, was still a girl. The press reveled in stories of her time in high school, when she, along with her two sisters, weren't allowed to pierce their ears or wear makeup or nail polish. "It was just kind of the Garner Girl aesthetic," she told USA Today.

Garner went to college at Denison, where she joined the Pi Beta Phi sorority but "skipped most parties," in part because she hated drunk people. "I just feel really sorry for them," she told Rolling Stone. "They're so uncontrolled and sweaty and about to puke." After graduating, she worked her way toward bit roles in Pearl Harbor; Dude, Where's My Car?; and Felicity, which is where she caught the eye of both Abrams, who'd go on to cast her in Alias, and first husband Scott Foley — a guy with the sort of square jaw and broadly palatable looks of the cutest guy in school. Together, they did things like ditch the Golden Globes early after she won a Best Actress award for Alias in 2002. "We were out of there so fast," she told Time. "When we got to the party, people started coming up to me, and I felt 'I just don't belong here.'" Instead, they went home to eat pizza and hang out in their sweatpants.
Garner's image was spectacularly square. Her favorite band was Dave Matthews Band. When asked if she had tattoos, she replied, in shock, "Oh my gosh, no! Garner girls don't have tattoos." And yet her early magazine covers are perfect exemplars of the Britney Spears–induced fashion status quo: a taut, well-muscled midriff, low-slung jeans, pouty lips. She had a savvy stylist, but when she started showing up on best-dressed lists, she blushed, or balked the same way she did when talking about her Alias getups. "Omigosh, I'm so embarrassed having to wear these dresses on set," she told Rolling Stone. "I just have to tell myself, 'It's not me out there, it's a character, and if she has to dress like a slut so be it. Anyway, that's what I tell my dad.'"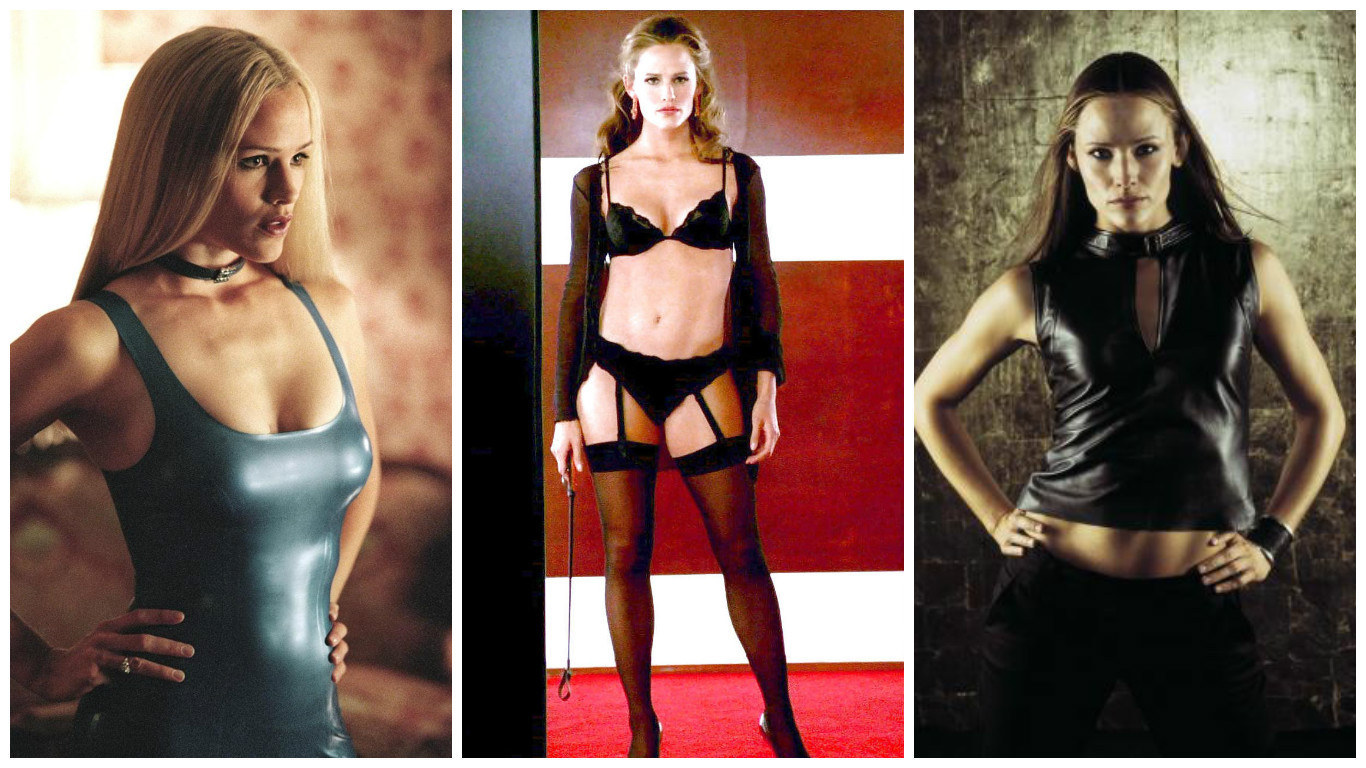 When Garner turned 30 in 2002, Alias, then in its second year, was a cult favorite, though it was struggling in the ratings. It was the type of show that everyone knew about — had seen the outfits, and the star of the show in them — even if they didn't watch. Her image was sufficiently infused with enough "badassery" that she was cast opposite Ben Affleck in Daredevil. At the film's premiere in 2003, Affleck was still in the thick of "Bennifer," and Garner and Foley were asked to offer Affleck and Jennifer Lopez some wedding advice. Foley: "Keep it private." Garner: "I think I'm just interested to sit back and see what they do."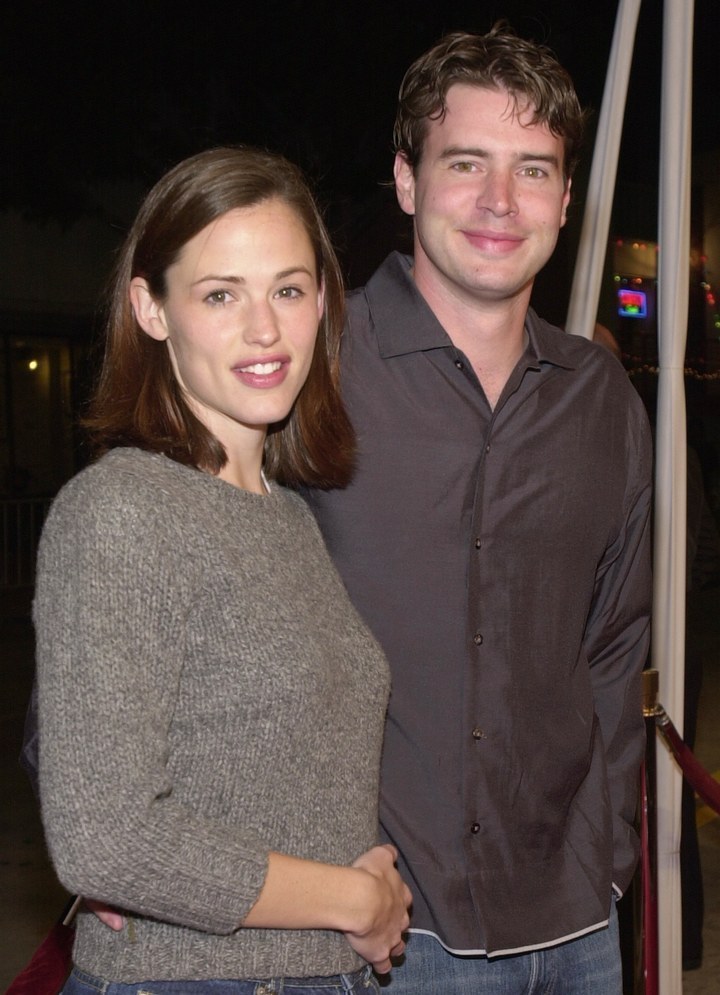 "Bennifer" would soon implode, and Garner's relationship would also fall apart — but not because of any romance between Garner and Affleck. After Felicity, Foley's career had stalled; he reportedly found Garner's stardom "too big for him to handle." They fought rumors until Garner attended the Oscars alone, and Us Weekly announced their "shocking split" on its cover.
Garner was ashamed of the divorce — and worried about how it would affect her image: "I grew up being the good girl," she told Newsweek. "All the Garner Girls are. We're a good girl family. So to think that people were reading something about me that could change their opinion ... I had to learn that you just have to be OK with that and know you're still a good girl. Your mother knows it, your sister knows it, everyone important to you knows it."

During this time, USA Today enlisted professional matchmakers to conjure potential girlfriends for the then-single Affleck. First on the list: Jennifer Garner. "One wonders what would have happened if they weren't involved (with other people) while making Daredevil. She's confident, at the top of her game right now, very pretty and very sweet."

It was a spot-on assessment: Garner had just appeared in 13 Going on 30, her first extended non-action role and a 97-minute charisma offensive. As a 13-year-old trapped in a 30-year-old's body, Garner's performance could have sunk into something awkward and sullen; instead, she amplifies the glee and guilelessness that structure a girl's life before she becomes a slave to the performance of cool detachment. Her love interest, played by Mark Ruffalo, isn't hot so much as cute, and their romance is a vision of a relationship stripped of its adult trappings: all the delight of kissing the boy, none of the stress of figuring out if you should text him the next day.

The film's ending should be embarrassing, but its conceit — that friendship and kindness and bright colors should unite us — dares the viewer to feel any sort of cynicism. Critics loved 13 Going on 30. I loved it. Every woman I know loved this movie. And that affection remains today, kept in a sort of stasis, not unlike the affection sparked by Ryan Gosling in The Notebook, or Colin Firth in Pride & Prejudice, or Julia Roberts in Pretty Woman. The original charisma is so potent that no number of shitty subsequent movies can dilute it.
13 Going on 30 was released at the tail end of the rom-com golden age of the late '90s and early 2000s — an era that included My Best Friend's Wedding, You've Got Mail, Notting Hill, In Her Shoes, Sweet Home Alabama, While You Were Sleeping, Never Been Kissed, and How to Lose a Guy in 10 Days. With its greatest heroines, Julia Roberts and Meg Ryan, aging "out" of rom-com-able age, critics were eager to pronounce Garner the heir to the throne. "At the ripe old age of 36, Julia's hangin' with her hubby in New Mexico," Entertainment Weekly declared. "Reese is younger (28) and can do charming, but a leatherette catsuit? Not so much. And Jennifer [Aniston], well, one woman can only do so much. Which leaves Garner with the pick of the litter."
Garner had a critically and financially successful rom-com, was the lead in a new superhero movie, and had a hot new boyfriend, Michael Vartan, who also happened to play her love interest on television — the sort of romance that fans devour. But she was about to do something that would elevate her to the level of the massive female stars before her: date someone whose fame was equal, if not greater, than her own.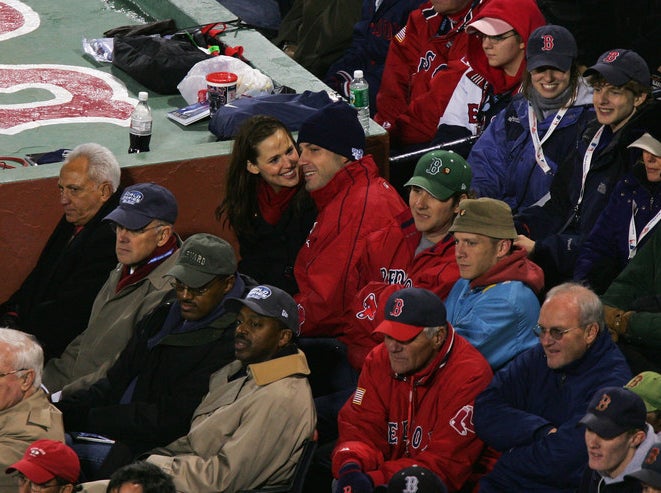 Garner and Affleck make their relationship public at a Red Sox playoff game in 2004; Affleck and Garner on their way to Garner's therapist in 2005
It's unclear whether her relationship with Vartan dissolved because of Affleck, with whom she was filming Elektra, or separately, but no matter: By October 2004, Ben had a new Jen, and her first public appearance with him (at a Red Sox play-off game, naturally) prompted a fresh cycle of fascination. Within a year, they were getting married on the beach in Turks and Caicos. Just weeks later, Garner announced she was pregnant with their first child. It didn't matter that Elektra turned out to be the sort of stinking bomb that presaged our current slate of superhero movies; Garner had a new role as a celebrity mom.

Over the next 10 years, Garner's career declined, yet her visibility (on the cover of magazines, in paparazzi photos with her children) remained steady — and primarily focused on her role as a mother and wife. "I have this internal battle between, I need to work, I need to work, I need to work and I need to be home with my kids," she said. "And the kids win." Even profiles in fashion-forward magazines like W emphasized her down-home maternity: She calls breastfeeding "the coziest feeling in the world," declared her love for hanging out with other moms from her daughter's school, and talks at length about making her own baby food.
Contemporary female stars adopt a variety of strategies to keep themselves in the limelight: They can have dynamic love lives (Julia Roberts in the '90s and early 2000s, Jennifer Aniston until five years ago, Taylor Swift until she met Calvin Harris), they can have beautiful children (Jessica Alba, Angelina Jolie, Reese Witherspoon), they can have pilates bodies and pose them provocatively (early Olivia Wilde, Megan Fox, Jessica Biel, Mila Kunis), or they can say outrageous or bizarre things (Jennifer Lawrence, Shailene Woodley). Some female stars do all four; others, like Meryl Streep, engage in an entirely different genus of non-celebrity stardom, in which their popularity is based almost entirely on actual performances. But that's a privilege afforded very few — and certainly not Garner.
Garner's career could survive bombs like Elektra and Catch & Release; wan, charisma-less rom-coms like Ghosts of Girlfriend Past; and even entire years without a film in theaters, but only if she had another compelling narrative — in her case, domesticity and motherhood — to engage fans.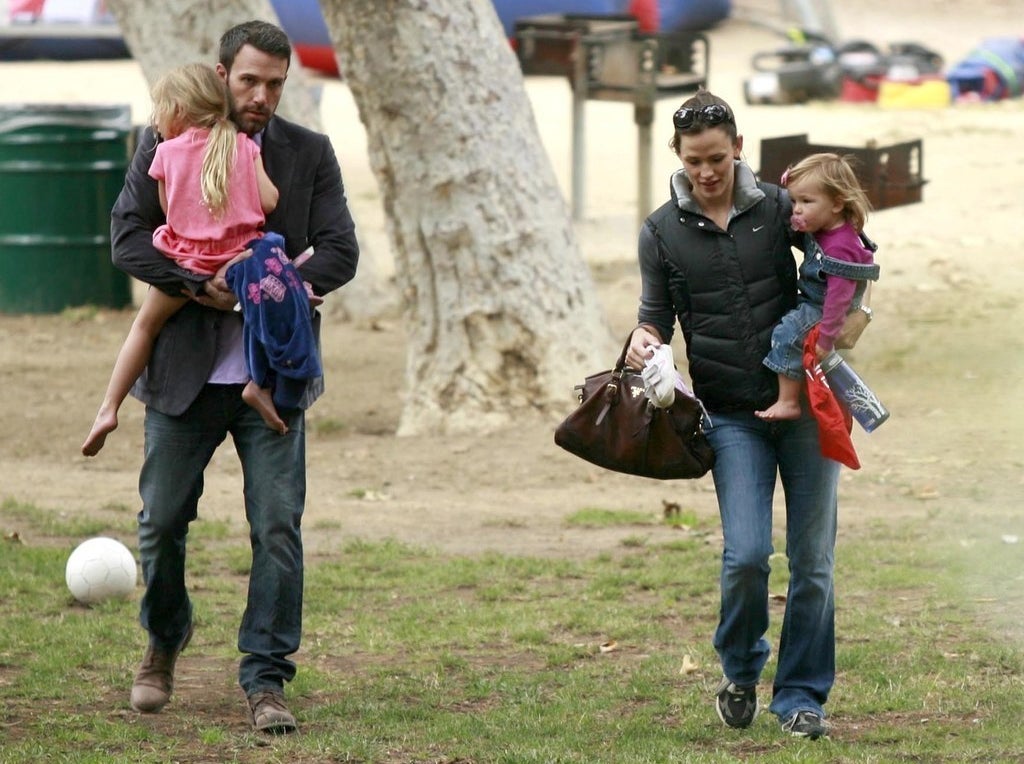 Garner in Mom mode with Affleck in 2010
Garner has never commodified her domesticity in the glossy manner of Gwyneth Paltrow or Reese Witherspoon. While she recently developed a crafting line with Jo-Ann fabrics, she's spent the last decade soft-selling her brand of relatable mommery through countless interviews in Good Housekeeping, McCall's, Women's Weekly, and Parade. As Matt Damon explained in The Guardian, "Ben's wife, Jennifer Garner, sells a shitload of magazines in the midwest. Magazines that — Ben explained this to me — you and I have never heard of, but that appeal to the mom in the midwest, who for some reason identifies with Jennifer and wants to know what she's doing as a mom."

Garner doesn't have an newsletter like Gwyneth and doesn't use Snapchat like Reese, but no matter: She's cultivated more than enough goodwill to win a steady stream of advertising contracts and, more crucially, subtly direct that goodwill toward Affleck — an unlovable star whose success nonetheless matters much more to the future of her family.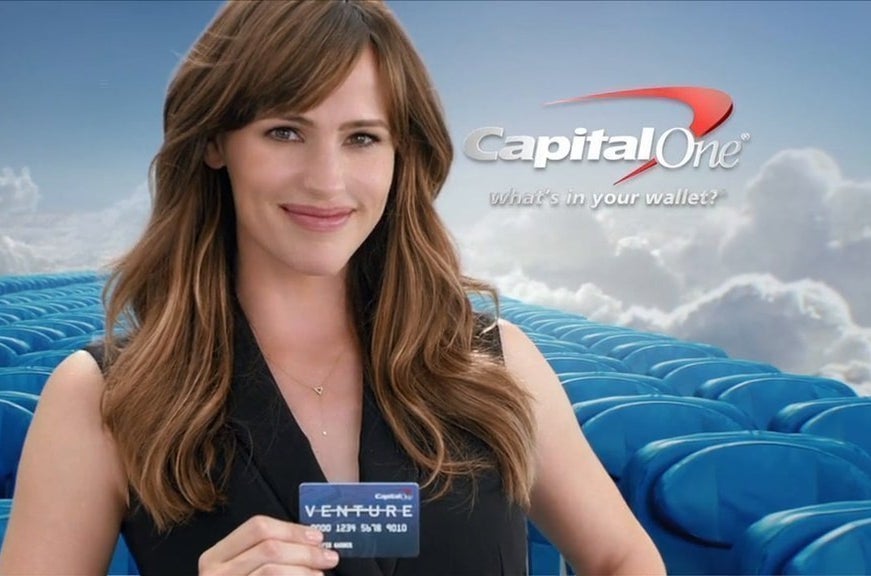 Garner's advertising campaign with Capital One and the "We Made It By Jennifer Garner" craft line from Jo Ann Fabrics
For the last fifteen years, Garner's career has operated in reciprocal relation to Affleck's: Her star was on the rise when they met, and his was in the toilet. As his career gradually recovered — first, in 2007, with directorial debut Gone Baby Gone, before reaching its apex with the Best Picture win for Argo in 2012 — hers declined. By 2010, she was doing a bit part a year — in Valentine's Day (2010), then in Arthur (2011). But with photos of her daughters regularly in the pages of the gossip mags, it didn't matter if Butter (2012) — an Election-like take on butter sculpting in the Midwest and the first and only film to be released by Garner's production company — went straight to VOD.
And while some actors might view a role in a children's movie as a step down, Garner's turn in The Odd Life of Timothy Green (2012) — as a woman struggling to conceive, but whose magical leaf-child, borne from the garden, teaches her the joys of adoptive parenting — only further endeared her to her core fan base.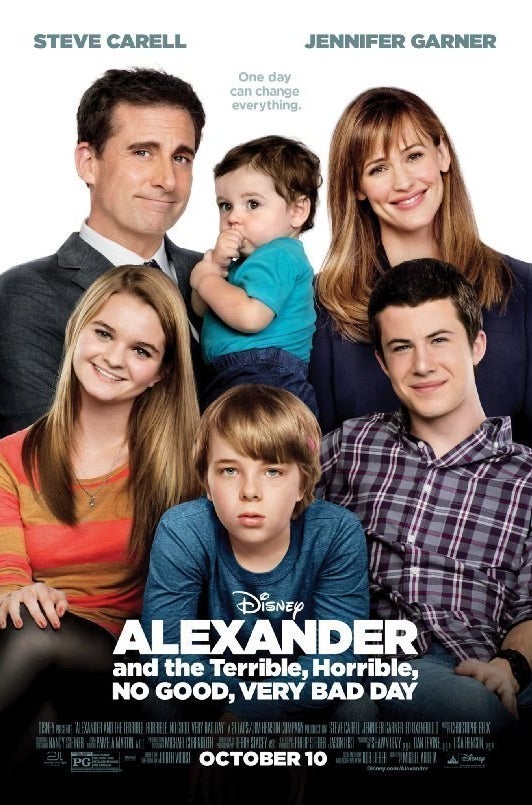 Garner's shift to supporting actress/mom in Disney movies Alexander and the Terrible, horrible, No Good, Very Bad Day and The Odd Life of Timothy Green
Timothy Green grossed $51 million — and opened up a new and entirely sensical niche for Garner as "nurturing maternal figure," which she reprised in Alexander and the Terrible, Horrible, No Good, Very Bad Day (2014), and, in a slightly different form, in Dallas Buyer's Club (2013). It was around this time that rumors of Affleck's infidelity — and gambling, and general discord in their marriage — came to the fore. In 2012, Garner had given birth to their third child, a son — a gesture that was perceived, in some gossip circles, as a last-ditch effort to heal the marriage, but which also helped vault her into the realm of celebrity supermom. Any celeb can do two kids. Three kids is mom commitment.
Unremarkable supporting turns in Draft Day (gross: $29 million) and Danny Collins (gross: $5.6 million) only emphasized the way that audiences wanted to see her: not as a rom-com heroine, or a spunky businesswoman, or as caricature of a Midwestern trophy wife, but as a good, maybe sort of silly, but still absolutely morally centered mom. A mom who crafts, and who admits that she's "thrifty" but "prefers to call it 'having common sense.'" A mom who says her sister, who's able to "juggle a job, kids, volunteer work, and church and still manages to cook dinner every night without feeling bogged down," is her hero. A mom who admits to body insecurity after her pregnancies, but declares "I wasn't going to spend time working out that I could have spent with Violet."
A mom who, when her husband cheats on her, focuses on protecting the family, rather than shaming him publicly. Even the coordinated decision to announce their "secret" 10-month trial separation — which effectively moved back the date of their breakup, transforming his relationship with the nanny from "cheating" into a "bad decision" — was made to protect the entire image of the family.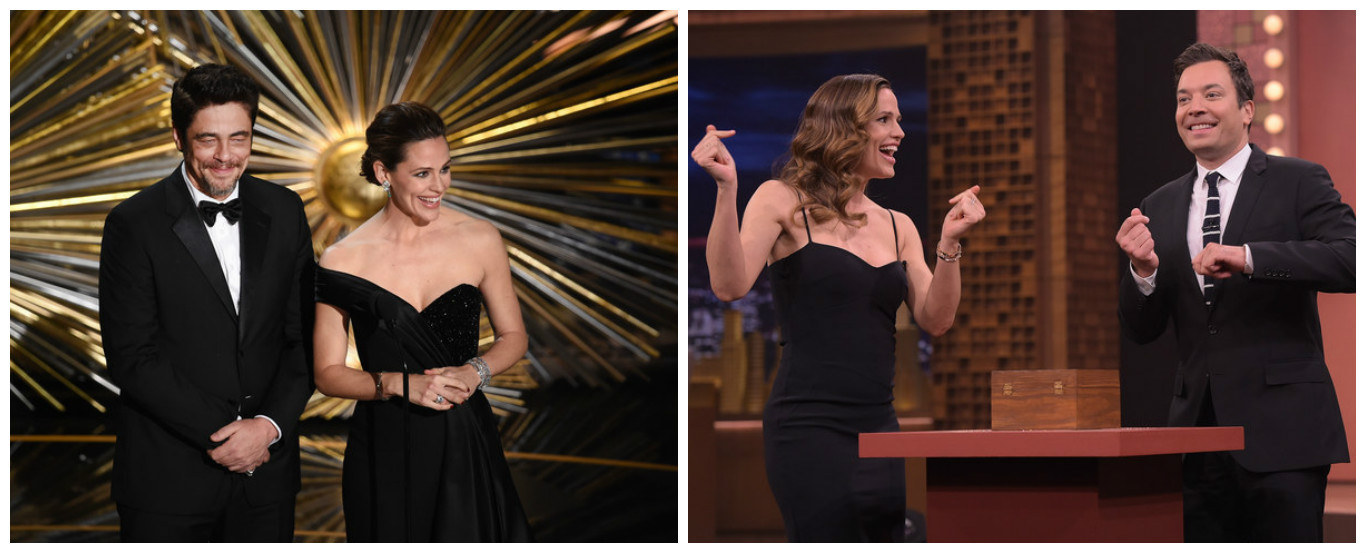 Even Garner's recent publicity tour — the Vanity Fair cover, visits to Fallon, and high-profile interviews in People magazine — isn't really for her own project, Miracles for Heaven. With a budget of $13 million, it's a second-slate film, destined to make a solid percentage of its profits in VOD. Instead, she's actually promoting Batman vs. Superman, which hits theaters this week, and on whose success Affleck's career as a leading man — a man believable as Batman — rests.

"He can't afford bad press," Elaine Lui of Lainey Gossip writes. "He has to be perfect — and you can't trust that sort of responsibility to Ben Affleck in his own hands. Jennifer Garner, however, can sell Ben Affleck better than Ben Affleck can sell Ben Affleck." And while Garner certainly earns a substantial salary through her film career and endorsements, superhero money is charter-jets-for-life money.
Thus, the tactically coordinated family offensive. For their son's birthday, Garner told Extra, "We all got dressed up — I dressed up as a ninja and Ben dressed up as Batman ... It was the best moment in dad history." An "anonymous source" (read: a publicist) informed E! that "they will continue to live in the house together and have no plans to change that," adding, "They are in a really good place right now. A lot of the dust has settled and they have been accustomed to their new life, which is separate but together in a lot of ways."
In other words, Affleck may have screwed up, but now he's doing the right thing — and you should totally feel positively as you subconsciously consider whether to go see his new movie. "Jen's great," Affleck told the New York Times, in an interview that read as a banal, bald-faced attempt to distract from the prevailing facts of his affair and gambling addiction. "We're on great terms. I just saw her this morning, so that's the reality that I live in." He emphasized that Garner and their three children would come to Europe to visit him while he filmed his next turn as Batman in Justice League — and that their public appearances have not, in any way, no way, ever been for show.
Some have called bullshit on the strategy — "someone just needs to get an Instagram and hire social media experts in their twenties to handle it because this PR is old school and it's too much," gossip blog Celebitchy declared. "Just post a cute family pic every few days and go easy on the hashtags. That would work so much better than sweater swapping for the paparazzi and giving insider quotes constantly." Yet it seems to have worked: Batman vs. Superman is tracking for a $120–140 million U.S. opening, and the gossip press continues to happily toe the Jen-and-Ben narrative of a happy, co-habiting, family-centered conscious uncoupling.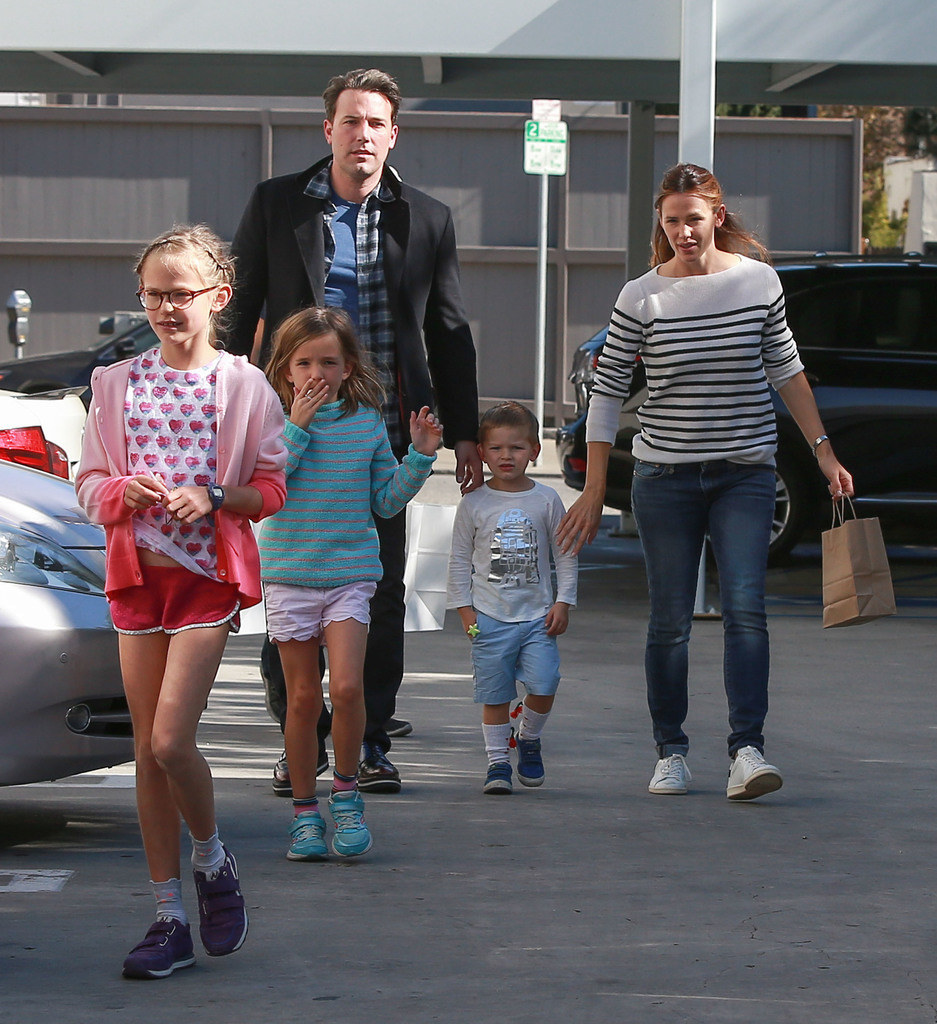 Reading Garner's Vanity Fair profile, there's something of the Alias, verge-of-tears Garner in her approach to the end of her marriage. "I didn't marry the big fat movie star; I married him," she said. "And I would go back and remake that decision ... He's the love of my life. What am I going to do about that? He's the most brilliant person in any room, the most charismatic, the most generous. He's just a complicated guy. I always say, 'When his sun shines on you, you feel it.' But when the sun is shining elsewhere, it's cold. He can cast quite a shadow." Her mix of gratefulness and love and sadness is enormously endearing, but it's also a brilliant move. She protects Affleck (he's got the charisma of a real movie star; "No one needs to hate him for me") while also reminding the reader, very deftly, that their sympathies should be with her.
In the photos, Garner looks proud, glowing, with just enough skin to remind you of her past but enough modesty to remind you of her present status as the avatar for all moms who buy their swimsuits from Land's End. It's clear that her image, if not her acting career, is secure. But to what end? She has three film projects lined up, but these roles, including co-starring in a film in which Kevin Spacey turns into a cat, work to embolden the unspoken point that Garner found herself on the cover of Vanity Fair not because of her own actions, but for her resilience in the face of those of her husband.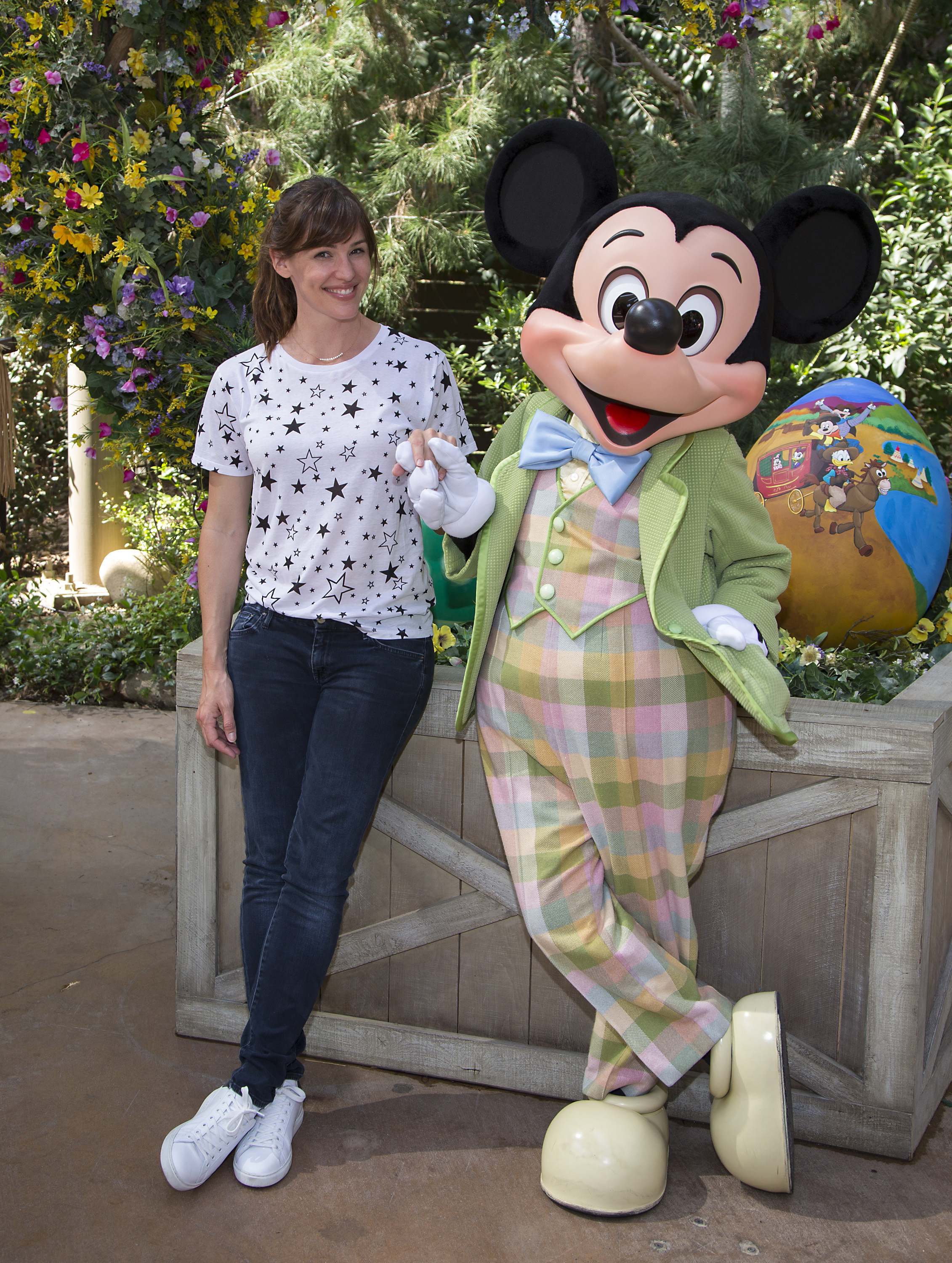 Garner's image transformation may simply be a reflection of her own shifting priorities — or a shedding of overt sexualization forced on her in order to forge a career in Hollywood. Yet it also models a mode of femininity that frames sexuality as a performance always ready to be subsumed by motherhood — and "good motherhood" as a willingness to stand by your man, no matter how repugnant his actions, for the sake of the family.

As a woman, Garner has the freedom to make the decisions that feel right to her; as a celebrity performing motherhood in public, those decisions also have real cultural and political meaning. There's nothing wrong with choosing to support your husband for the financial and psychological health of your family — nor is there anything wrong with becoming frustrated with the physical and mental labor of being a sex symbol. But neither the desexualization of Garner's image nor the deceleration of her once-promising career feel like decisions she owned so much as stepping into Affleck's massive and devouring shadow.

Stars maintain their status as stars by acting out ideologies and understandings of the world that feel right. Amidst the adulation of celebrities like Lena Dunham, Kim Kardashian, Amy Schumer, and Rihanna, Garner's steady popularity is a reminder of the the inclination, on the part of sizable part of the population, towards a more conservative understanding of women's roles and actions.
These fans — some, as Damon points out, Midwestern, but certainly not all — are often absent from the popular imagination, but they make up a huge portion not only of the moviegoing and magazine-buying public, but the voting population. Lainey Gossip calls them the "minivan majority," and like the "silent majority" that ushered in the conservative politics of the 1970s, they don't make as much noise, in part because they don't have to: They're the status quo, and their standards of "normal" and "acceptable" are reproduced and reified across mainstream media.
It's easy to point to the most exciting, boundary-breaking stars as the future of culture and the identity politics that flow from it. Yet those stars fight the stolid inertia of stars like Garner: beautiful, totally palatable, perhaps just a bit beige, whose images enjoy the solid foundation of decades of resistance to change. Jennifer Garner might be our most old-fashioned film star. But that doesn't mean she's not indicative of the values and attitudes that will structure, inspire, and police women's behavior in the years to come.