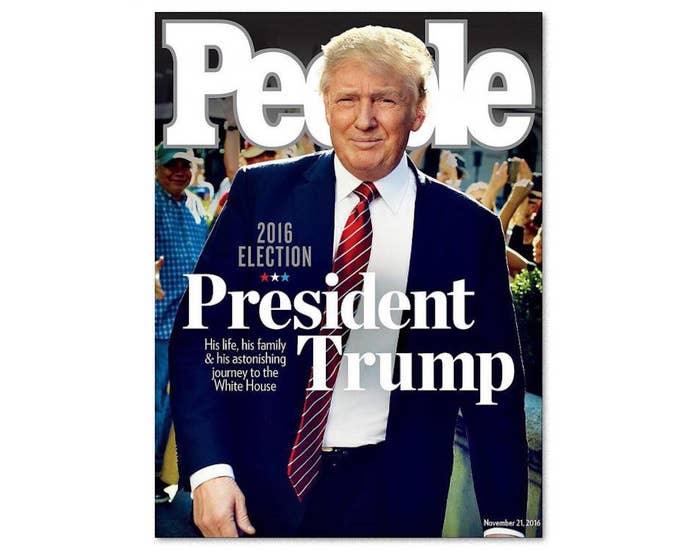 Celebrity gossip has never been apolitical: Few forms of popular discourse have been as effective at establishing and policing ideals of sex, race, and morality. Like all potently ideological pop culture, it's simply camouflaged its politics under the guise of entertainment.

This election season, that camouflage was removed — but only momentarily. Less than a month ago, People published former staff writer Natasha Stoynoff's account of how Donald Trump had allegedly sexually assaulted her during a reporting trip to Mar-a-Lago for a 2005 story on his first wedding anniversary. "We walked into that room alone," she recalled, "and Trump shut the door behind us. I turned around, and within seconds he was pushing me against the wall and forcing his tongue down my throat."
She told a colleague, who suggested they go to the managing editor, but Stoynoff refused. "I was afraid that a famous, powerful, wealthy man could and would discredit and destroy me, especially if I got his coveted People feature killed."
So Stoynoff wrote the piece, warmly celebrating Trump's marriage and the forthcoming arrival of his child. With words, she transformed the man who had allegedly sexually assaulted her into the admirable embodiment of American capitalism. When Larry Hackett, Stoynoff's managing editor at the time, read about what had happened, he was momentarily enraged, imagining himself "calling out the swine for his behavior and striking a blow for reporters everywhere." But he knew that's not how it would've gone. He would've killed the story, called Trump's PR, told them what had happened, and "agreed to a truce of mutual silence."
Which is why People's publication of the story felt like such a radical departure. When Editor-in-Chief Jess Cagle called Stoynoff a "remarkable, ethical, honest, and patriotic woman" and declared that the magazine was "proud" to publish her account, he inserted People into the realm of issues — and effectively illuminated the magazine's blanching apparatus. If an alleged incident of sexual assault could be transformed into a celebration of an anniversary, what other dark and nasty shadows have been written into light?
The dominant reception, however, was that of bravery: Bravo, Jess Cagle and People magazine, for your willingness to publish this story. But there was a deeply meditated calculus behind the decision to publish the story. Essentially dared by Trump's denial that he had ever sexually assaulted a woman, Stoynoff, who no longer works at People, could have gone elsewhere with it — and thus humiliated the publication. It also seemed beyond clear, in part because of stories like Stoynoff's, that Trump would lose — and People would thereby be firmly positioned on the right side of history.
That conviction strengthened when Trump told the audience at one of his rallies to look up Stoynoff on the internet: They'd see that she was too ugly for him to hit on. He tweeted that if the event had really happened, she'd have written about it at the time. People published a follow-up story with six people corroborating Stoynoff's story, and Cagle repeated his support of Stoynoff: "Her story is absolutely true," he told Variety. "I was happy to run it. I was thrilled to run it."
As has now become clear, many of People's readers took that information, along with the accounts of over a dozen other women, and decided it did not matter.
Cagle further averred that he "didn't want to become part of the story in a presidential election," as "that's not really People's job" — but that was the story was important. "On a personal level, I wanted to stand up for Natasha every single step of the way. And, on a patriotic level, this is information that is good for the public to have. We're not saying who to vote for, but you should know this stuff and do with it what you will."
As has now become clear, many of People's readers (63% of whom have attended college, and who have a median income of $68,776) took that information, along with the accounts of over a dozen other women, and decided it did not matter. And as soon as the election results clarified as much to Cagle and People, they stopped treating Trump and his behavior toward women — and its own reporters, specifically — as an issue, and returned to treating him, and the rest of his family, as celebrities.
Cue the Trump cover.
At 7:19 a.m. on Wednesday morning, People tweeted an image of their new cover, featuring President-elect Donald Trump. "He's hired!" they exclaimed. In the cover image, Trump's face is somewhere between a smile and a smirk — it feels like an accidental outtake between normal Trump expressions, chosen because it's the closest a recent photo of him has come to warmth.
Behind him, the design team has inserted a diverse and enthusiastic crowd, their hands raised in celebration. On the left, in soft focus, an ambiguously ethnic man extends his hand.
Putting a president on the cover of People magazine is nothing new: Gerald Ford was on the cover of the fifth issue. The Obamas, the Bushes, the Clintons, the Reagans, the Carters — they've all been covered. But none of those presidents were accused of sexual assault by one of the magazine's writers. "This is like putting Mike Vick on the cover of Modern Dog," one reader tweeted at the magazine. "CANCELING MY SUBSCRIPTION," declared another. "It's simple. You do not respect women or your employees."
But People does not truck in investigative journalism, and its readers — a statistically large percentage of whom voted for Trump — want the celebrity, not the truth. They want 22 photos of Ivanka and her kids that are "way too cute," and Melania's "best style moments" from the campaign, and a photo of a People senior editor posing with Trump on the campaign trail. Trump's presidency thus poses a tremendous conundrum: How can you cover a man as a celebrity — and as a man alleged to have assaulted one of your own?
People was launched in 1974, with much fanfare, as a journalistic outlet. From the beginning, it has labored to distance itself from fan magazines, tabloids, and scandal rags, instead focusing on its status within Time Inc. universe. It was an offshoot of Time magazine; every story went through a robust legal vetting and fact-checking process; it insisted on printing the ages of the celebrities it profiled.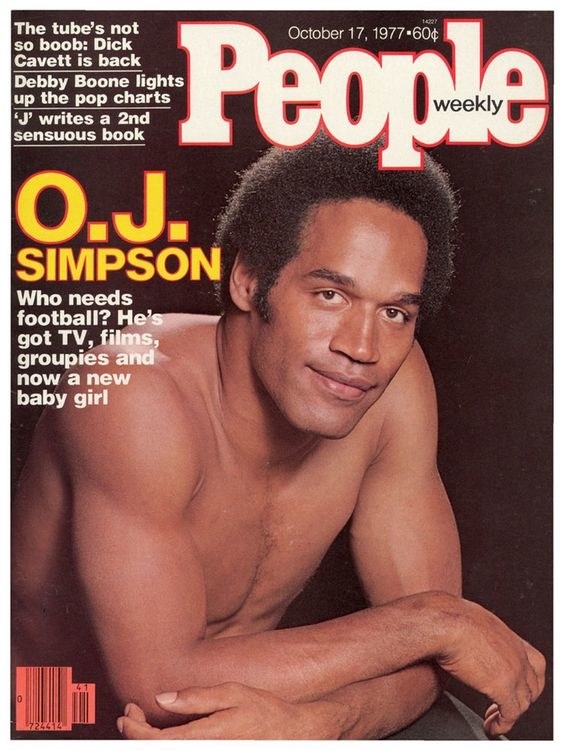 The magazine defined itself as "personality journalism" — highlighting what made celebrities "people" for half of the magazine, and spending the other half telling the stories, as Editor-in-Chief Richard Stolley put it, of "ordinary persons doing extraordinary things." There was gossip on the back page, but with its cheery, posed photos on the covers, it was respectable — there was none of the breathlessness of the fan mags, none of the screaming headlines and pulpiness of the tabloids.
And People did bonkers business: It was the most successful magazine launch of all time; it reached 3 million subscribers in just three years. Part of that success was attributed to how deftly Stolley and others at People had understood the nation's hunger, in the wake of Watergate and the Vietnam War, to escape the sheer weight of politics: "We're getting back to the people who are causing the news and who are caught up in it, or deserve to be," he said. "Our focus is on people, not issues." By personifying issues, in other words, People made them digestible — and, more often than not, palatable.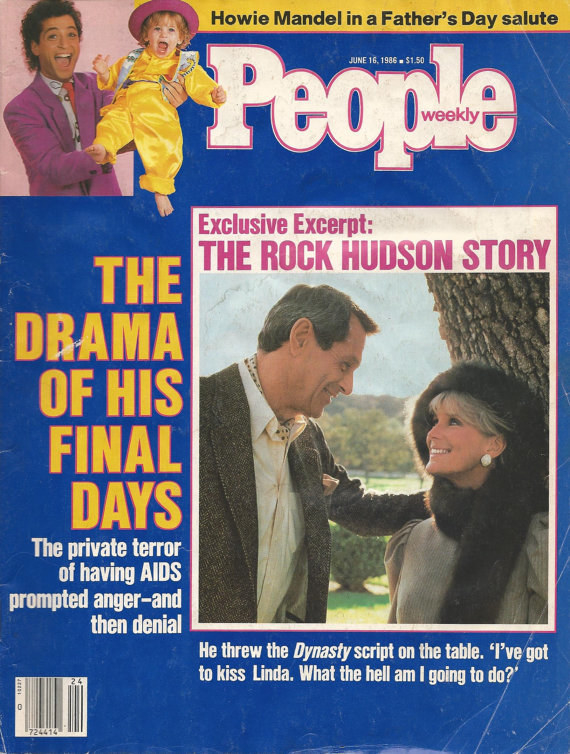 Still, there was a cultivated distance from the gossip machinery at large: While they were a friendly outlet, they weren't necessarily an overly, or falsely, fawning one. That positioning began to shift, however, over the last decade. Blame the competition with Us Weekly in the early 2000s, or the very real threat of online gossip — an arena of the gossip world to which People, like the rest of Time Inc., was woefully late. Blame the ill-fated AOL–Time Warner merger and the failed dream of synergy across all Time Warner platforms — which precipitated the spinoff of the Time Inc. properties in 2014, and the newfound reliance on People, with its robust subscription base and newsstand sales, to keep the lights on for the entire publication house.

Or blame social media, which has drastically decreased stars' need for the gossip apparatus to tell their stories: Why go to People when your own Instagram has more followers than the magazine's entire readership? Magazines have never been more beholden to the stars, more reliant on remaining in the good favor of publicists — they essentially have zero leverage. Which is part of the reason People has increasingly cultivated itself as one of the softest places for a celebrity to land, a publication that will sandpaper your rough corners and tactfully ignore the dark ones.
And which, in many ways, explains the Trump cover.
People has always catered to what Elaine Lui of Lainey Gossip calls the "minivan majority": the largely suburban/exurban, white, middle-class moms (or future moms). And that majority is profoundly invested in maintaining the status quo — in part through acts like voting for Trump.
"People appreciates that the minivan majority came out hard for Trump," Lui told me. "So they're doing what they do best: report from inside the assholes of celebrities. It's almost as though Trump's victory reminded them that these are their people." As if publishing a story of the alleged sexual assault of their reporter was the deviation — and now they've corrected the course. "That was like a magazine's version of splitting from their true personality or being taken over by aliens," Lui continued. "What they're doing now? This is the People that I recognize."
"People appreciates that the minivan majority came out hard for Trump. So they're doing what they do best: report from inside the assholes of celebrities."
In a prepared statement, a People spokesperson said that "Donald Trump's win is a history-making news event that has warranted the cover of the magazine." She asserted that "the story is not a celebration or an endorsement" — even though its aesthetics are identical to those that have celebrated figures of the past, and the photoshopped background suggests a racial unity and support that is the opposite of what Trump has cultivated in this country.
"We continue to stand by Natasha Stoynoff," the spokesperson continued, "whose account of being attacked by Trump in 2005 is recounted in this week's cover story." That cover story will not hit newsstands, or be available online, until Saturday. It is impossible to know what tone it will take — and whether it will mirror the sanitized representation of Trump on the cover.
Even if it includes mention of the allegation, the current coverage seems the strongest indication of the tone to follow: one that not only glamorizes a misogynist, but continues to suggest that so long as malignant issues do not directly affect their reader base, the men who embody them deserve to be glorified, in gorgeous color-corrected form, on the cover of their magazine. It's the furthest extension of a service the gossip industry has long performed for male celebrities: implicitly excuse, and thereby effectively endorse, their abuses of power.
Covering Trump with the same disinfecting approach they apply to other celebrities helps readers further internalize the idea that assault against women simply does not matter. It also suggests that as much as People caters to women, and often reports and profits from women's trauma, that trauma matters less than the opportunity to celebritize a man.