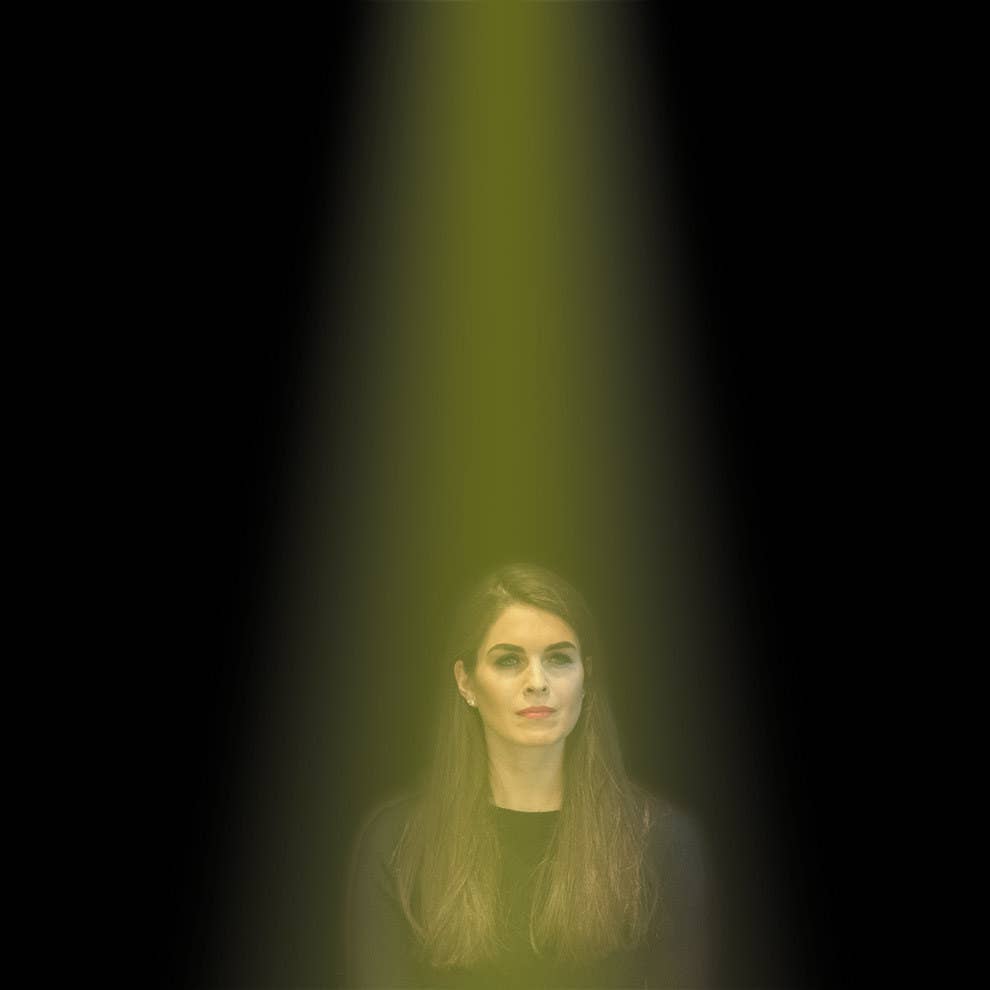 Hope Hicks is not a spokesperson, or a strategist, or a speechwriter. She is not Anthony Scaramucci — whose briefly-held position as White House communications director she permanently took over in September. She is a trained PR professional, whose primary task is to orchestrate or soften the blow of press coverage, not appear in it. Hope Hicks does not tweet. Not even a little bit. She does not appear on television. She does not agree to interviews. Her Instagram is private. When Olivia Nuzzi tried to profile her for GQ, Hicks invited Nuzzi to talk to Trump about her — while she sat in the back of the room.

To be truly skilled at this sort of PR doesn't just mean constantly deferring to your client. It means disappearing. We don't know what Hope Hicks's voice sounds like. We don't know her opinions, because she doesn't have any that are public. Until very recently, most people outside of media and politics did not know she existed.
Last week, Hicks found herself at the center of a major White House scandal: Her then-boyfriend, White House staff secretary Rob Porter, was accused of domestic abuse by two ex-wives. More than a week later, it's still unclear who knew what about the accusations and when — and to what extent Hicks herself participated in attempting to blunt them. But simply by being involved, Hicks has committed the cardinal publicist sin: She became the story.
Hope Hicks's sister, Mary Grace, looks like the blonde, better-rested version of Hope. They both have the high cheekbones and perfectly applied bronzer, the fashion-forward but never-too-risky outfit choices of Ralph Lauren models — which they were, as teens. They grew up in Greenwich, Connecticut, a tony bedroom suburb of New York distinguished by its abundance of traders and bankers and consultants and wives who read Greenwich Magazine, where Mary Grace's wedding to her high school sweetheart, fellow Greenwich resident Wyot Woods, was featured this August. ("The newlyweds honeymooned in Dubai, South Africa, and the Seychelles before returning home to Greenwich.")

The Hicks sisters both modeled as teens (Hope, most memorably, on the cover of Gossip Girl spin-off book series The It Girl); they both went to Southern Methodist University in Dallas, Texas (although Mary Grace finished her degree at Hobart and William Smith Colleges); they both worked in the fashion industry. But then their paths diverged: Hope took a job with a high-powered PR agency, which led in 2014 to a gig with Ivanka Trump's fashion company, which eventually led to full-time employment with the Trump Organization. But she would still take the Metro-North train back to Greenwich, where she continued to live with her sister.
Hope became more central to the Trump campaign's communications team, eventually moving into the position of White House communications director. Meanwhile, her sister Mary Grace enrolled in nursing school and started a blog — the MG Factor — on which Hope has appeared exactly once: in a post entitled "Babes in Menswear," dated Nov. 15, 2017.
"Holiday dressing can be a fine line and honestly a little exhausting," Mary Grace writes. Then there's a photo, taken at a state dinner in Japan, of Hope dressed in a tuxedo. "Wow! I mean, can we all just take a minute to soak it in? I had to when I first saw the photo," Mary Grace exclaims. "It's such an unexpected look for the girl who has never seen a dress she didn't like."

The real insight is hidden in the next sentence: "This look instantly makes her something of a mini style icon among all the suits in Washington," Mary Grace writes. "Now, the Daily Mail has been following her every outfit change, something I am sure she is not crazy about."
Hope's success is built on a very different calculus than that of her fashion-blogging sister. Like the storied publicists of the past, Hope Hicks has excelled by protecting the image and ego of the organization — in this case, President Trump — that she serves. And unlike her fellow staffers, Hicks made herself invisible to everyone save the person who mattered most.
That's not the hallmark of most of the aides and staffers who've become associated with the Trump White House. Kellyanne Conway, Steve Bannon, Sean Spicer, Roger Stone, Corey Lewandowski, Reince Priebus, and Omarosa Manigault-Newman made their names by embracing, or at least accepting, the same sort of celebrity status as their boss. They were supposed to be the stage crew, but ended up being the actors.
Which isn't to suggest that Hicks was wholly unknown: Over the last two years, she has become a known figure to those who study the inner machinations of power. Nuzzi's "insider" portrait — essentially a write-around — created an aura of mystique. New York Times politics reporter Maggie Haberman respected her. Politico profiled her, again without actually speaking to her. An image of true and total loyalty, so different from the cloak-and-dagger palace intrigue that emerged daily from the White House, began to emerge: "She turns down most media requests that come her way," the profile explained, "because she prefers to serve the president without a spotlight shining on her."
And the spotlight was indeed elsewhere. Any interest in Hicks was quickly eclipsed by her peers in the campaign and White House staff: Kellyanne spinning out on cable news, Sean Spicer flubbing during White House briefings, Steve Bannon schlubbing around in the shadows, Omarosa attempting to stage her wedding photos on White House grounds, Melania's hand swats becoming the germ of liberal fantasy, Ivanka deflecting the ugliness of her father's actions with Instagrams of her kids, Don Jr. retweeting conspiracy theories. The only person as silent as Hicks was also the only person afforded as much power: Jared Kushner.

Hicks also demonstrated an ability to physically fade into the background, even with her model looks. She dressed in the Club Monaco–meets–Ann Taylor look that distinguishes the women of this White House, alternating simple sheaths with fit-and-flare dresses, paired with pumps and flat-ironed waves. In a White House where women can seemingly occupy one of two roles — bulldoggish or demure and daughterly — she occupied the latter. Trump called her "Hopester." Hicks called him "Sir" or "Mr. Trump."
The photos of the Japanese state dinner tuxedo — which began circulating online on Nov. 6, 2017 — might have marked the beginning of the end of Invisible Hicks. As Mary Grace notes, it's when the Daily Mail started taking interest in Hicks's fashion choices. On Nov. 12, the site published a sprawling feature on her various looks during the president's tour through Asia, declaring her a "vision in florals." AOL claimed that Hicks had "upstaged" Melania in a "fashion showdown"; Hollywood Life reported that as Melania headed home, "Hope busted out another eye-catching look in Vietnam!"
In hindsight, it's remarkable — given how central Hicks was to every Trump event and scandal over the last two years — that she evaded coverage so thoroughly. There was no apparent drama between Hicks and her boss; none between her and any of the other women in the Trump administration. All it took was one flashy outfit for Hicks to become fodder for the celebrity machine. As her clothing was scrutinized by both the press and public, demand for photos of those outfits increased, which, in a kind of media feedback loop, increased the level of scrutiny and commentary.
In late January, the tenor of the coverage began to shift, as the New York Times reported that Mark Corallo, who'd served as the spokesperson for President Trump's legal team, was poised to tell Robert Mueller's investigation that Hicks had stated during a previously undisclosed conference call that emails, written by Donald Trump Jr. to Russian operatives who were offering information on Hillary Clinton, "will never get out." Hicks, according to this report, had allegedly obstructed justice.
The reporting appeared on the front page of the New York Times, and was aggregated widely across the internet. But Hicks was still so unknown that the Times included a video halfway through the online version of the piece, titled "Who is Hope Hicks?"
Hicks's lawyer strongly denied the claims. "She never said that," he said. "And the idea that Hope Hicks ever suggested that emails or other documents would be concealed or destroyed is completely false." Whether or not she had obstructed justice, Hicks had, despite her best efforts, become part of the larger story of the Trump presidency, instead of just orchestrating it. But the tabloids were still missing what every good celebrity story needs, and what would eventually turn her into the center of last week's primary Trump drama: a romance.
The day after the Times story, the Daily Mail dropped an exclusive: Hicks was dating White House staff secretary Rob Porter. "White House romance!" the headline screamed. "Trump's comms director Hope Hicks is seen canoodling with president's high level staff secretary Rob Porter." The pair had gone to dinner with Ivanka Trump and Jared Kushner's spokesperson Josh Raffel, careful to avoid any sort of physical contact. But paparazzi — hired by the Daily Mail, which, at that point, may have already begun reporting the story of Porter's ex-wives' domestic abuse allegations against him — followed them and took pictures of them "cuddling and kissing" in a cab on the way back to Hicks's apartment. The article also claimed that the beginning of the romance dated to the previous fall, when Porter's then-girlfriend discovered suggestive text messages from Hicks on Porter's phone.
The piece received relatively little attention. But like a series of small pieces leading up to a cover story, it set the stage, and the stakes, for the revelations to come.
At the same time, the non-tabloid press, reacting to the Times allegations, began upping their own coverage of Hicks. On Feb. 2, cultural critic Virginia Heffernan wrote a searing op-ed for the Los Angeles Times, underlining the ways in which Hicks's PR training prepared her for obfuscation. The same day, Town & Country released an extensive profile of Hicks, promising to reveal "How Hope Hicks Became the Ultimate Trump Insider." It was also published in the print magazine, which suggests it was commissioned months before — back when it was a nicer, puffier piece about her Greenwich family.
Without Hicks's participation, the piece reads like a classic celebrity write-around that would be at home in Us Weekly, with heavy reliance on "family friends" and "close friends" and "friends," all of them unnamed. But it's no takedown: After quoting a former White House correspondent declaring that Hicks has "real power," the piece concludes with the argument that "perhaps more than power, however, Hicks has discretion, loyalty, and candor — traits Trump identified in her early on."
A low-key romance, a Town & Country profile she didn't participate in, an op-ed denouncing her protection of the president — all of that would likely have been fine, from Trump's perspective. A modicum of attention is expected, given her proximity to power. Even getting spoofed on Saturday Night Live (imagined talking to Fox & Friends, something the real Hicks would never do) could be ignored. But what happened next would finally create a storm big enough to distract from the president — and put her at the very center of it.
On Feb. 6, the Daily Mail dropped another exclusive, this time detailing Rob Porter's abuse of his two ex-wives. The headline made the connection to Hicks immediately: "Ex-wife of Trump aide Rob Porter, who's dating Hope Hicks, tells how he called her a 'f***ing b***h' on their honeymoon and she filed a protective order against him." The piece hinged on an interview with Porter's second wife, Jennifer Willoughby, along with confirmation from his first wife, Colbie Holderness, and the disclosure that both came forward this fall when Porter's then-girlfriend (pre-Hicks) contacted them both to ask if they had experienced abuse.
The detailed allegations, including copies of a restraining order, were interspersed with the paparazzi photos of Porter and Hicks, taken just days before. The allegations were against Porter, but it seemed clear that, to the Daily Mail, the story's news value had much more to do with Porter's relationship with Hicks. (The next day, the Intercept, which had been working on the story for weeks, published an interview with Porter's first wife, including a photo taken immediately after Porter allegedly punched her in the face in a Florida hotel room.)
Porter's actions were shocking enough. But then Hicks — working with Porter's superior, White House chief of staff John Kelly — created a secondary scandal, as they labored to protect Porter. Ahead of publication, the Daily Mail contacted the White House with what's known as a "no surprises" letter, listing the allegations they intended to publish and asking for comment. John Kelly "let it be known," according to Vanity Fair, that "he wanted to defend Porter publicly." The resulting statement, in which Kelly called Porter a "man of integrity," was written by Hicks, Sarah Huckabee Sanders, and Kushner's spokesperson Josh Raffel.
Since then, questions have swirled around who knew what and when — and why Kelly allowed Porter to continue to work when he was denied a security clearance after the allegations of abuse surfaced. Porter resigned, and Kelly, whose job security was already in question, now also seems primed for an exit. The story has eclipsed all other messaging attempts by the White House, and Sanders has struggled to combat allegations that Trump condones violence against women, especially in the wake of a tweet by the president, issued Saturday morning, arguing that "Peoples [sic] lives are being shattered and destroyed by a mere allegation." (Sanders later claimed that Trump was referring to allegations, going back decades, against Nevada casino magnate Steve Wynn.)
Much of the political scrutiny has been on Kelly, while media coverage of Hicks has framed her more in the manner of a Hollywood celebrity, emerging from scandalous drama. Since the Porter story broke, the Daily Mail has tracked her mood and fashion closely ("The 29-year-old Director of Communications for the White House conveyed her sense of gloom and doom in a black belted jacket and some $800 black-suede, thigh-high Stuart Weitzman boots"). Hollywood Life declared that Hicks "looks distraught after rumored BF Rob Porter's WH exit over abuse allegations," peppering the piece with assurances of Hope's fashion acumen: "While the expression on Hicks' face was one of sadness, her outfit absolutely crushed it as always"; "Despite turmoil in the White House, she always looks good no matter what new crisis comes up."
It's the sort of coverage that highlights just how ill-equipped the gossip press is to deal with domestic abuse. The abuse itself is too dark, so they focus on fashion and romance: People promised readers a look "Inside Hope Hicks' Troubled Romances"; Business Insider suggested that "The Trump White House has been plagued by rumors of illicit romances — and now Hope Hicks is at the center," highlighting Hicks's previous relationship with ex–campaign chair Corey Lewandowski. Just days later, another piece argued that "Trump's 'real daughter' Hope Hicks has started copying Melania instead of Ivanka — and now she's in the center of the latest White House scandal."
Hicks was, as Business Insider insisted, at the center — not just of a scandal, but a tawdry, tabloid-worthy one: a place a publicist should never find themselves. It was all, as Hick's sister would've put it, "something I am sure she is not crazy about."
Still, rumors of Trump's displeasure with Hicks were addressed quickly. The day after Porter resigned, with rumors of Kelly's resignation reaching a fever pitch, Trump released an official statement: "Hope is absolutely fantastic. She was with the campaign from the beginning and I could not ask for anything more. Hope is smart, very talented and respected by all."
Of course, Trump has issued similarly glowing descriptions of other staffers immediately before they exited the administration. But his relationship with Hicks, and the potential for anger at her newfound exposure, seems to be of a different genre.

Think back to that profile in Town & Country — a magazine that, in February 2016, released a fawning profile of Ivanka. If Hicks had to be profiled, it might as well be in a magazine about the cultured and the classy, on the record declining their offer for her to participate: "The tendency to work with the press professionally but to avoid the spotlight personally is something she was born with," the Hicks profile declares.
"Born with" really means "born into": Her grandfather was head of public relations at Texaco; her father ran publicity for the NFL, and now heads a communications firm that specializes in crisis management and "complex situations." Hicks wasn't born with the inclination to stay out of the spotlight — she spent her teen years modeling. Her sister, also born into that family, became a small-time fashion blogger and EMT. Hope learned discretion — maybe from her father, but certainly from her first PR job, at the firm of famed PR "shark" Matt Hiltzik.
Hiltzik worked as a campaign aide for Hillary Clinton during her first Senate race. Then he went to work for Bob and Harvey Weinstein in the early 2000s. His client list expanded to include Glenn Beck, Justin Bieber, Alec Baldwin, the Kushner family. "As a general rule," Hiltzik told the Washington Post in 2009, "I stand by people and don't make decisions based on what other people think." When asked, in 2014, to name his "niftiest" PR move, he said that "some of our best successes have been striking a balance between stories we help our clients share and those we make sure are never told."
That's all standard PR philosophy — it only sounds bad when you state it flatly. PR is "shaping the message," which entails a certain level of amorality, selective omission, and, as Heffernan points out, lying, particularly to the media. But the stakes — and consequences — of that lying increase when you perform it in service to the president, particularly one as contradictory, as revisionist and flexible with the truth, as Trump.
Hicks isn't just good at PR. She fulfills Trump's particular PR needs, which require an incredibly delicate balance: She must please a man who loves bombast, but waries of it quickly in others; a man who requires constant spin-doctoring, but hates it when those who work for him get caught in a lie. Only a select few, including Ivanka, Sanders, and Hicks, have been able to toe that line.
All of these women have been ostensibly demure yet outwardly feminine. They're permissive to their boss but exacting with others in private. They are not unlike the stereotype of the fierce mother — tolerant of her son's faults, self-effacing and willing to do anything to protect him. They seem to believe the men they serve over all other women, or at very least protect them; they are perfect PR for Trump-era patriarchy. And Hicks, Trump's cherished "other daughter," is foremost amongst them.
At this point, Hicks knows what's required of her: She has remained quiet and beautiful and tight-lipped. She will slough what is necessary and spin what she can't. She will do it to protect herself, but most of all, to protect her president. And she will continue to model deference and devotion in a way that allows Trump to believe he is worthy of it, no matter his actions, no matter the cost.
Trump looks at Hicks, much as he looks at Ivanka, and sees the kind of woman who would serve the classy, respected man he believes himself to be. In this way, Hicks provides the greatest PR service of all: She doesn't just refashion Trump's image for the public, she does so for the president himself. "To the public, she remains in the background," Conway explained. "To the president, she is front and center." ●