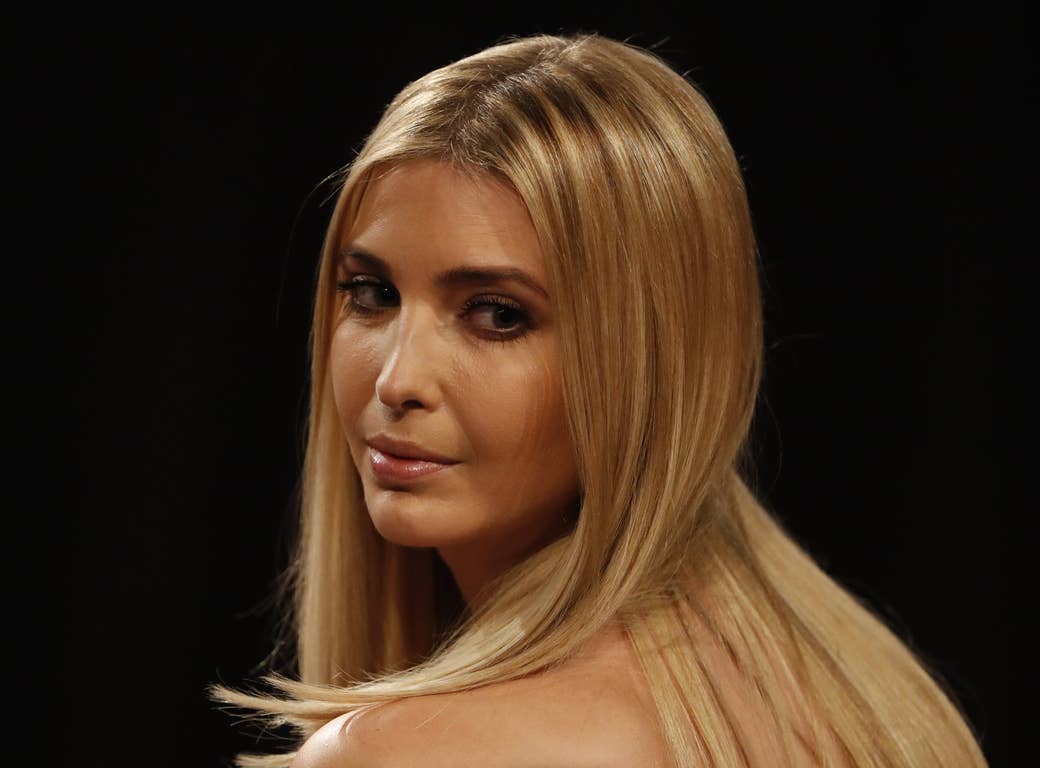 In the final weeks of Donald Trump's run for president, Ivanka taped a commercial for her father's campaign, directed at suburban women: the sort of woman who loves her, and her brand, but might have been turned off by her father's rhetoric. In the ad, she wears a simple black turtleneck and repeatedly invokes "my father, who raised me," underlining how someone can be very famous and totally unknown. Put differently, my father, who might seem unlike me in virtually every way, is actually like me.

The danger, however, was that many people had already decided the opposite: that Donald wasn't like Ivanka, and Ivanka, for all of her poise and polish, was actually like Donald.
Look closely at her past, and you can watch it happening. Like the way that Donald Trump appeared in public with Ivanka when she was a girl: When she was elementary school age, he pulled her onto his lap, or draped his arm around her casually. It's not a hug: It's possession.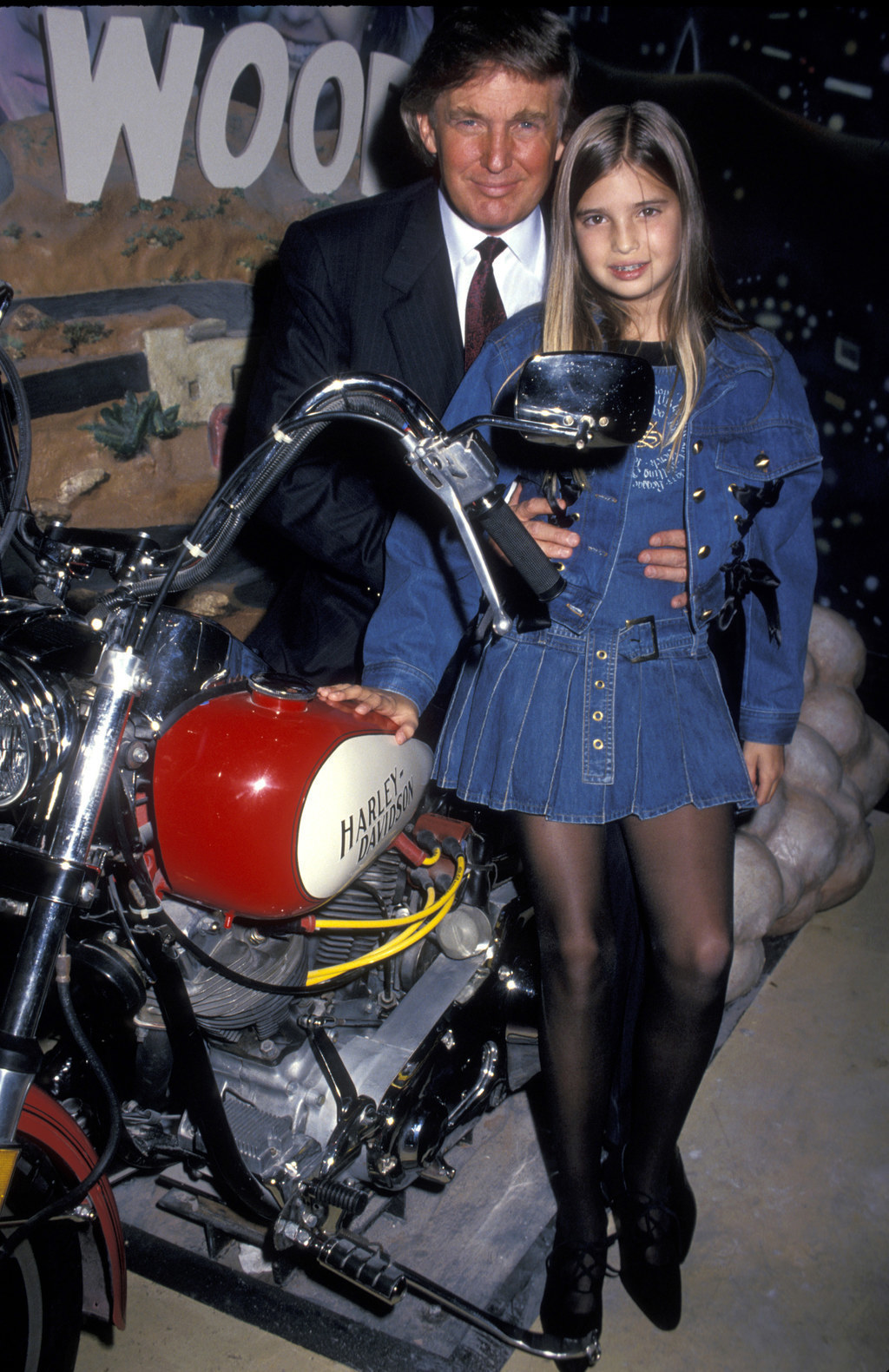 As she grew into her teens, and she, herself, began posing like a woman, he began to touch her like a woman. At the opening of the Harley-Davidson Café, Ivanka, just a tween, wore a jean ensemble, and Trump, sitting behind her, put his hands around her ribcage. At his 50th birthday party in 1996, Ivanka, then 15, wore a black shift with lace sleeves, and Trump's hand snaked around her waist, pulling her to him, whispering in her ear. With her pink blush and light purple eyeshadow, she's radiant, smiling: It's all still fun.
The next year she posed for a profile of him in Playboy, leaning back against her father, cupping his chin, gazing at him adoringly. In 1997, her countenance will turn. She was 17, and her father had thrown a "Pre–Valentine's Day Party" for her. The sparkles have been replaced by lipstick, paleness, a set scowl. She wore a plunging evening gown and looked aside as her father, dressed in a tux, face set mid-complaint, puts his arm around her waist yet again.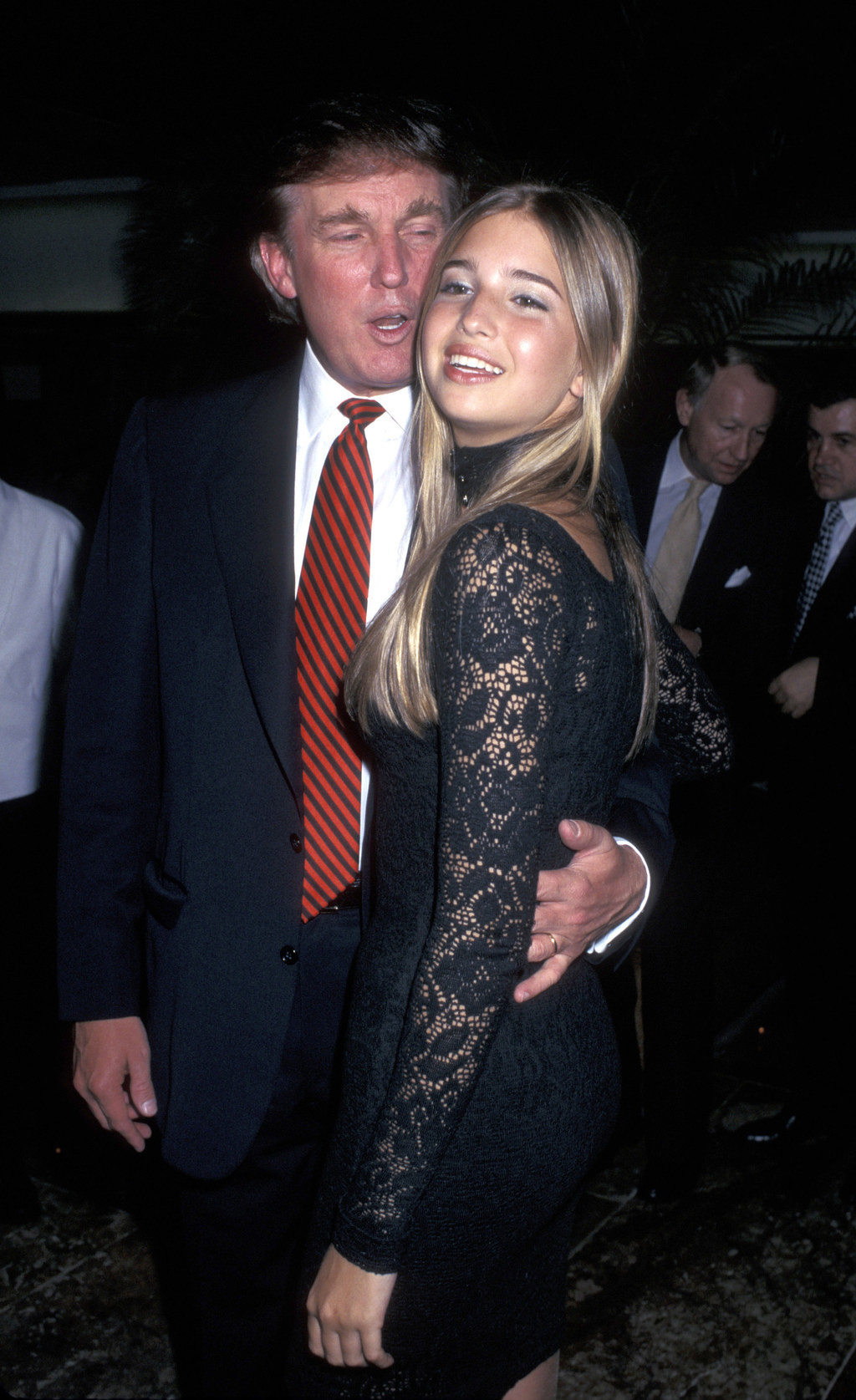 These photos aren't proof of an improper relationship, but they connote a certain type of relationship: in which Ivanka was trained, from an early age, to think of herself as either a possession or a prop. As she grew up, she watched as her father treated women — even beautiful, accomplished women like her mother — as disposable objects easily traded for something newer. So first she became a model, because that was one way of being valuable in the Trump universe, and then she became a ruthless businesswoman, because — as modeled first by her mother, and then by Barbara Res, hired as vice president of the Trump Organization in the '80s — that was the other.
Like her father, she turned her lifestyle into a brand. And like her father's brand, Ivanka's is guided by a simple, if cloaked, understanding: that the world should be run by straight white men. Women can work in it, but only if they have the right clothes, the right bodies, the right attitude.
Trump's presidential campaign has clarified that ideology. But it's also illuminated the ways in which Ivanka has not only internalized his ideology, but also marketed it — through her lifestyle website, her clothing brand, her hashtag #WomenWhoWork — to millions of other women under the guise of empowerment. Respectability politics + sexualism + corporate feminism = Ivanka-ism: the latest, and most insidious, brand of postfeminism.
No one is better at suggesting that purchasing clothing is the same as empowerment than Ivanka.
Ivanka is highly intelligent. But part of that intelligence, that savvy for which she's renowned, derives from knowing exactly how the system works — a system of which her father is simply the most prominent and contemporary architect. Ivanka could use her inside knowledge to dismantle that structure from within: She is, after all, literally inside the building. Instead, she's chosen to replicate it — albeit in cuter, Instagram-ready tones.
She grew up in a world textured not just by Trump, and his understanding of capitalism and patriarchy, but postfeminism and its cool new stepsister, commodity feminism. She doesn't just embody those ideologies; she wins them. No one is better at suggesting that purchasing clothing is the same as empowerment — and, as such, no one should make more money from that (flawed) principle.
The true tragedy, then, is just how difficult it is for someone of Ivanka's caliber to escape this structure once she's become ensconced in it. She will not disavow her father or his politics, even as she cowers in the corner in heels and camera-ready makeup, her smile still cemented on. She may claim — as she did last week, when asked about the boycotts of her brand — that her brand is not and has never been "politicized." But it always has been, bristling with the contradiction of a brand that suggests that the primary way for women to find success isn't by changing a system that fundamentally undervalues and dismisses them, but by learning how to mold themselves to its demands.
This isn't something new. The campaign has simply illuminated the currents and connections between what Trump explicitly stands for and what Ivanka implicitly does. And while Ivanka has been a victim of this ideology, as it has been conditioned into the understanding of herself, other women, and their value, she's also become a willing participant. "My focus is to ensure that these successes continue for the next generation of Trumps," she writes in The Trump Card. "After all, we Trumps don't play to perceptions. We play to win. Gosh, I sound like my father, don't I? But that's what you get from this particular Daddy's girl."
After she began appearing in The Apprentice in 2006, Ivanka's first broad attempt at brand management arrived with the 2009 publication of The Trump Card: Playing to Win in Work and Life. Written when Ivanka was just 27, the book feels very much like an underdeveloped version of the 2016 Ivanka. The cover, designed with jewel tones, looks cheap; the photo of Ivanka looks too glossy; even the blurb from Vogue editor Anna Wintour ("The Trump Card is appealing, grounded, smart, and has a sense of humor") looks like it's trying too hard. And while she's already made herself essential to the Trump organization, she's not yet married, hasn't yet become the mother of three. Her advice is very much geared toward the book's intended audience of twentysomething strivers.

Still, the ideologies that have come to define the Ivanka brand were already very much in place, if unrefined. There's the basic notion of meritocracy, forcefully evoked in the book's title, which Ivanka intends to "signal that we've all been dealt a winning hand and that it's up to each of us to play it right and smart." We're all born with the Trump Card — regardless of race, gender, sexuality, ability, education level — and simply have to play it correctly.
And while she admits that she was born into privilege, she doesn't see it as actually setting her ahead: "Despite my title, my pedigree, and my responsibilities, I'm just like any young woman in the workplace." It's her hard work and dedication, then, that have allowed her to become successful, to take her "rightful" place within the Trump Organization. She even uses an analogy of the staggered start in track: It may look like one runner has a significant lead, but in the end, everyone runs the same race!
This idea is central to the understanding of the American dream — and arguments against programs like affirmative action. It's also central to Donald Trump's conception of the way the US economy should work, and, by extension, his understanding of his success: He simply worked harder than everyone else. Both Trumps' understandings elide the privilege afforded to them by birth (no worries about paying for health care, no worries about food, full tuition to the best private schools) and by their race.
But to acknowledge their own head start would be tantamount to suggesting that the deck is, indeed, stacked — and that their advice, in the form of a purchasable book, might not be applicable to all. Yet by systematically denying her own privilege, Ivanka suggests that anyone who doesn't excel like she has simply isn't trying hard enough. The system isn't broken, some women are just failing to manipulate it — or, as Trump himself would put it, they're just losers.
So how does a woman work hard enough to win? By mastering the complementary arts of classiness and have-it-all-ness. Class, for Ivanka, is manifest in three primary ways: dress, home, and behavior. In The Trump Card, she writes that "I'm still searching for a style that's appropriate for someone in my professional position, that expresses my spirit and sass and seriousness all at once." By the launch of the Trump campaign, she'd settled on a style and turned it, at a significantly lower price point, into her own clothing and accessories line. Her decision to do so was driven by demand: After she started appearing on The Apprentice, she began receiving "piles" of fan mail from girls who "wanted to grow up to be just like her." And in our current culture, the best way to become like your idol is to buy her lifestyle.
So Ivanka, the model-meets-businesswoman, simply made hers available for purchase — or, at the very least, the signifiers of it. She'd already launched a jewelry line, but you can't define yourself with jewelry. For that, you need clothes, bags, shoes, a blog — an entire brand. A brand that ostensibly reflected Ivanka, but actually reflected its intended consumer group back at itself, in slightly more idealized form: In Vogue, Johanna Murphy, then chief marketing officer of the eponymous line, declared, "We are targeting millennials who aspire to have very big careers, but they are also training for marathons or learning French or starting a family. Every aspect of their lives is just as important to them as their careers." The brand book declared, "We are FEMININE" ... "We are not GIRLY," "We are APPROPRIATELY SEXY ... We are not SEXPOT"; "We are DETAILED ... We are not OVERDONE."
Donald Trump's own conception of the ideal woman, then, transmuted into Ivanka's brand — which suggests that both it, and the women who consume it, should also aspire to classy, not trashy. It's a maxim that makes sense when designing for the contemporary businesswoman, but it also reinscribes a very particular understanding of what "class" looks like: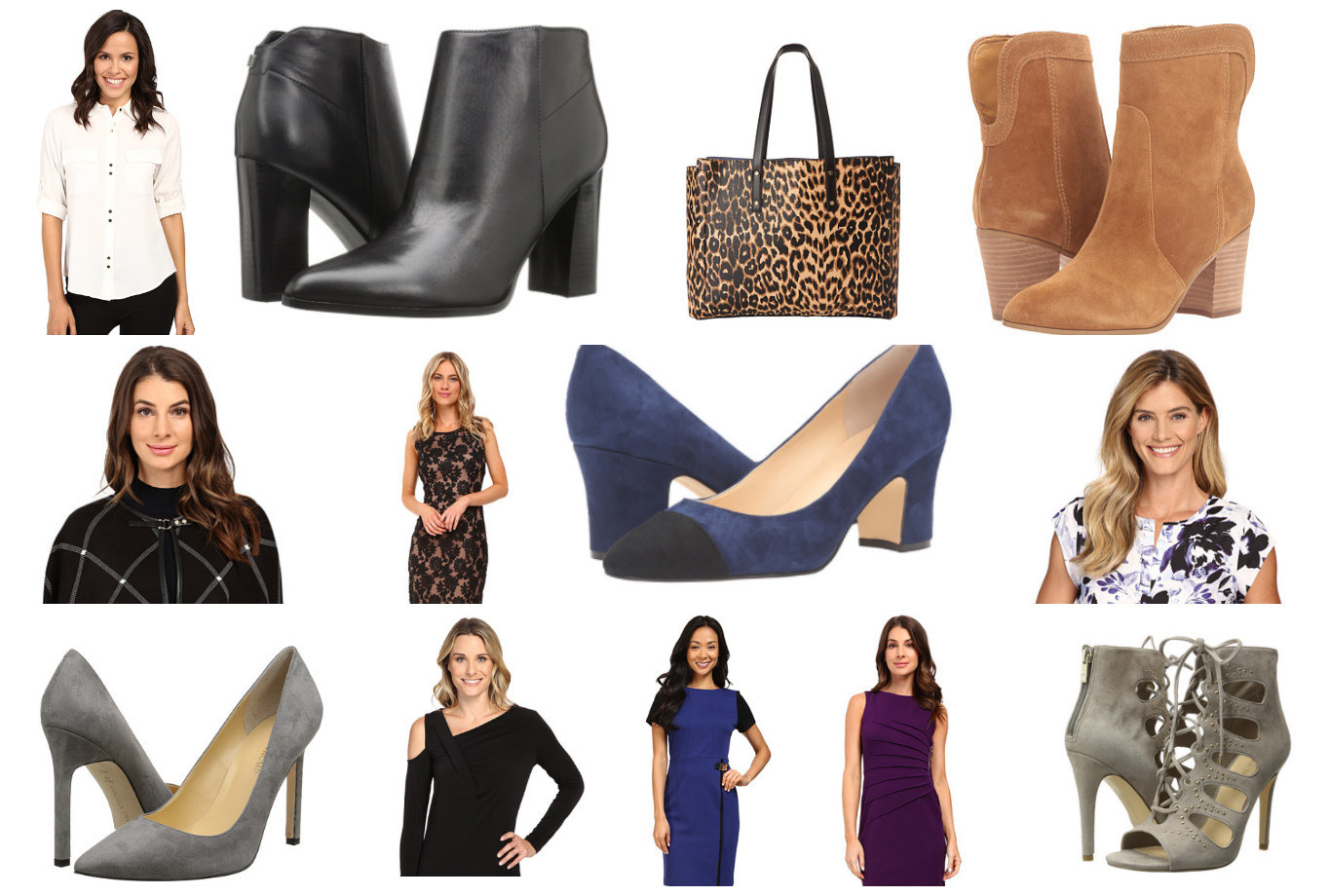 Sheath dresses that are closely tailored, but not skin-tight. Closed-toe pumps and 2-inch heel booties abound. There are so many blouses — the type that only drape well on women with a C-cup, max. It's fashion forward but by no means cutting edge: Asymmetrical shirts and dresses offer literal edges as tantamount to edginess. It's for the woman who wants work clothes that are trendier than Ann Taylor, but better made than H&M. It's also for the woman who wants to emulate the (white, bourgeois) understanding of class.

"We're able to express our femininity very differently from just a decade ago," Ivanka told Town & Country in October. "And I think that's something my brand really embraces: the polished, appropriately sexy aesthetic. It's a dress you can wear in the boardroom and on a date with your husband." Clothes that transition, in other words, from a position of authority to an object of desire: the "good" sort of sex object, which is to say the heteronormative, ostensibly monogamous one.
A similar understanding of femininity is manifest on Ivanka's website, which is separated into sections on Style, Work, Home, Play, Travel, and Wise Words. Each of those sections of the Ivanka woman's life can be formatted accordingly: "5 Ways to Counteract Your Child's Sugar Intake" makes it so you don't have an embarrassingly hyperactive or overweight kid; "Get Ivanka's Style Decor For Less" shows how you can find a mirror that doesn't look cheap; how to plan your meals (order protein bars via Amazon Prime!) and your workouts when you travel because "it's so easy to pick up five pounds." Wise Words is just a collection of Pinterest-ready superwoman motivational quotes: "Always Deliver More Than Expected," "Own Your Femininity," "You're Not in Competition with Other Women, You're in Competition With Everyone."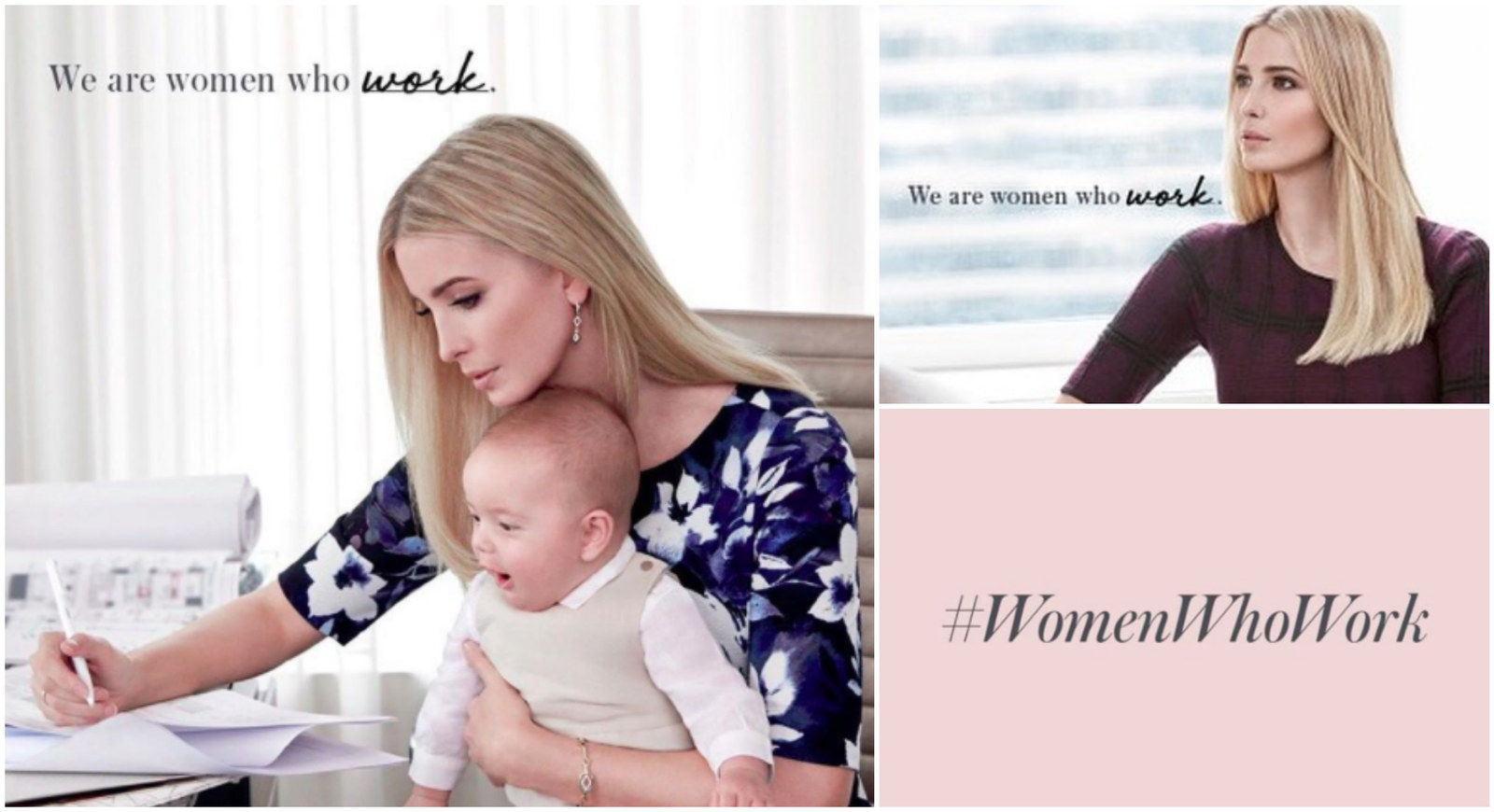 The most forceful articulation of the Ivanka brand, however, is the promotion of "Women Who Work" — a sort of 21st-century have-it-all-ness, even though Ivanka loathes the term, that proclaims itself to be nonprescriptive and all-inclusive. "One of my goals is not to preach how to live a great life," Ivanka explains. "I'm not saying that if you're working at home, raising a family, that's not work. I want to disrupt the narrative around what it means to be a woman who works. The whole point of my brand is that women should be architecting the lives they want to live."

"The whole point of my brand is that women should be architecting the lives they want to live."
That assumes, of course, that women have the tools, afforded by privilege, to design their own lives. The only "disruption" is the idea that women who stay at home with their kids are "working" as well — which may not be a novel idea, but is absolutely a way to include more consumers in your brand's mode of address. In truth, the "all-inclusiveness" of the brand is incredibly circumscribed, catering to women with lives that might not mirror, but nonetheless largely work to replicate, Ivanka's own.
At the base line, that means living your life like a business deal: Ivanka describes herself as "always negotiating"; she calls her marriage to Jared Kushner "the best deal we ever made!"; Kushner describes her as "the CEO of our household." And if you approach life this way, you can become, as Town & Country put it, a "modern-day superwoman": a well-oiled postfeminist machine.
The explanation for the "Women Who Work" lays bare the entire ethos of the Ivanka brand: "Celebrating women who work — at all aspects of their lives." Performing womanhood, in other words, as continuous, never-ending labor, always attempting to work closer to the elusive Ivanka ideal. To this end, Ivanka's site is filled with how-tos on "5 Ways to Make Better, Faster Decisions" and "6 Tips for Staying On Your Game When You Travel" and "4 Make-Ahead Snacks to Help You Power Through the Week." Instead of challenging the idea that a woman should be all things to all people, it gives you #LifeHacks on how to actually be that woman: "There are 168 hours in a week," a post on time management proclaims. "Use them well."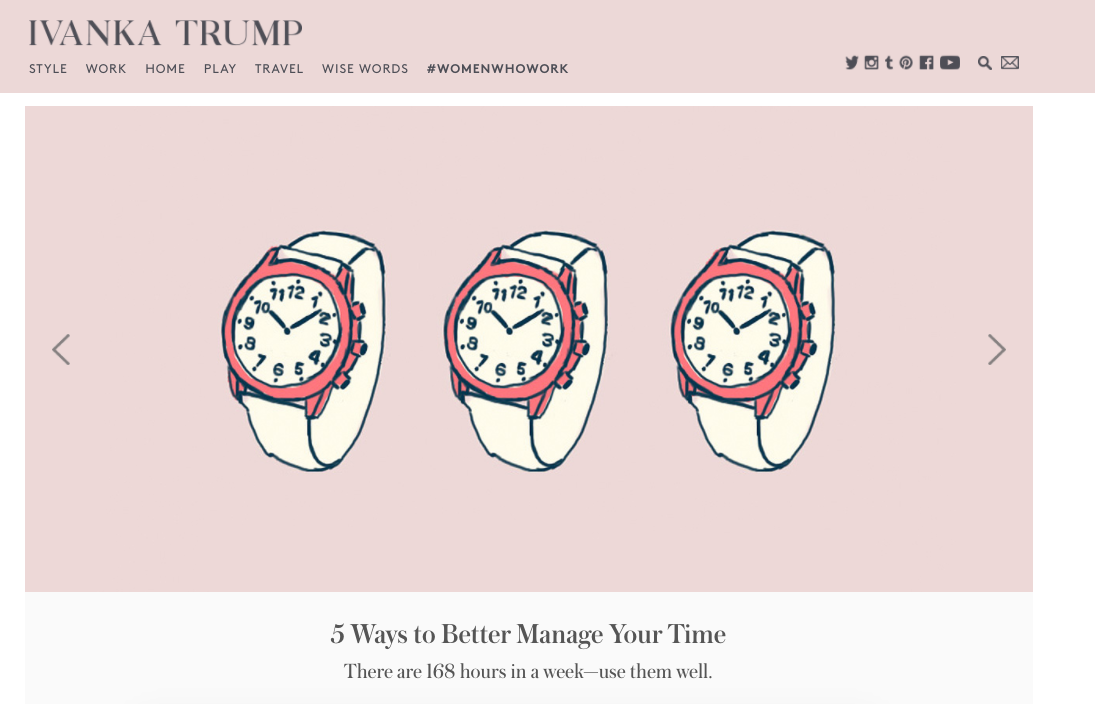 This brutal truth is painted in tones of rose quartz — the classy, hip, cool-girl color of the season — featuring women of various ethnicities (but mostly white) with a uniform body type: thin, slender, or athletically thin and slender. The understanding of how to "work" never addresses what to do if you're out of work, or underpaid, or disabled, or discriminated against on the job, or subject to sexual harassment — the sort of advice that most working women actually need. It rarely even addresses one of Ivanka's pet projects — paid maternity leave — because the Ivanka woman doesn't complain about systemic issues: That would be tacky. She simply works harder, longer, and in heels. (Ivanka doesn't even demand the same principles of those who create her brand: The contractor that designs Ivanka's line offers zero paid days of maternity leave).

Ultimately, the intended audience of Ivanka's site isn't for anyone who struggles to work — it's for anyone who struggles to work perfectly. She suggests it far more quietly than her father, but the fact remains: Ivanka, and those who embrace her brand, has no time for losers — a term that expands to include anyone who hasn't flawlessly played her own trump card.
For weeks, the future of Ivanka's brand has been questioned; a formal boycott had been launched; anecdotes began circulating about piles of Ivanka clothing donations accumulating at thrift shops. A recent poll suggests that fewer than 1 in 4 women would buy an Ivanka-branded item.

And while there's little evidence of an actual dip in sales, Ivanka remains the consummate businesswoman, and she "discouraged" her father's campaign from pushing the ad featuring her, "fearing that her high-profile association with the campaign would damage the businesses that bear her name." It's not that Ivanka disagrees with her father's policies or vision of the world, however, so much as the manner in which he and his followers have manifested it: garishly, overtly, without class. Ivanka's brand of meritocracy, like that practiced by many of the uber-rich among whom she circulates, wouldn't dream of saying anything racist, or anti-Semitic, sexist things; they just vote in and endorse policy that enacts and perpetuates racism and sexism, and stay silent on matters of anti-Semitism.
The fact that Ivanka is a woman and, after marrying Kushner, an Orthodox Jew, underlines the cognitive dissonance at the heart of her brand: As a friend of hers told The Huffington Post while watching her deliver her speech at the Republican National Convention, "I thought, She is either lying to herself or she is making herself believe things like her father does. She is up there talking about women in the workplace while the crowd is basically chanting 'lock up the bitch.'"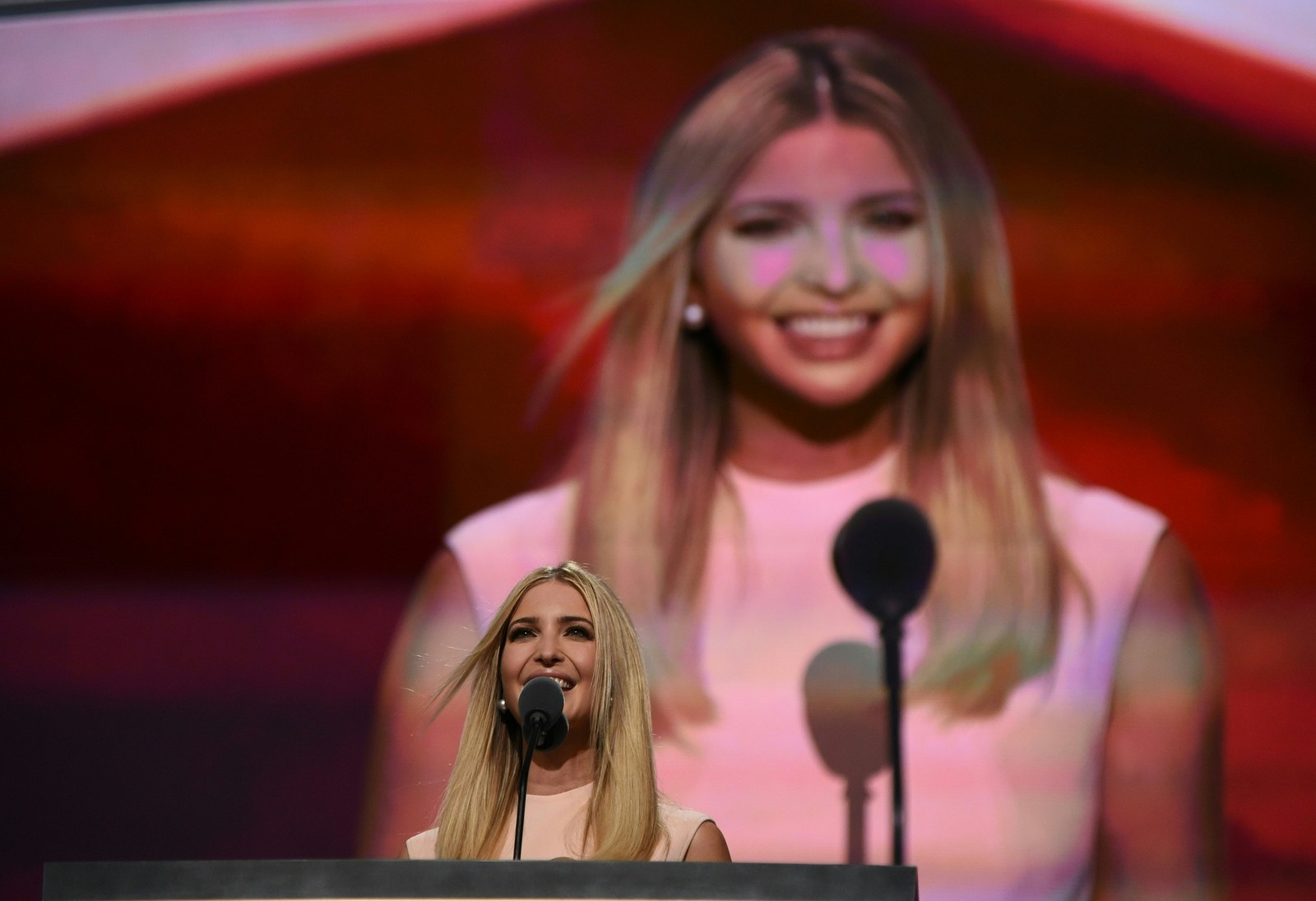 Which returns us to the particular tragedy of Ivanka and her brand of postfeminism: When men like her father win, they maintain their place atop the patriarchy. Ivanka's version of winning will always make her — and, by extension, women — a secondary player within that realm, whose value decreases in direct correlation with age and her ability to regiment her body into ("appropriate") sexual desirability. Of course, Ivanka doesn't see it that way. Even though she watched as her father rejected first her mother, and then her first stepmother, for younger women, Ivanka, age 35, is at the height of her MILF powers: She'd never decry a power structure over which she currently reigns.

Ivanka's a self-regenerating organism, and will use her poise, beauty, and "weaponized graciousness" to heal the parts of her brand lacerated by her father's campaign. And if he continues to threaten her capacity to win, she will excise him — a move, as Ned Resnikoff points out, that worked brilliantly for Marine Le Pen, who's ushered in a form of nationalism that reeks less of fascism and overt racism but embraces many of its tenets in more palatable, and thus far more dangerous, forms.
Ivanka's understanding of the world is one in which white, thin, straight, traditionally beautiful, nondisabled, bourgeois women will always win.
Postfeminism isn't fascism, of course. But Ivanka's brand and the ideologies it so effectively propagates are deeply, if covertly, regressive. No amount of advocating for paid maternity leave can mask the fact that Ivanka's understanding of the world is one in which white, thin, straight, traditionally beautiful, nondisabled, bourgeois women will always win — if you consider constantly molding yourself to the status quo and overlooking your second-class citizenship as "winning."
Ivanka-ism is just as toxic as Trumpism: It's just dressed better, with the same take-no-prisoners ruthlessness that so often accompanies the children of new money, striving to elide their parents' shameful, fumbling attempts at class. Ivanka will look back at the scorched earth of her father's campaign and see it as a place to build a beautiful, tasteful skyscraper — a new Trump Tower, with none of the trashy '80s signifiers that have come to define her father's brand. It will be exquisite, a new mecca for tourists of a more monied, and more powerful, caliber than those who currently flock to the existing Trump properties.
And it will make many forget the sins of her father, even as they literally and figuratively purchase his same ideas in more palatable, seemingly apolitical, yet fiercely divisive form. She is, after all, a daddy's girl: her father without the makeup, the combover, the ill-fitted suits, the yelling, the rambling, the Twitter rants, the paranoia, all the things that make him difficult to sell to the most monied and powerful voting bloc in America, which is increasingly desperate for a presentable avatar.
Which is all to say: Don't cry for Ivanka. Fear her.