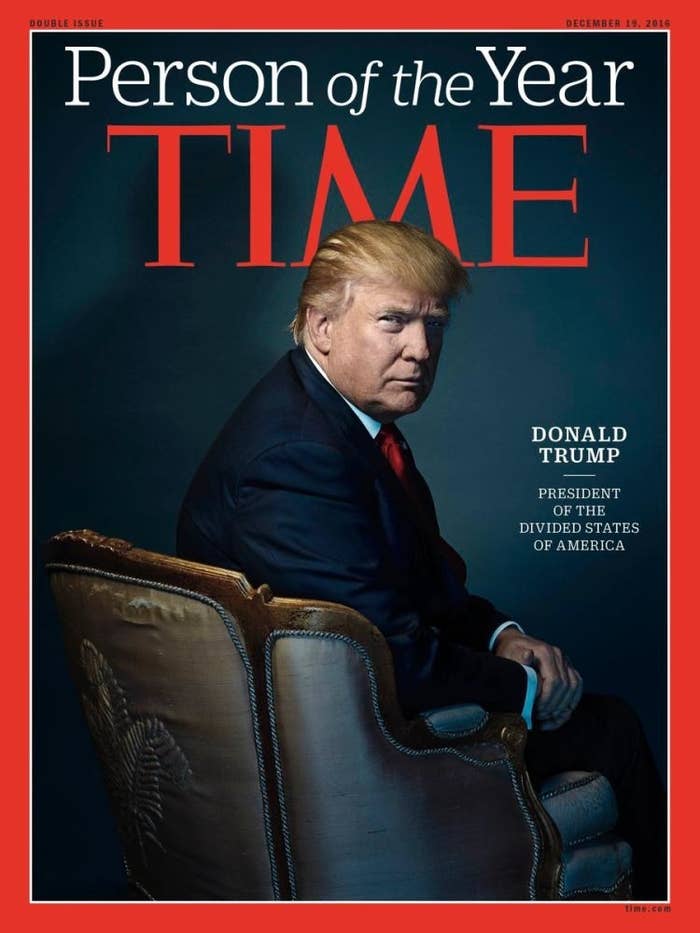 When Time magazine first launched its "Man of the Year" feature, in 1927, it was out of embarrassment. They'd managed to go a whole year without putting Charles Lindbergh — the famous aviator and, at the time, the biggest celebrity in the world — on its cover. The famously press-shy Lindbergh refused to sit for a big profile, but there was an alternate way to get him on the cover: declare him "Man of the Year." "Col. Lindbergh is the most cherished citizen since Theodore Roosevelt," the short piece declared.
The idea wasn't that Lindbergh — and the dozens of men who would follow — was the best or greatest man of the year. It was that he was the most news-making, the most influential: the centrifugal force of the year in journalism. That's why, 11 years later, there was no question that Adolf Hitler was the Man of the Year. As the editors explained, "When without loss of blood he reduced Czechoslovakia to a German puppet state, forced a drastic revision of Europe's defensive alliances, and won a free hand for himself in Eastern Europe by getting a 'hands-promise' from powerful Britain (and later France), Adolf Hitler without doubt became 1938's Man of the Year."
Joseph Stalin was declared Man of the Year twice — first in 1939, then in 1942. Kruschev earned it for 1957; Iranian revolutionary Ayatollah Khomeini was named the Man of the Year in 1979. There's a history, in other words, of notorious, divisive, and reviled figures — including, most recently, Newt Gingrich (1995) and Vladimir Putin (2007) — being named Man of the Year. (Time did not change the name of the designation to "Person of the Year" until 1999.)
Donald Trump, today named Time's Person of the Year, is, without doubt, the most influential person of 2016. But Trump, a narcissist who has immersed himself in an information universe that primarily confirms his worldview, does not understand the designation as double-edged sword: He made the most news, but much of that news centered on the way he fomented and affirmed racist, bigoted, xenophobic, and misogynist attitudes nationwide. For Trump, the consummate celebrity, all news has always been good news; being Time's Person of the Year isn't a dubious distinction, but a declaration of his dominance.
No matter if the story inside the magazine draws attention to the grim underside of his campaign — or that the lighting and mood of the cover itself suggests a dark, ambiguous future for the world. In the current magazine age, a cover — and a headline — is what circulates, what makes and accumulates meaning. The nuance and history of "Person of the Year" disappears. In its place rises Trump's own notion that being on the cover of a magazine is tantamount to praise — as he said, "It's a great honor" — or that "influential" is a strictly positive term.
As the internet strips meaning from journalistic traditions that developed in a pre-digital world, Trump has made even the most well-intentioned pieces of criticism impotent —which doesn't mean that it's time to stop criticizing him. Rather, it's time to find better tools.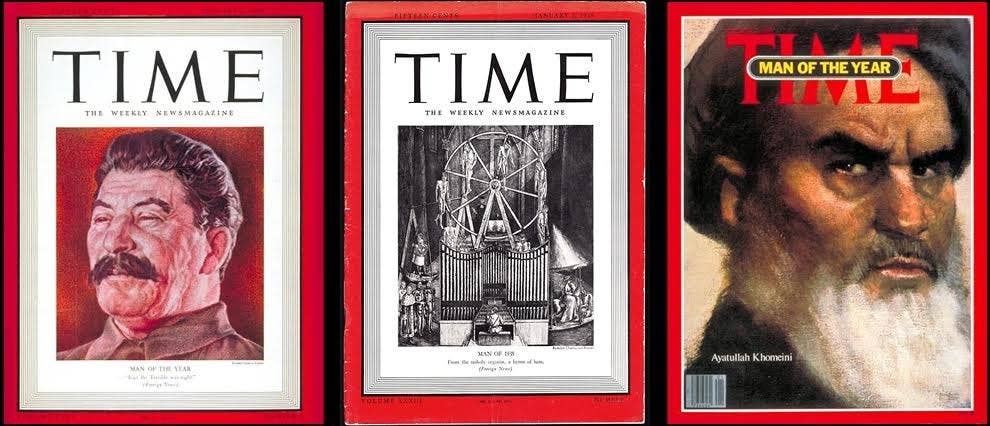 When Ayatollah Khomeini was named Man of the Year in 1979, it had been decades since someone so controversial, so clearly un-American, had been given the designation. Khomeini had orchestrated the Iranian Revolution; he hated democracy and called the United States "the great satan"; his followers held 52 American hostages captive for more than a year. Time's editors averred that Khomeini "had done the most to change the news, for better or for worse."

The accompanying article was not a profile or celebration of Khomeini, but an analysis of his impact and threat to the world at large. "The revolution that he led to triumph threatens to upset the world balance more than any other political event since Hitler's conquest of Europe," the editors declared. They did not request an interview; according to the New York Times, when Khomeini learned that he had been named Man of the Year, "there was no visible reaction."
Time did not flatter him with a portrait (if they had offered, he most certainly would have declined), instead depicting him in a dark, shadowy oil painting, his eyebrows arched, his eyes darting, his face set in a scowl. He may have been on the cover of the magazine, but it was not intended as a celebration.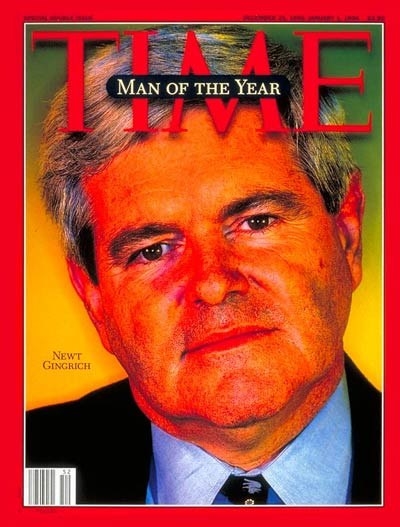 When Newt Gingrich was put on the cover in 1995, it was for "ruthlessly, brilliantly, obnoxiously" hammering through his budget-balancing agenda in Washington. "Having organized an insurrectionist crew in the House, Gingrich seized the initiative from a temporarily passive President and steered the country onto a heading that the Speaker accurately proclaimed to be revolutionary," the editors wrote.
The magazine's cover reflected his "crude, forceful, effective" style: The image is oversaturated, bringing out the redness of his skin; the background is fluorescent and unflattering; his five o'clock shadow suggests both his work ethic and his rough edges. A glamour shot this was not — especially when contrasted with the soft, flattering, regal lighting of Bill Clinton's photo on the cover just two years before.
Or take the 2007 cover of Vladimir Putin: In a letter to Time's readers, managing editor Richard Stengel explained that "with an iron will — and at significant cost to the principles that free nations prize — Putin has brought Russia back as a world power. It was his year." Putin agreed to sit for an interview with the magazine, but only at the last minute. "He made little effort to be agreeable," Stenger wrote. "Charm is not part of his arsenal. I've spent a lot of time around politicians, but he's the first one who didn't seem to care whether we liked him or not."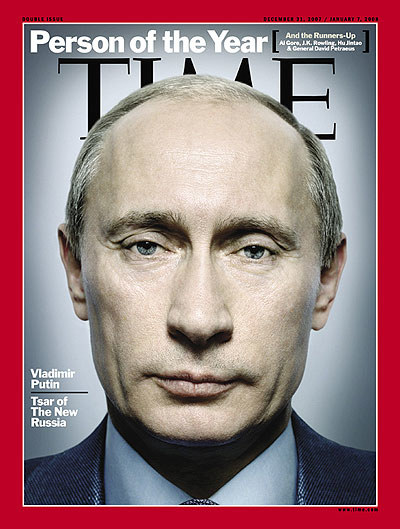 Thus: a cover portrait that depicts Putin as a man with zero thought as to how others perceive him. The close-up, finely textured image is in the trademark style of photographer Platon, who generally shoots celebrities in rich black and white, creating a sense of unmediated intimacy. The blue-gray color scheme of Putin's portrait, coupled with the shining orb of his bald head, make him look like the Lex Luthor of a Communist dystopia: a throwback to an age, and authoritarian ruling style, of old.

And then there's Donald Trump. In her essay on "How We Chose," Time manager editor Nancy Gibbs recites the now-familiar tale of Trump's rise and triumph, arriving at a firmly ambivalent take on his status as person of the year: "For reminding America that demagoguery feeds on despair and that truth is only as powerful as the trust in those who speak it, for empowering a hidden electorate by mainstreaming its furies and live-streaming its fear, and for framing tomorrow's political culture by demolishing yesterday's, Donald Trump is TIME's 2016 Person of the Year."

It's a beautifully wrought, nuanced take on the past year and its most prominent avatar. The accompanying portrait, shot by renowned photographer Nadav Kandar, borrows heavily from past portraits of divisive political figures — the chiaroscuro lighting, which leaves half of Trump's face (and, as such, intentions) obscured in darkness — while offering a clear aesthetic throwback.
As editor Helen Rosner put it on Twitter, "Zero chance the slew of 1940s aesthetic references in this shot are unintentional: Kodachrome palette, backdrop/shadow, Louis XVI chair." His gilded opulence — not his face, or his body — are in the foreground, the chair itself an obvious echo of a similar shot of Hitler, also on the cover of Time, in 1941. He looks over his shoulder at his audience, not directly at them. Like Kandar's previous Man of the Year portrait — in 2012, of President Obama — it is both an image and an argument, with a far different tone than any of the presidents who have been named Man of the Year before.
We do not elect presidents on their ability to semiotically read images of themselves. But Trump is illiterate when it comes to nuance: He called the story "a great honor" that "means a lot." He objected to the magazine declaring him the president of the "divided states of America." "I think putting 'divided' is snarky," he told the Today show in a phone interview. "I'm not president yet, so I didn't do anything to divide." He then went on to talk about his use of Twitter ("I think I am very restrained, and I talk about important things") and why he's come to use it so much ("I get it out much more honestly than dealing with dishonest reporters").

Trump, in other words, sees things in black in white: for him or against him, in pure celebration or crooked denigration. And he's spread that Manichean, melodramatic worldview to his millions of followers. As the Time cover story reads, "this is presidency as improv, as performance art, with good guys, bad guys and suspense. It's a new thing for the United States."
A new thing — which requires a new calculus of media coverage. Of understanding how Trump will willfully flatten any nuance in his portrayal, transforming those who cover him into either heroes worthy of his time or adversaries deserving censure — a designation that can switch by the hour.
The time for the sort of nuance suggested by the near-century-old distinction of Person of the Year may, at least temporarily, be over — because of Trump's inability to see it, but also because many of those who see the cover, the vast majority of whom do not subscribe to Time magazine, or have any memory of Time's history of even more dubiously "awarded" men of the year than Trump, will only see the cover. The image and the declaration "Person of the Year" will travel; its complexities will not.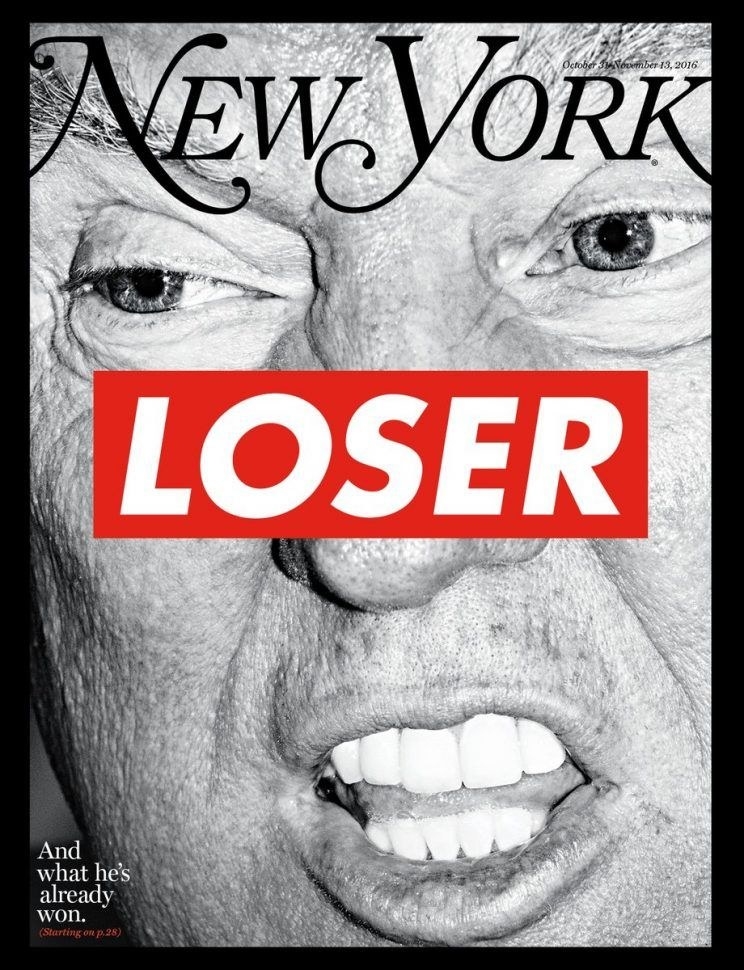 Does that mean that every press declaration must be unequivocal? Like the New York magazine's depiction of Trump as a loser? That feels like a capitulation: a descent to the same untextured, willfully simplistic understanding of the world.
But subtlety might also be a cop-out: a way to avoid the wrath of Trump, who believes that printing a negative thing about him is a form of treason, and his followers, many of whom conflate criticism with "fake news." Naming Trump Person of the Year means Time will sell magazine covers to both sides of the political spectrum, something that's become increasingly difficult for it to do: In 2005, Time had just under 4 million subscribers, and averaged 150,000 newsstand sales a week. In 2015, its subscription reach had fallen to 3.038 million, with average newsstand sales at just 35,672 a week.
This isn't a new strategy for the magazine's parent company, Time Inc., which, in addition to Time, publishes People, Sports Illustrated, Fortune, and a handful of other high-profile publications. The day after the election, People put Trump, photoshopped against a backdrop of supporters of various ethnicities, on its cover — even though the magazine had, just weeks before, published a former writer's account of being sexually assaulted by Trump while she was on assignment.
At the time, People's editor-in-chief, Jess Cagle, said that their coverage of Trump inside the magazine was in "no way a celebration or an endorsement." But the cover told a different story — of a magazine hungry for impulse newsstand sales and eager to win back a base that might have been alienated by its coverage of its own writer's allegations (published, it's worth noting, at a time when Trump's defeat seemed certain). Maybe "nuance" is just the new "having it both ways": outlining racist policies while being careful not to ascribe racist characteristics to potential readers; describing without decrying.
It's still incredibly unclear how the media can cover Trump, an often unfair and seemingly unbalanced president, in a manner that's fair and balanced. But the path forward isn't by looking to traditions of the past, and trying to wedge him into them, or expecting readers and Trump himself to see the complexity. Nor is it by proceeding in a defensive crouch, wary of losing readers. If Time — or any of the flailing media behemoths of yore — plans to endure, it will be by rejecting those postures, no matter how familiar, and embracing something new.
In April 2013, Trump tweeted that "The Time Magazine list of the 100 Most Influential People is a joke and a stunt of a magazine that will, like Newsweek, soon be dead." If that prophecy comes to pass, it won't be because of Trump — but because of Time's inability to cover him in a way that felt like it mattered, not to the man on the cover, but to the people reading it.

Want more of the best in cultural criticism, literary arts, and personal essays? Sign up for BuzzFeed Reader's newsletter!
If you can't see the signup box above, just go here to sign up for BuzzFeed Reader's newsletter!