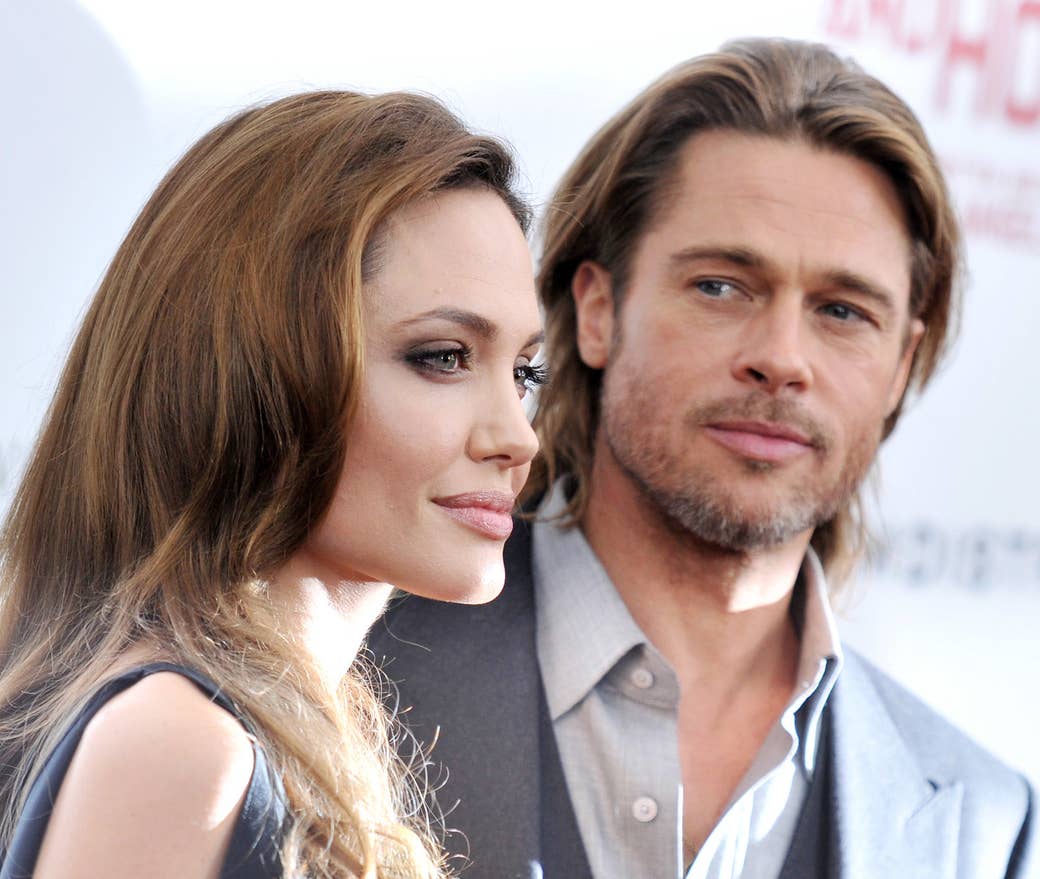 TMZ, headed by former lawyer Harvey Levin, has always excelled at exploiting legal documents to their advantage: They have a crew of bleary-eyed document scanners camped out at the Los Angeles Courthouse, combing through all manner of filings in order to find the bankruptcy rulings, arrest warrants, and divorce filings before any other site. Which, one can assume, is precisely how, on September 20, they broke the news that Angelina Jolie had filed for divorce from Brad Pitt, her husband of two years and partner since 2005.

"Brangelina" first decimated the gossip landscape 12 years ago, going on to become the most powerful celebrity narrative in decades. But since then, their narrative has shifted from scandal to domesticity: Jolie has slowly negotiated a path away from traditional stardom, trading action movies for writing and directing, glam cover shoots for dressed down photo ops promoting the myriad humanitarian causes she's supported for over a decade. At the same time, Pitt, like so many aging handsome stars before him, has secured a spot as one of the most valued players in Hollywood: a prestige player and producer who can still draw people of all ages into the theater, the guy who can still clean up and sell the shit out of a magazine cover.
They starred in 2015's By the Sea, a film, based on the life of her mother, that Jolie wrote and directed. It bombed, but they seemed unfazed, as if it were their home movie, not a project worth millions. In May 2016, Jolie was appointed a visiting professor at the London School of Economics; for years, she's suggested she'll soon quit acting altogether. Perhaps this was what a contemporary power marriage looked like: growing and expanding your interests, as a pair and apart. Which is part of why news of the divorce came as a shock: There was little indication of trouble in the singular, globe-hopping world the family had built for themselves.
As the tide of the divorce news swept over the internet, rumors of Pitt's infidelity began to dominate Google search results: He's been sleeping with Allied co-star Marion Cotillard; he's getting back together with Gwyneth; Jennifer Aniston is filing for divorce! Through the haze of gossip, however, Jolie's control of the narrative came into focus: It was she, not Pitt, who filed for divorce, seeking physical custody of the children. It was she who hired power divorce attorney Laura Wasser, known for negotiating the divorces of Johnny Depp, Gwen Stefani, and Britney Spears — a woman who, as Lainey Gossip points out, has worked in close collaboration with TMZ in the past. And she had attorney Robert Offer make the first statement about the divorce in the New York Times, explaining "the decision was made for the health of the family."
Jolie's the one who filed now, in late September, just as Pitt is about to gear up for an Oscar campaign for Allied. She understood, having navigated several Oscar campaigns herself, that Pitt would want to put any hint of scandal quickly to rest and without fanfare. She "allowed" the news to be discovered via legal documents instead of breaking it through a publicist or People magazine, effectively creating a gossip vacuum into which all manner of speculation could build, including a rash of revealed blind items pointing to drug abuse and visits from strippers. Pitt, from this point forward, is on defense — and always has been in the case of Jolie's career. Because Jolie, if anything, has always been the primary architect of the way others view her.
It's almost quaint, in hindsight, to think about how thoroughly Brangelina dominated the world of gossip in the lead-up to and aftermath of their relationship. When rumors of a relationship first began to percolate in 2004, Pitt was still married to America's Sweetheart Jennifer Aniston, and their tanned-and-highlighted life, depicted to great effect on the cover of People, was figured as the nation's ideal relationship. Angelina Jolie, she of Tomb Raider and skintight leather costumes, she of the voluptuous breasts, of the troubled girl in Girl, Interrupted and Gia, was just coming off a marriage with Billy Bob Thornton, made famous by the vial of his blood Jolie wore on the red carpet. She had tattoos, so very many of them. She'd just adopted a young boy from Cambodia. She told Vanity Fair that she had "two lovers" with whom she had sex in hotel rooms because that's what you do when you're a single mom — and that she was bisexual.

And then she was starring with Pitt in the 2005 film Mr. and Mrs. Smith, playing rival assassins who spend a lot of time trying to kill each other and having hot sex. Rumors of a relationship swirled, as they do every time two good looking co-stars have sex scenes together. But then, in January 2005, Pitt filed for divorce from Aniston. In May, he was "caught" playing on a Kenyan beach with Jolie and her newly adopted daughter, Zahara; in June, the pair appeared in a sprawling, highly suggestive W Magazine spread that figured them as unhappy suburban parents to a brood of mini-Pitts.
Mr. and Mrs. Smith opened to a $50 million weekend — a personal best for both stars, fueled, in no small part, by the gossip frenzy that had become the constant backdrop of their lives, even as both refused to confirm the existence of a relationship. There was the spurned good girl ex-wife, the sultry man-eater, and the handsome boy in between — who, if narratives were to be believed, simply wanted a family. And that was something Aniston supposedly refused to provide, and that Jolie wanted in Benetton ad abundance.
In hindsight, there were two very clear ideological strains in conflict: To be "Team Aniston" was to root for the scorned woman, but also for a traditional understanding of what contemporary femininity should look like. Aniston had a Pilates body, hair that always looked the same and samely great, a steady tan, a pert nose, and a great smile. She was a television star, but more significantly, the star of Friends, one of the most popular and inoffensive shows of the late '90s and early '00s. People call her "the girl next door," but she was the hot, popular girl next door from the suburbs: a B student who liked to drink wine with her friends at book club, a big fan of all-inclusive resorts in Mexico, who never took any fashion risks but looked hot in an LBD. Her image was, as we would say now, a bit basic. And America loved her for it, because basicness is at the heart of the true American ideal.
Which is why it seemed so offensive that Brad Pitt would reject her for someone who was the very opposite of basic: Jolie, whose mother was a documentarian and whose father was an asshole film star, who had a weird relationship with her brother that people gossiped about, who got married too young and desecrated her body and studied, briefly, to become a funeral director. She talked about having an eating disorder instead of just calling it "a diet"; she said she was "fascinated" by heroin. She seemed legitimately dangerous. People felt about Jolie the way they feel about people from Manhattan with expensive haircuts who wear black all the time, or goths who are really into beat poetry: specters, only barely based in reality, that represent the cultural elite and, as such, a general threat to the status quo.
And then there was this secondary strain of Jolie's image, just emerging at the time of the affair with Pitt: that of Saint Angelina. In 2001, she had been named a goodwill ambassador for the United Nations High Commissioner for Refugees; in 2002, she adopted a child by herself; she traveled the world. She was cosmopolitan; her family was an avatar of multiculturalism; she was no rom-com heroine. Jolie's image presented a markedly different vision of "having it all" than Aniston's — and Pitt, the most universally desirable man of modern times, had rejected one of those visions for the other.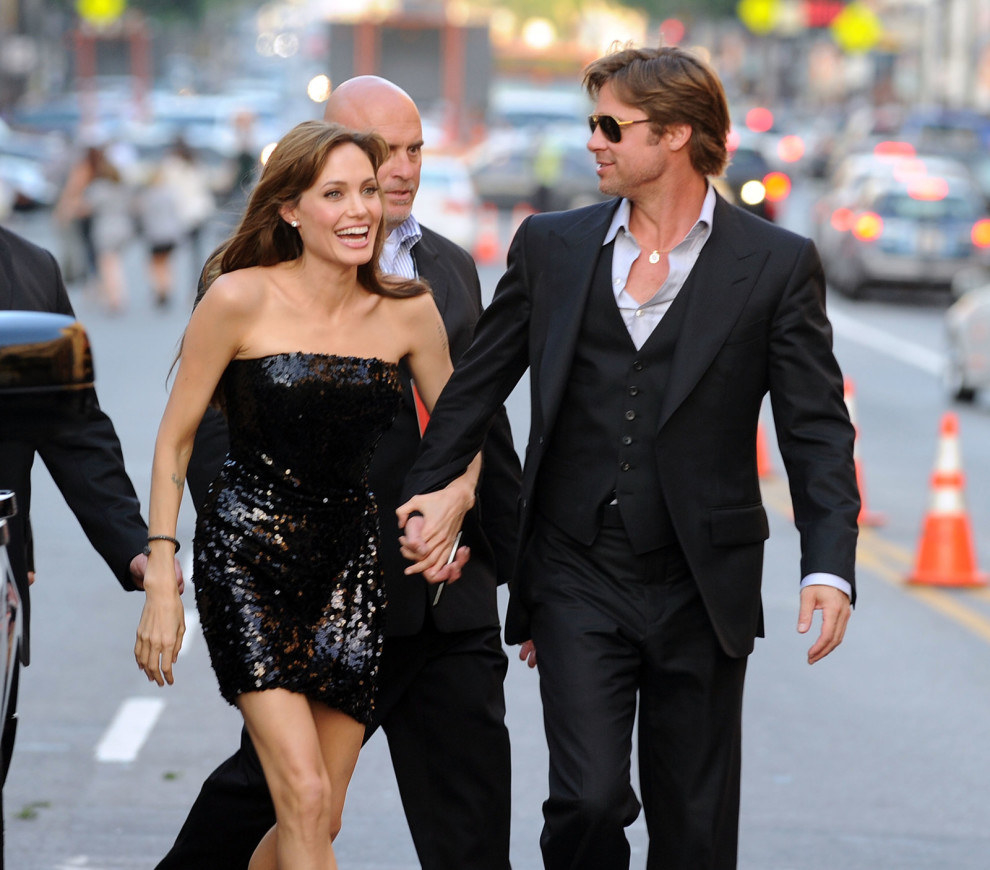 The ideological blowback wasn't just intense; it was all-consuming. 2005 was a pivotal year for the gossip industry, as the upstart gossip blogs and the newly expansive digital paparazzi threw what had to that point been a fairly staid industry into conflict. Us Weekly, People, and OK Magazine had escalating bidding wars for exclusive rights to photos, while Perez Hilton, Just Jared, Pink Is the New Blog, The Defamer, and Oh No They Didn't either stole photos or undercut their intended significance online. Think: crazed paparazzi forcing Reese Witherspoon and Lindsay Lohan off the road, crotch shots of Britney, Tom Cruise and Katie Holmes posing at the Eiffel Tower — and Brangelina and their growing family.

Part of the obsession was cultural, but part of it was fueled by the sheer amount of images and outlets exploiting that obsession. And in the age before celebrity social media, there was no way, save the Vanity Fair profile, for a celebrity to authoritatively control or negate the proliferating voices attempting to "speak" the meaning of an event, a photo, or soundbite. But Jolie had savvy and understood the power of the image. Instead of addressing the scandal head-on, she simply changed the conversation to human rights, the suffering of refugees, the need for education for young girls. And she did so in a distinctly old-fashioned way: in press photos, in speeches that had nothing to do with her own love life, in trips to areas of the world stricken by tragedy. She stymied the publicity by dressing her children in the same clothes for multiple days, thus driving down the price of photos. She ran a perfect publicity game by seeming like she wasn't playing one at all.
That's one way people began to come over, as it were, to Team Jolie. She and Pitt had a biological child — who, it's important to note, was crucially adorable — adopted another child, and gave birth to twins. The narrative around Aniston began to sour, her publicity maneuvering of various boyfriends too transparent, her advertising campaigns for bottled water too gauche, her boyfriend too much the type of guy who wears a leather jacket. There were whispers that, despite her insistence otherwise, maybe she didn't actually want children — a stark contrast to Jolie and Pitt's seemingly ever-expanding family.
They promised not to get married until everyone (read: gay people) could get married, and mildly went back on that promise when it became clear that it mattered to their children. Increasingly, Jolie's vision of have-it-all-ness felt less disruptive, more desirable. She seemed to have softened. She wasn't playing minxes anymore. She was into directing; she had a double mastectomy, and wielded what could have been spun as the end of her sexual potency into a narrative of cancer awareness. She had no publicist and rarely wore makeup, which combined to make her seem even more authentic, even less manipulative.
For years, a photo of Brangelina's continent-hopping airport arrivals would win a spot in the prime real estate of the gossip magazine's first few pages, but they've slowly faded from prominence: In June, there were rumors that Jolie was considering a run for public office, but they gained little traction. Neither Pitt nor Jolie have social media accounts, which makes it all the more difficult to provide a steady stream of dynamic information about their lives, as has become the norm for gossip coverage. Earlier this month, a halfhearted People magazine post was headlined "Angelina Jolie Buys an 8-Foot Teddy Bear Off the Side of the Street."
Which is part of why the news of the divorce arrived as such a shock. Brangelina were the Hollywood couple, the pinnacle of glamour, of otherworldliness: Even if they went to Chuck E. Cheese's when they visited Pitt's parents in Missouri, they were ultimately, definitively nothing like us. The makeup of their family, the way they traveled, the way they understood the world, the way they looked when they stood together on the red carpet and made eyes at each other at the table at the Golden Globes, the way they suggested a vigorous intellectual curiosity and a dedication to humanitarianism and really good and sustaining sex, or how they made it seem like art film and blockbuster Hollywood could, indeed, co-exist — that's why they mattered.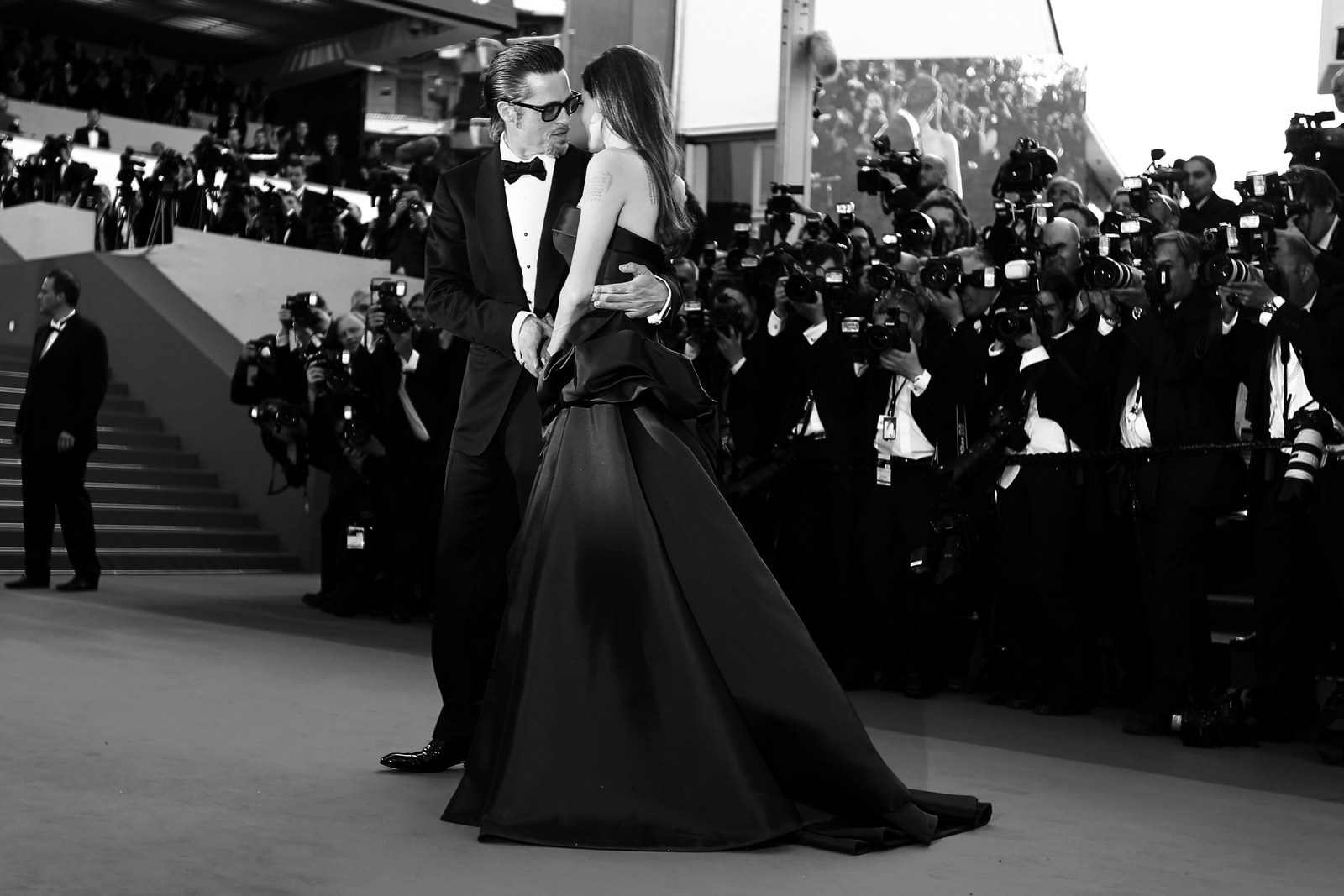 It's natural to compare the love triangle around Aniston, Pitt, and Jolie to that of Debbie Reynolds, Eddie Fisher, and Elizabeth Taylor back in the 1950s: Then, as now, each of the women came to represent a different understanding of femininity; then, as now, the guy in the center was figured as a man with agency, subject to the whims and failings of the women who surrounded him. But when Taylor "won" Fisher, that relationship also disintegrated: He was a nothingburger, clearly just a rebound on Taylor's road to the tumultuous love affair with Richard Burton that would define the second half of her life, spark the beginning of the paparazzi press as we know it, and completely alter the gossip industry.

Taylor and Burton were all glamour, all the time, fire and ice, white diamonds and spilled martinis. They were incendiary onscreen, impossible to look away from, and the proof, amid the crumbling walls of the Hollywood film industry of the '60s and '70s, that something like a real movie star still existed. No matter that they couldn't bring people to the theaters: They still dominated the public imagination, and the understanding of the outer ranges of human capability, like the greatest stars of the golden age.
That was what Brangelina promised — and now, as the story breaks on TMZ, the apotheosis of the digital publicity age they both helped create and then systematically ignored, it can't help but feel like the end of an era.
In the hours since news of the divorce first broke, rumors of an affair — and Jolie hiring a private detective to investigate — have been squashed on TMZ by "sources with intimate knowledge of the situation." But anyone who's followed Jolie's career should know better: Sad victimhood is not her style. As the divorce moves forward, Jolie will continue to navigate the landscape the way she's done it best: with images, not words; with actions, not tell-all interviews.
Jolie's ultimate skill and unrivaled savvy has always stemmed from treating her image not as the defining core of her life, but an accessory of it. Her life isn't the accumulation of her roles, her husbands, or even her children. Which is why, even as she slowly disappears from the movie screen, her image remains such a nexus of disdain and adoration — and, as in 2005, the most compelling and controversial vision of what it could mean to be a woman today.
Want more of the best in cultural criticism, literary arts, and personal essays? Sign up for BuzzFeed READER's newsletter!