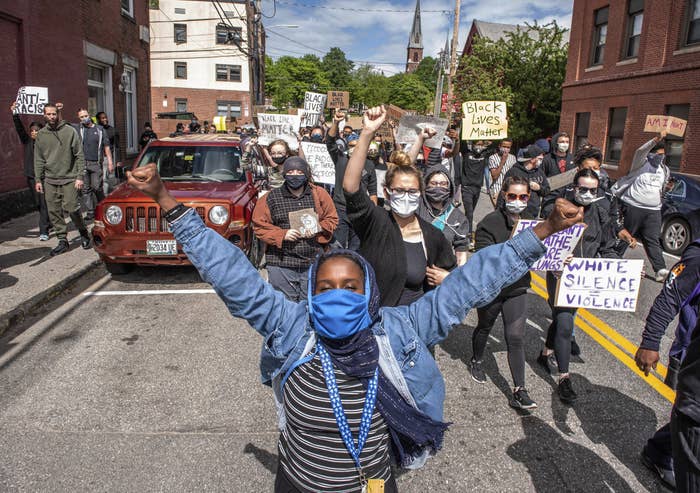 Dorian Miles arrived in Havre, Montana — a windy farm town, population 9,700, along what's known as Montana's Hi-Line — just five months ago, a young man from Georgia coming to play football for Montana State University–Northern. "I was nervous about walking around," he told the Havre Daily News. Like many small towns in Montana, Havre's population is aging and, generally, friendly. But Miles, who told the paper his uncle had been shot and killed by a police officer in Atlanta, knew that strolling its streets as a young black man with tattoos and dreadlocks could be risky.
On Sunday night, though, he said he felt safe. Over 100 people showed up to a rally in Havre, organized by Melody Bernard, a Chippewa Cree Tribal Member from the nearby Rocky Boy Reservation.
After the rally, Miles posted photos and a message to Facebook. "SPEAK AND YOU WILL BE HEARD!" he said. "Today we did what had to be done in Havre. A SMALL town of predominantly older white Americans stood with me to protest the wrongdoings at the hands of police EVERYWHERE....Today we stood together for an injustice. Today people who don't look like me or relate to me showed love and support. I was overwhelmed to see the people I saw today marching in protest to the public lynchings that have been done by the only people whose job is to PROTECT and SERVE their community."
The movements and marches that convulse big cities don't usually (or ever) make it to Havre. Nor do they usually make it to hundreds of other small towns across the country. But the protests following the death of George Floyd, who was killed in police custody on May 25, are different.
All over the country, people are showing up — often for the first time in their lives — to protest police brutality and injustice. In tiny ag towns like Havre and Hermiston, Oregon, but also in midsize cities Topeka, Kansas, and Waco, Texas; on island hamlets (Friday Harbor, San Juan Island; Nantucket, Massachusetts; Bar Harbor, Maine); and in well-to-do suburbs (Lake Forest Park, Washington; Darien, Connecticut; Chagrin Falls, Ohio). They are showing up at the courthouse. They are kneeling and observing eight minutes of silence — a reference to how long Floyd was pinned to the ground in a knee chokehold by the Minneapolis police officer who was later charged with his murder. They are marching down interstates and waving signs on street corners. Sometimes, like in the town of Alton, New Hampshire (population 5,335), where one woman organized a protest just two months after being hospitalized with COVID-19, only seven people come. Sometimes, like in Sioux Falls, South Dakota, there are thousands.
These protests are covered by local news outlets, but amid the deluge of national news — major protests in major cities, guard tanks and helicopters, tear gas and rubber bullets, looting and destruction in select cities, the president's reaction, massive economic anxiety and unemployment, all against the backdrop of the continued spread of COVID-19 — it's hard for these stories of smaller, even silent, protests to break through.
When, for example, the New York Times compiled a map, published on June 1, of where protests had happened over the weekend, it missed dozens of protests across rural, small-town, and midsize-town America. It's hard to fault them: My attempt to keep track has consumed the last three days of my life, with people flagging more every hour.

There have been protests in Belfast, Maine. In Farmington, New Mexico. In Tuscaloosa, Alabama. In Bentonville, Arkansas. In Lubbock, Texas. In Idaho Falls, Idaho. The biggest anyone can remember in Paducah, Kentucky, in Bozeman, Montana, in Pendleton, Oregon, in Frisco, Texas, and in Ogden, Utah. In Tacoma, Washington, pastors knelt in the rain, pleading with God. In Bowling Green, Kentucky, three rolling days of protests. In Owatonna, Minnesota, a student-led protest lasted for 10 hours. In Tulsa, Oklahoma, thousands gathered on the 99th anniversary of the Tulsa Massacre. In Myers Park, one of the wealthiest neighborhoods of Charlotte, North Carolina, where black people were prohibited from owning property for decades. And in Petal, Mississippi, where protesters have spent days calling for the resignation of Mayor Hal Marx, who tweeted last week that "If you can talk, you can breathe."
These protests cut across demographics and geographic spaces. They're happening in places with little in the way of a protest tradition, in places with majority white population and majority black, and at an unprecedented scale. People who've watched and participated in the Black Lives Matter movement since 2015 say that this time feels different. And the prevalence of these small protests is one of many reasons why.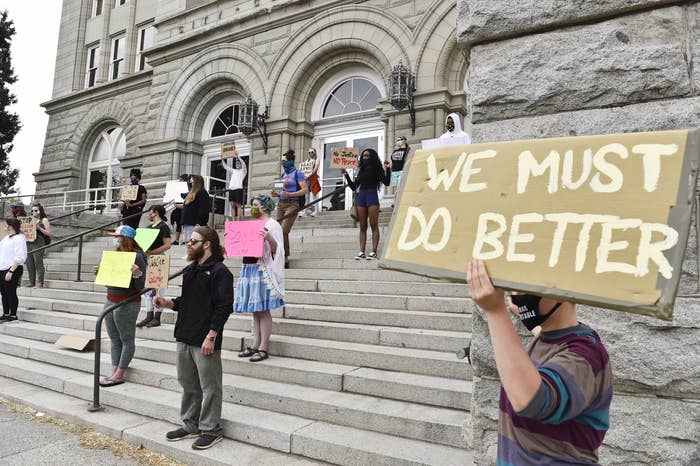 Jordan Miller grew up in Carrollton, Ohio, a town of about 3200 people on the eastern side of the state. When he graduated from high school, he was one of just 75 in his graduating class. He's amassed a following of over 20,000 on Facebook covering news all over Ohio as local news outlets are gutted. In the past week, he's documented protests and interviewed participants all over the state. On May 31, he was in New Philadelphia, whose population is just over 17,000, and hundreds had assembled to march. The county sheriff, Orvis Campbell, and his deputies marched beside them.
"It was amazing," he told me. "To see a town that is predominantly white come out in flocks and march — they understood the importance. They can never understand the feeling of being black in America. But they did understand that they could use their privilege to get the importance of protests out there."
But he also went back to his hometown, where there were just two people protesting — and a mass of people with guns strapped to their hips, "guarding" the buildings against them. One of those men told Miller they were fine with him being there, because his family was "from" there. They just didn't want other black people, outsiders, around. That experience was disheartening, but only served to convince him how important these small-town protests are. "I'm black, and I know the only reason I'm treated with any respect is because of my platform," he said. "I've seen 'outside' black people treated differently than me. It's sad. I remember what it's like to be in their shoes."
Still, he explained, the fact that even two people were protesting in his hometown, along with so many others in nearby communities, makes everything feel "totally different." "People's thinking has evolved," he said. "They want change just as much as the black community does."
Alliance, Ohio, population 21,616, is a 40-minute drive north from Carrollton. It's more than 80% white. Last week, Ande' Green and Essence Blue had been watching protests pop up in bigger cities nearby, but were wary of making the trip. Blue tweeted about potentially putting something together in Alliance, and they decided to give it a shot. They made a flyer announcing that they would gather at the post office downtown, then walk around it five times — once for each time that George Floyd pleaded for his life. They posted the information all over social media and texted everyone they knew.
"We didn't really know what to expect," Green said. "But over 300 people showed up!"
"People didn't understand the point of us protesting in Alliance," she added. "But we wanted them to know that we are taking a stand for our nation. For those who look like us who lose their lives to police brutality."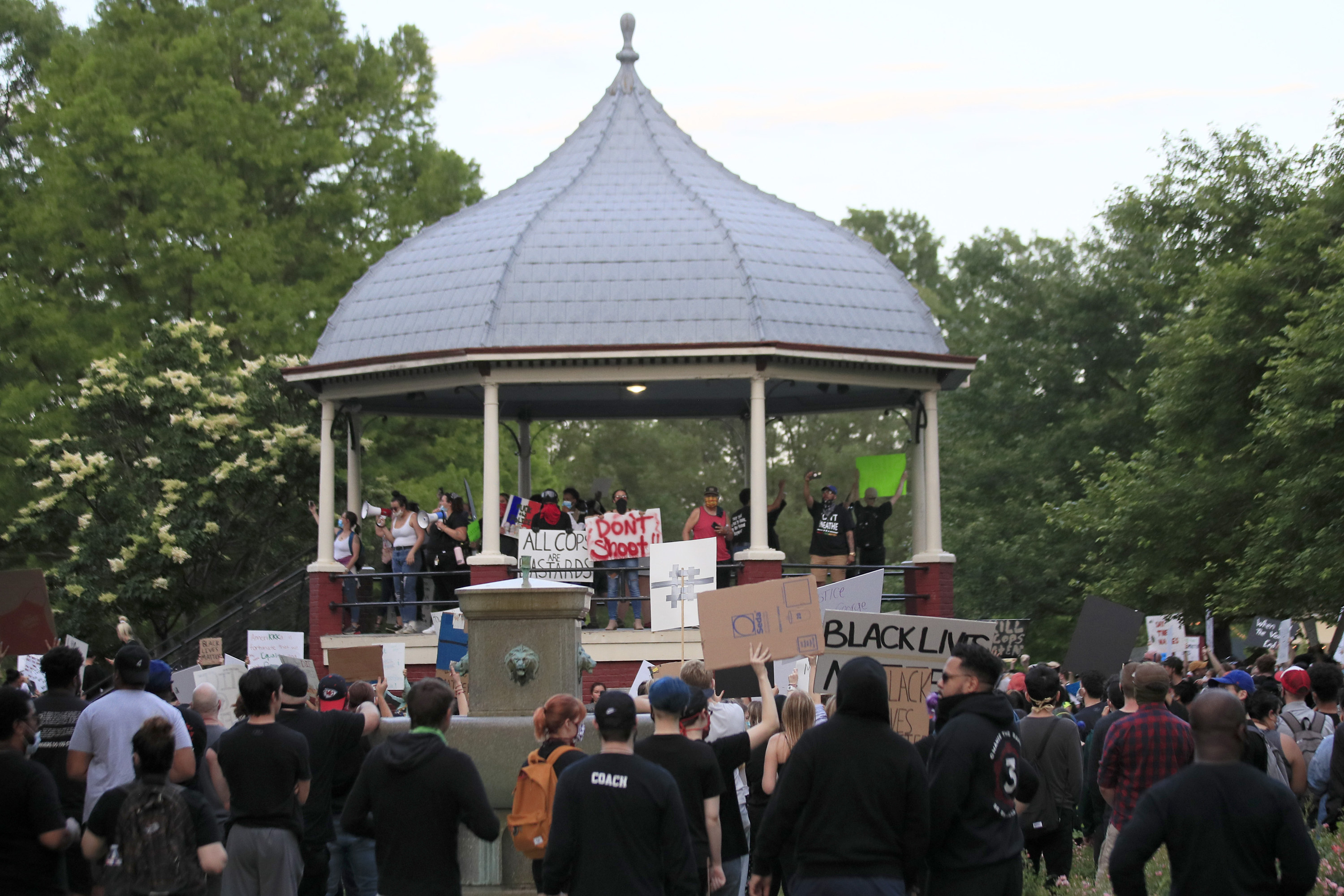 Tyler, Texas, is a town of 105,000 out on the eastern edge of the state. It's quiet, conservative, and, according to Drew Steele, who works in auto detailing, a town of "quiet racists," with little tolerance for anything or anyone that deviates from the norm. His high school was named for Robert E. Lee. There's a brand-new building in town intended to commemorate plantation life. There's a long history of lynching. But on Monday night, Steele joined hundreds of others for the third night of protests in the city.
The protests in Tyler, he explained, are about so many things: institutional racism, but also unlivable wages, and just growing frustration and desire for change.
Steele thinks it's essential for these protests to happen in places like Tyler — and for other people to know about it. "Small towns tend to be old-fashioned," he said. "And racism is an old-fashioned way of controlling others." But others need to know that there's another path forward, and that it's okay to be different, in any number of ways. "That's why it's so important that so many people showed up," he said. "We won't be shoved under the rug."
Riverton, population 11,000, is surrounded by the Wind River Reservation in central Wyoming. Like a lot of towns that border Native American reservations — it can feel, as Steele put it, "old-fashioned." But on Monday, more than 150 people showed up to protest. Some were from Riverton; others drove from the reservation and as far away as Lander. An older white woman had written "THIS WYOMING NATIVE KNOWS BLACK LIVES MATTER" on the back of her T-shirt.
In September 2019, a Riverton police officer shot and killed a Northern Arapaho man outside the local Walmart after he allegedly had attempted to stab the officer, giving new life to long-standing complaints about the mistreatment of tribal residents by off-reservation police. (Native Americans are killed by police at a higher rate than any other ethnic group in the United States.) In November, the city met with the Northern Arapaho tribal council to attempt to improve relations between the two. But as Layha Spoonhunter, who is Eastern Shoshone, Northern Arapaho, and Oglala Lakota, told me, there was significant skepticism and racism from people in town.
Spoonhunter decided to put together the event, along with Micah Lott, as a way to "bring to light issues that we experience as people of color," he said. He said the overwhelming response from the city, where you still regularly see Confederate flags hung in windows and in trucks, was positive. "There were people who shouted, 'Hope you get the 'rona," he said. "But most people honked in support, or raised their fist, or if we shouted 'black lives matter' or 'justice for Floyd,' they would open their windows and yell it back."
"As Indigenous people, we wanted to stand in solidarity with Black Lives," Lott told me. "We put it on in Riverton, because of its older white conservative population and its prejudice toward Black, Indigenous, and People of Color."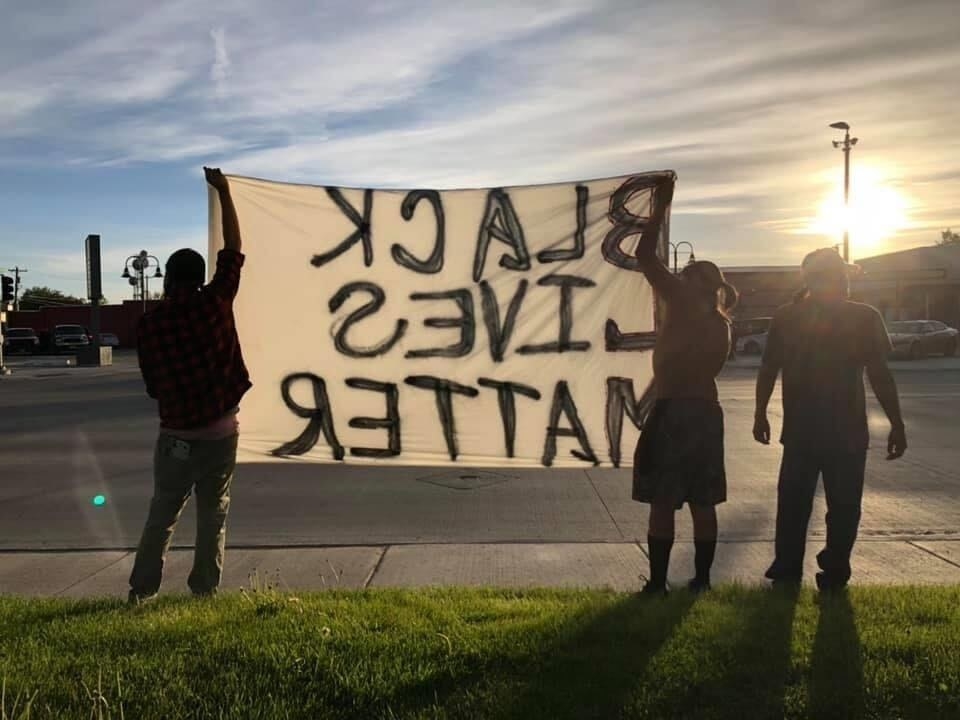 In other towns, too, they keep showing up. Last night alone, there were protests planned in Whitefish, Montana; in Gunnison, Colorado; in Pasco, Washington; in Brea, California; in Cranford, New Jersey; in Albany, Oregon; in Bethel, Vermont; in Fairfield, Connecticut; in Ketchum, Idaho; in Annapolis, Maryland; in Flagstaff, Arizona; and in dozens of other places, large and small.
It might not seem like people from outside care what happens in these places far from the national spotlight. But as Ande' Green, one of the organizers of the protest in Alliance, Ohio, put it, "These small towns matter because it's a lot of small towns. All of these small towns coming together, it's what we need to make a change."
Or, as Melody Bernard, who organized the protest in northern Montana, said, "Protests like these need to happen in places like Havre because racism and injustice happen in places like Havre. There's complaints, maybe some meetings, and then it dies down. People forget it about it and then it happens again. But we can't let it die down this time. We just have to keep pushing."
Correction: Riverton is surrounded by the Wind River Reservation in central Wyoming. Its relation to the reservation was misstated in a previous version of this post.