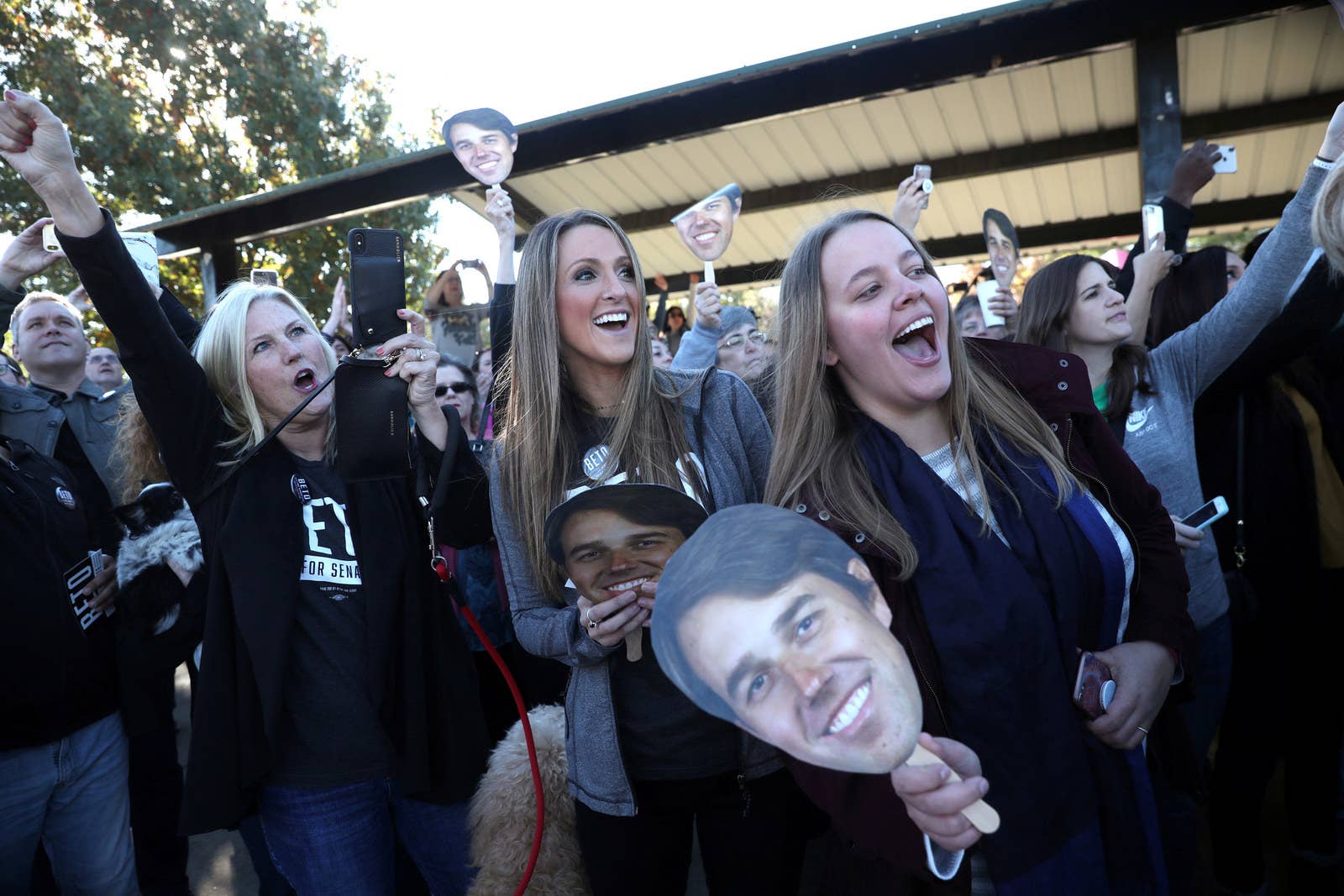 HOUSTON — There's a digital poster that's spread among Beto O'Rourke Facebook groups in Texas: "Husbands All Over Texas Plan Huge Party Nov. 6th to Welcome Their Wives Back From Activism Duty." It's a joke, but it's not. Across Texas, hundreds of women have made supporting the campaign their full-time (unpaid) job or their second job. There are more than 500 "Beto ambassadors," the volunteers who serve as leaders for the grassroots efforts in communities across the state, and Cari Marshall, an Austin ambassador I spoke to, estimated that around 75 to 80% are women — a majority that reflects the general breakdown of volunteer labor for the campaign. "It's like me and a bunch of middle-aged retired ladies," Natalie Marquez, a 20-year-old Beto ambassador from Brownsville, told me. "Well, and a few very brave men."

At packed Beto campaign events across the state, the crowd is usually divided 50-50 along gender lines. But the people selling T-shirts, and collecting supporter information, and cleaning up — mostly women. Which is not that different than other Democratic campaigns in 2018. But because Beto has built such a vast field operation — with around 800 paid staffers and, by the campaign's count, more than 25,000 volunteers — it's just all the more noticeable: Beto O'Rourke is the central, motivating, inspirational factor in a campaign that might flip a Texas Senate seat blue for the first time in 30 years. But O'Rourke's momentum? It was built on the organizational acumen and labor of women.

There are a few ways to explain how and why so many women became involved in 2018 campaigns: Women are more likely to have flexible schedules; women get shit done; women have historically performed all manner of unpaid, invisible labor. But many involved in the O'Rourke campaign can trace their involvement to a single event: The Women's March in January 2017. Energy from that event was the catalyst that pushed them to seek out the March-affiliated "Huddles" in their communities, or join with Indivisible, a newly formed progressive organization that now includes thousands of local groups across the nation.
Before the 2016 election, 40-year-old Jennifer Cazares thought there were three other Democrats in her city of Katy, just west of Houston: her sister, her mom, and her dad. After the election, when Cazares heard about the Houston Women's March, she asked her mom and her sister to go with her. She found herself so moved by what she witnessed there, she followed instructions to find her local "Huddle," and from there, met others in her city — even down the street — who felt similarly to her about the election, and the desire to do something, anything, in response. She connected with other women, mostly retired, in the Katy area, who now make up the nucleus of the Indivisible group.
One of those women, Jan Higgins Adan, decided to host a small fundraiser for O'Rourke in her home last year. Cazares signed up to make sandwiches, but thought she'd just drop them off. She wasn't interested. But Adan insisted: "You've got to go get your family! Bring your mom! Bring your dad!" Cazares came back, family in tow, and heard O'Rourke speak for the first time. Her father was moved to tears.
"Women know how to reach out to each other for support. Men feel that they need to do things on their own."
That night marked the beginning of a year of devotion to the campaign — for both her and her mother. Now, Cazares is out door-knocking for O'Rourke and local congressional candidate Sri Preston Kulkarni. Before 2016, she'd never been to a protest march. Now, she can't count how many she's attended. Before 2016, she'd never met a political candidate in person. Now, she's met every single one she's voting for. "I can't tell you what a different experience it was in the voting booth," she said.
On the Monday before Election Day, Cazares sat at the dining room table at a Beto pop-up office in a gated community in Katy, surrounded by the women who, in her words, "had become [her] rock" over the last few months. They were prepping for block-walking and figuring out the correct voting location for the hundreds of voters whose location had been switched, at the last moment, in what has become a standard yet subtle mode of voter suppression across the state.
The home belonged to Lydia Ozuna, and along a street of massive, stately mansions, it stuck out like a political sore thumb: the only one with more than a single yard sign on the lawn. (Earlier in the year, she'd gotten in trouble with her homeowners association for displaying a "Hate Has No Place Here" sign in her window; she responded by putting a bunch of political signs her yard.) Ozuna grew up in Del Rio, Texas, spent significant time abroad, and is now one of the three women — along with Adan and Carol Wheeler — powering the local Indivisible group.
"Women know how to reach out to each other for support," Ozuna added. "Men feel that they need to do things on their own. In Indivisible, we don't always agree on everything. But we get it done. When we have a problem, we ask more women to come help. We're not afraid to ask." And then there's the additional motivating factor of so many women running for office: "We realized, when so many women stepped up to the plate, we need to work particularly hard for them," Adan added.
Outside Houston, that means supporting candidates like Lizzie Fletcher, running a close race for Texas's 7th Congressional District, but also candidates up and down the ballot, from the school board up to Lupe Valdez, who is running for governor. "Before 2016, I didn't know a thing about how this all worked," Adan told me. "Carol, she knew how an election worked. But the rest of us? We knew nothing." Now, Adan is texting with the chair for the local Republican Party, trying to confirm whether the county clerk has or has not updated the change of voting location information. She's had a dozen candidates come to her house. She pretty much knows everything.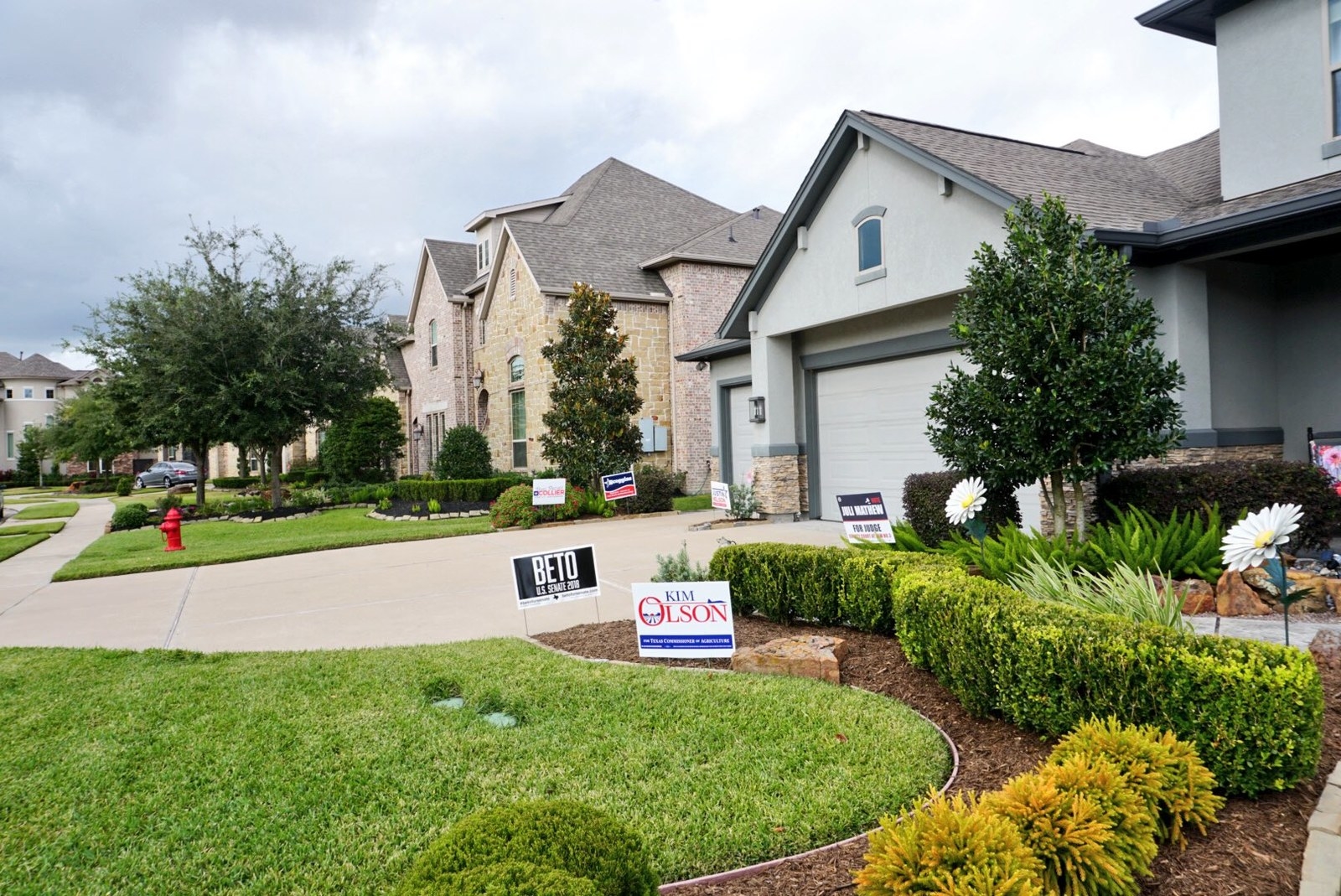 The story Taria Greenberg was telling me, on the winding sidewalks of a cookie-cutter, deeply conservative suburb of Dallas, was not unique. Like so many women across the United States, she woke up after Election Day deeply distraught about the future of the country. And, like so many other women, the vast majority of whom had never considered themselves activists or overtly political in their lives, she funneled that sadness, and that fear, into organizing — specifically with the O'Rourke campaign. Her disillusionment might not have been unique. But her follow-through, the actual number of hours she's committed to O'Rourke and a half dozen other Democratic candidates, is remarkable.
"My 12-year-old asks me if politics was my midlife crisis," she told me between knocking doors in Coppell, where she's lived since the early 2000s. "The most involved I'd been in politics to that point was dressing up as Susan B. Anthony when I was in second grade. But you know, all of this affects my kids! I'm involved with this because I need my children to live in a world of tolerance."
Greenberg started volunteering with the campaign when she entered into remission from a chronic disease that had taken her out of the workforce since the birth of her second child. She'd been trained in public health, and issues like gun violence resembled classic public health issues to her. Plus, the campaign's strategy to get people to vote wasn't that different from getting people to stop smoking: precontemplation, contemplation, prep for action, action, maintenance. "The public health connections, it was just marvelous to me," she told me. Gradually, her volunteering work became a full-time job. She trained to do everything — administration work, phone banking, texting, block-walking — in order to be able to train others. She decided she hates phone banking, but loves block-walking — which makes her feel connected to her community in a way she never has before.
"I used to feel like I was the only Democrat in Texas," she said. "When you live out in the suburbs, you can go a day without interacting with anyone other than your family, just sitting in the school pickup line, waiting for your kids, going back home." But volunteering introduced her to "LMP" — like-minded people — in the area, people she had no idea existed. The Beto ambassadors, who share their struggles and victories in a private Facebook group, have become like family. On Election Day, she and two other ambassadors were road-tripping over to El Paso for the official election party, livestreaming their journey, just like O'Rourke.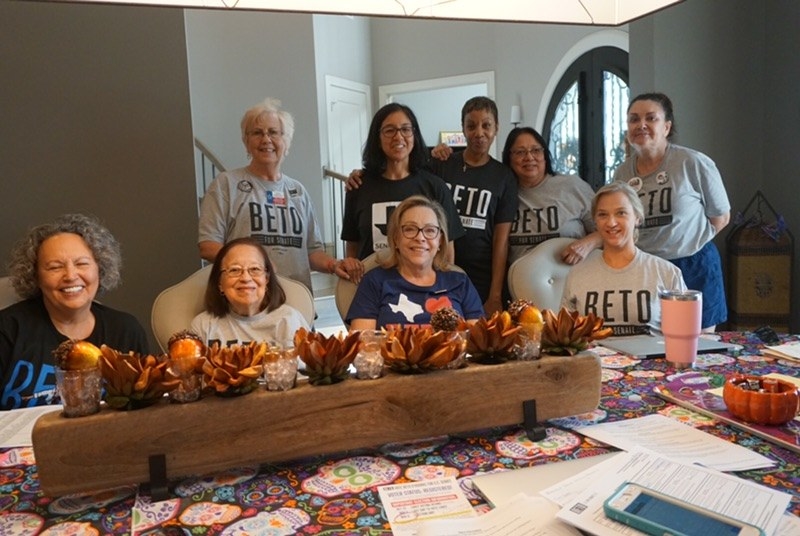 After this election, Greenberg wants to find work in the political sphere, whatever that might mean. "I consider this my late-in-life internship," she said. "I know I've been out of the workforce for some time, but I've learned so much and feel like this is what I need to do next." Like other volunteers, Greenberg has noticed that the vast majority of the labor has been done by women, but also notes that her husband and family have been incredibly supportive. "I think part of it is that women fear for our children, and are therefore moved to action," she told me. "But I also think that a lot of us are stay-at-home moms, often highly educated, and we can — we have the time, we were high achievers in our careers, and we know how to work."
Kate Kirkpatrick, a Beto ambassador and registered nurse who runs the H-Town for Beto Facebook group, told me something similar: "Mom-style organization, teacher-style organization, nurse-style organization, all of that transfers to working for a campaign. In our professional lives and our personal lives, we know how to encounter something with a lot of energy that's maybe a little disorganized and add order to it." Kirkpatrick has taken her maximum vacation days off work in order to door-knock as much as possible leading up to Election Day, and spends a significant amount of time moderating the Facebook group, whose 5,000-plus members she tries to keep focused on action items (as opposed, to, say, memes or pictures of Beto stickers). When someone posts off-topic, she'll send a kindly worded message to try to keep the group focused and constructive. The only people who push back or tell her how to run the group? Men.
The people who are dedicating themselves to these campaigns are the ones who can see the stakes with personal clarity.
Kirkpatrick's husband, Willy Golden, has helped with the moderating, and made a series of short videos about those volunteering in Houston. "We started filming them, and we realized: It's all women, and just one man, a man of color. I was like, do we need to find a white guy?" White guys, after all, might get through to other white guys — the demographic most likely to support Trump, and the state-level candidates aligned with him. But white guys also have a tendency to attempt to wrest control of the agenda, even when women are performing the majority of the work — a dynamic that has plagued any number of social justice movements over the past century. Maybe they didn't need one after all.
Men still have their functions in a grassroots campaign: A number of them handle child care while their partners are out volunteering. Others, like the husband of Rama Mulukutla — an ambassador and full-time physician who runs a pop-up out of her house in The Woodlands — become ambassadors beside them, turning block-walking into a family affair. Parker, a new dad working an event earlier this week in Austin, told me that he and his wife, who are relatively new parents, switch off taking shifts. He thinks most men don't volunteer because, well, they're lazy. "We're used to having other people do things for us," he said.
Earlier this week, I asked my social media followers whom I should talk to on the ground in Texas. A dozen different men messaged me in various ways, telling me I should get ahold of their wives: They were doing amazing work. Of course the husbands were proud. But, as one woman explained, they also use it as a sort of cop-out for their own inactivity. When she makes calls asking supporters to volunteer and a man says "Oh, my wife's volunteering!" she's developed a new response: "You know, we also allow men!"
Ultimately, the people who are dedicating themselves to these campaigns are the ones who can see the stakes with personal clarity: an increasing number of white women, alongside men and women of color, who are invested in issues from women's health to the travel ban. "We have the most to lose," Ozuna, who hosts the pop-up office in Katy, told me. For Ozuna, the stakes of this election became even more stark earlier this week, when President Trump announced that he plans to sign an executive order eliminating birthright citizenship — a right inscribed in the 14th Amendment to the Constitution. "I was born at home, with a midwife, 70 years ago in Del Rio, on the Mexican border," Ozuna said. "I have a birth certificate, but who knows if it's right, or it'll be believed, or if that citizenship could be taken away? People tell me, 'Oh, he can't make it happen.' But things like that have happened. Of course something like that could happen. Are you kidding me?"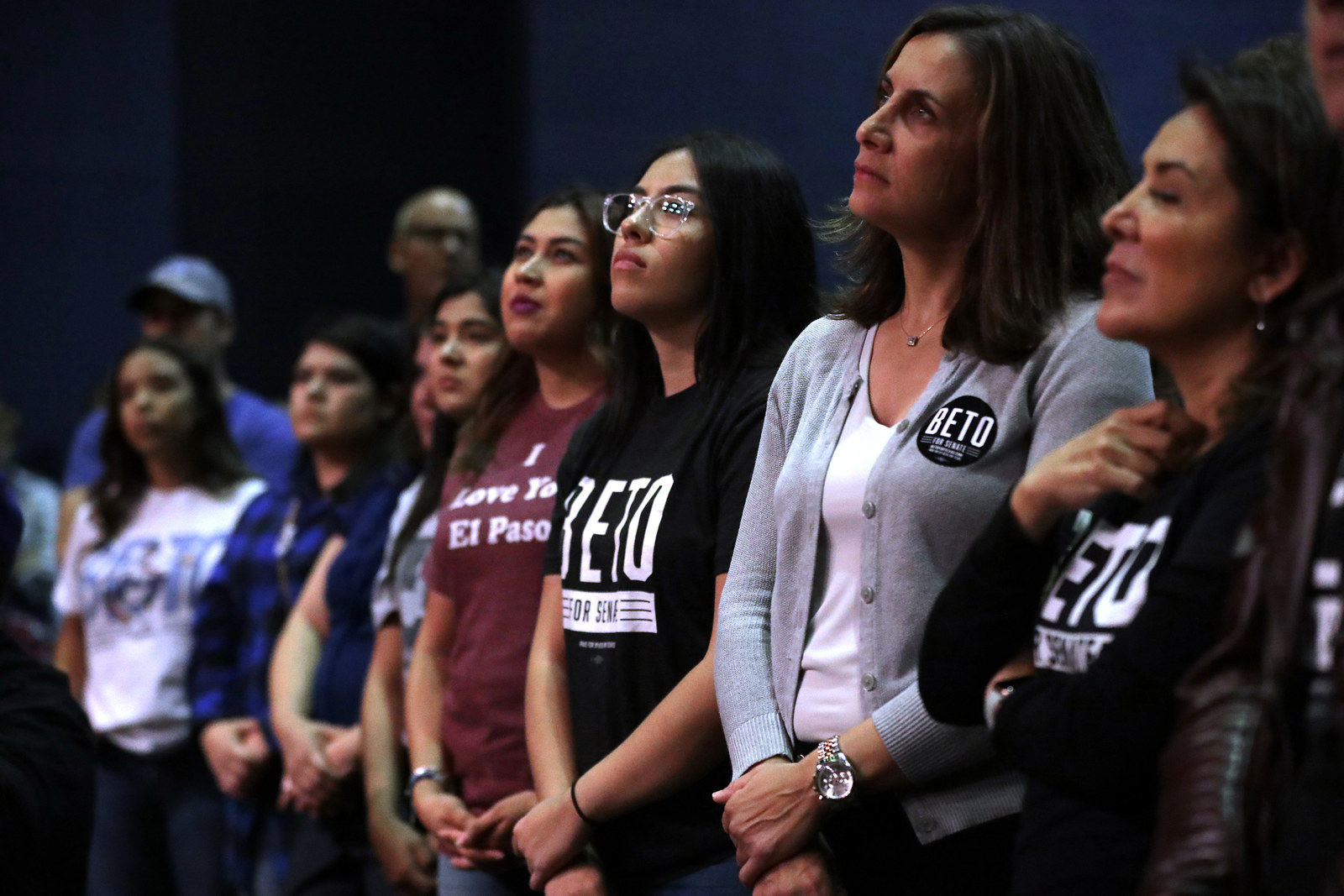 I met Beto ambassador Cari Marshall back in August. She'd taken time off from her job as a writer and editor in order to support the campaign full-time, and on that day she'd driven four hours, from Austin to Del Rio, to help staff an event. She told me that after the 2016 election, and the 2017 Women's March, she was going to put all her energy into backing candidates who were women. Then she heard O'Rourke speak, on April 1, 2017 — the day after he announced his candidacy. She asked him a question about reproductive rights. He answered in an unsatisfying, "pedestrian" way, as she put it — "that awkward way that so many pro-choice men struggle to articulate why they're pro-choice."
Afterward, the small group — these were the early days — moved over to a nearby beer garden. O'Rourke came up to her, and apologized for what he called his "pitiful" answer. She went on what she describes as a rant: about the Texas state budget cuts of 2011, the shuttering of women's health clinics across the state, and the maternal mortality rate in Texas. He started taking notes and admitted he was embarrassed by what he didn't know. He gave her his email address and asked her to follow up. She emailed him a bunch of sources and statistics. The next day, her friend in Houston attended a different rally. O'Rourke was talking about the maternal mortality rate. He now brings it up at nearly every event.

Marshall remembers every part of that interaction. It was amazing, she said, to really feel heard — even if she was a woman doing the uncredited work of educating a man behind the scenes. It was also the moment that she knew: O'Rourke wasn't a woman, but he would fight for women. She decided, like so many other women would in the months to come, that she could reorient her entire life around getting him elected.
There's a strong argument that men who've found themselves upset by the 2016 election, or invigorated by a candidate like O'Rourke, should volunteer more — if only in recognition that something doesn't need to affect you directly, and hyper-personally, to affect you and your world. But that doesn't mean that women should volunteer less, simply to correct the lopsided ratio. "I remember this time, two years ago, when women were hiding their energy in secret Facebook groups," one woman told me, referring to groups like Pantsuit Nation that flourished in the days leading up to the 2016 election. "Righteous, visible anger is much better." ●