Last week, my inbox filled with links to a short but potent New York Times profile of Anna Kendrick. From a colleague: "Ugh, the cool girl act here is KILLING ME"; from a friend: "I used to love her so much, what is happening?"; from a reader: "Can you outline her transformation into JV J-Law?"

Read the piece and you'll understand why. The headline — "Anna Kendrick on Pitch Perfect 2 and Not Trying Too Hard" — sets the tone for the sort of blasé attitude (toward career, toward appearance, toward men) that serves as the defining characteristic of the cool girl. She cites a Kendrick Lamar lyric, shows up for breakfast in jeans and a T-shirt, and texts the author — Times industry reporter Brooks Barnes — to ask about a reality show she mentioned. "In case you can't tell, I don't really have a career strategy," she says. "My decisions are entirely based on 'Well, I'm around, and this is something that the 15-year-old me would be excited to do.'"
Barnes calls her an "all-around cool chick" and "enormously down to earth," lauds her lack of career strategy, and highlights her "filthy mouth, which grabs attention in that nice-girl-says-naughty-stuff way." Jason Reitman, who directed her Oscar-nominated performance in Up in the Air, is quoted as calling her "fun to be around — fast-talking, uber-confident, one of the boys."
There's nothing wrong with any of these traits. But taken together, they recycle and amplify a particularly noxious attitude — one that favors chill over care, that frowns on anything that looks like earnestness or effort, that vilifies women who show the seams of their "try" — that's come to structure the ideal for young women in Hollywood. There's a reason that so many women were angry that Kendrick suddenly seemed to be buying into the ideal.
But was she? Or was it just the relentless type machine of Hollywood, attempting to wedge her into an image she'd long resisted?
Kendrick's image has both befuddled and fascinated me for years. Back in 2008, it only took 37 minutes of Twilight for her to win me over. Her bit part as popular girl Jessica is deceptively complex: She has the confidence that collects around the prettiest girl in a small-town high school, but she's also flummoxed that Edward could fall for someone as ostensibly plain, as non-Jessica, as Bella. Kendrick's role is thus all overcompensating confidence: In this volleyball scene, or when they try on prom dresses and Jessica looks at herself in the mirror, decked out in full princess gloves and a cheap satin gown, and exclaims, "My boobs look GOOD."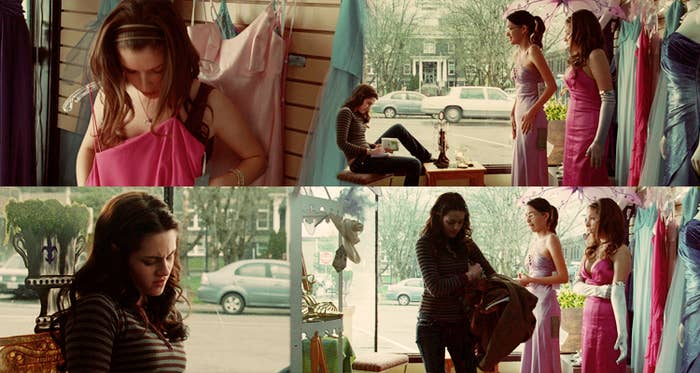 It's a small moment, but it's indicative of a skill Kendrick has honed over the last decade in Hollywood: playing women whose notion of self begins to fray at the edges. You see it in Happy Christmas, when Kendrick returns to live in her brother's basement and greets everyone with a smiling-through-her-teeth "Everything's great!" It's in the ambivalent Cinderella of Into the Woods, and in Natalie's quarter-life-crisis in Up in the Air. It's all over her role in Pitch Perfect, when the glee of a cappella chips away at the performance of self-loathing too-cool — a transformation replayed, almost act for act, in Pitch Perfect 2.

Granted, character transformation is central to every mainstream Hollywood movie. But these characters refuse easy categorization: neither bitch nor good girl, princess or independent woman, fuckup or put together. They reside in the in-between, the figuring-shit-out, the striving and unsatisfied.
But that liminal identity space isn't something that mainstream Hollywood has historically been adept at processing. Stardom depends, after all, on an ability for the star to stand in for something lucid and clear: On screen, they're like shorthand for a certain type of person, and a certain expected narrative trajectory; off screen, they become exemplars of masculinity and femininity, standards against which others hold themselves and others.
Coherence has cultural currency, in other words, but also industrial currency. There's a reason that the highest-paid stars in Hollywood are the ones whose images are the most legible.
As long as Kendrick kept herself on the odd outskirts of the industry, she could avoid the type machine. But when she found herself in a Disney movie like last year's Into the Woods, the stakes changed. Her refusal to type herself turned into a liability: When a star refuses to define herself, others will attempt to do so for her — in ways that highlight just how difficult it remains for a female star, no matter how intelligent and innovative, to win at the game of Hollywood publicity.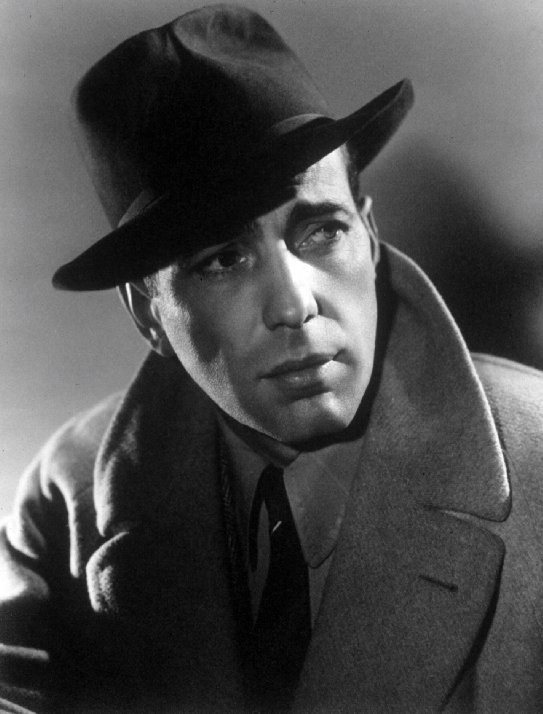 Hollywood types predate Hollywood: In the earliest silent shorts, the lack of sound and the brevity of the film necessitated the sort of characters whose purpose could be intimated from a single scowl or blush. As films grew in length and narrative complexity, those types fleshed out, but remained fairly static. There's the Good Joe (think Jimmy Stewart), just a normal guy who just wants to do the right thing, and the Tough Guy (Humphrey Bogart), who's still fundamentally righteous, just demonstrative: the man of little words. The Pinup (Rita Hayworth, Marilyn Monroe) is a woman with a body that caters to the male gaze. But unlike the Vamp or the femme fatale, she doesn't wield her beauty toward malicious end. She's a sex object, but a wholesome one.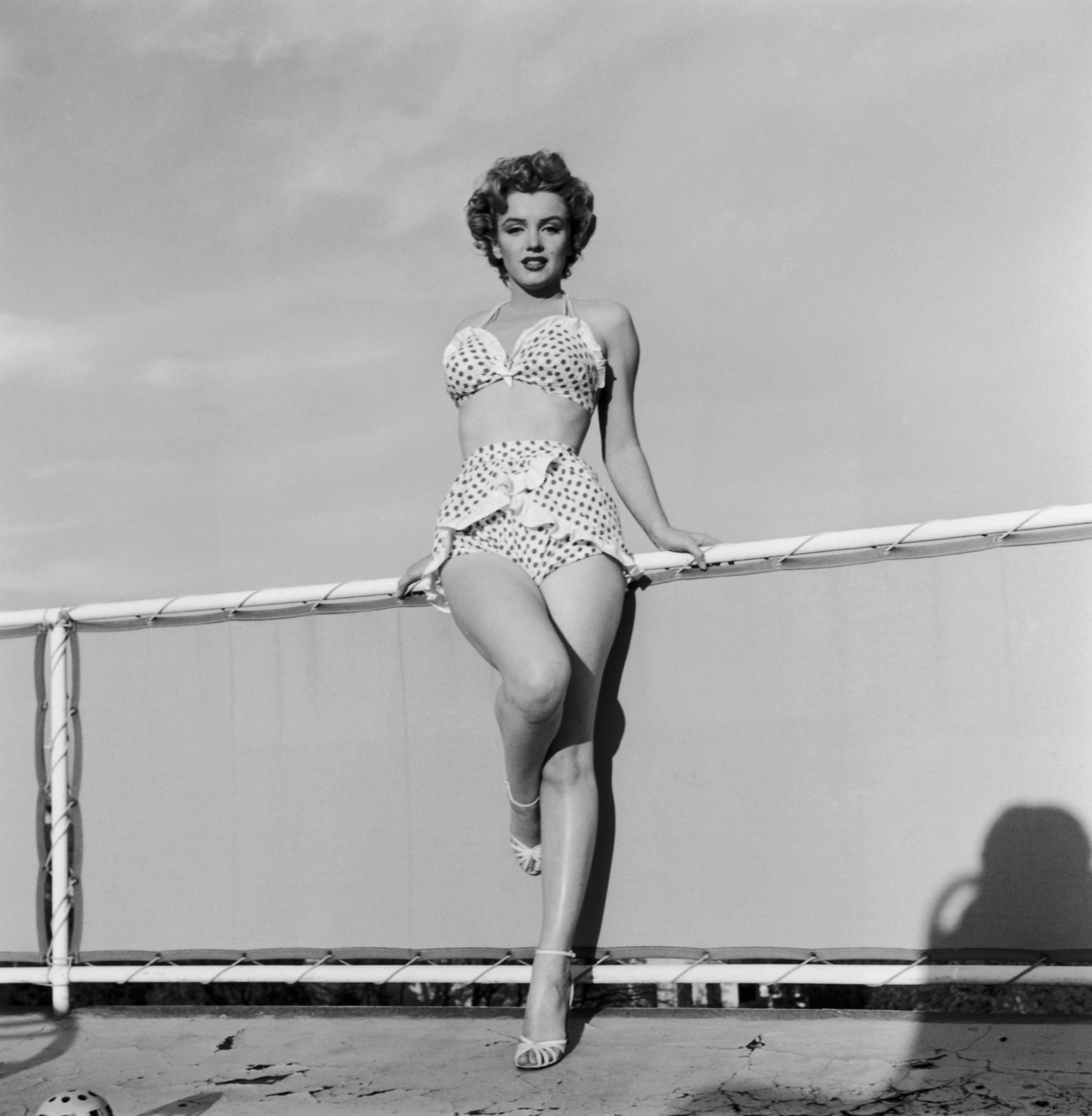 Then there's "subversive" types: the Rebel (James Dean, Marlon Brando) who challenges societal expectations in ways that generally end in tragedy, and the Independent Woman — fast-talking, ball-busting, all vim and vigor and Katharine Hepburn trousers. Like the Rebel, the Independent Woman has to be contained — usually, at film's end, through marriage.

Today, these types endure: There are Good Joes (Tom Hanks, Will Smith), Tough Guys (Russell Crowe and Tom Hardy), Rebels (Robert Downey Jr., Johnny Depp), Pinups (Jennifer Aniston, Scarlett Johansson), and Independent Women (Emma Watson, Cate Blanchett). There are also 21st-century variations of those types: The Cool Girl is a refinement of the Pinup; the Man-Child is a simply a stunted, sloppy-bodied Good Joe. The Shrew is the Independent Woman through a postfeminist lens, darkly, and the Superhero is a Tough Guy With Toys.
Given the time constraints of the Hollywood film, these sorts of broad, overly simplistic types make sense. You see a certain type of body onscreen, acting a certain sort of way, and you know the narrative arc to expect.
But star types become more insidious when they trickle down to normal people types: a way of sorting everyone, star or not, into categories. If you're smart, you're a ball-busting Independent Woman simply in need of a good man; if you have boobs, you're a sex object. And as the above typology makes clear, men not only have more type options, but types that position them as natural narrative pulse of the film — and, by extension their lives.
Within this paradigm, Kendrick's resistance to the type machine isn't obstinance, but a refusal to accept the limited types available to her. She's not supermodel beautiful, but she could've sought films that made her slim, ideal beauty available to the male gaze. She has a boyfriend, but she's refused to include him as a major component of her life narrative. She's "of marrying age," but the vast majority of her films refuse to present marriage (or even a relationship) as a as a narrative solution.
In some ways, Kendrick got lucky: after being nominated for a Tony, at the age of 12, for her role in High Society, she struggled to find work — she was too young and too small and not Natalie Portman enough to play an ingenue, but too old to play a child. She couldn't find commercial work because, as she told Marc Maron on his WTF podcast last September, she was just too shitty at faking blind enthusiasm. The roles that eventually gained her notice — in Camp and Rocket Science — were the inverse of those that usually gain teenage actors fame. So maybe that's prompted Jason Reitman to write the role for her in Up in the Air, as a sidekick who might have otherwise been a pure narrative foil for George Clooney's character development. Instead, she steals all that development for herself.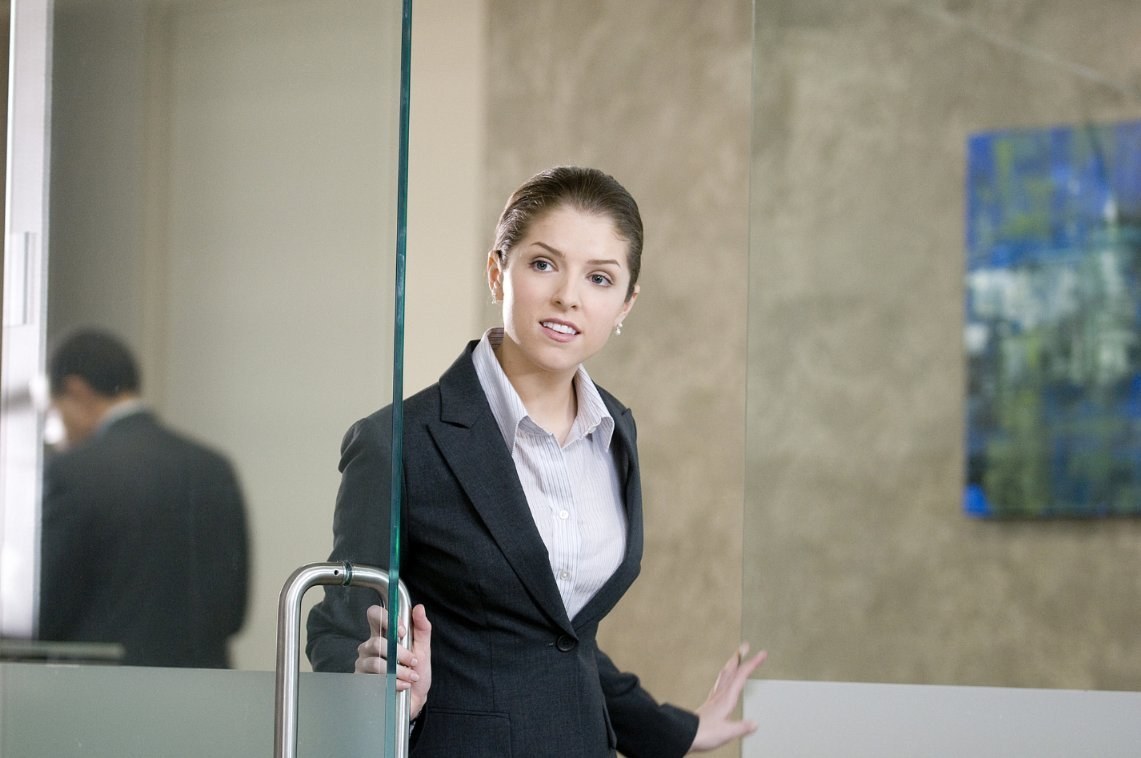 Kendrick earned an Oscar nomination for that role, and her decisions since have emphasized a commitment to avoiding type. She appeared in three Twilight sequels, an indie cancer drama (50/50), a pregnancy rom-com (What to Expect When You're Expecting), a comic book movie (Scott Pilgrim), a gritty police drama (End of Watch), and a movie with a moderate budget and moderate expectations called Pitch Perfect.

With her chart-topping cover of a cup game song that I have known since I, an Old, was 10 years old, Pitch Perfect unexpectedly turned Anna Kendrick into a legit movie star...who then appeared in 10 movies over three years. But apart from the final Twilight installment, only one of those films — Into the Woods — could be called a hit. She did indies (Drinking Buddies, Cake, Happy Christmas), weird black comedies (Rapture-Palooza, Life After Beth, The Voices), a musical (The Last Five Years), and a prestige picture that fell flat (The Company You Keep).
The sheer number of films, and the sheer unmoviestarness of them, kept it difficult to pin Kendrick to any type. Was she the meek girlfriend of Drinking Buddies? The wreck of Happy Christmas? The pregnant police wife of End of Watch? But the Disney-bankrolled role in Into the Woods, a Super Bowl commercial, and the ramp-up for Pitch Perfect 2 forced Kendrick into a new echelon of publicity. Over the last 18 months, she's been on the cover of Entertainment Weekly, Marie Claire, Nylon, Elle, and Glamour — with profiles in Net-a-Porter and, most prominently, the New York Times.
So what type was she going to be? The press paved a few potential paths:
THE I DON'T GIVE A FUCK GIRL:
In Nylon: "[The] February 2015 issue is filled with that off-the-cuff, no-censor-button commentary that we've all come to love from Kendrick. 'I don't give a f*k," she tells us, regarding her endearingly genuine social media presence. 'Twitter is only 140 characters. There's really not that much that I could reveal, then regret later.'"
In Net-a-Porter: "A tiny thing with a huge laugh, unafraid to drop a f**k or 15 in conversation, and the first to suggest an early afternoon drink."
In Glamour: "Sitting cross-legged in a pleather booth at a Hollywood diner, Anna Kendrick is wearing a sweatshirt and jeans. She has no makeup on, and most of her frizzy hair is pulled back in a band. She looks like a hot mess. I have to say that because I promised Kendrick I would. 'Just say, 'She looks like a hot mess!''"
THE DOWN-TO-EARTH GIRL:

In Collider: "One of the many things I love about Anna Kendrick is that she hasn't changed with success. Every time I've gotten to talk with her over the years, she's always been extremely cool."

In The Independent: "...she is fun and laid back. It seems that the Oscar nomination and establishing herself as a Hollywood star have allowed Kendrick to relax and become more confident about expressing her humorous side. She no longer needs to make an impression."
In Glamour: "Kendrick isn't really one to fuss about her looks, and these days she wouldn't have time anyway. ... [Her] willingness to be real — versus hiding behind the usual predictable stream of staged selfies — has made her a heroine to women."
THE NOT A COOL GIRL WHO'S ACTUALLY A COOL GIRL:
In People: "Anna Kendrick isn't the cool girl. And she's totally fine with that."
In Nylon: "Aubrey Plaza, Kendrick's BFF, tells Nylon that Anna is "the weirdest combo of impulsive tequila-drinking party girl and 80-year-old senator's wife from Vermont," adding, "She loves Lord of the Rings and Game of Thrones, can rap '99 Problems' from start to finish, scarfs down burgers in six-inch Louboutins, while beating you at Assassin's Creed. But guys are probably afraid to hit on her because she's intimidating."
In the best commercial of the Super Bowl: "Am I beer commercial hot? No. But I love a challenge. I've done indies and blockbusters, the only thing I haven't done is a nude scene and get paid a shitton of money to be in a commercial for a beer I don't even drink."
You can try to resist the machine, the lesson seems, but it will consume you anyway: It's only a matter of time, and bigger movies and louder publicity and New York Times profiles, before Kendrick gets cornered into a type that will go on to define her career trajectory and cultural importance for the next 30 years.
Or maybe not. Over the last five years, social media has fundamentally altered the parameters of celebrity management, allowing celebrities unprecedented control of their own publicity. After all, far more people follow Kendrick on Instagram (2.8 million) and Twitter (4.04 million) than read a profile in Nylon.
It's hard to wrap your head around this Kendrick: She's beautiful, but she's something more, something strong, even abrasive. Without a publicity apparatus to round her rough edges, she can come off as both alienating and profoundly alive. It's not that she's "authentic" — a word that's come to connote a type in and of itself — so much as reflective of a different understanding of a woman's capability to change her mind, self, and desires.

Which, somewhat ironically, is a point that's popped up in recent profiles: Elle suggests that "Kendrick has found a way to meld the famous-person world with the one the rest of us live in, taking every opportunity to remind us — largely via social media — that she's still an occasionally weird and sometimes flawed human, not just a body hosting an increasingly desirable brand."
The inability to type Kendrick — and the need to reconsider what we thought of her every year, every movie, every interview — must frustrate publicists, casting directors, interviewers, even directors. It's certainly harder for the celebrity herself. There are times when Kendrick seems, well, exhausted: Preserving any sense of nuanced identity, both on and off screen, is exhausting. But it might also force the Hollywood publicity apparatus to think more expansively about how to structure, label, and reduce the women it covers.

We all know that the women who surround us contain multitudes. Kendrick powerfully suggests that celebrities can as well.