Alison Brie gets mistaken for herself all the time. "You know what people mostly ask me?" she says, leaning over at the West Hollywood chop shop where we're getting our nails done, resting her hand on my thigh the way a girlfriend does. "They ask me 'Do people ever tell you you look just like Alison Brie?'"

"So after the fifth person said that to me, I asked my sister, 'Do you think I need to wear makeup when I'm in public?'" She said no, but I'm still concerned: It's like I'm the busted version of myself in real life."
Sitting next to the 32-year-old Brie in real life, she doesn't look like a busted version of herself. She just looks like the version of herself that just came from the gym, threw on a tank top and her favorite pair of Madewell overalls ("I wear them all the time, but only women give me compliments"), kept her hair in her workout ponytail, and came to get her nails done. And even if people tell her she "looks like that woman from Mad Men," it's the voice that should get her recognized: melodious, cheery, equal parts preschool teacher and drama kid. It's helped make her a go-to voice actor — and what IMDb has down for her under "distinctive trait."
At the nail salon, though, she's just "Alison, reservation for two?" The women who run the shop clearly like her — this is her go-to spot — but it's unclear whether they know that she's also an actress. She has a big smile for everyone and asks their opinion on colors; she gamely pets the small yip-yip dog that's hogging the couch in the waiting area.It's a classic nail salon, which is to say that the color palette is still straight out of a 1992 episode of 90210, with the soft drone of soap operas competing with Maury in the background.
Today, Brie's chosen nude-colored toenails, and a slightly pinker shade of nude for her fingernails, because "they'll go with everything" for the whirlwind of publicity that will accompany the release of Sleeping With Other People. It's the film she hopes will prove what years of posing in various states of undress for lad mags could not: that she's neither Annie Edison, the nervous, type-A community college student she played on Community, nor Trudy, the strident, '60s-era wife of Pete Campbell on Mad Men.
She's Alison Brie, "and maybe I'm ready, you know, to be a woman — a woman who graduates from community college. A woman who fucks."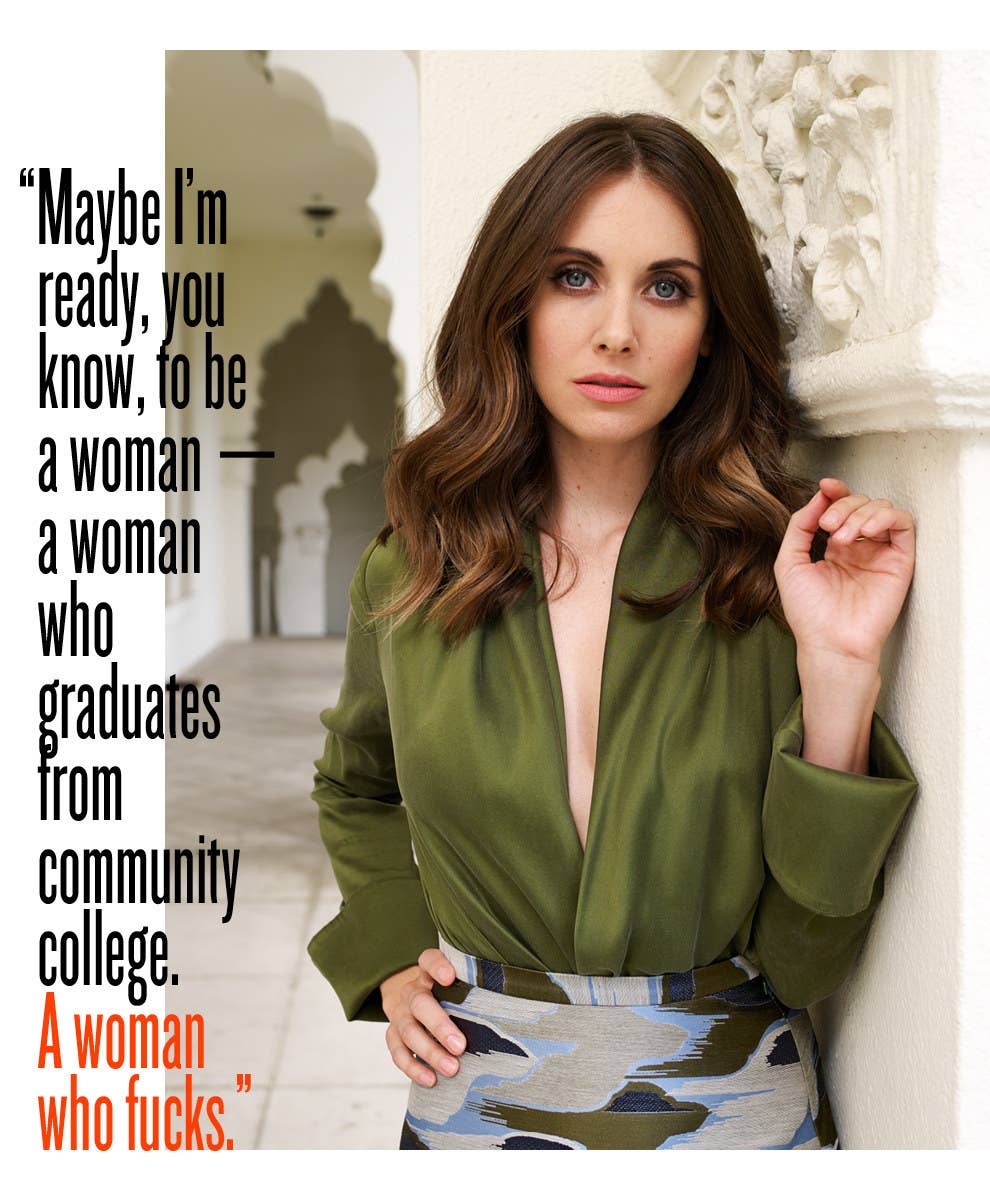 Sleeping With Other People is far from Brie's first movie. Take a look at her filmography and you'll see a solid dozen films, some of them straight to VOD and others, like Get a Job, co-starring Anna Kendrick, Bryan Cranston, and Miles Teller, that, due to studio wrangling, may never be released. But there's also mainstream fare: Brie played the kooky sister in The Five-Year Engagement, the put-together sister in Save the Date, the preposterously manipulative wife in Get Hard. She died early in Scream 4; she's the voice of Unikitty in The Lego Movie.

But Sleeping — in which she plays a serial cheater opposite Jason Sudeikis's serial womanizer — is her first starring role in a big-league movie. Not a blockbuster movie, not a prestige indie, but a produced-by-Will Ferrell sort of movie. The sort of movie that might not make hundreds of millions at the box office, but will certainly make a few handfuls of millions and get a ton of people to watch it on demand.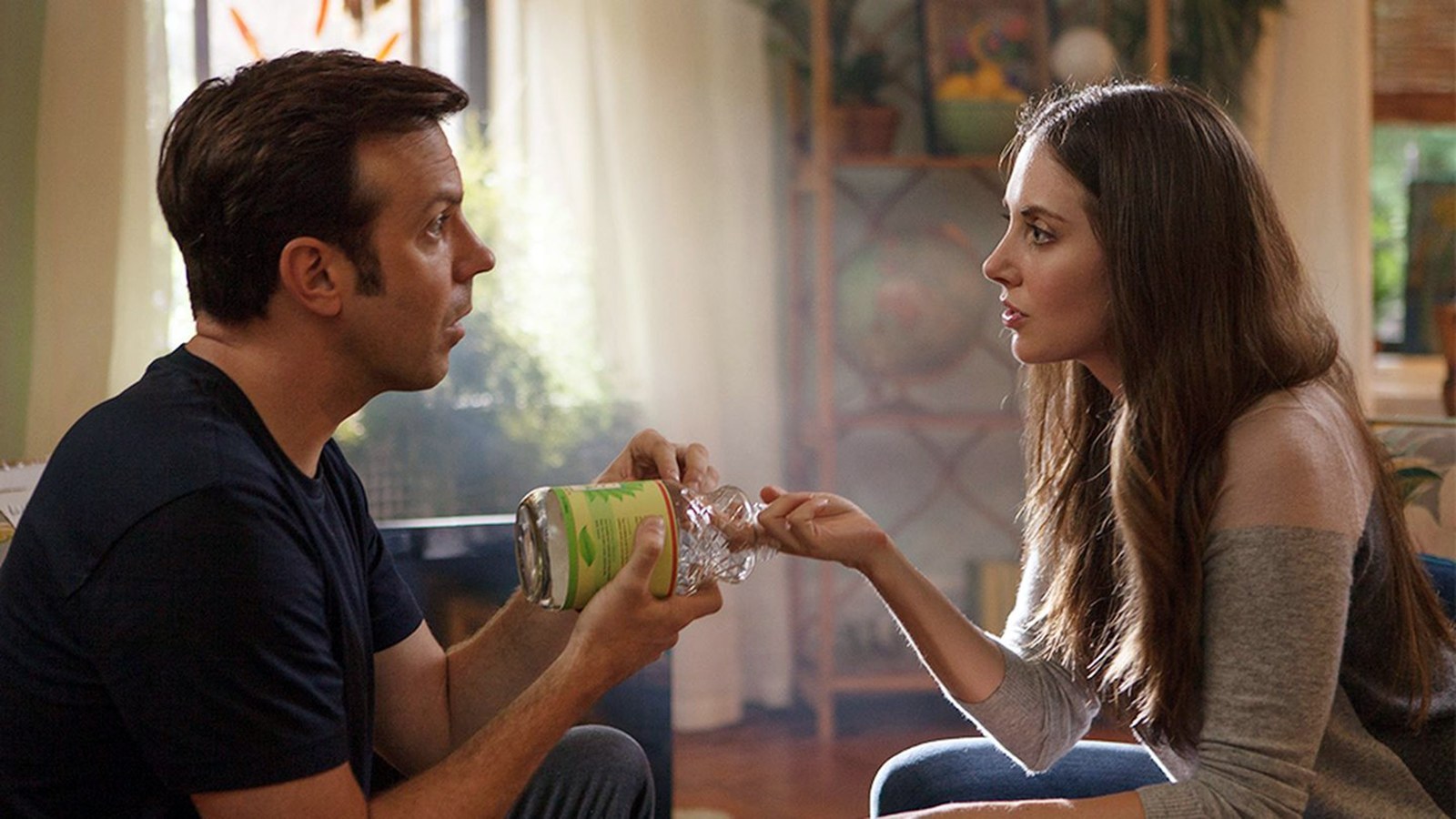 But the size of the movie matters less than the type of character Brie gets to play. Specifically: an adult character with adult sex and relationship issues. There's a guy (Adam Scott) who she met in college, whom she always loved but who never quite liked her enough in return. She's hooked up with him dozens of times over the last decade of her adult life. She's ruined relationships over him. He's not that hot, really; he's definitely not that nice to her. But she's addicted to him — and as director Leslye Headland would explain later that night at a post-screening Q&A, "One of the reasons people get to each other, even when they're so bad for each other, is because the sex is so HOT. And the sex is so hot because uneven power dynamics make for hot sex."
It's a psychologically ruinous relationship, but for so many people in their late twenties and thirties, it's also a familiar one. "Everything about the character felt current," Brie says as we wait for two pedicure chairs to open up. "She's so dynamic and interesting. She's flawed, she's funny, she can be attractive, she can be vulnerable, she can be cruel. I just felt like she was a real person, and the conversations she was having with the other characters felt like real conversations."
Those other characters — including Jason Sudeikis, who becomes her confidant and maybe–love interest; her best friend, played by Natasha Lyonne; and Sudeikis's business partner, Jason Mantzoukas — make up the constellations of what might be called a rom-com.
But even if there's romance, or multiple romances, many of them comedic, Brie doesn't see it as a traditional rom-com. "In more recent interviews, people have been like, 'What's the movie about?' And it occurs to me now that maybe they wanted me to tell them the plot of the movie, but I've always said loneliness."
What it's like, in other words, to rebel against loneliness by hooking up with people you don't even like...or the difficulty, as you move through your thirties, of meeting someone who you feel can ever know you well enough to stave off that loneliness. As Mantzoukas told me, "Allie vacillates between these big comedy bits and her addiction to Adam's character, which is just totally heartbreaking. The movie really needs that to work in order for it to work — and it totally does."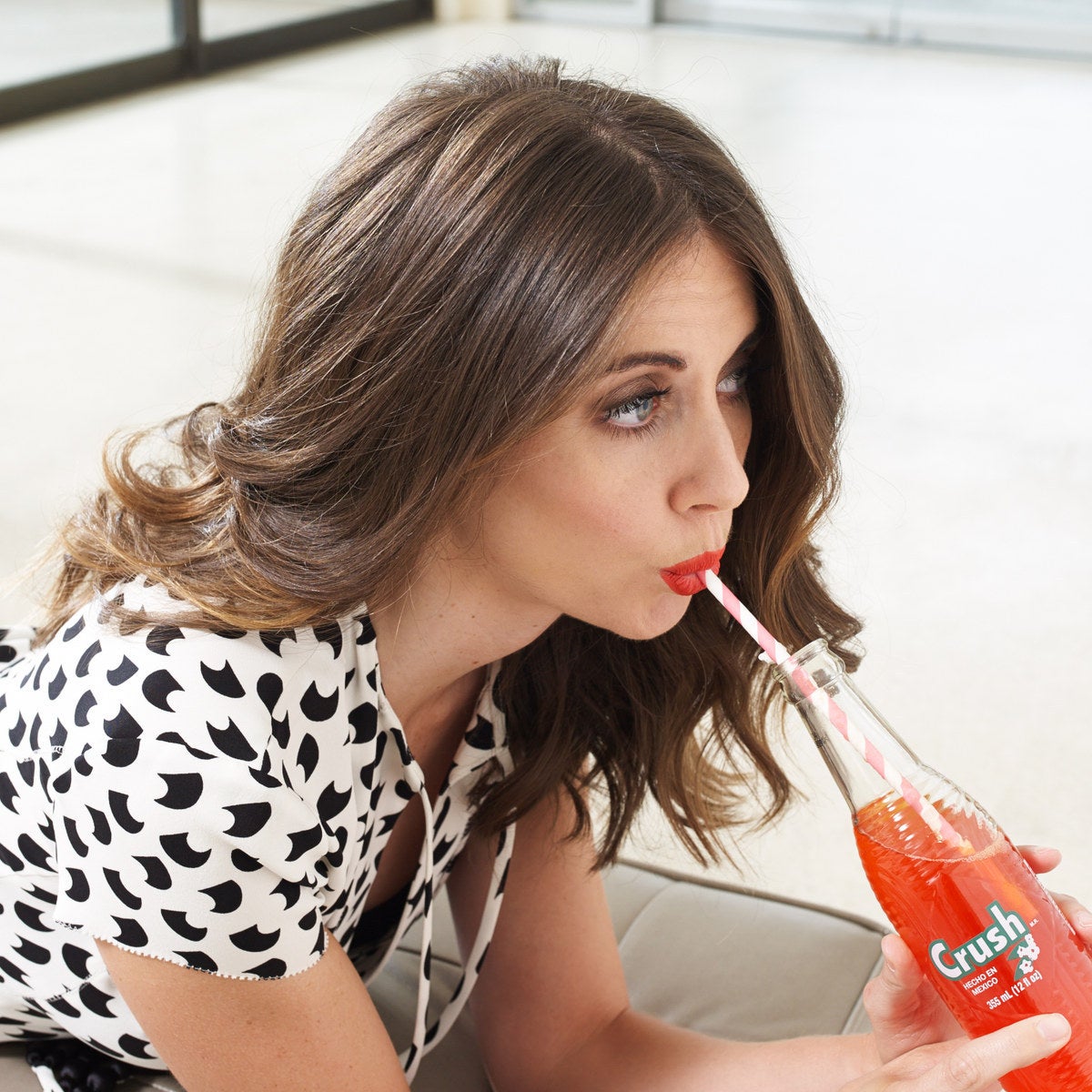 To be clear, it's not that Brie doesn't love rom-coms. She just thinks they got a little formulaic in the 2000s — "There's a moral code for the woman: She's not going to sleep with him until the end, but if she does, IT'S CRAZY." Plus, so many indie films are actually romantic comedies, it's just that if they're made by/for dudes, no one wants to call them that. "Every Duplass movie is a rom-com," I suggest, raising my voice in exasperation. "Every Apatow movie is a rom-com!" Brie half-shouts, spreading her arms in a come at me gesture. "Trainwreck, Knocked Up, 40-Year-Old Virgin, all rom-coms!"

There's no shame in a rom-com — that's the point we're collectively yelling toward: Back in '30s Hollywood, they called rom-coms "screwball comedies," and no one thought to gender them. "I love a rom-com!" Brie repeats, just to be clear. "I love Hitch! I was telling someone that the other day, and they were like, 'I don't even think of that as a rom-com. It's a buddy comedy between Will Smith and Kevin James.' Well, I have some news for you, my friend."
At this point Brie's laughter is a mix of indignation and self-mockery. "I feel like sometimes Davey comes home and is like, 'You're watching Hitch...again?" She covers her mouth with one hand and reaches over to touch mine with the other. "I mean, it won't even be on, I just go on Netflix, and I justify it with 'I had laundry to fold! What else was I supposed to do?'"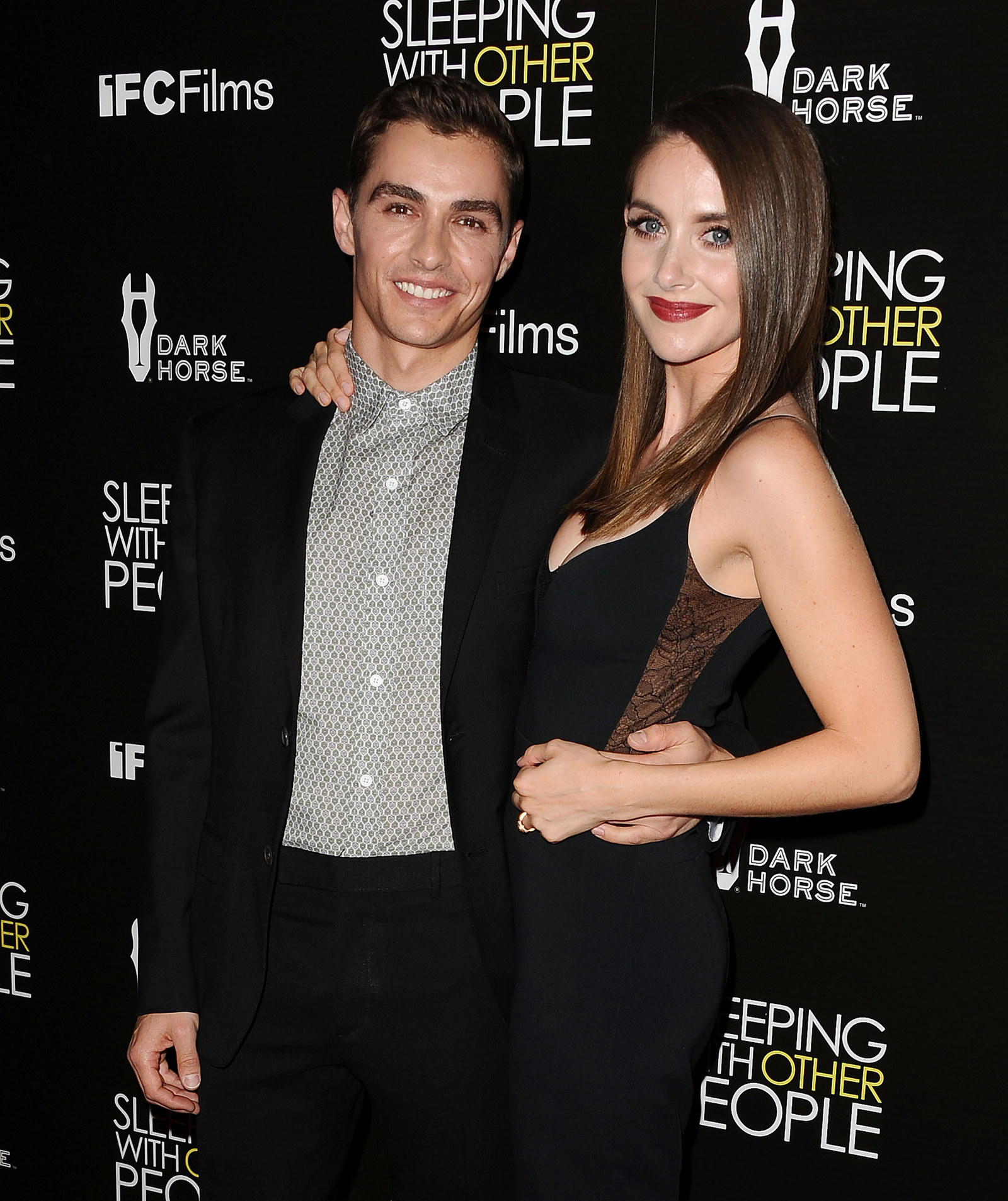 "Davey" is what Brie calls Dave Franco — her boyfriend since 2012 and, as was made public the day before our interview, her fiancé. I knew as much not because Brie told me, but because her name had been at the top of my Facebook Trending box for the last 24 hours. The night before, she'd appeared at the Los Angeles premiere of Sleeping With Other People — but the premiere wasn't trending.
Her ring was. Her "amazing ring!" as Us Weekly put it — a sentiment echoed by dozens of gossip sites trumpeting her engagement to the 30-year-old Franco, best known for starring in 21 Jump Street and Neighbors and being James' younger brother.
Most people didn't even realize the two were dating, let alone on the way to marriage. There's only a handful of photos of them circulating on the internet; they rarely walk the red carpet together. When James Franco made an Instagram post to congratulate them, he used a blurry paparazzi photo. They don't post pictures of each other on Instagram or Twitter. Just months ago, fans were speculating that they'd broken up because they hadn't appeared in public in nearly six months.
"The most random person told me, via text, that I was trending," Brie laughs. "But I'm not like, 'WHAT, IT'S TRENDING ON FACEBOOK, DISASTER! I'M NEVER LEAVING THE HOUSE AGAIN!'"
When Brie talks in caps lock, her blue eyes go wide and serious, and she looks around in mock indignation. When she goes back to lowercase speech, her smile returns and becomes the defining element of her face. If she weren't an actress, it'd be creepy; instead, it just makes having a conversation feel like attending a performance. Not an exhaustive or annoying one. But when your face starts doing the same gymnastics as hers, you realize how out of shape it is.
Brie's engagement is now public, but she has no plans to make her relationship central to the way people think of her. "The way that this industry is now, with so many people who don't work as actors but who are celebrities who are constantly publicizing their relationships... to me, it's just such a weird, dangerous door to open up. Your private life is your private life, and if you commodify it, there's no turning back."
You can see that philosophy in the way she uses Twitter (for promotional purposes only) and Instagram (25,000 followers for an account she didn't know existed). And while she admits to talking publicly about her non-famous, money manager sister ("She's my best friend; I've based several characters on her"), talking about Franco is something different.
"When you talk publicly about your relationship, especially if it's with another actor, there's a seedy feeling there," she says, somewhat plaintively. "That's not why I'm in my relationship, and it's also not why I'm talking to you," she says, gesturing in my direction. But that reticence to disclose details about her private life is also part of the reason it's been difficult to escape her television personas: With little else to know about Brie, it's natural for fans to conflate her with Annie and Trudy.
Brie can appreciate why fans would want to feel happy for her — and want to know more about her relationship — but she's also keenly aware of how that attention can sour, or morph into 10 years of gossip mag covers insisting "Jennifer Aniston Can't Find Love." "You can be persecuted if you say 'I don't know if I want to have a baby,'" Brie explains. "Yesterday, my sister sent me a piece that pulls a quote from three years ago about how I don't want to get married. I mean yes, three years ago, when I was single, I did not have my eyes on marriage."
That 2012 interview was part of a cluster of press promoting Save the Date — a film about, well, marriage — and the questions from press were variations on whether or not she, like her character, was "really into getting married." "Of course I was like 'No!'" Brie explains. "Even now, I would not describe myself as a person who's really into getting married. Imagine that: 'Yep, that's my personality, that's the one characteristic that everyone knows. Really into getting married. Oh that girl? She's just really into getting married."
Still, it's not as if Brie's hiding from the press. When asked if she purposely chose the night of the Sleeping With Other People premiere to debut her ring, she's not cagey. "I've been around the world and just living my life for, you know, weeks," she says. "So it's not like I'm gonna take off the ring when I go to this premiere. I had a conversation with my publicist, and I said, 'I'm probably gonna wear it, and then people will know about it, and that's fine. And that's as much as they will know about it.'"
Brie's attitude mirrors that of other women who would rather talk about their work than their hair, their clothes, or their relationships. "It'd just be kinda terrible to be working so hard on all this stuff for the last 10 years," she says, "and then be known as someone's wife."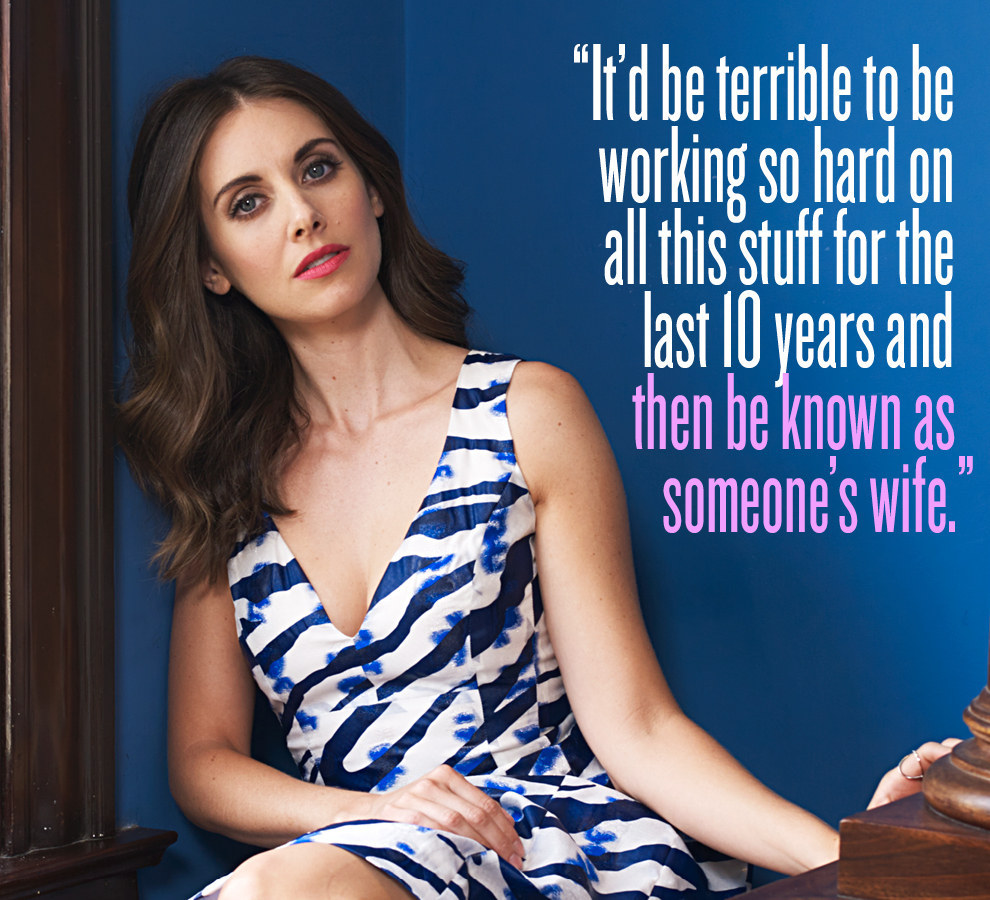 The impulse to focus on the work — instead of a celebrity image — stems, at least in part from Brie's background: She first started acting at her Pasadena, California, high school and then continued at Cal Arts, where she spent four years immersed in the depths of the theater world, performing everything from classical Shakespeare to "crazy experimental stuff like just animal noises." The resultant nimbleness manifests when she performs live (see: her domination of "Shoop" on The Lip Sync Challenge) and her particular ability to transform seemingly superficial characters into deep wells of complexity (see: Trudy).

Brie claims not have been defined by theater-ness, despite all its influence on her career. "I had other friends too!" she says as she describes her high school experience. She catches herself, laughs: "I love how I'm like, 'I wasn't that nerdy; I totally had friends who weren't in drama!" In college, she split her interest between classes, hooking up, and hanging out without clothes — "Cal Arts allowed nudity everywhere but the cafeteria."
"At the beginning of college, I got so excited to be, like, having sex," Brie recalls, looking around as if to consider lowering her voice, but opting against it. "Once I got there and all anyone wanted to do was have sex, I was like what, this is insane, I can have sex with whoever I want! We can drink booze illegally and have sex — what a fun way to spend my night!"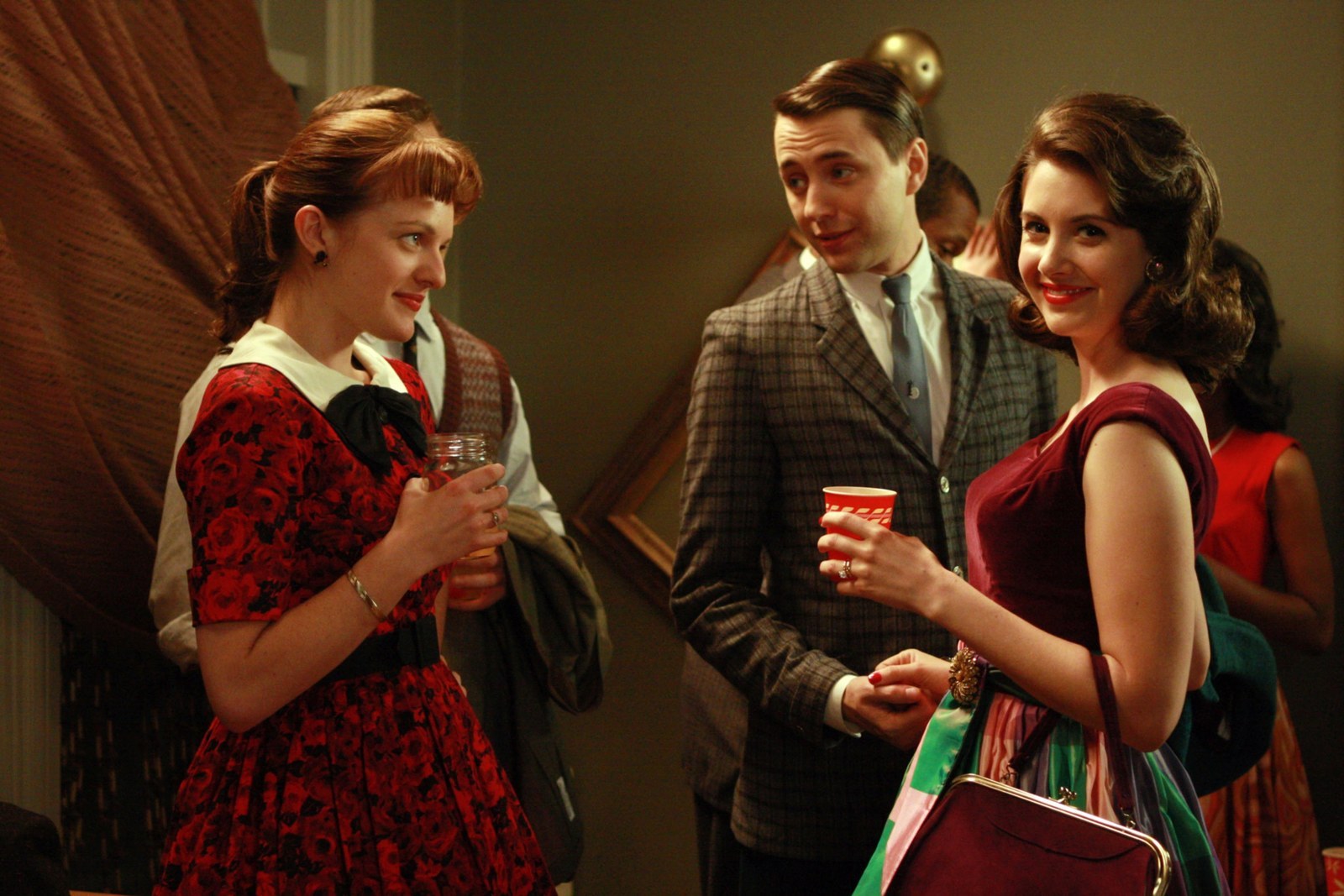 Brie was snobby about TV "up until the day I graduated from school" in 2004 — at which point she tried to book anything and everything, including a guest spot on Hannah Montana, a slew of TV movies, and something called Hot Sluts (a web series about a nightclub, not a porn). In 2009, she was cast in what was to be a one-episode guest part in Mad Men. Brie impressed showrunner Matthew Weiner sufficiently for her role, as Trudy Campbell, to continue; by the time the Mad Men pilot was picked up by AMC, she'd also committed to her part as Annie on Community — which ended up meaning six years of running between sets when both shows were filming.
That's when she decided she needed a publicist: "I wanted to make sure that people knew it was me doing both of these parts, which, to this day, people are like, 'Oh my god, they're both you!'" Brie says. "People ask, 'Which one are you more like?' And I'm like, Neeeeeeeeeeither!" At this point, Brie throws her hands up in mock exasperation and catches her breath. "I mean, probably Annie, but that's because she's a human in the current world; I don't live in the 1960s."
Still, Brie recognized how readily she could be pigeonholed into a certain type of role — a role like the rom-com sister (which she nevertheless went on to play not once, but twice), or the girl who wears a lot of sweater sets with a Tracy Flick inflection, like her character on Community. A cute girl. Brie combatted that by flipping the PR script of the bombshell who wants you to know she's a serious person who reads books and has opinions about foreign affairs. Cue: this weird sex story. Back in the late 2000s, Brie had delivered a monologue at Upright Citizens Bridgade in L.A. as part of a show centered on stories of bad sex. That monologue was turned into a short story, which became part of a book, which was then excerpted in 2010 — just as Brie was becoming a recognizable name — on Nerve.com.
It's ostensibly about Brie having awkward sex with a gay friend, but she also writes that while "exploring my newfound sexuality, there was, of course, the girl-on-girl action, the crazy threesome with the afros and whips, and the surreal 'shrooms experience where I thought the tree was fondling me but it turned out to be my creepy male roommate with calluses on his hands...gross." Paired, online, with a very buttoned-up image of Brie as Annie in Community, it read as a bizarrely toned sexual confession.
"It was structured to be comedic, so it was funny to me," Brie recalls. "But then there was a reaction of 'WHOA, YOU'RE WRITING EROTIC FICTION.' And I was like, Everyone relax. This was for a book! I got an offer to be a sex columnist for some men's magazine, and I was like, Noooooo, that's not really what I do!"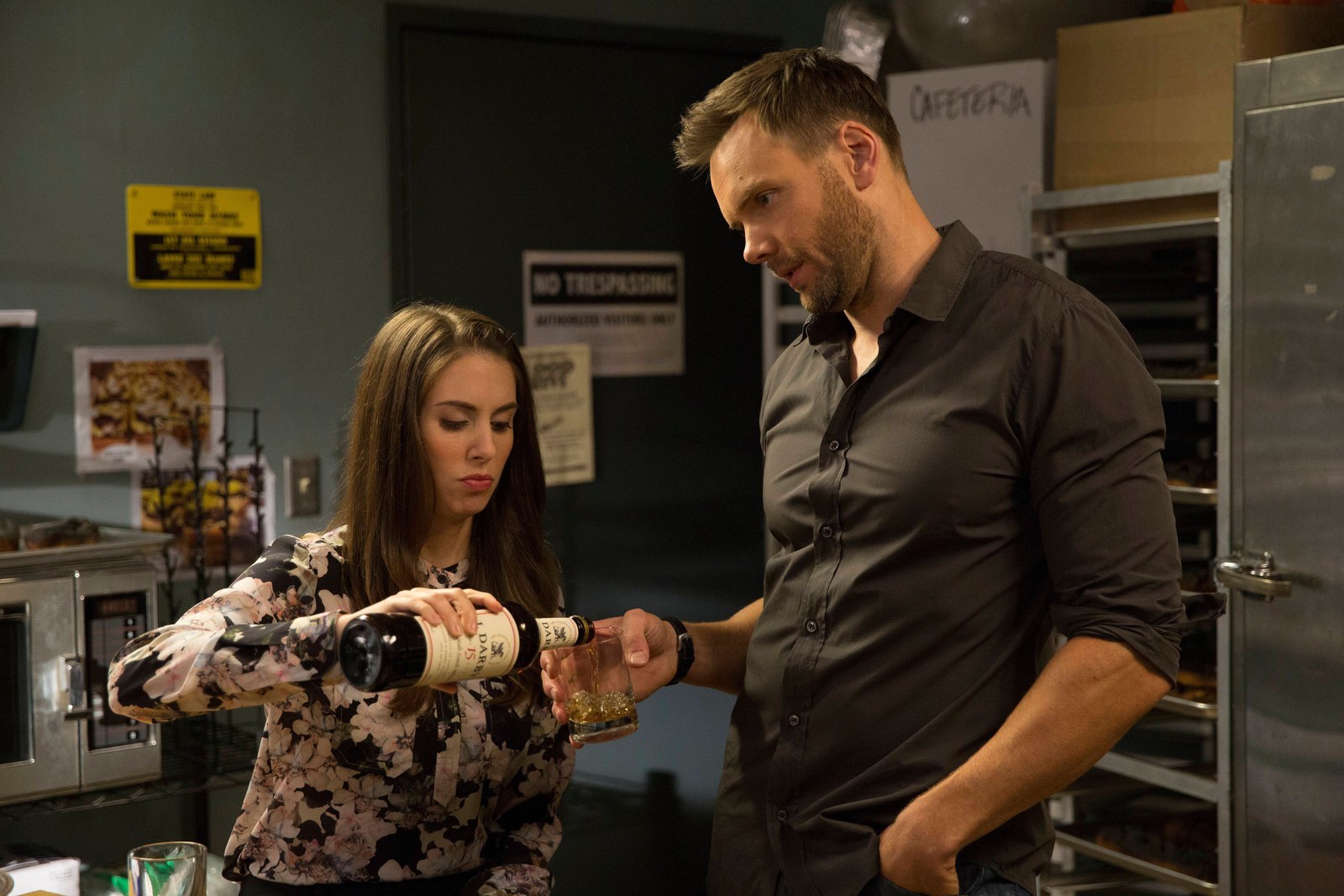 But around the same time as her story went online, Brie began posing for a series of photo shoots in men's magazines that seemed to suggest that it was very much what she did. There was Brie sucking a strawberry for Complex. There was her cleavage, and her bedroom eyes, and her hair. There she was in her bra for Men's Health. In something less than a bra in Esquire and in a complicated piece of lingerie for Details, and posing as "the naughty bookworm" for Rolling Stone. Most enduringly, there's a picture of Brie and Community co-star Gillian Jacobs pantomiming a lesbian scene for GQ. The not so subtle goal: Establish this round-eyed supporting actress as a sex symbol.
Between the story, the photos, and Community plotlines like "Sexy Santa" that played to fan fetishization of Brie's character, there's a corner of the internet that certainly thinks of her this way. Google Alison Brie, and the fourth result is for a carefully curated Reddit trove of Brie images, filed under headings like "Brie's a tease," "She knows what she's doing," and "Brie cleave."
Of course, Brie looks great in lingerie, and there's a sense, given the abundance of images of her in it, that she knows it. But photo shoots just don't do the same image-shaping labor as actual roles, or personal confessions, or hacked nude selfies. Brie can pose all she wants, but she needs an actual performance to animate the idea she's been suggesting for the last six years. Which is why the scene with Adam Scott's character in Sleeping With Other People sold her on the script.
"So, in this scene..." Brie looks around like a bad private eye and lowers her voice. "...the characters are kissing, and Adam's character bends me over the desk, and then in the original cut, Adam kind of disappears down behind me for a little while, and I'm just sort of reacting."
That last bit was eventually cut — for reasons that had nothing to do with obscenity or flagrance and everything to do with narrative efficiency — but the extant scene, which also involves a doctor's office and a slightly opened door, remains redolent with sexual tension.
Thinking back on her attempts to flesh out her image, Brie's conflicted. "Any type of photo shoots I've done have been SUPER. SEXUAL," she explains. "Which, I think, was sort of a mistake." She laughs, reconsiders. "Maybe not a mistake, but it was always about the work — booking more work. At some point, though (she pauses, titters with laughter), I crossed a line. I mean, I'm a fairly sexual person, and I'm open about that kind of stuff, but if you google me, or my dad googles me, and..."
Brie trails off, waiting for me to say something. I mention the Reddit page, and she starts nodding. "Exactly. At this point, I wonder if the image of me that's out there is from specific shows, or, you know, what they've seen of me in GQ Mexico."

Which is what makes the celebrity publicity game so frustrating: What she wanted was an integrated, complex image. What she has — at least up to the release of this movie — is a split personality. "There are so many people in this industry who put you in a box and try to tell you who you are," Brie says. "Every meeting I sit in, there's a guy saying, 'You know what's great about you, you're funny and attractive'"— at this point, she's in full douche executive voice — "and I'm like, 'Good, that's a great compliment, I appreciate it, but I can do other things too.' I could get my hair cut super super short like I had in high school, just bad and unattractive, and be like, Am I still funny? Am I stillllllll funny?" I mean, I'm a woman, of course I'm more than one thing."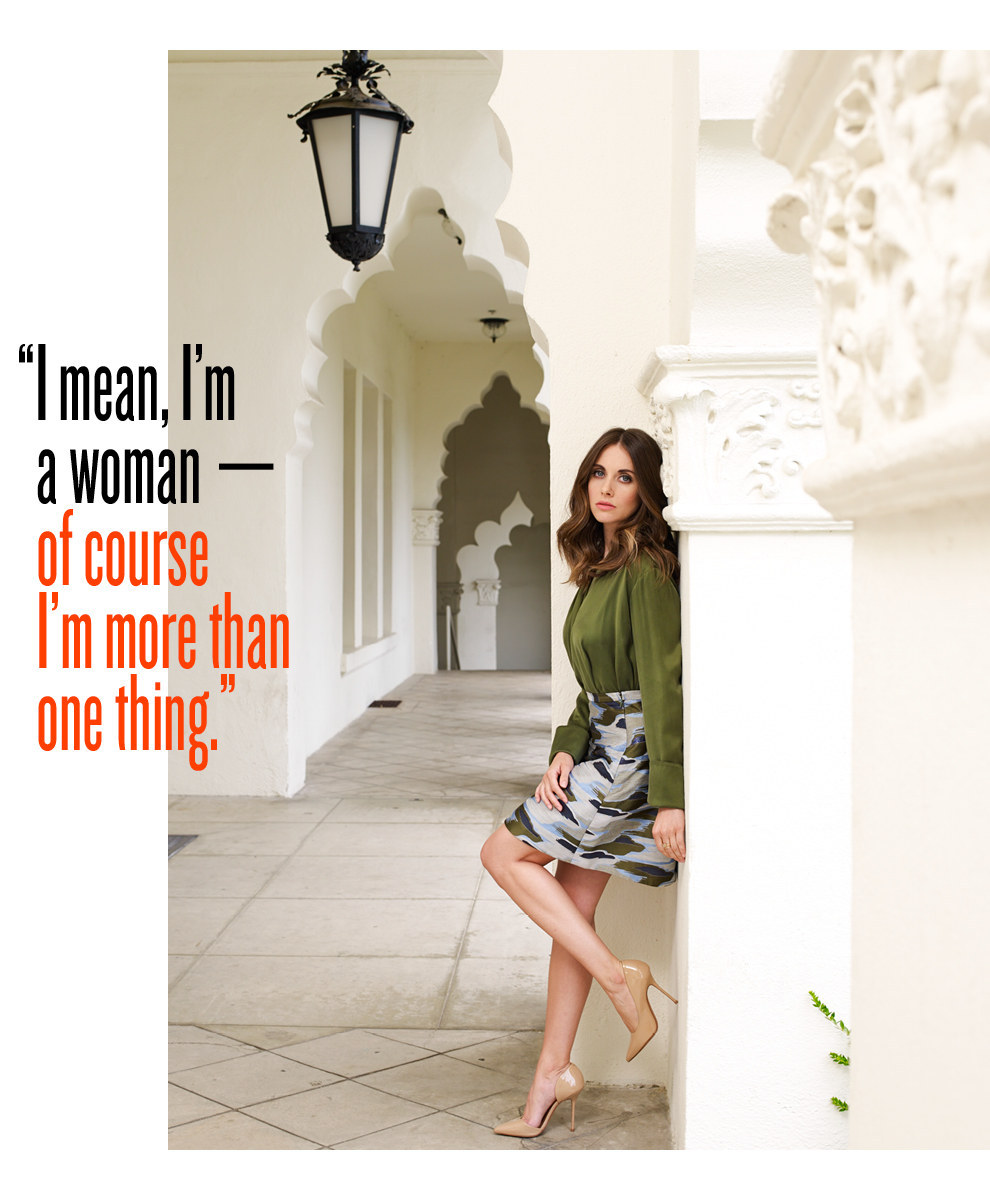 At this point, we've been in the nail salon for a solid 90 minutes. We've had the weird paraffin wax treatment that makes you feel like you're turning your foot into a candle, and the rest of the customers — there were only two to begin with — have cleared out. "Everyone left!" Brie exclaims, spreading her arms wide. "Probably because we're so LOUD."

The manicurists take our credit cards, tell Brie her nails are perfect, and turn their attention to the television while we sit, talking with our fingers still splayed, trying to avoid the ruin that comes when you so much as tuck your hair behind your ear with freshly painted nails.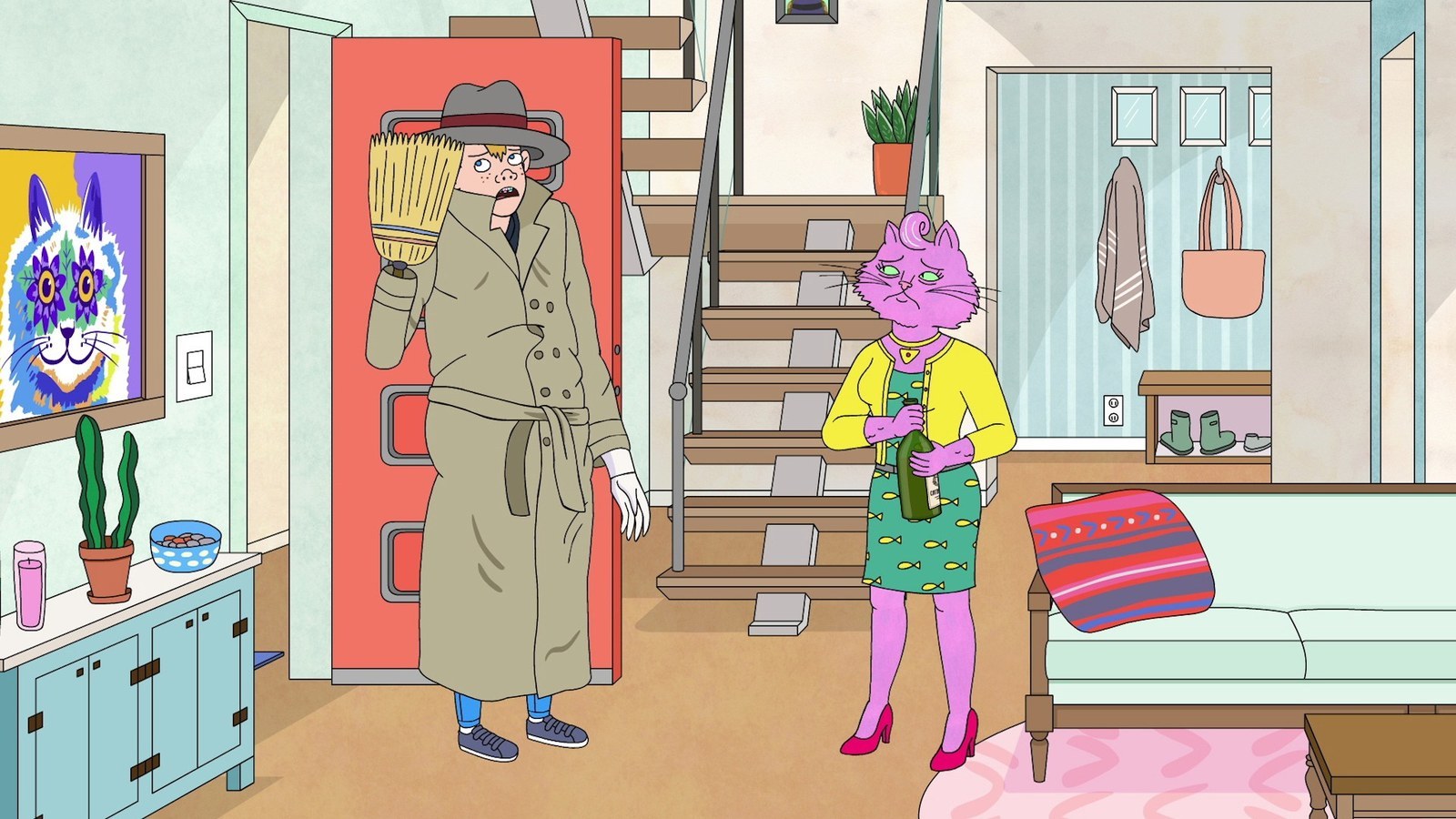 I ask her how she became the apparent go-to voice actor in Hollywood — "appearing" in Robot Chicken, American Dad, Nick Offerman's Ax Cop, The Lego Movie, and the Netflix cartoon BoJack Horseman, recently renewed for its third season — and she's very pleased. "Someone was casually asking me, 'Oh, do you do a lot of voice work?" Brie responds. "And I was like, UH, YES, I DO."
Brie laughs at herself again before emphasizing just how little voice work she booked when she was actively trying. It wasn't until 2011, when she did Robot Chicken on a lark, that her voice work morphed into a veritable career. She loves BoJack's meditation on Hollywood — "It's such a dark show. That's my favorite stuff, the darkness, because that seems very real to me" — and as depressed writer Diane, her affect is so flat as to be almost unrecognizable.
But Brie also voices fan-favorite Vincent Adultman, a character composed of three small children standing on one another's shoulders, cloaked by a trench coat, and posing as an adult. I ask her a pressing question — "What's going on with the two boys underneath it the trench coat?" — to which she offers a deadpan reply: "They seem to be really into it. They don't complain; we never hear their voices. They're like the guy behind the guy behind the guy. I think they take pride in being the legs and abdomen of Vincent Adultman."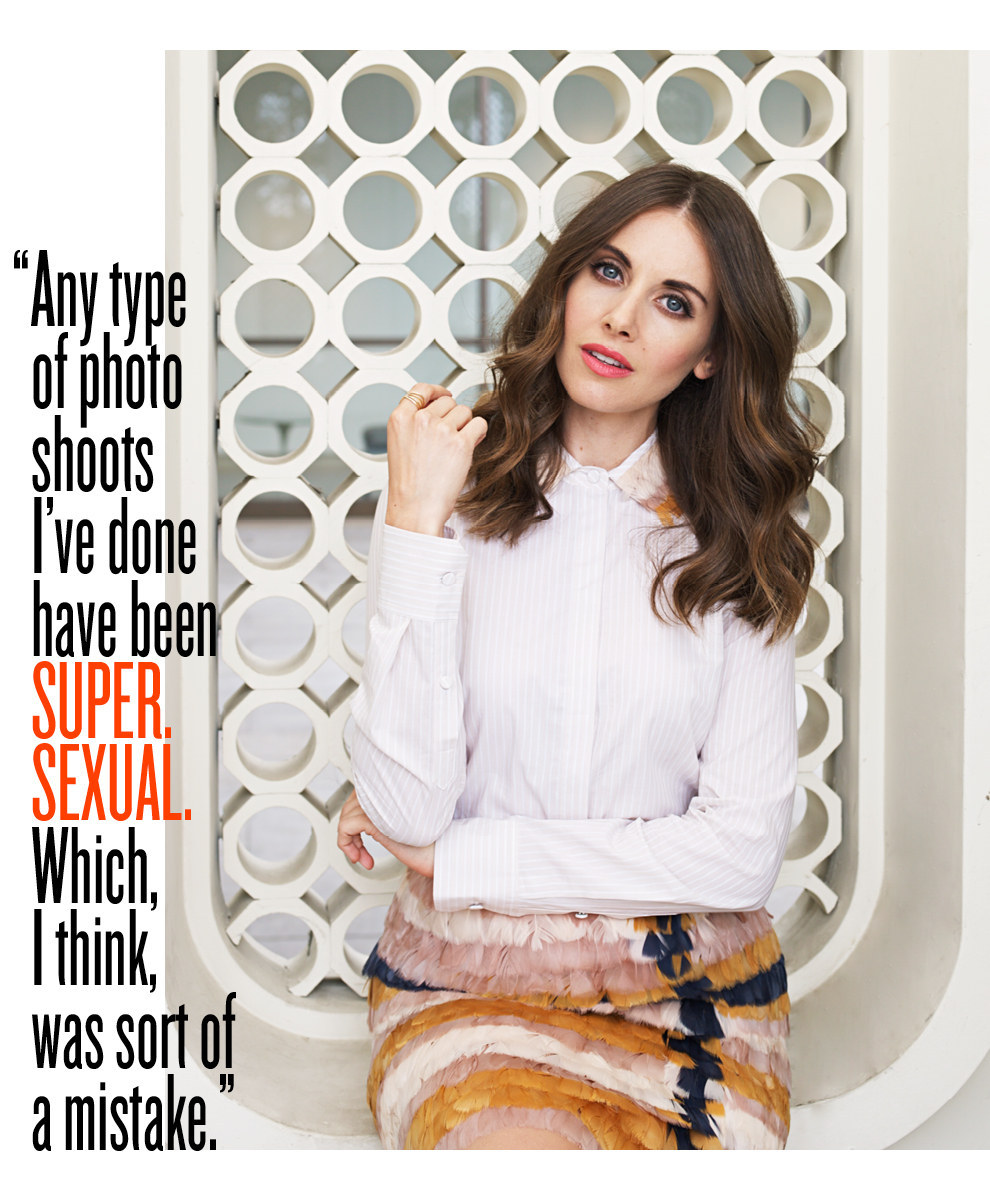 BoJack is just one of dozens of undertakings that have rooted Brie in comedy's inner circle: Like everyone else, she's done WTF With Marc Maron, but she has also kept pace with the weird experimental humor on Comedy Bang Bang, and has made multiple appearances on The Nerdist. She was inducted into the world of Apatow with The Five-Year Engagement, Sleeping With Other People is her second project with Will Ferrell's production company, and she has multiple ideas in the works with Ferrell's production partner Jessica Elbaum. She recently filmed a part in Joshie, an experimental improv drama whose cast list reads like a solid third of the comedy world.
"It's just our little community where we're like, 'Hey, wanna come play with us for a day or two?'" Brie explains. "There's just a lot of amazing comedy people floating around at this same level, who are game for everything. And I'm just happy to be part of the cool kids club."
I asked if she's seen the photoshopped image of her as Captain America that went viral last year — an image in which her abs look, well, amazing, and she gasps with glee. "They're not my abs, they're, like, a man's abs. But would I take that role? Absolutely."
Nail polish dry, sandals strapped on, we exit the salon admiring each other's nails like a couple of 5-year-olds at a sleepover. Three hours later, I see her at the screening and the overalls are gone, her hair is blown out, and she's wearing four-inch suede pumps. She looks more like Alison Brie. She poses for endless selfies; she wears her ring. She repeats the line about how she was in community college for six years and is ready to graduate. And every time she says the word "fuck" — "We were filming in this tiny New York apartment, just sweating, and fucking, and sweating" — the crowd predictably, perfectly, roars with laughter.