Teen Pregnancy Rates Rise For The First Time Since 1988
Twenty-one states saw increases in teen pregnancy between 2005 and 2008, reversing a decades-long trend of across-the-board decline.
Teen Pregnancy Rates, by State, 2008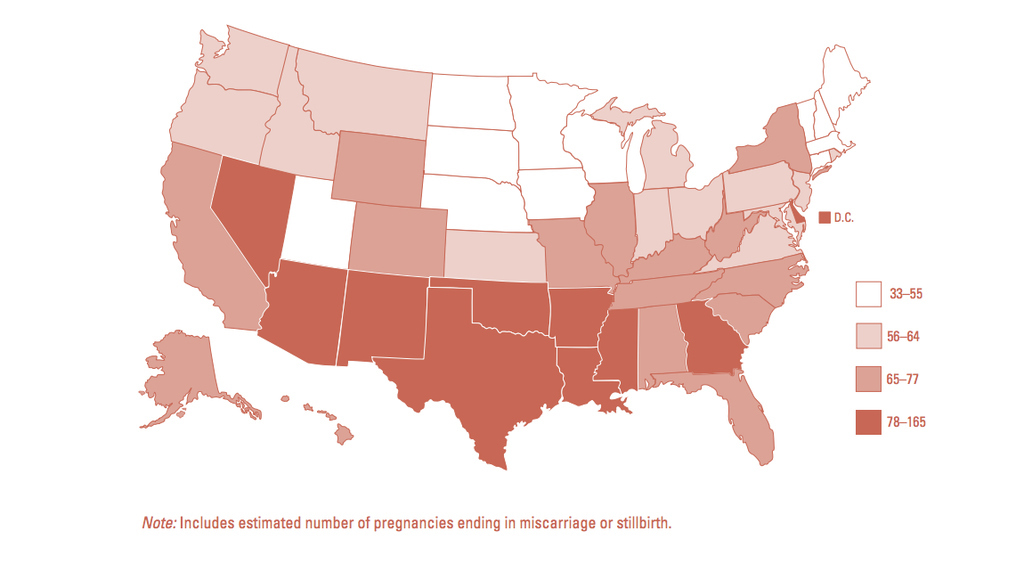 Teen pregnancy rates have been falling across the country since 1988, but a new report finds data that bucks this trend: sixteen states saw increases of 5% or more between 2005 and 2008.
The largest increases in the teen pregnancy rate were in Louisiana, Utah, and Pennsylvania, according to the report, which was released Monday by the reproductive health research organization The Guttmacher Institute. Louisiana's teen pregnancy rate was very low in 2005, possibly because of the effects of Hurricane Katrina, so its increase may have simply been a return to the norm. Guttmacher said they lacked specific research to speculate on what caused the increases in Pennsylvania and Utah.
The uptick between 2005 and 2008 may have been a fluctuation, rather than a long-term trend. Preliminary data on birth and abortion rates post-2008 suggests that teen pregnancy may be dropping again. However, the report notes that "even with long-term and ongoing declines, substantial disparities between states remain."
Guttmacher chalks up most of the post-1988 decline to more widespread contraceptive use, especially of long-acting forms of birth control like the IUD. But some states have been more active in promoting contraception than others. And those that saw increases in teen pregnancy rates between 2005 and 2008 tend to also be those that promote teen birth control less. A map of states that mandate contraceptive education as part of sex ed looks more or less like the reverse of the teen pregnancy map above. And nearly all the states that saw increases in teen pregnancy lack that mandate. So while teen pregnancy may still be declining overall, it's still fluctuating upward in some states — and lack of contraceptive education may be part of the reason.
States That Teach Contraceptive Use in Sex Education, 2013