Median Net Worth, By Race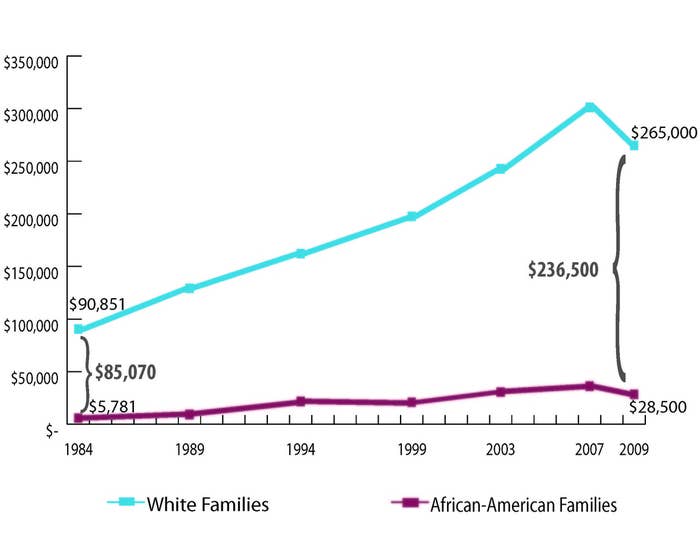 The wealth gap between white and black families has nearly tripled since 1984, according to a new report, and even increases in income don't necessarily help black families close it.
For the report [PDF], released Wednesday by the Institute on Assets and Social Policy at Brandeis, researchers Thomas Shapiro, Tatjana Meschede, and Sam Osoro followed almost 1,700 families between 1984 and 2009. During that time, the gap in wealth — measured by all the assets a family owns, including a home, minus any debts — between white and black families grew from $85,000 to $236,500. The median wealth of the white families in the study now stands at $265,000, nearly ten times the wealth of the black families.
The main culprit, according to the report, is homeownership. White families are much more likely than black ones to get help with a down payment from other family members, meaning they're able to buy homes earlier than black families and also get better lending terms. And even when black families do buy, they may see their homes appreciate less, because property values tend to be artificially low in predominantly non-white neighborhoods. They also faced higher risks of foreclosure during the financial crisis than whites, because people of color were more likely than whites in the same income bracket to get high-risk loans.
Income inequality had an effect on the gap too, but income increases affected black and white families differently. A one-dollar rise in income led to an additional $5.19 in wealth for an average white family over the course of the study, but for the average black family it yielded only $0.69. White families are more likely to have a financial safety net provided by things like employer-sponsored health insurance, meaning extra money can go toward savings or investment — black families are more likely to have to spend it to cover emergencies. The authors point out that their findings reveal a very basic disparity: "Equal achievements, such as income gains, yield unequal wealth rewards for whites and African-Americans."