Justin Timberlake's Sales Are Nothing Compared To N Sync's
Back when N Sync's No Strings Attached came out, top albums sold twice as many copies in their first week as they do now.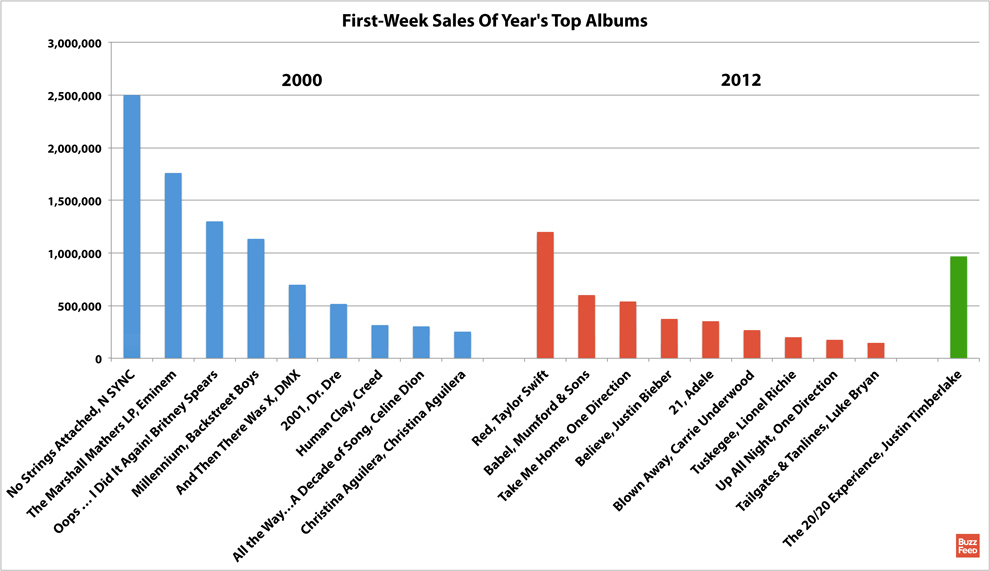 Justin Timberlake's first-week sales for The 20/20 Experience — 968,000 — are definitely impressive for today. But N Sync's 2000 blockbuster No Strings Attached beat that number handily, as did three other big albums from that year. Top-selling albums are selling about half as many copies as they did twelve years ago.
The top 9* albums of 2000 sold, on average, 975,339 in their first week; the top 9 of 2012 sold just 428,255. And big debuts were more common twelve years ago too — six of the top 9 from 2000 sold 500,000 or more in their first week, while only three from 2012 did the same. So while The 20/20 Experience is a big success, it's also yet another reminder that the record business isn't what it used to be.
*First-week data for 2000's No. 2 album, Santana's Supernatural, aren't readily available.