A Joke About "Three Wives" Re-Ignites Jewish, Muslim Tensions At California College
A student at the University of California, San Diego posed in a keffiyeh, infuriating Muslim classmates. Now the campus is reckoning with a bitter divide on Israel, a deleted article in the student newspaper, and a conservative Israeli politician coming to town. [Updated]
The photo went up Sunday night on a student's Facebook page: Ashton Cohen was posing, one of the women in the image wrote jokingly, with his "three wives," a campus paper reported.
And the photo and caption ignited the latest skirmish in the bitter proxy war over Israel and Palestine, Jews and Arabs, that has raged for years on campus at the University of California San Diego and its sister schools. It also offered a glimpse into the rawness of communal campus tensions, with Arab-American students calling it part of a pattern of racism, while the student in the picture called the outraged responses a ploy to "tarnish" him for his support of Israel.
"I was offended and disgusted that someone would think that was OK to wear to a party," Noor El-Annan, a member of the Arab Student Union and Students for Justice in Palestine, told the student newspaper.
Cohen "didn't even acknowledge that it might offend somebody — something that my grandmother might have worn was funny to him."
Muslims on Campus, complained Amal Dalmar, a co-chair of the Student Affirmative Action Committee, to the paper, "are not even seen as individuals, and it's [seen as] OK because they're not from here."
Cohen told BuzzFeed he never intended to offend anyone, and that he simply decided to wear an outfit he'd purchased on a recent trip to Dubai to a campus costume party, where the photo was taken. He also said that two of the women in the picture, including the one who initially posted the photo to Facebook, were Muslim, and that they were "mystified" when others found the image offensive.
Cohen says he received "harassing" messages and verbal attacks from El-Annan and others, including several Facebook messages calling him racist and implying that he should be impeached from his position as senator on UCSD's Associated Students council.
And he says all this is about more than just the photo: he says students with anti-Israel leanings have resented him ever since he spoke out against a resolution to divest UCSD of holdings in companies that do business with Israel. That resolution ultimately failed, and he thinks many students blame him. The photo, he says, was "a convenient way to tarnish me."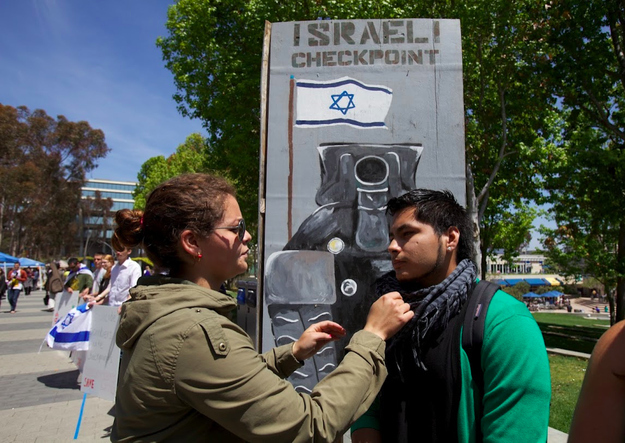 Debate between supporters of Israel and its critics has become increasingly bitter at UCSD over the past year. In April 2011, twenty-eight faculty members wrote an open letter, published as a paid ad in the UCSD Guardian, in which they argued that the "muted reaction" of Arab and Muslim groups to the Arab Spring uprisings showed that their on-campus activism was "driven less by positive impulses of fraternity toward fellow Arabs and Muslims than by hateful impulses to destroy the world's only sovereign Jewish nation." Thirty other professors then responded with an open letter of their own arguing that "such intemperate and inflammatory prose by a group of professors targeting three student groups identified by their Arab/Palestinian ethnicity and Muslim religion is unacceptable" and that the authors of the first letter were trying to bully students and stifle debate.
Then in February 2012, the Student Affirmative Action Committee accused professor Shlomo Dubnov, one of the signatories of the first letter, of harassing Noor El-Annan after the divestment vote. In an email to several UCSD administration officials titled "Students of Color Attacked on Wednesday 2/29," students from the affirmative action committee, Students for Justice in Palestine, and the Muslim Student Association claim that Dubnov followed El-Annan out of the divestment meeting "to verbally attack her and to tell her that her narrative about surviving bombings in Lebanon was 'cheap and ridiculous.'" The email also alleged that a university staff member had called students of color at the meeting "pieces of shit" and said she "would rather work at another university because of [us]."
Dubnov told BuzzFeed he'd never actually spoken to El-Annan, and that her accusations were part of "a new intimidation trend by pro-Palestinian groups that is meant to silence voices of anyone opposing demonization and delegitimization of Israel." He said he had in fact encouraged the university to investigate the incident so his name could be cleared — the UCSD Office of Prevention of Harassment and Discrimination did clear him of all charges.
Controversy continued into April, when Students for Justice in Palestine staged a mock "Israeli checkpoint" on campus, including some members dressed as Israeli soldiers. Cohen said of that event, "as a Jewish student I'm offended and disgusted that SJP students think it's OK to dress up as Israeli soldiers, physically and verbally harass students, and actively portray Israelis as aggressive and abusive."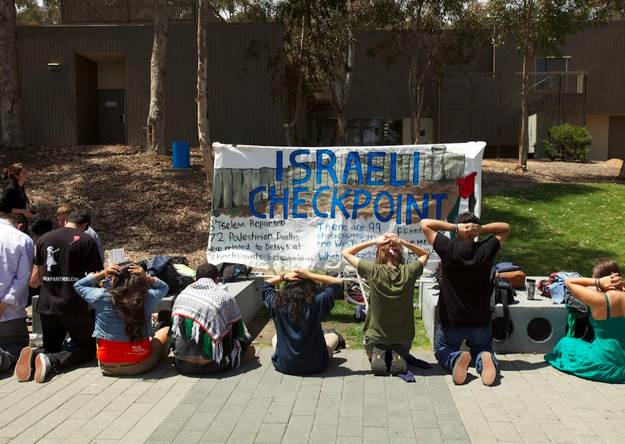 After the initial burst of outrage, El-Annan and campus Muslim groups didn't respond to an inquiry from BuzzFeed.
The Muslim Student Association did issue a statement on March 17 asking the UC system as a whole "to seek consultation on diversity initiatives with groups that fight for the civil liberties of Muslims, Arabs, and all marginalized communities (other than the Anti-Defamation League and the Museum of Tolerance) in order to create a safe campus climate for all students attending UCs."
The Guardian, meanwhile, has removed its original article from its main website. A staffer at the paper said it will explain its decision in an editorial Thursday.
Meanwhile, tensions around Israeli and Palestinian politics continue to plague the entire UC system. UC President Mark Yudof issued a letter to the whole UC community in March, condemning UC Davis students who allegedly accused Israeli soldiers who came to speak on campus of being linked to "rapists and murderers," as well as vandals who wrote "terrorists" across an Israeli flag at UC Riverside. The UCSD Muslim Student Association, for their part, said this letter showed "President Yudof has chosen to silence pro-Palestine activism at UC campuses."
Israel's hawkish Deputy Foreign Minister Danny Ayalon is scheduled to speak at UCSD Thursday. Pro-Israel group StandWithUs said in a press release about the Cohen photo that university officials are concerned about disruptions at the talk.
The UCSD Office of Communications and Public Affairs has yet to comment on the issue. But given Ayalon's appearance and the publication of the Guardian editorial on the Cohen incident, Thursday is bound to be a tense day on campus.
Update: Thursday's editorial by Guardian editor Angela Chen contains an apology for the initial article about the Cohen photo, saying it improperly politicized El-Annan's criticisms and also portrayed Cohen in an unfairly negative way. Cohen also has a guest editorial in the paper today, reiterating his position that criticisms of his costume were in fact "politically motivated."