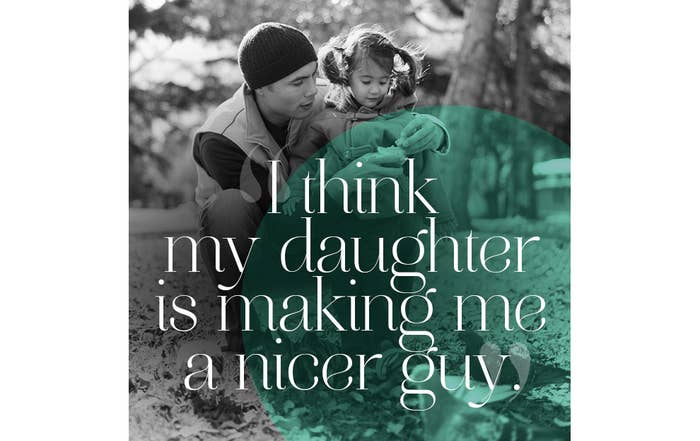 BuzzFeed asked dads, "What have you learned from your daughter?" Here's what they said:
Aamer Madhani, reporter, USA Today: I think my daughter is making me a nicer guy. I wasn't a terrible person pre-Leila, but I rarely made the effort to get to know my neighbors or co-workers beyond superficialities. My daughter is a happy kid. She smiles at strangers. She likes to dance in the park. She wants to know your doggy's name. I haven't become Mr. Congeniality, but as Leila's sidekick, I'm learning to get over myself.
Bill Burton, BuzzFeed editor Summer Burton's dad:
1) A list is a good way to organize ideas.
2) Three-thousand hits gets you in the Baseball Hall of Fame.
3) People who are most different from us can teach us the most.
4) Hate is bad and compassion is always the right answer.
5) The difference between a good mix CD and a mix CD is the difference between lightning and a lightning bug.
6) In the right circumstances, Prancer (1989) is the best movie.
7) If you want to have friends, be a friend.
8) Sometimes a word sounds better mispronounced (e.g., "eyebrown").
Mike Madden, Editor, Washington City Paper: My daughter is only 19 months old, so for most of her life the main thing we learned from her was that keeping babies alive and well isn't quite as complicated as the books make it sound. Now that she's older, wiser, and chattier, she reminds me every day not to take myself, or the world, too seriously, since she's almost always finding something to sing or laugh about. She's also taught me that cardboard boxes make better toys than the things that come in them, that toddlers can defeat most child-proofing devices if they're tenacious enough, that a person with a vocabulary of a few dozen words can still be astonishingly expressive, and that I don't need anywhere near as much sleep as I used to think I did. I'm looking forward to years and years of learning whatever she wants to teach me.
John Hall, Asst. Commonwealth's Attorney, City of Portsmouth, VA, and BuzzFeed reporter Ellie Hall's dad: I have learned from having a daughter that women (even when they are little ones) are loving, quirky, sometimes manipulative, but always thought-provoking. Male viewpoints frequently don't produce positive results during conflicts. My approach was to always let my daughter know that whatever happened, I loved her unconditionally and tried to offer her the best advice and structure I could.
Russell Hickey, attorney: As a parent, nothing teaches you more about yourself than your children. My son is very introspective, like myself. There are times I know what he is thinking before he does. I feel like I can relate to his every emotion. My daughter, on the other hand, is very outgoing and expressive. There is a great joy and energy that she brings to everyone's life. She is constantly teaching me how to get more out of life and enjoy every single day. I wish I could take her with me to work every day.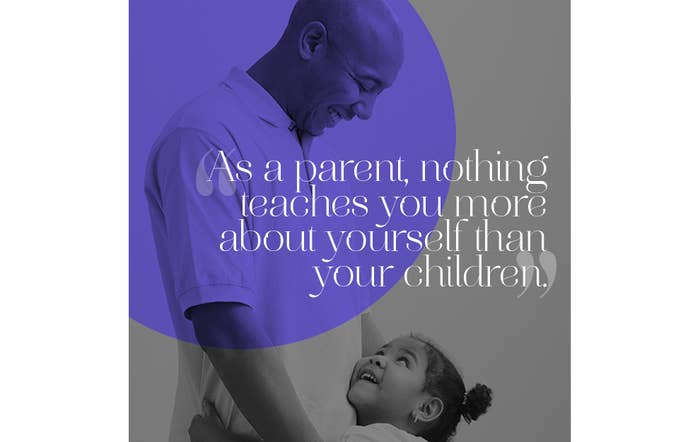 Mike Adamick, blogger at Cry It Out!: I'll always remember the time when my daughter and I were walking home from the park. It was nearly twilight. There was a gentle breeze. Leaves and sidewalk trash skittered about our feet.
"Dad," she said, "Dad? What do you … do?"
"As in work?"
"Uh huh."
"You're looking at it."
I've always felt it was important to let her know that my main job was, in essence, her. I had quit my paying gig as a reporter to stay home.
So our Take Your Daughter to Work Day looks pretty much like every other day. We hit the park on weekends or get ready for school together on weekdays. When I'm at work, typically, so is she. If she wants to grow up and become a stay-at-home parent like her dad, cool. If she wants to grow up and take over the business world like her mother, that's cool too. Families do what they can to support each other, and there's no right way to do it. I hope someday she finds a partner who feels the same.
McKay Coppins, BuzzFeed Politics editor: I've learned that it's a myth that babies smell good. Most of the time they smell like poop and vomit. But somehow when she's your baby, it doesn't really bother you.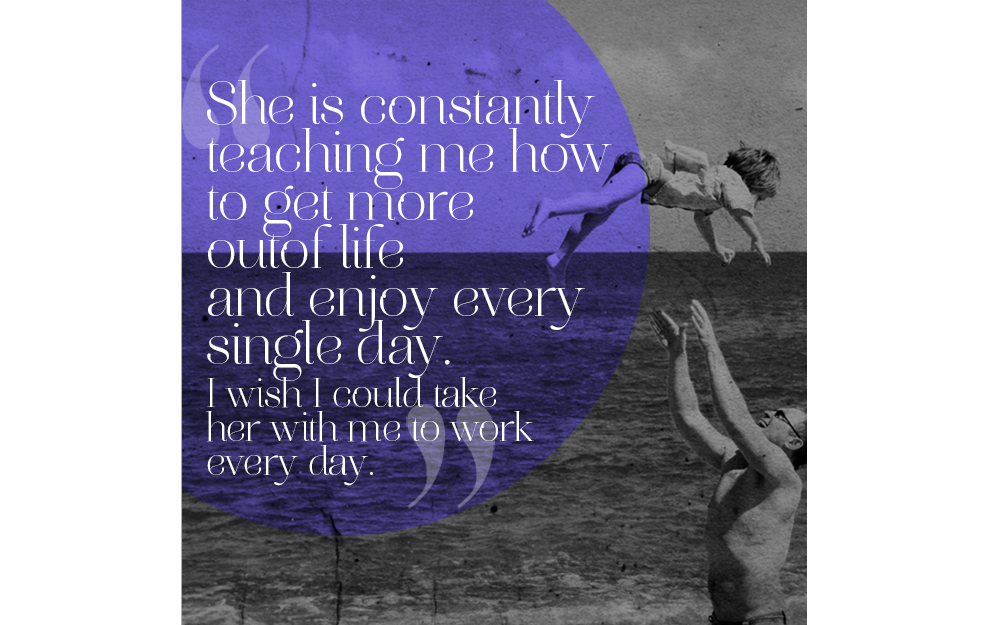 Douglas Brown, choir director: I have three daughters that I adopted from Peru in 2009. They have changed my world completely. I traveled to Peru with a little high school Spanish that I had brushed up on with computer programs and learning CDs. During my five weeks in country, these three amazing girls taught me their language. I try to imagine what it must have been like, meeting a new father who only understood a few dozen of my words at first, speaking in infinitives when he was too tired to conjugate, unable to remember that morado was purple and mojado was wet. Celedonia was 4 years old at the time. She left the responsibility of comprehension entirely up to me; she was a strong-willed preschooler, and she was going to say what she had to say regardless of whether I knew the words or not. Miriam, my middle daughter, was more patient. I met my oldest daughter Anita when she was nine. She was the most patient of all. She quickly figured out what words I knew and what words I didn't; she would communicate with me using the words she knew that I knew, taking all sorts of linguistically circuitous routes to express herself. They all worked to teach me new words, correcting my Spanish CD learning with preferred local words; jackets were not chaquetas but chompas, avocados were not aguacates but paltas. When we arrived back in the U.S., the tables turned, and they became the language learners. I remember being frustrated with the seeming senselessness of English. Thought, through, though... Who came up with our inane spellings and pronunciations? The children were sponges, and we were speaking our own brand of Spanglish after about six months. "When you come in the house, be sure to sacar your zapatos!" They held out with the beautiful Spanish word entonces for a few extra months before surrendering to our ordinary-sounding "then." I met with classroom teachers, listened to the wise advice of dedicated ESL teachers and reading specialists, and helped them with hundreds of hours of homework. I was no expert, but I knew a little bit about learning a new language in a strange new country.
We now live with a large, blended family. The girls are shy about their Spanish and laugh at my attempts to remember words. "Anita, what is the word for carrot?" Silence followed by snickering and eye rolling. The girls know that they will be taking Spanish in school as soon as they are old enough, and they occasionally opt for the Spanish option in a bilingual hymn in church. What I find to be most touching are the words that we just refuse to give up; my girls and their new siblings put binchas and carmines in their hair, and we make our guacamole from palta. The language of them has become the language of us.
David Raben, attorney: Her agenda [at Take Our Daughters and Sons to Work Day] ... sit behind the desk. Go to a great lunch place with food she liked. Show my co-workers who was the REAL boss!
What I learned ... by talking with her about what I do (criminal defense attorney), she demonstrated to me she really was interested in understanding how we have a tremendous impact on others by what we choose to do, if we do it with passion.
Mike Salzberg, BuzzFeed community moderator Lili Salzberg's dad: Only need one word! Everything!