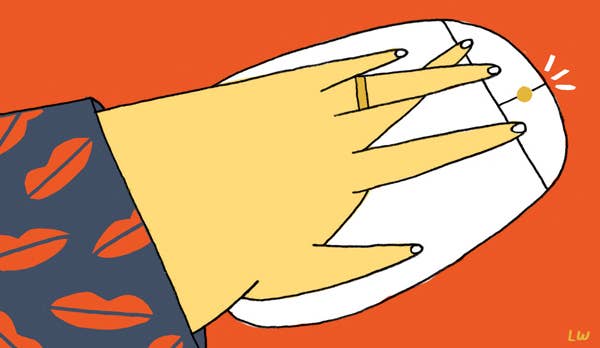 Ever since human beings came down from the trees and decided that two-person monogamous sexual relationships were a good foundation for society, people have stepped out on those two-person monogamous relationships. Cheating is an old sin, but it adapts well to new mediums. So it's no surprise that lots of people use online dating platforms to cheat. There are entire websites dedicated to helping cheaters find "discreet" partners (I won't name them here, but apparently www.MorallyBankruptHorribleHumanBeings.com was taken, so they went with a cheesy combination of two very 90s lady-names).
But not every scoundrel is willing to shell out the dough to use a website for cheaters. So they turn to OK Cupid, and unsuspecting users who are actually looking for real dates with available people are subjected to two-timing requests and entire profiles dedicated to philandering: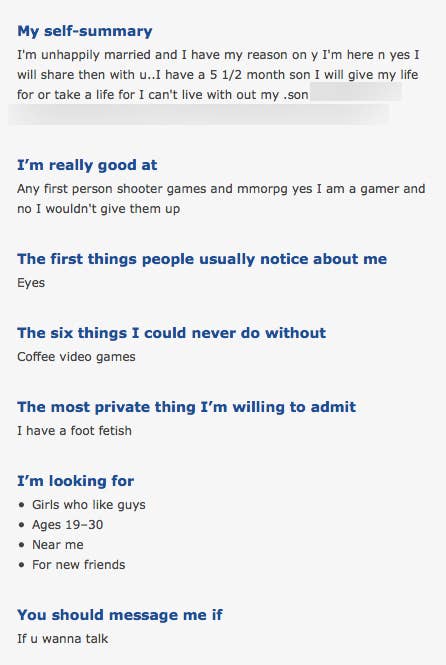 While I'm sympathetic to unhappy marriages, the remedy for that is divorce, which is now legal in all 50 states. Or, if you don't want to get a divorce, have a conversation about opening up the marriage. Do not create an OK Cupid profile -- with your actual face on it — in an attempt to stick it in someone who is not your wife.
But at least that guy isn't picky, unlike some other would-be cheaters:
His Message: Howdy. Yes I read your whole profile and am very interested in you. I like nerdy girls. I went through your questions you answered and did not find anything opposing what I am looking for other than you were married before. Would you mind being fwb with a married man?

Her Message: wait…you oppose that I was married before, but you want me to be a fwb while you're married??

His Message: I ment it as I did not see anything you wrote or answered that was against what I am looking for. Usually a divorced woman would be opposed to a cheating husband no matter what the circumstances are. Sorry for the misunderstanding, maybe I could have phrased it better.
Divorcees -- so particular in their disdain of cheating men!
Some cheaters are also troubled by the idea of their mistress "cheating" on them. Like this guy, who wants monogamy with his wife and with the 22-year-old he sent this message to:
5 10 160lbs (32" waist) athletic 45yo (eek!!). Clean, ddf and safe, (still married tho separate bedrooms 8 yrs now and an open marriage) courteous :o) non smoking, (though I don't care if you do) open minded, fun English guy (you'll love the accent) living in Corinth, just north of Lewisville and south of Denton, looking for a mature, longterm, exclusive friend I can spoil, exclusive and hopefully permanently
All the info you need to contact me is here.
Please get in touch if your interested in me despite my dysfunctional life, send a email here or hotmail and I will get in touch.add me on yahoo messenger as [REDACTED].
meet me - u might even like me! lol
I'd love to take you to lunch/dinner/coffee w/e you're more comfortable with. Sometimes older is better :o)
lets exchange some pics if ur interested and open minded enough and then maybe we can meet for coffee
kyle
Hope you had a Happy Humpday!
[phone number redacted] I will ALWAYS reply - if you dont receive one please resend as my cell was prolly powered off :o)
I'm sorry if my email freaks you out - but I simply want to be totally honest and up front from the get go
Open marriages are fine and dandy, but I have a feeling this guy is lying about his. Hotmail? Yahoo Messenger? Someone's wife knows to check his g-chat history.
And sorry, but if you're a married 45-year-old man using OK Cupid to find a bangable 20-something, you don't get to ask for a "mature, longterm, exclusive friend" who you can spoil "permanently" — in other words, she gives up her entire dating life in exchange for a sexual partner she can never fully trust who goes home to his wife every night, and maybe she also gets a few pieces of jewelry and some nice meals. Good deal.
Of course, it's not just men who cheat. Wives also use OK Cupid to find studs on the side. Like this married mother of two: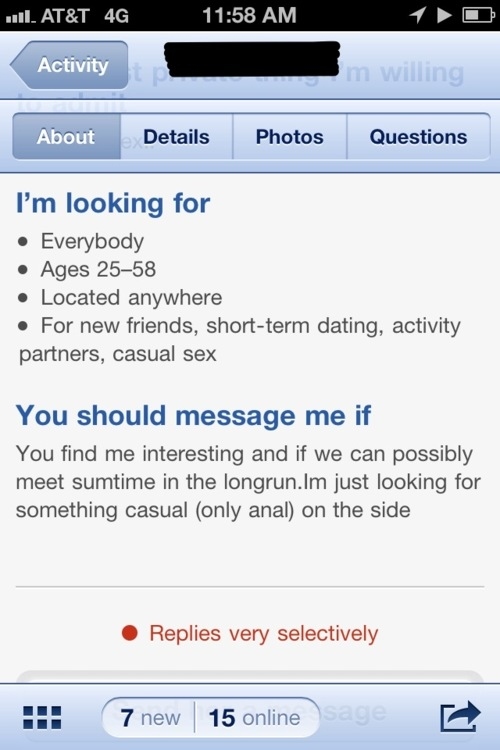 Hole 1 is apparently for husband only. Can't say she doesn't have standards.
___
If you've got your own online dating horror stories, drop them below, or submit them anonymously.
The A(n)nals of Online Dating is a weekly column about How We Date Now, from the proprietor of the website of the same name, showing the best of the worst internet dating has to offer.
Illustration by Leslie Wood