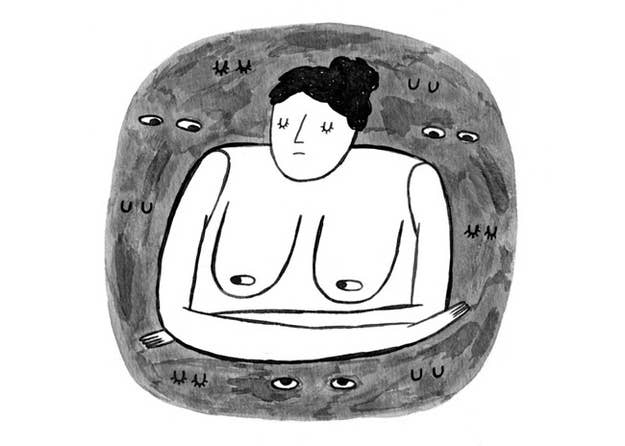 Boobs. Boys like 'em (and some girls like 'em too). It's not exactly a mystery that men like breasts, and that for some dudes, bigger is better. For others, anything with a nipple on it does the job. And with the average American woman now sporting a D cup (just a few decades ago it was a B), men who like a full rack have never had it better. There are women with large breasts everywhere and even though many people obviously find boobs sexually attractive, you'd think men who enjoy some bazongas would be sort of used to seeing and interacting with human beings with breasts attached to their chests.
From the looks of my inbox, that's not the case.
Men online are apparently so taken with a picture of a woman who appears to have boobs that they can't restrain themselves from commenting – usually creepily. Sometimes it's simple and to the point, like this message sent to a full-busted dater:
boobsgalore :)
And sometimes it's significantly more… complex:
hey you what up your stunning wow. amazing jsut what im looking for for my gf….no lie..lol your face eyes lips hair smile and that perky tight perky body to match.damn..haha im a super sweet guy told im funny and caring big heart..never lie or cheat hate drama and jelousness too..and im very dierct honest and foawrd..told im have a dirty mind and i like some kinky thiings too hun..no worries ok…so can we talk see how i tgoes or text 402 XXX XXXX you wont regert it and your heartbreaking tight perky tight body and face i sooooo wnat to see daily ok???????? i am need of love right now too igrl sooooo give me the chance to prove it to you ok caht soonb as you get this yoru truley the most beatifual girl ive seen and slender tight perky toned is sooooo what i love n my gf so talk??? and talk soon girl ok so cant wait your beatifual..and tight perkry body too and i love younger girls too mre open and fun so????????????? talk or text
best eyes too bset body and i love dirrty sex 2 no wories i love kinky sex 2 love glassses to so much and tight pekry firm body too and best tits …no lie so?? and bo girls are so much mre fun.so have somefun
I can't totally parse what all of this means, but I gather she has a "tight perky tight body" and a tight perky tight… face? And the best tits on the internet.
Other boob aficionados are less discerning, sending out what is clearly a form letter to multiple recipients:
Wow…. I love the photos, you look amazing. I'm just gonna give you some honestly, hopefully I don't ramble too much. Im currently in Korea teaching English, but I'm looking for a woman at home to chat with occasionally, and play some games with. I am very attracted to women older than myself, especially larger breasted women. I was always an ass man at home, but recently have become obsessed with the breast. Hopefully you are bored from time to time and could get some simple pleasure out of exchanging messages.
Breaking women down into a series of parts like slaughter cows is definitely a good way to get the panties wet.
That guy isn't the only one who is "obsessed with the breast." Other men online like titties so much they deem it a fetish:

Hi there,

You seem like a good person and know what you want. This site is crazy. Interacting with people on here can be draining.

I will be honest with you, yes I have a boob fetish, high sex drive, and I am very outgoing ,but there is more to me. From my perspective point of view I mean well, have a soft caring heart, and am lonely not needy. I am proud of my accomplishments, who am as a person and my path forward in life. I am not here just to chase some tail and see how many woman I can juggle and bang.

I am here to share me with someone special. I work hard love my job but it is high pressure. I want to come home to an affectionate angel who puts her fingers through my hair, rubs my back and damn it a good BJ once in a while. I am working to make your life better, to spoil you, to love you and share a life with you. Let's do something different. I am a man not a boy.

What are your thoughts?
You're a man who likes sex and boobs and wants to find someone who will rub your back and blow you? Truly original.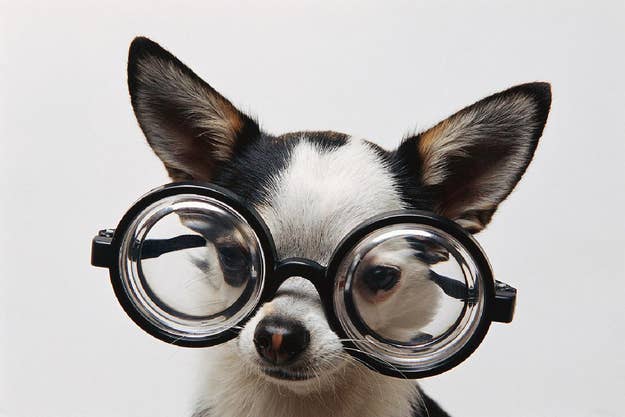 And then there are the breast "addicts," like Mike here:
Hi my name is Mike, Im looking for someone to have ongoing intimate incounters with. Im big into kissing and cuddling. could spend an entire night just cuddling on a couch on a cold night wrapped in eachother's arms. Uncurable breast addict. could spend hours just sucking and squeezing a nipple. Would love to get together with you for a coffee sometime and see if we can hit it of.
Just an entire night spend under a blanket with me squeezing your left nipple for hours. Just squeezing and squeezing and squeezing. Call me.
But when it comes to breast-related mental problems, Mike is nothing compared to this next online dater, whose bizarre boob-related note actually got a response:

Him: Please lasso your gorgeous boobs in my direction something is wrong with me :'(
Her: I can only hope that you were exceptionally wasted when you wrote this…
Him: One can only hope… I was not… :( it's a mixture of serious problem and mental illness and child abuse. The only thing that quenches this is making ridiculous comments on the internet :'( Please beat me profusely
Yikes. Run away, girl, run away!
Like any addiction, exposure to breasts only makes the breast-addict want more. For example, this gentleman who claims to sell lingerie to suburban women who enjoy buying really crappy lingerie:
hey sexy, you single? men around blind or dumb? you so hot, sexy, curvy, sorry cant help but notice curves, I work for Victoria secrets
Sure you do. In between your busy schedule harassing busty broads on Ok Cupid:

him: u single?
him: men around blind or dumb
him: u so hot syx curvy
him: sorry cnat help but notice curves, I work for victoira secrets
her: ha! I'm far from Victoria's Secret material, but thanks
him: i cn u think fit into sxy stuff form victorias
him: i am sure
him: u use jc pennys, or wall mart lol
him: hw long u been single nw?
her: Nordstrom usually
him: umm what size u use?
him: if I may ask
him: bra/pantie? size, style?
her: why do you ask?
him: i am a lingerie salemsn with victoria secrets
him: as a matter of fact working there i kinda became lingerie fetish so curious abt urs
her: I'm worried that Victoria's Secret would hire someone who can't type well.
him: yeah i am a master of typos, lol
him: but at work we have templates so we dont have to bother about typing that much
him: lol
him: we only edit some numbers there
her: OK
him: brb
him: so whats u r siuze
him: style
him: ???
him: u here nw?
him: got pantie/bra on nw?
her: ewww. you're creepy
him:???
him: u dint tell me u r size
This isn't even a breast fetish; it's a "lying to women on the internet about being a Victoria's Secret salesman" fetish. A tip for our friend here: Make it Agent Provocateur and you'll get significantly better results.
___
The A(n)nals of Online Dating is a weekly column about How We Date Now, from the proprietor of the website of the same name, showing off the best of the worst internet dating has to offer.
Illustration by Leslie Wood