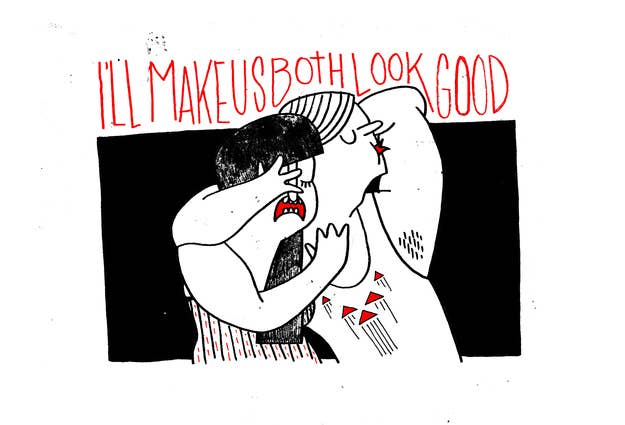 If you flip through the pages of Playboy, you'd think that most men prefer extra-thin "models" with with fake lips, fake tans, fake hair, and (extra-large) fake breasts. In truth, American women come in all sizes, and there are lots of dudes who like bigger broads. Considering that the vast majority of women are not skinny and the vast majority of women also get laid sometimes, I think it's safe to say that many men are more than happy to get a woman of size in the buck. Unfortunately, some of those dudes don't just enjoy a fuller figure — they fetishize it. Or, confused by their boner, they insult the more curvaceous among us. And lots of those dudes are online and take their issues to Internet dating sites.
Case in point, this lover of BBW on OkCupid:

He's even got the inches down! Impressive. And creepy.
I like that he's upfront about his hard-on for big butts, though. This next lady manages to avoid the kind of jerk who thinks he can give her a good old pickup artist–style neg:
I like your profile. Really outspoken. That's not easy to find in people. As for your cursing.. well I cure way to much so that is cool too. I don't smoke regularly, but with that hello kitty bong and elephant pipe.. yeah I think I'd smoke with ya lol. now to your pics… i like how you said "this is how i look like when i wake up except when i wake up in your bed"… i thought.. "no, if you woke up in my bed, you wouldn't be dressed" hahah.. but you have a cute smile and for a "curvy" girl.. you do look really good…
"You're pretty for a curvy girl" is not, in fact, meant as a compliment. And a fat ass does not translate into a flabby brain; she is probably not dumb enough to believe that was meant nicely. And despite the efforts of dudes like this, a fat ass also does not always translate into low enough self-esteem to bang a guy who insults you in his first message.
Then there are the dudes who simply want to insult you. Unclear on what the end game is here — you begging them to find you attractive enough to bed? — but it's especially rich when it comes from men who aren't particularly svelte themselves, like this online dater:
Homeboy is definitely rocking an XXL T-shirt, so I don't think he gets to criticize someone else for failing to "loose" some pounds.
I've said before that I think it's generally a bad idea to comment on the physical appearance of someone you're messaging on an Internet dating site. It's definitely a bad idea to insult them. And it's also a bad idea to imply that it's not their looks (or yours) that matter:
Sorry, Charlie, but looks do matter. It's just that not everyone thinks "chunk chunks" are unattractive. Although calling yourself or anyone else "chunk chunk" isn't particularly appealing.
Also not appealing? Lecturing someone else on their body, like this guy: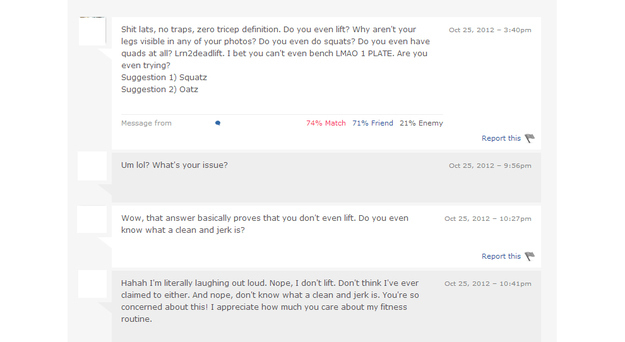 I'm glad he's so concerned about her fitness and her muscle definition, but perhaps dude should pick up chicks at the gym instead of online. For their sake, I hope those girls know a jerk when they see one.
___
The A(n)nals of Online Dating is a weekly column about How We Date Now, from the proprietor of the website of the same name, showing off the best of the worst internet dating has to offer.
Illustration by Cara Vandermey