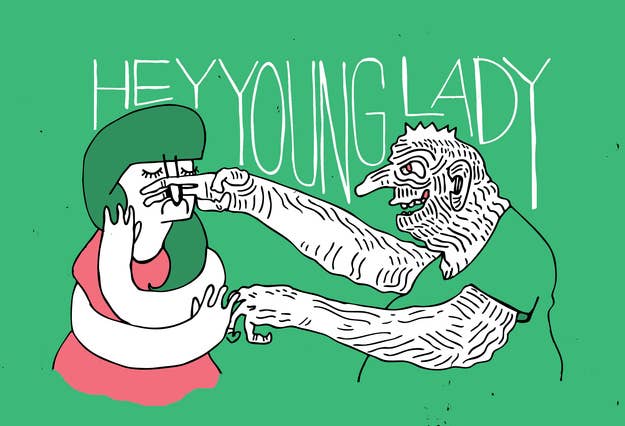 One thing all young women know: Dirty old men are everywhere. They show up to bars and clubs accosting ladies dozens of years their junior. They hit on subordinates at work. The problem with older guys who are in fact dirty old men is that they rarely realize they're dirty old men — even as they act creepy and inappropriately toward younger women, they think they're simply attractive older gentlemen who are just frowned upon by "society."
There's a difference, though. When older men make a concerted and repeated effort to go after substantially younger women and emphasize that their attraction is primarily age-related, that's gross — because the draw isn't the woman's interests or her intelligence, it's her youth. And for those creepy old dudes, the attraction to young women stems from perceived vulnerability and lack of power. (Of course, not all May-December romances, nor all older guys, are creepy! There are plenty of couples whose generational differences don't come with power imbalances or perviness.)
But take this guy here, who sent this message to a woman young enough to be his daughter: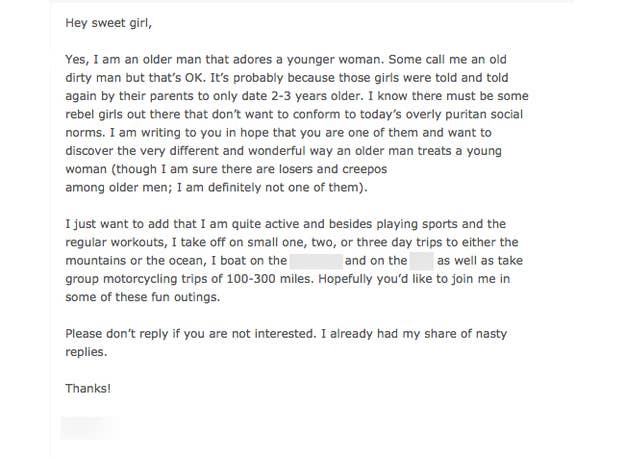 No, girls say nasty things to you because they were raised by their parents to abide by overly-Puritanical norms. It's because you start your creepy messages with salutations like "Hey sweet girl."
The "sweet girl" thing, by the way, is a creepy internet man standard. Like this 44 –year-old trying to chat up a 22-year-old on OkCupid:

Him: Sweet young girl… Love the innocent look!
Her: well that's creepy.
Him: But still fine!!
Him: Think younger girls are just so sweet….
Her: yeah that's unacceptably creepy. i am going to block you now.
This woman told this man he was creeping her out, and his response was to say "that's fine!" and keep creeping. It's impressive, in its way. And so is this next guy, who also sent this message to a woman who is technically a teenager:
I'm a 37-year-old man looking for a younger submissive woman. If letting me tie you up and cum on your face and tits sounds good, let me know.
At least this next DOM added some financial incentives:

Do you needs some help with bills, tuition, or just want some extra spending ability? Are you also looking for someone that will show you the kind of initimacy, romance, and respect that you deserve? I am looking for a discrete LTR with the right woman. This would be a mutually benefical relationship in many ways. You should have a friendly personality, good sense of humor, and like to have fun . Discretion would be insured and expected! I would help cover expenses, spending money, nice gifts, etc… Would prefer some petite, but all will be considered - friendliness an chemistry are the most important. You MUST be D&D free and VERY discrete. Any race. Prefer a non-smoker, or at least someone who can hide it very well.

I am a 43 year old white professional male, 6' 180 lbs, attractive, muscular/athletic build, D&D free, and always a gentleman. I am sane, safe, good sense of humor and like to have fun. I LOVE to give oral and am EXCELLENT at it. You will never be asked to do anything that makes you uncomfortable.
Why not spend some fun, satisfying time with an attractive man who wants to treat you like a queen? Please send a recent photo and something about yourself. Please use the work REAL in the title line so I know you are not a bot/scam - no Pros PLEASE.
"I'm looking to pay someone for sex, but no prostitutes, please." Ok dude, sure.
Older perverts also enjoy telling young women how awesome at sex they are and in what great shape they're in, I suppose to separate themselves out from all the other old perverts who are bad at sex and are also fat. Like this 49-year-old guy here:
Can I court you? I have most of my teeth and can do 2 pushups……..Barry
Very little upper body strength and most of his teeth? Court me, Barry. Or make a friend your own age in this next online messenger:
I'm really 30 years old, just currently hanging out in this 54 year old body until I either replace the batteries in my time machine or order some of those "age reversal" pills over the internet.
Ah yes, the 54-year-old due who thinks he's 30. Adorable. Clearly totally dateable.
Then there's this guy, who is also scouring the internet for a magic Get Younger cure:

Sixteen years outside of someone's age range is not "a wee bit," but I suppose when you've voted in 10 consecutive presidential elections, 16 years isn't all that long.
What always is inappropriate? Professors hitting on their students. This guy includes both in his creepy missive:

And you seem like the immature type who can't deal with women his own age.
___
The A(n)nals of Online Dating is a weekly column about How We Date Now, from the proprietor of the website of the same name, showing off the best of the worst internet dating has to offer.
Illustration by Cara Vandermey