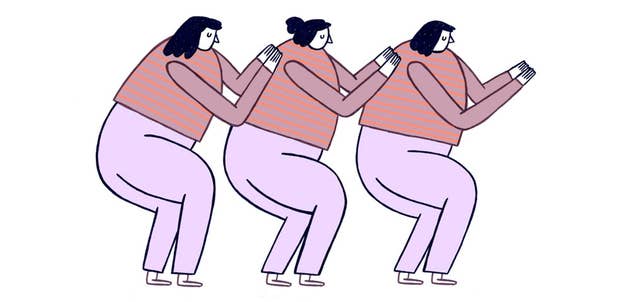 We all have our sexual preferences, and as far as sex goes, a little anal play isn't too far out of the mainstream. Nearly 40 percent of heterosexual American adults have tried it at some point; for a lot of couples, it's a standard item on the sexual menu. But more than half of folks haven't given it a chance, and it still remains fairly taboo. And despite the Christian high school belief that one can be a virgin in the front and a martyr in the back, anal sex is definitely sex. Which is why you probably shouldn't bring it up in an online dating message.
Explicit sexual messages are always a bad idea. But explicit anal messages are particularly bad. Letting someone put their thing in your butt is a delicate situation. It requires communication and common sense and the ability to read physical cues. People who send messages to strangers asking to stick it in the rear? They tend to lack those things. Like this German OkCupid dater, who was reported to the moderators: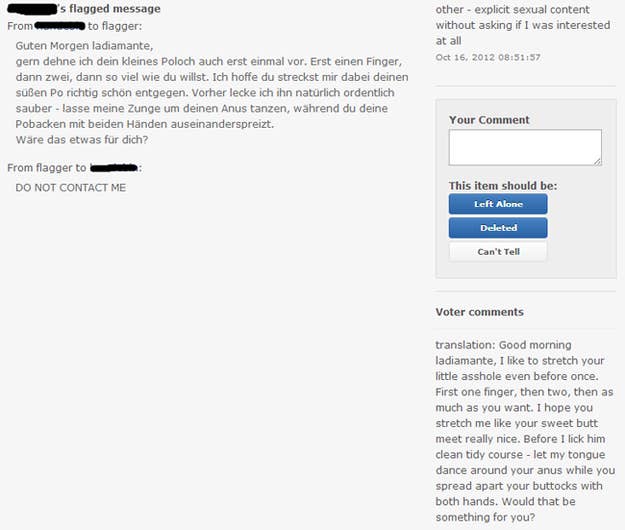 At least he knows what he wants, even if it's detailed and an entirely creepy thing to send to a woman he doesn't know. I can't tell if this next gentleman wants a similar thing, or if he's just genuinely curious:
How many girls like the ass hole to be licked?
Scientific answer: Some.
And how many guys like to lick the asshole? Apparently quite a few, if my inbox is any indication. Next up, again with a question:

There is nothing wrong with licking anus. There is something wrong with calling it an "anus" if you're trying to be sexy. That said, "anus" is miles better than anything that indicates the less pleasant aspects of butt play, which is where this next internet paramour went wrong in this message to a lady:
can I tinker with your stinker?"
Good rhyme, but points off for calling it a "stinker." And for soliciting anal sex from a stranger on the internet.
As you can see, the anal sex aficionados on internet dating sites at least have brevity going for them (not sure what Freud would say about that). One major exception: This next guy, who by his own admission writes a 600-word form letter detailing all of the orifices he would like to penetrate. The orifices of… well, whoever. Form letter. It'll be so intimate and amazing, he promises:
This is obviously a bit of a form letter, but honestly describes exactly what I'd like to find right now or soon or pretty much anytime, and you seem like the rare person who might enjoy such an impulsive, hedonistic, abandoned adventure. I'm having an intense craving for the smell and taste of a woman right now…if nothing else would you let me come over and go down on you until you drift exhausted off to sleep of the endless oneness/bliss, a samadi-like run-together explosions of the petite mort of losing the self climax… Why not take a chance on pure pleasure. Now. Or whenever this idea comes back to haunt you with desire and curiosity…

I'll try just in case, all out brazen since you come across as one of the most full-on sensually embodied and liberated creature I've stumbled upon on OKC. And you're nearby. And I think we should perhaps rendezvous for some bonding in raucous, acrobatic, no holds barred, scream from the rooftops, tantric-energy-jolted, experimental and vanilla, upside-down backwards and straight up fornication, sexal abandon, caresses, rubdowns, massages, domination, submission, consolation, all-and-every-orifice penetrations, tie-downs, whippings, showdowns, dramas, flow-states, mergings, empathic connections, and perhaps even lovemaking…

To be fully straightforward…am leaving nyc in a few weeks to focus on meditation training and volunteer work full time… But feeling really frisky and would love to find an early summer playmate who loves every aspect of intimacy, sharing, and sensuality…ready to dive straight into a connection that's sufficiently intense in exploration on every level (mental/physical/emotional/spiritual) to make it worthwhile, but also non-attached given the practicalities…

So…while maybe this is just a spin on typical male NSA callousness, would you be up for an intense diving into sensual immersion and even fusion that's time limited…?

…my ideal scenario would be if you invited me over to tell me all about yourself while I go down on you silently for at least the first hour, squeezing your juices and writhes and moans out as you interrupt yourself over and over by coming in explosions all over my face and down my throat and in the process becoming more and more open and undefended and baring any and every fear and craving and secret and question and soaking up my attentiveness and responsiveness and responses (as I come up for air now and then to give you a break before bringing you back to crescendo)…and then swaping and hearing me as you take me into your every orifice and I bare my soul and body and secrets and mind and empty everything in orgasm all over and in you…

…and then, naked and vulnerable, entering one another mutually in every sense…sharing, melding, feeling, penetrating, tasting, smelling, listening, perceiving…

…without any expectation or entanglement…fully immersed in a moment of uncertain length but total abandon and freedom to share and demand and feel and release…perhaps to part ways, or could be to meet again, or join paths if it really clicks…

…would you consider taking a leap that's maybe a bit uncomfortable and scary, but potentially equally exhilarating?…tell me your address and when to arrive…and meet me at the threshold silently, leading me to your bed and spreading your legs and pulling my nose and mouth to caress and explore and pleasure you with patience and insistence…?

Could be right now…or anytime you feel a tingle and want to be adored and ravaged in an extended moment of complete suurender to desire and fascination and pleasure and melding…

Let's play?
I don't even know what half of those things are, but I do know that jabbering on and on about my life and my fears and my secrets while you go down on me for an hour and then penetrate my every orifice does not sound fun. Also, ears are orifices, and I'm not sure how we're going to work that one out. Don't make promises you can't keep, not even in incredibly lengthy creepy hippie-sex fantasy missives.
___
The A(n)nals of Online Dating is a weekly column about How We Date Now, from the proprietor of the website of the same name, showing off the best of the worst internet dating has to offer.
Illustration by Leslie Wood