Romancing With Self-Righteousness On OkCupid
When you're dating online, sell your best features, don't write a sanctimonious screed.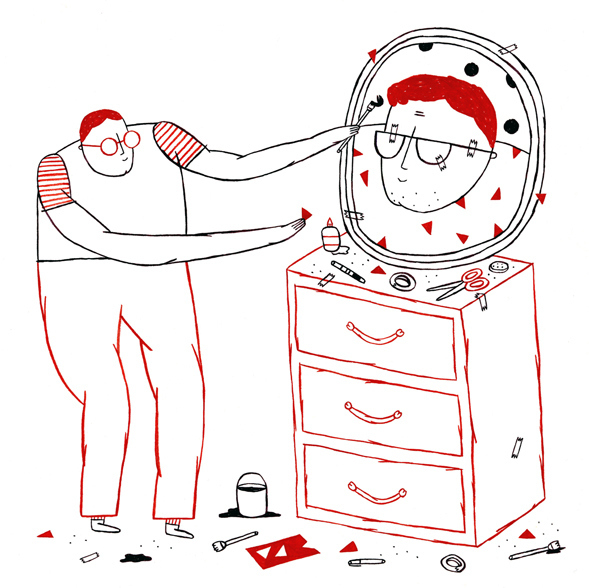 Online dating is about advertising yourself. What are your best qualities? Your most charming quirks? What do you like to do, eat, watch and listen to? What are you looking for in a partner?
Unfortunately, in the process of writing up a flattering self-summary, a lot of online daters cross over from "a rose-tinted view of oneself" and into "full-on ego blast." And the worst of those are the sanctimonious people who go on self-righteous rants about how they're awesome and 100 percent correct in their views, and you're awful and judgmental in comparison. Take, for example, Ms. Super Vegetarian: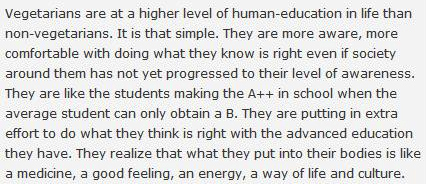 Or maybe I'm just mad because I am a heart-crushingly weak lover of bacon.
Sanctimony isn't just for the lefties though. Conservatives also have it in spades:

My religion and political beliefs are very important to me, but if your religion and political beliefs are very important to you in ways that make us fundamentally incompatible, then you are pathetic and a zealot. Sounds about right.
He isn't the only crazy Libertarian looking for love and getting all self-righteous about the fact that shallow women sometimes reject him for his profoundly misogynist views. They're probably all brainwashed feminists:

My self-summary
For the most part I'm quiet and reserved and outspoken when I feel that its necessary. I'm a fun loving, hard working, free-spirited type who is seeking the same. I work 3 jobs while working on my Master's in Secondary Education. I'm also a devout musician. I play keys in a rock band that doesn't have anything recorded yet and I have my own solo recording project which you can hear on spotify (just ask).

On my free time, I enjoy seeing live music, watching a movie on netflix, playing cards, rollerblading, getting outdoors, catching a Bruins or Sox game, going out for drinks and spending time with friends and family.

I'm a non-religious Christian and a libertarian. I'm all for free-market capitalism, marijuana legalization and gun rights. I'm against things like communism, totalitarianism, authoritarianism and feminism. I have respect for women (the ones that deserve it), but not for feminists. Unfortunately most women in America today have been conditioned by feminism to some degree or another (even those who don't consider themselves feminists). Its just a matter of recognizing it, exposing it and putting an end to it. It is perfectly understandable that women want equal rights, but the feminist movement itself and the agenda needs to be exposed. Feminism is anti-American and New World Order propaganda that has made its way into our schools, colleges, pop-culture, etc.
Watch these videos to understand why feminism is so dangerous:
http://www.youtube.com/watch?v=zCpjmvaIgNA
http://www.youtube.com/watch?v=yomF9F-GBJQ
http://www.youtube.com/watch?v=Nocb9sWPe9Y

I spend a lot of time thinking about:
Writing songs in my head while working, what I'm going to do when I get out of work, and the fact that Margaret Sanger is a racist.
I've always found it suspicious that in my parents and grandparents days, dating and relationships are much simpler. You just found someone one and worked it out, but today there seems to be more single men and women today than there ever have been before. The media portraying men as stupid and creepy, and both women and men acting totally confused and pathetic. Men remain single for years and think its because they don't have any "game" and women running around in circles chasing something that doesn't exist and seeking attention just for the sake attention. You have men running around acting like total dopes and women acting like all men are creepy pigs. I think there is a hidden agenda behind the fact that there are more single men and women today and that the family doesn't matter anymore. Its incredibly evil and I think it has a lot to do with the Sexual Revolution and possibly the New World Order.

You should message me if Message Me If:
-You're fun loving, free spirited and open minded.
-You have some things in common with me.

Don't Message Me If:
-You're a feminist
-You're an ultra-left liberal.
-You're an ultra-right conservative
-You're confused
-You believe in man-made global warming
-You watch a lot of TV
-You've had sex with more than 10 guys in the past year.
(Oh crap, I think I may have excluded about 99% of the women in Western Mass).
You know when someone starts ranting about the New World Order you're definitely dealing with a totally sane and reasonable human being. Maybe go to a 9/11 Truther meeting together! Could be a fun date.
He should meet this next guy, who is confident that the women who don't message him back will get theirs in the end:
Cannot imagine why he's had trouble finding someone who loves him.
Lastly, we have Mr. Perfect. Mr. Perfect is perfect, and he is more than happy to tell you just how perfect he is. So perfect that you will stay home and raise the children while he saves the world and generally acts perfect, and also instructs you on how to best raise and feed your offspring: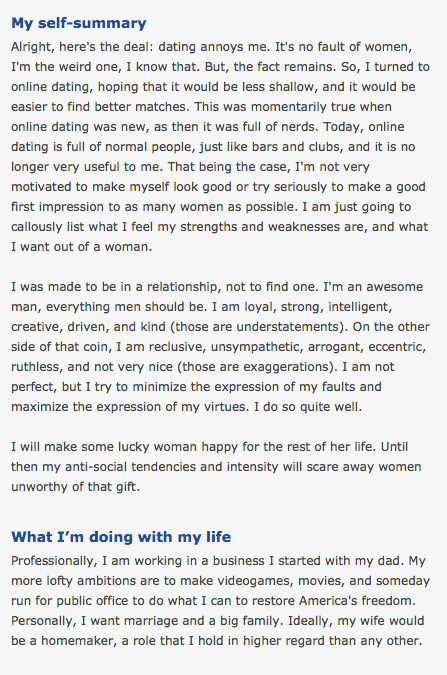 Too bad this guy and the PETA queen from up top aren't in the same city.
___
If you've got your own online dating horror stories, drop them below, or submit them anonymously.
The A(n)nals of Online Dating is a weekly column about How We Date Now, from the proprietor of the website of the same name, showing the best of the worst internet dating has to offer.
Illustration by Leslie Wood