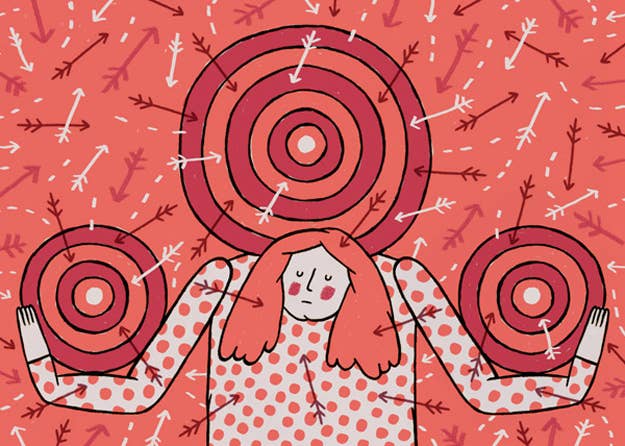 Poor redheads. Frat boys mock them. Step-parents beat them. M.I.A. systematically assassinates them. In medieval times, they were believed to be sexually depraved moral degenerates.
And now, online creepers target them for their fiery locks.
There are a lot of people out there who like a nice carrot top — myself included. But if you're online dating and you message someone, you both know that the message-sender finds the message recipient's photos attractive. It's not really necessary to throw in a line about how the recipient has nice tits or beautiful eyes; instead, focus on what component of their written profile was alluring. If you like red hair, wonderful. But you both know she has red hair, so maybe remark on her love of puzzles or her excellent taste in music. "I have a boner for redheads even though we have absolutely nothing else in common and also you're gay" doesn't really cut it:
We don't match accordding to this site, but I like lesbians too, dig really red hair, have always had a passion for biking. I am deffinately rating you at a 4.8 if they had. Th spot so 5 it is!! Your pretty kool to read about, and I hope to hear from you!
She's a redheaded lesbian. You watch a lot of porn involving redheaded lesbians! Clearly a match made in heaven.
When they're not trying to pick up women who bang women, the men with a taste for ginger tend to make it very clear that they, well, are more than happy to taste the ginger:
You're a fucken mess, aren't you? I'd be happy to get you drunk in an alley way and bury my face in your fire bush, among other things.
Cool. We can meet in an abandoned alley where no one can hear me scream, you can incapacitate me with alcohol, and then you can go down on me, "among other things." Sounds like a fun date. I don't see what could possibly go wrong.
And he's not the only one who sounds like he should be an extra on Law & Order: SVU. "Let's hang out in an alley" guy should probably join forces with this next copper-coif enthusiast:
U-Hauls in various sizes to cart away bodies, huh? Handy when dating for sure. Especially if you like redheads because you want to scalp them:
heyy :) I was wondering would you donate me some of your hair when I get trans plant? :) because I lose my hair day by day and as far as I see your hair would be fit on my head :)
I would like to meet you up to drink some coffee or whatever comes while we are taking a walk on a beach or park with nice conversation
let me know if you are interested

Lonely Cowboy Serkan who pees against to the wind :-)))) on starry nights :)
It's an old story: You meet a nice guy online, you get some coffee, you go for a walk in the park, and next thing you know you wake up in a bathtub full of ice and all your hair is gone. Right?
But not everyone wants to turn redheads into crime victims. This gentleman just wants to cuddle:
i cant believe your ex let you go!!!! your soooooooooo beautiful in your pic
did you finish all your christmas shopping on black friday it was crazy out there did you hear about that shooting at the walmart in cali lmao anyway
are you still single on here , i would love to get to know you since your page seems to be my type and your pics and hair is so nice but i dont know if you are into cuddling to movies/dvds more than clubbing since i hate clubbing and games
I also hate clubbing and games, but love movie nights and senseless acts of violence at Wal-Mart. Our redheaded babies will just be the cutest.
But don't despair, russet-headed readers: Tress fetishists target women with other hair colors, too. Like this message to a woman whose mane is a nice shade of blue:
So do the curtains match the drapes? You're about to think - stop it - just do what I want and message me back you will definitely regret that I'm gonna become the guy you hate to fuck but love to hate-fuck.
Since curtains and drapes are the same things, yes, they do match, and thank you for your inquiry. Is it too much to ask that internet louts brush up on their textiles before hitting "send" on rapey messages?
Unfortunately the woman who submitted this message didn't tell me whether or not she dyes everything to match, so I can't tell you if it's a full-body Smurf situation. But for the record, I hope she keeps it looking like a Tiffany box.
___
If you've got your own online dating horror stories, drop them below, or submit them anonymously.
The A(n)nals of Online Dating is a weekly column about How We Date Now, from the proprietor of the website of the same name, showing off the best of the worst internet dating has to offer.
Illustration by Leslie Wood