No I Don't Want To Be Your OkCupid Slave
OkCupid isn't a meeting space for 50 Shades Of Gray enthusiasts. But some people treat it like a one-stop slave-shop.

Blame it on internet porn. Blame it on 50 Shades of Gray. Blame it on people who haven't discovered Fet Life. But requests to enslave you / be enslaved are now ubiquitous in online dating messages.
Ain't nothing wrong with letting your freak flag fly, in the bedroom and out of it. And one nice thing about internet dating is that you can create a whole profile listing your out-of-the-ordinary interests, so that maybe you can connect with someone who shares them. Being into bondage or sexual role-play or feet isn't all that unusual, and the internet can be a good place to meet someone who shares your fetish – whether that's a basic whipped-cream bikini or strapping on a diaper and playing David Vitter. We all have our kinks and fantasies, and being sexually open-minded is basically a requirement for being a good dater.
The key, though, is recognizing boundaries. Just because you have a particular fetish doesn't mean you need to go around spraying your desire in every third woman's direction. Being accosted with messages from strangers about how they want to tie you down and stick their dicks down your throat is not actually sexy (even if you do enjoy a little bondage-and-a-blowjob every now and then). And just because suburban moms are reading lite erotica doesn't mean that every woman fantasizes about getting tied up and slapped on the ass. That's a bit of insight that "Master" here could have used in his message to one lady:
Master wants you to get in touch, do you sex after a good spanking??
Communicate, non-communication means a hard spanking: (XXX)XXX-XXXX;
be punctual or ….else!
OR ELSE… What? He might message you again? TAKE THAT.
He's far from the only dude on OK Cupid who likes to get a little slappy during sexytimes. This fine gentleman will also treat you like the naughty girl you are:
I spank women. If you appreciate a good spanking and you're tired of sleazy abusive morons who joke about passing gas.. If you enjoy giving slow wet loving ——jobs and can handle a nice mouthfull of ***- Then, you should write to me.
You mean to tell me that you're looking for a girl who likes getting her ass smacked and will also give awesome head? Get out.
And this guy just wants a little help: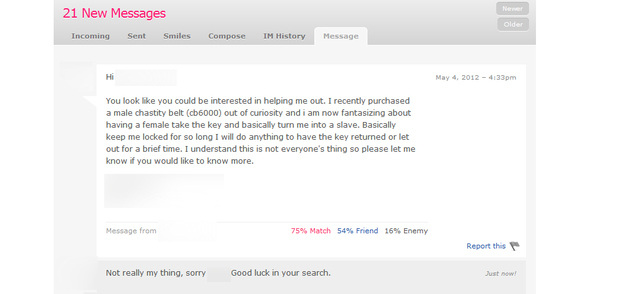 At least he's polite, though?
This next man could use a master who instructs him to spell out all of his words in his messages:
hey cutie would u like 2 have a slave that will do whatever u say whenever u say if so holler at me i would love to bow down 2 u and obey ur commands
Command 1: English class. Command 2: Don't send unsolicited messages like this.
English language skills aren't necessarily a blessing, though – you might get a nice long story about that particular man's fetish fantasy:
Tonight I had a date with a bottle of wine. She was surprisingly easy, letting go of her cork with just a little twist. She poured herself wherever I directed her. A submissive bottle of wine. Interesting. She tasted fine on my lips and made my head slightly warm.

I float now. I don't want to crash. This is unusual for me. Normally I play it straight, but I couldn't resist her charms. Her taste. Her blush.

Have you ever talked to a bottle of wine? You would think they had nothing much to say, but it's not true. They can ignite such passions and make you believe that fantasy is the way to go. And it is! Reality is overrated.

Which is better, connecting the dots to the picture so it is concrete and traceable, or closing your eyes and imagining what you want the picture to be. This is my date tonight. It's not perfect, but it is sensual and flexible and it makes me hope for that first warm kiss and embrace that I may one day find in the fantasy of someone else's arms. This is better than the typical boring conversations and emails on here that do nothing but create jaded automatons, yawning at those people playing it safe.

So why play it safe?
You sound pretty happy with your current inanimate "submissive." Perhaps the next step is a Real Doll, and then you can graduate to a flesh-and-blood woman. At the very least, I'm glad you just send long sensual messages about bottles of wine. It could have been about peeing.
___
If you've got your own online dating horror stories, drop them below, or submit them anonymously.
The A(n)nals of Online Dating is a weekly column about How We Date Now, from the proprietor of the website of the same name, showing the best of the worst internet dating has to offer.
Illustration by Leslie Wood