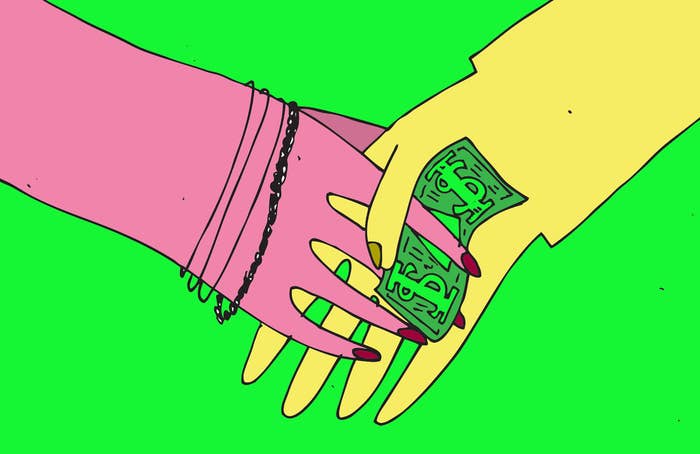 Thousands of potential dates are at your fingertips with online dating sites, all of them strangers — hopefully — and all of them looking for dates too. Which is exactly why people turn to online dating. But some dudes online seem to be under the impression that it's totally reasonable to offer a stranger on an Internet dating site cash money in exchange for some sexytime — but, newsflash, OkCupid is not Craigslist or the back of the Village Voice.
Sometimes it's a relatively straightforward prostitution request, like this guy on OkCupid:
Have you ever considered working as an escort, or would that be far too crazy for you?
He at least had the sense to the use the "escort" cover. Other tried-and-never-worked techniques? Offering to videotape it:

Or don't say what the money is for. Just imply it — that works to avoid police stings all the time, right?
Other men wouldn't want to hire a hooker, though, God no. They just want an… arrangement. An arrangement where they pay you for sex.
Hi,
you are adorable!
I am an upscale, kind, normal, intelligent (Harvard grad; MBA) gentleman seeking a discreet and wonderful "arrangement". I am 45, white, 6'2", 175lb. I work in the investment business for my own company.

Want to explore this together?

Take care!
In case the ideal "arrangement" wasn't clear, they'll just ask to be your sugar daddy, with all of the creepy incest connotations that come along with that like this guy:
Don't worry, girl, it's not prostitution if it's just a little hands-free lap dance for a few hundred bucks! And your OkCupid profile says you're looking for love. Well…who doesn't love money?
___
The A(n)nals of Online Dating is a weekly column about How We Date Now, from the proprietor of the website of the same name, showing off the best of the worst Internet dating has to offer.
Illustration by Cara Vandermey