Svetlana loved kinky sex. An ideal date night with her partner would involve her on the receiving end of some rough play: lots of slapping, some choking, rope bondage, maybe inviting a friend over so she could be double-teamed. Then, last year, she found out she was pregnant. It was great news; she and her husband had been trying for years. Her sex drive stayed relatively high during the pregnancy, and her kinks stayed the same, but her body rapidly changed. Her legs swelled, her breasts became more sensitive — sometimes unbearably so — and there was that matter of new life growing inside her. Rope bondage became uncomfortable on the best of days. Choking was out of the question. Svetlana, who had been engaging in BDSM activities since she was in her late teens, found herself having to reapproach her sex life.
For many people who want to become parents, pregnancy can feel euphoric; it can also feel like a body horror film of Cronenbergian proportions. Sometimes it can feel like both on the same day. The deluge of physical symptoms that a pregnant person might experience is matched only by surges of hormones that can make them, among other things, incredibly horny.
"In the beginning of pregnancy, there aren't a lot of changes that you'll see physically," said Dr. Maureen Whelihan, who practices gynecology and sexual medicine in Palm Beach County, Florida, when asked about the impacts pregnancy can have on a person's sex life. "There's an increase of blood flow to the uterus and cervix, so if you were to have sex early on, any little bump to the cervix can cause some bright red bleeding." The bleeding might look scary but is a common occurrence. (While heavy bleeding can be a sign of miscarriage, sex is safe during pregnancy. Most miscarriages, which are very common, are thought to be due to fetal problems. You should call your doctor if you have other symptoms like pain or bleeding that lasts for several hours.) Also prevalent in first trimesters is an increase in vaginal secretions, which create additional lubrication. "There aren't a lot of sex restrictions there," Dr. Whelihan said.
Once the stomach has protruded later in pregnancy, some sex might become uncomfortable. Lying on one's back will cause the pressure of the abdomen to compress a major vein called the vena cava, though a pillow under the hips tilting the pregnant person to the left can help with this. (Pregnant people are also advised to sleep on their side during the second and third trimesters because lying on your back may pose a risk to the fetus.) Nipple stimulation can cause cramping and even bring on premature labor.
Sex is very much still possible in the third trimester — and often promoted, Dr. Whelihan said. "We encourage intercourse not just for the bonding of the couple, but also because the sperm has prostaglandins, which will help soften and ripen the cervix in preparation for labor. Sometimes it can actually get labor going."
There are, of course, many different ways to have sex, just as there are many different ways to experience pregnancy. What does pregnant sex look like for the person who, like Svetlana, wants to be tied up, spanked, and degraded? There are few agreed-upon medical recommendations for this, according to Dr. Whelihan. ("Nobody's put money into it, because there's no product to sell," she said.)
We reached out to kinky mothers to ask how they adapted their sex lives once they were pregnant.
No more nipple clamps: Kim*, 30, Ontario
When I was 24 or 25, I started going to sex parties for queer women. That's when I started trying different things I hadn't really thought about before. I learned I really like getting flogged, especially in front of other people. It led me to exploring more with my partner.
In June of 2021, I found out I was pregnant. My boobs hurt all the time. That was the first big change in my body. I was always tired and just felt like a shell of a human. Then there was this kind of sweet spot, where I got my energy back and I still looked like myself, early in the second trimester.
When I was four or five months pregnant, I went to one of my sex parties. I remember thinking, Is this too much? It was a smaller party, and I knew everybody there. It was a really nurturing environment. I got flogged by a girlfriend. There was so much trust, and so many check-ins. I don't think I was able to go for as long or as hard as I had in the past, and I didn't want to push it. I was doing less kink stuff with my husband and was more nervous with him — not because there was a lack of trust, but just because you don't actually always know what's going on with your body. With my friends at the party, a lot of them had their own experiences with being pregnant. It was like the pressure of having to explain yourself was taken off.
I used to like nipple clamps, but that was definitely a no-go during pregnancy. Any time my nipples were hard, they hurt. Being outside in the cold hurt. My joints never got too swollen, so I still felt pretty comfortable using restraints. I have this harness with handcuffs attached; once my stomach got too big, using the restraints became too hard, especially when lying down. There's a lot more rigamarole that went into just finding a comfortable position.
My sex drive ebbed and flowed throughout pregnancy. My partner was really great and always took the lead from me. That was a bit of a change; before pregnancy, we would take turns initiating sex. He let me take the reins. We also slowed down the dirty talk: I was an emotional roller coaster and more sensitive.
I gave birth in February 2022. She slept in our room for four months. Our sex became less frequent and definitely less kinky because we didn't want her to wake up. I found it hard to get back into things. I was so cognizant of like, if we start having sex now, that's going to take however long until I can go to sleep, and then I only have two, three hours until she wakes up again. Things started getting better at around seven months, when she had her own room and started sleeping through the night.
When she was 8 or 9 months old, I went to another sex party. I had seen those friends at smaller events over the summer. It was definitely overwhelming at first, and I felt a lot of mom guilt. I remember thinking, I'm leaving my baby so I can have kinky hangouts with my girlfriends? Are you nuts? But by that November, I was a lot more confident in parenthood, and there was a lot less guilt. I went to the party and it was really nice. I got a spanking. I rode a Sybian. I left early. That was a big change. I used to love going to these things and staying late, experiencing the whole thing. Now I feel like I'm at a point where I'm happy to go for a bit and do a couple of things and go home.
The biggest change was the squirting: Sarah, 28, California
I got out of an abusive relationship when I was 21. I wasn't kinky at all at that time. I started to explore that in my next relationship. It became an avenue for me to heal and control what happened to me. A year into dating the man who would become my husband, I asked him to slap me. We had tried this thing, and something in my brain unlocked. I got into impact play, bondage — usually cuffs, sometimes he just wraps a T-shirt around my wrists — general dom/sub stuff. I have a big praise kink.
I became pregnant with my son almost three years ago. It was actually my second pregnancy; the first one ended in a miscarriage. When I became pregnant the second time, I was aware immediately because I knew what the symptoms were. I had heartburn for 12 hours straight. I was also craving sex a lot more. Our sex life is still kinky. There's rarely a time where we have sex where it's not at least a little bit of kink there: role-playing, dirty talk, slapping, some spanking.
I would wake up in the middle of the night and it felt like my arms had fallen asleep, followed by shooting pains. I didn't know carpal tunnel was a pregnancy symptom — almost no one does. I had to wear wrist braces. We veered away from tying me up, because my wrists were so sensitive. I couldn't put pressure on them. I had to be careful in certain positions, like when I was kneeling. My husband became more conscious of it than I was, because when I'm in the moment, I don't care. I just want to have fun.
The biggest change I saw in my sex life was the squirting. I used to experience that a little bit, usually when using an external vibrator. But when I was pregnant, if I was being fingered at all, it was a friggin' geyser. That's when I got really into being teased and edged. It turned into a kinky thing: How much can you squirt? Can you wait? Can you hold off?
Towards the end of pregnancy, it became harder having sex with a big stomach, so we were doing a lot of doggy style, a lot of me being bent over. We did a lot of spanking because I was already in position. We explored a little with our dirty talk. I used to call him "Daddy" — I still do that, but now sometimes there's that weird moment of, "Oh, but you are one now."
I'm a shy person. It's hard for me to ask for things. When it comes to being a parent, you can't do that. You have to be outspoken. You don't realize how important these life skills are, communicating and advocating for yourself, until you have to do it for your kid. My husband and I really opened up to each other about being parents. It translates to our sex life because you have this chance to talk more about what you like, what you don't like, what you want to explore. Since pregnancy, I've gotten a lot more comfortable saying no.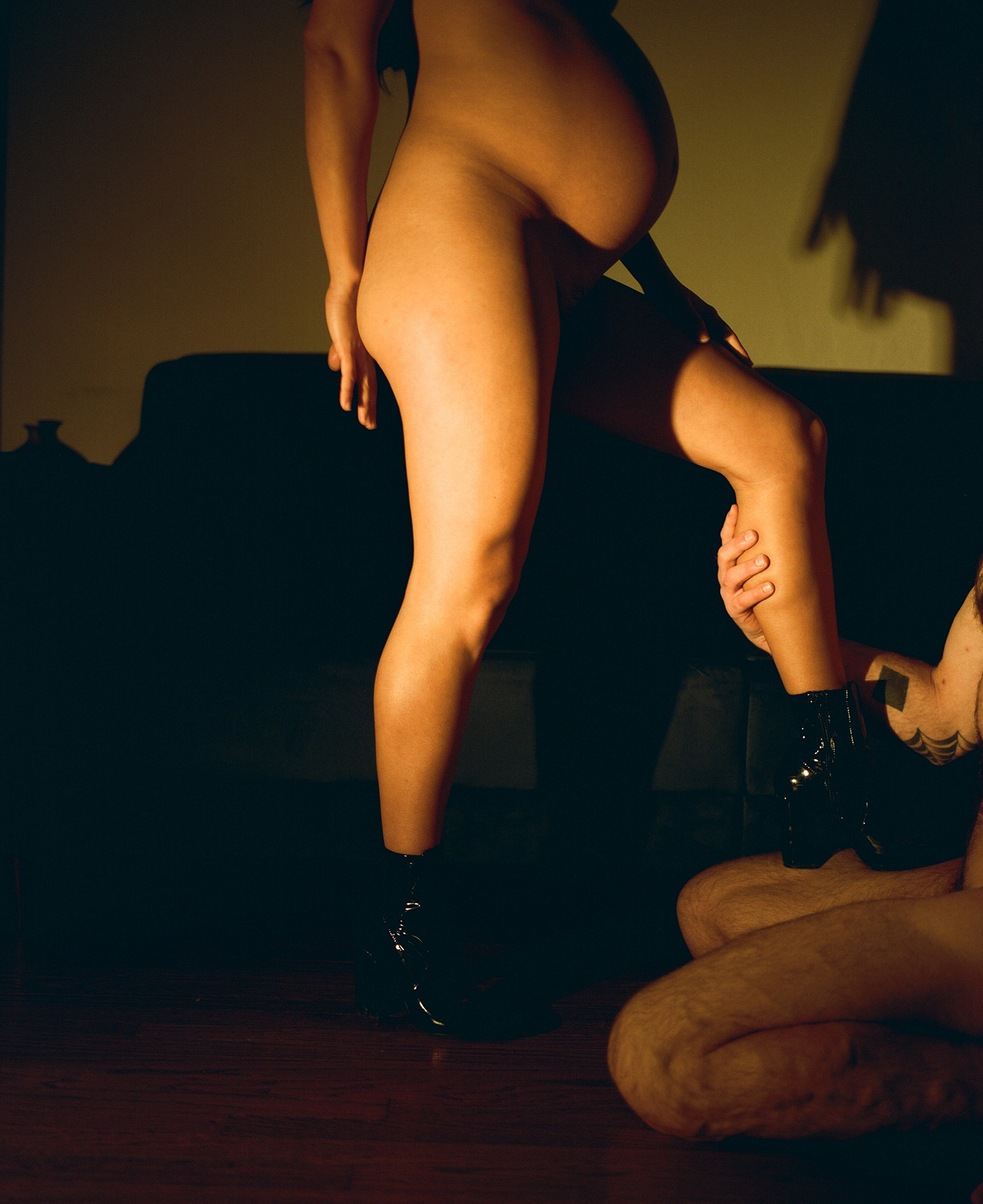 My husband was weirded out about me being pregnant: Betty*, 40, Ohio
I've been married to a man for about 17 years. We did not do any kinky things when we were first together, but that slowly became part of our relationship. One Valentine's Day, around when I was maybe 30, my husband presented me with a list of sexy experiences and said, "Let's do one of these things!" One I picked was to make a sexy Tumblr account. I don't think he expected that. That's when my persona, Betty, was born. I would post explicit but anonymous photos of myself. I'm definitely an exhibitionist.
The summer of 2018, I had just come back from vacation with my husband. It was a very sexy trip. We went to a sex club and took sexy photos. When I came back, I started feeling dizzy, and I thought maybe it was a weird vacation hangover symptom. When the symptoms didn't go away, I knew I was pregnant. That vacation ended up being one of the last times I would have sex for almost a year.
My husband was weirded out about me being pregnant, that there was a baby inside me. He definitely understood that it was his problem, and he was still very sweet and supportive. He doesn't like medical things in general. We had previously been trying to get more elaborate with ties and bondage, and he had just put up hooks in a room in our house so he could suspend me; it was fine that we stopped that, I didn't want to be suspended while I was pregnant. But I was definitely still interested in sexy things. I still played with toys. I definitely used my vibrator. My husband was around for that sometimes, but usually not. He was very, "You take care of you!"
I was still putting some pictures up on Tumblr for a while. One follower — I had no idea who this person was in real life — messaged me to say I looked pregnant. That was the last new picture I posted for a while. I was a schoolteacher, so I wanted to remain anonymous. I just reposted old photos.
I had a dramatic birth experience; I needed a C-section after my child was in the birth canal. I needed real recovery time. The first time I had sex after giving birth, it was really uncomfortable. It hurt. The second time was easier, but I still wasn't down to party. About four or five months after giving birth, we started using toys again. I got a really pretty glass dildo. We're back into bondage and BDSM, all our old activities.
The thing I learned about pregnancy is you can feel different day to day. You get to deal with it however you want. However you feel about your body, whether that's in a sexual or nonsexual way, it's OK to feel that way.
I was always worried I was going to pee: Marissa, 41, California
I didn't get serious about kink until my late 30s, after getting divorced. I met some people who did rope, and got pretty intense into being a rope bottom. I'm lucky to work with a man who studied in Japan. I'm also nonmonogamous: I've been with my current partner going on six years now, though that's overlapped with previous partners. We have one child together, who is now 10 months old.
When I first missed my period, I thought I might be going into premenopause. My periods had been getting shorter and further apart, and I was almost 40. I had previously had two miscarriages, so I thought having a child was probably not in my future. After maybe 10 days, I took a pregnancy test.
I was very lucky to have a smooth pregnancy, especially at my age. Because I was a higher risk, I didn't want to take any chances. It was during COVID, so I didn't have any other partners. My predominant rope partner is an older gentleman, and he was being extremely careful about COVID. The pandemic had a bigger impact on my sex life than my pregnancy.
I can squirt when I have my G-spot stimulated, which was also true prepregnancy, but I am very self-conscious about it. It's messy. It gets everything wet. I'm a very controlling person, and you have to be able to give up a lot of control for that in a way that's difficult to me. I became more sensitive to that loss of control during pregnancy. Also when you're pregnant, you always feel like you have to pee. There are, like, mixed signals, and I was always worried I was going to pee when I squirted.
I used to be able to take a lot of penetration, depth-wise, and not be uncomfortable. Even though I'm not pregnant anymore, I'm a lot more sensitive to penetrative sex. During the time I was breastfeeding, I definitely didn't feel like having my breasts played with. In my head, I could not get to a place of "Oh, this feels good for me." It was more like my body was in service to something else, and not in a submissive way.
I knew that my partner always found pregnant women to be very attractive, and that helped me feel desired. There was never the sense of, Ahh, this weird body, does my partner still think I'm sexy? There were definitely times when sex definitely felt more special and tender because it felt like we had a different bond. There was an awareness that my body was going to be a certain way for a certain time. I guess being pregnant and having sex can in its own way be kinky.
Choking became a definite no: Svetlana*, 34, Ontario
Trying to get pregnant was super fun. Usually, my husband pulls out and cums on me, and I love that. There's a big show with that. But when we were trying to get pregnant, I really embraced being a little cum dumpster. We would role-play stupid porn tropes: professor/student, boss/secretary. I loved the added level of degradation that came with pretending to be in this professional relationship.
I had had a miscarriage the previous January, in 2021. I kind of shut down from everyone and everything. I had to go to the hospital alone because it was the pandemic. They gave me misoprostol to empty out my uterus. After that experience, I wanted to take my body back. I wanted to drink and fuck and forget about it. I wasn't supposed to have vaginal sex, because you're supposed to wait to prevent infection, but I was so desperate that I was like, let's drink this bottle of wine and have anal sex. It was a sad time, but the sex was awesome, and exactly what I needed in that moment.
When I became pregnant again, I was so extra careful with everything. For the last two months of my pregnancy, I was off work because I have a pretty physical job and my doctor didn't want me there anymore. My legs were so swollen. Normally I'm into ropes and ties. We started doing more stuff with my husband just pinning my hands above my head so I could be released easily but still have the illusion of being restrained. I just wasn't able to be put into a position for any length of time. I love choking, but that's a definite no when you're pregnant. I got more into the psychological aspect of having a hand on my chest during sex — just the presence, not the pressure. My orgasms were way less intense at the end, both while masturbating and having sex. But I still like to be intimate and sexual, so I was just giving a lot more assists in the third trimester. You know, licking balls, feeling balls, blowjobs.
When we were doing our silly porn tropes while I was pregnant, it became a bit of a challenge. I had to work to get into that a little more. It almost made me a little sad. It was so hot to think of myself as a cum dumpster before, but now I was like, It's kind of sad that the character I made up is fucking their boss and their professor when they're pregnant.
I've always had decent-sized tits, and I've always liked getting titty-fucked. They got bigger, so it was even more fun. After I gave birth, I started to enjoy it more than I've ever enjoyed it before. When your milk comes in, your tits become real hard. When my husband fucked them, it was like a tit massage for me. It relieves so much of the pressure. I thought, This must have been why titty fucking was invented. I didn't expect this, but it caused milk to squirt out of my nipples and create these puddles around my body. My husband told me, "I never thought it would be so hot seeing milk squirting out of your tits." I want to make a video out of it because I feel like I'm going to miss it when I'm not breastfeeding anymore. It's such a limited-time, special thing. If you were trying to fulfill that kink later, how would you do that? Impossible. ●
Interviews have been edited for clarity.
*Names have been changed to protect their privacy.