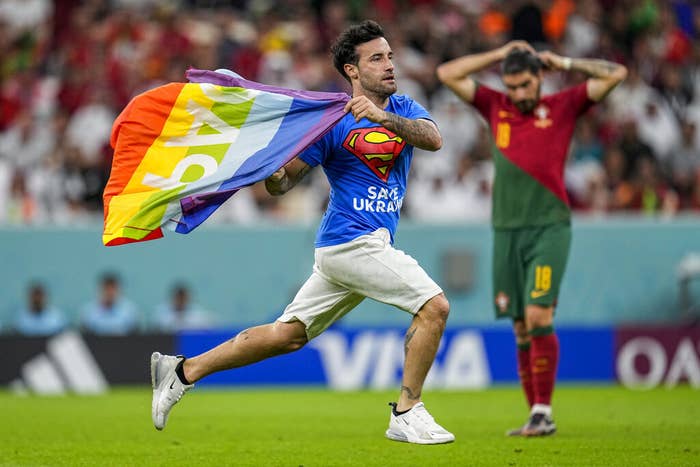 A protester holding a rainbow peace flag and wearing a blue Superman T-shirt that said "Save Ukraine" and "Respect for Iranian Women" ran onto the field during a World Cup match between Portugal and Uruguay on Monday.
Security officials quickly chased the protester, and the person was escorted off the pitch, according to the Associated Press. It is not clear whether the person was detained by police or if they're facing any charges.
Monday's interruption comes after team captains from seven European countries had planned to wear the "One Love" pride armbands to oppose the discrimination of LGBTQ people in Qatar, which punishes homosexual acts with the death penalty. But the teams abandoned the plans after FIFA threatened to punish the players by giving them automatic yellow cards if they wore the armband.
Then, last week, German players assembled on the pitch before their game against Japan and covered their mouths in an act of protest against FIFA's decision on the pride armbands.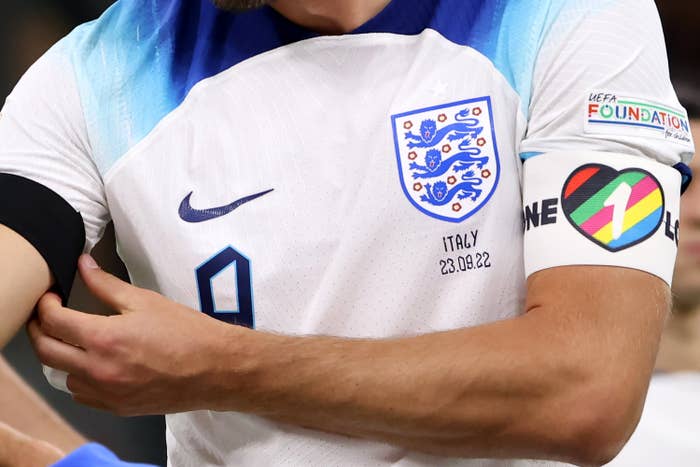 "We wanted to use our captain's armband to take a stand for values that we hold in the Germany national team: diversity and mutual respect. Together with other nations, we wanted our voice to be heard," the German team said in a statement posted to its official Twitter account.

"It wasn't about making a political statement – human rights are non-negotiable. That should be taken for granted, but it still isn't the case. That's why this message is so important to us," the team said. "Denying us the armband is the same as denying us a voice. We stand by our position."

In addition, some fans in Qatar have reported that they were asked to remove pride hats at World Cup stadiums earlier this week.
The World Cup in Qatar has not been short of protests. Last week, the Iranian national team decided to stay silent during their national anthem before its first group match against England in solidarity with the anti-government demonstrations currently taking place in Iran. More than 400 people are estimated to have been killed by Iranian security forces since protests began in September over the death of a 22-year-old Kurdish woman who was in custody of the country's morality police.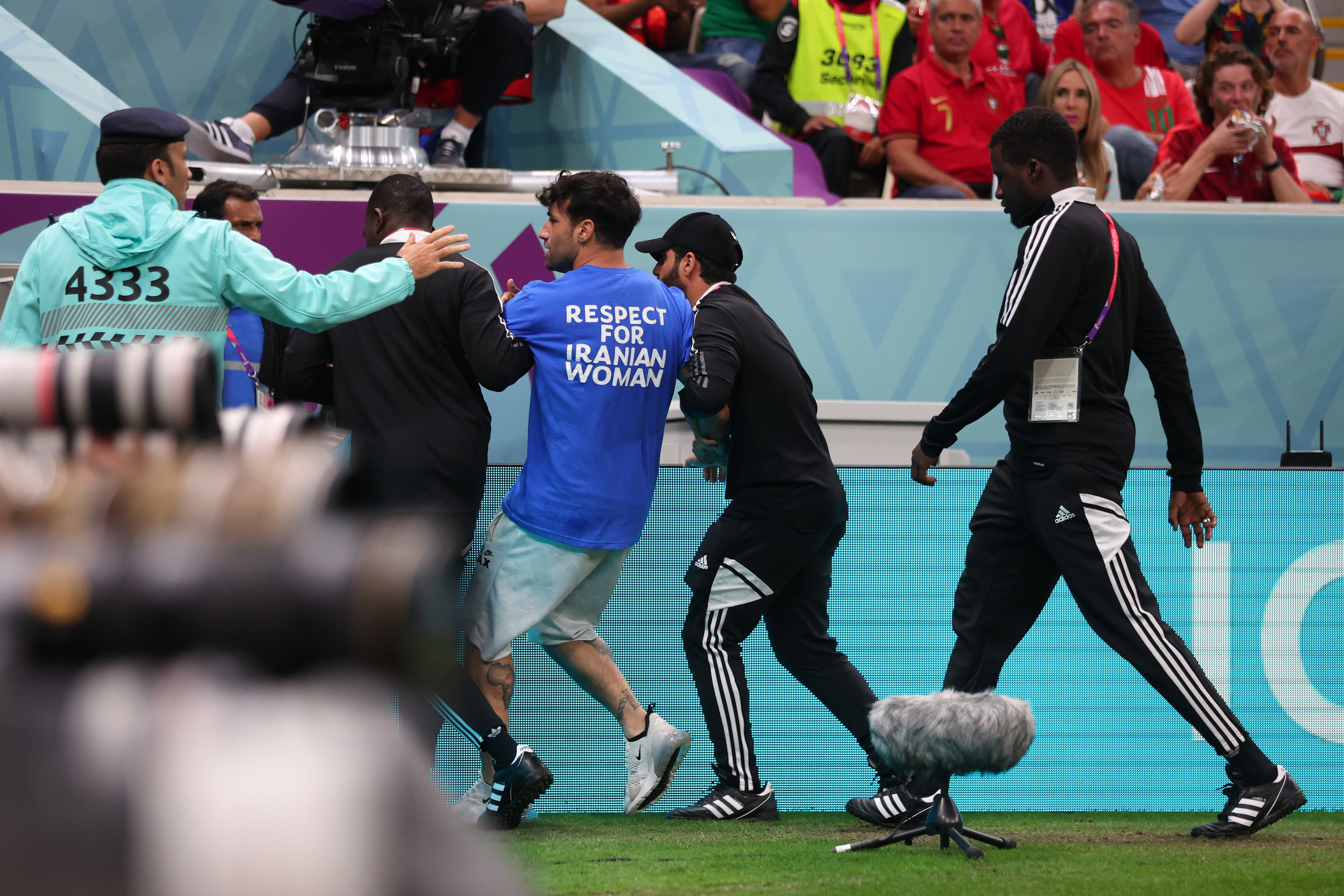 In the run-up to the World Cup, Qatar has faced intense international scrutiny over issues such as its treatment of immigrant workers and its extreme anti-LGBTQ discrimination.

Last year, the Guardian calculated that at least 6,500 immigrant workers, most of whom worked on World Cup infrastructure projects, have died in the country since 2010.
Ahead of the tournament, Human Rights Watch also released a report that "documented six cases of severe and repeated beatings and five cases of sexual harassment" involving LGBTQ people in police custody between 2019 and 2022 in the country.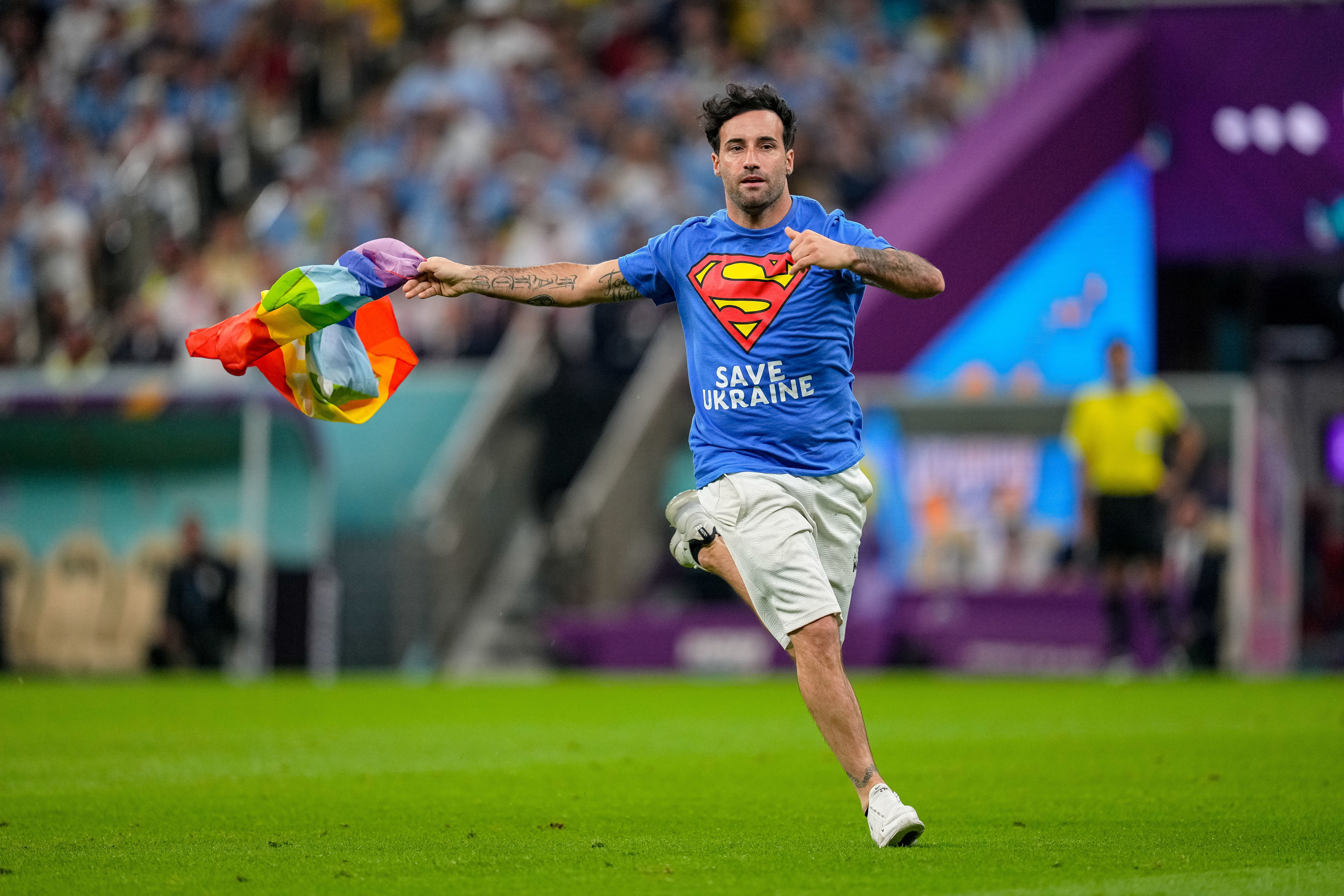 Correction: The protester was carrying a rainbow peace flag. An earlier version of this story misidentified it as a pride flag.