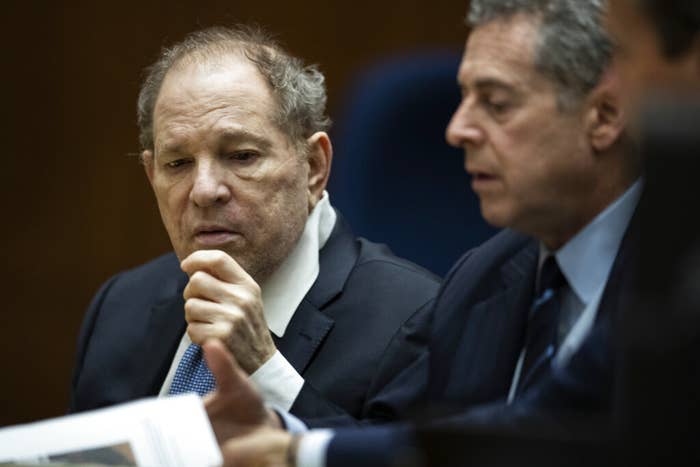 A jury in Los Angeles found former movie producer Harvey Weinstein guilty on Monday of raping and sexually assaulting a woman, two years after he was found guilty of rape and sexual assault in New York.

Weinstein, who was first charged with rape and sexual assault in Los Angeles in 2020, faced two counts of rape and five other counts of sexual assault stemming from allegations made by four women about events that occurred between 2005 and 2013. The charges of sexual assault include forced oral copulation, sexual battery by restraint, and sexual penetration by a foreign object.
The jury found Weinstein guilty of one count of forcible oral copulation, one count of sexual penetration by a foreign object, and one count of forcible rape, all related to Jane Doe 1. He faces up to 18 years in prison on top of the time he's already serving.
Weinstein was acquitted of the charge of sexual battery by restraint brought by Jane Doe 3. The charges related to Jane Doe 2 and 4 were hung, and according to the pool report, a mistrial has been declared on the counts where the jury could not reach a verdict, such as the forcible rape charge brought against Weinstein by Jennifer Siebel Newsom, the filmmaker and wife of California Gov. Gavin Newsom.
"Harvey Weinstein will never be able to rape another woman," Siebel Newsom said in a statement to BuzzFeed News after the verdict was announced. "He will spend the rest of his life behind bars where he belongs. Harvey Weinstein is a serial predator and what he did was rape."
"Throughout the trial, Weinstein's lawyers used sexism, misogyny, and bullying tactics to intimidate, demean, and ridicule us survivors," she added. "This trial was a stark reminder that we as a society have work to do. To all survivors out there — I see you, I hear you, and I stand with you."
Her husband, Gov. Gavin Newsom, added in a statement that he was proud of his wife and all of the women who came forward to "share their truth and uplift countless survivors who cannot."
"Their strength, courage, and conviction is a powerful example and inspiration to all of us," he said. "We must keep fighting to ensure that survivors are supported and that their voices are heard."
In a statement Tuesday, Jane Doe 3 said she had "no regrets" in deciding to come forward and testifying at trial despite the not guilty verdict on the charge relating to her.
"I took the stand, stared into the eyes of my attacker for three days in a brutal trial, spoke my truth, and regained my power," she said. "I am no longer afraid of Harvey Weinstein."
She acknowledged that fear of acquittal is one reason why "so many women and men choose not to come forward," but she said she was still proud of her decision to speak up and of the others who came forward.
"I am gratified that through Jane Doe #1, we all got some justice in Los Angeles against Harvey Weinstein," she said.
The jury reached its verdict after deliberating for nine and a half days. On Tuesday, jurors heard prosecutors' arguments that certain aggravating factors should apply, but they were unable to come to a decision. Had they ruled in favor of the government, Weinstein could have faced up to 24 years in prison for his Los Angeles conviction.
The former movie mogul is already serving a 23-year sentence after being found guilty of rape and sexual assault in New York in 2020. He is now facing additional jail time.
Throughout both criminal cases in New York and Los Angeles, Weinstein, 70, has maintained his innocence and pleaded not guilty.
In a statement sent to BuzzFeed News Tuesday, Juda Engelmayer, a representative for Weinstein, said the producer was disappointed in the Los Angeles verdict and suggested he would appeal his conviction on the counts involving Jane Doe 1.
"The logistics of the time and location of the alleged incident make no sense," Engelmayer said. "Harvey is grateful for the jury's work on the other counts, and he's determined to continue his legal challenges in ultimately proving his innocence."
In New York, Weinstein was acquitted of the more severe charges related to predatory sexual assault but convicted of rape and sexual assault. Weinstein is appealing that conviction. His lawyers are arguing that the women's testimony led the jury to focus on the history and pattern of allegations rather than on specific charges relevant to the case, among other issues.
The verdict in Los Angeles comes five years after the New York Times and the New Yorker first reported that multiple women had accused the former producer of sexual harassment, sexual assault, and rape. Those stories prompted a reckoning within Hollywood and contributed to the explosion of the #MeToo movement started by Tarana Burke.
Since then, more than 90 women have publicly accused Weinstein of sexual misconduct.
Opening statements in the Los Angeles trial began at the end of October, with prosecutors promising jurors that witness after witness would prove that Weinstein used his power to repeatedly rape and assault women trying to make it in Hollywood.
"Each of these women came forward independent of each other, and none of them knew one another," Deputy District Attorney Paul Thompson said. "They feared that he could crush their careers if they reported what he had done to him."
Weinstein's defense attorney, Mark Werksman, argued that the allegations were "based upon emotion, not facts" and that they "can be traced directly to a movement called the #MeToo movement."
He acknowledged that Weinstein was part of Hollywood's "casting couch" culture, where sex was a commodity, but he argued that the intercourse was consensual and that women slept with Weinstein because he was powerful. They willingly "played the game," Werksman said.
During the trial, the jury, made up of eight men and four women, heard from more than 50 witnesses, including the four alleged victims.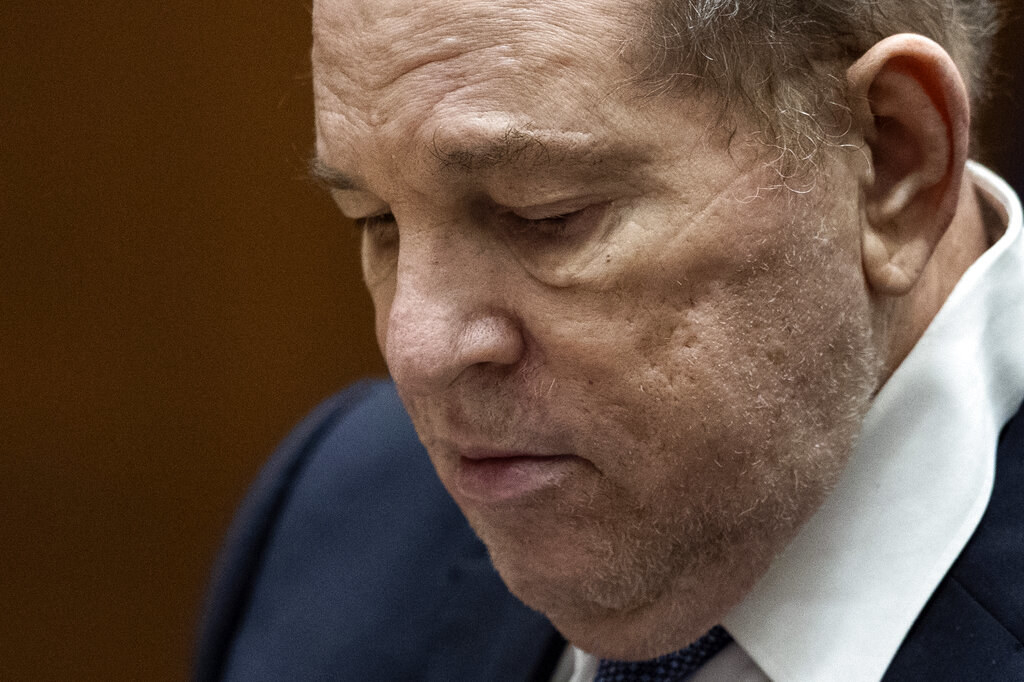 Those four women included an Italian model and actor referred to as Jane Doe 1; Jane Doe 2, who has accused Weinstein of assaulting her when she was a 23-year-old model and an aspiring screenwriter; Jane Doe 3, who was a 29-year-old licensed massage therapist when she says Weinstein assaulted her; and lastly, Jane Doe 4, revealed to be Siebel Newsom, who has accused Weinstein of sexually assaulting her when she was an actor starting in the industry.
Jane Doe 1 testified that Weinstein assaulted her in February 2013 when she was visiting to attend the Los Angeles Italia Film Festival and the Academy Awards. She said he showed up at her hotel room door unannounced late at night and barged into her room, then forced her to perform oral sex on him and raped her.
"I was afraid of what he was doing, how he was acting, in my room," she told the court. "I was asking him, please, to leave."
"He forced me to do what he asked," she added. "I was crying, choking."
During cross-examination, Weinstein's defense attorneys pressed Jane Doe 1 on her decision not to tell police about the incident until after the rise of the #MeToo movement in 2017, even though she testified that she had told friends before 2017.
Jane Doe 2 testified that Weinstein sexually assaulted her in a Beverly Hills hotel bathroom in 2013.
She also testified at Weinstein's New York trial as one of the "prior bad acts witnesses" — people who provide testimony on experiences they have had with the defendant, which prosecutors then use to illustrate a pattern of criminal behavior.
In the Los Angeles trial, Jane Doe 2 said she met Weinstein hoping to pitch a script and get into the film industry. At the time, she was a working model but was interested in switching to film. Though they had planned to meet in the hotel lobby, she said Weinstein's personal assistant — who was her friend and had set up the meeting — instead ushered her into his room and shut the door.
Weinstein then began to masturbate and grab at Jane Doe 2's breasts and under her dress, she told the court.
"I was very numb feeling. I felt like I was outside of my body watching what was happening; I couldn't move; I was frozen. I was so scared," she said. "I was scared of Harvey Weinstein — that he would hurt me, or send someone to hurt me, or ruin my career, or make my life hell."
Jane Doe 3, the massage therapist, said that Weinstein trapped her in a bathroom, then masturbated in front of her and groped her after she gave him a massage in 2010.
"I said, 'What are you doing?'" the woman told the court. "This is not appropriate! Can you please go back in the other room, and get your clothes on?"
Jane Doe 3 began crying as she told the jury how terrified she was as she feared Weinstein would also rape her.
Siebel Newsom first came forward about her experience with Weinstein in an op-ed published by the Huffington Post in 2017, just one day after the original New York Times report.
On the stand, Siebel Newsom testified that Weinstein raped her in a hotel room during what she thought would be a business meeting in 2005, when she was a young actor in the industry.
"Horror! Horror!" she said, recounting how she felt at the time. "I'm trembling. I'm like a rock; I'm frigid. This is my worst nightmare. I'm just this blow-up doll!"
During the intense cross-examination, Weinstein's attorneys asked Siebel Newsom about the graphic details of her testimony, including the sounds she made during the alleged assault.
They showed the court several business emails she had sent to Weinstein in the months and years after the alleged rape. The defense also questioned her about political donations that Weinstein had made to her husband's campaign.
Four additional women testified that Weinstein had assaulted them. No charges were brought in connection with their stories, but prosecutors argued they showed that Weinstein had a pattern of criminal behavior and abuse.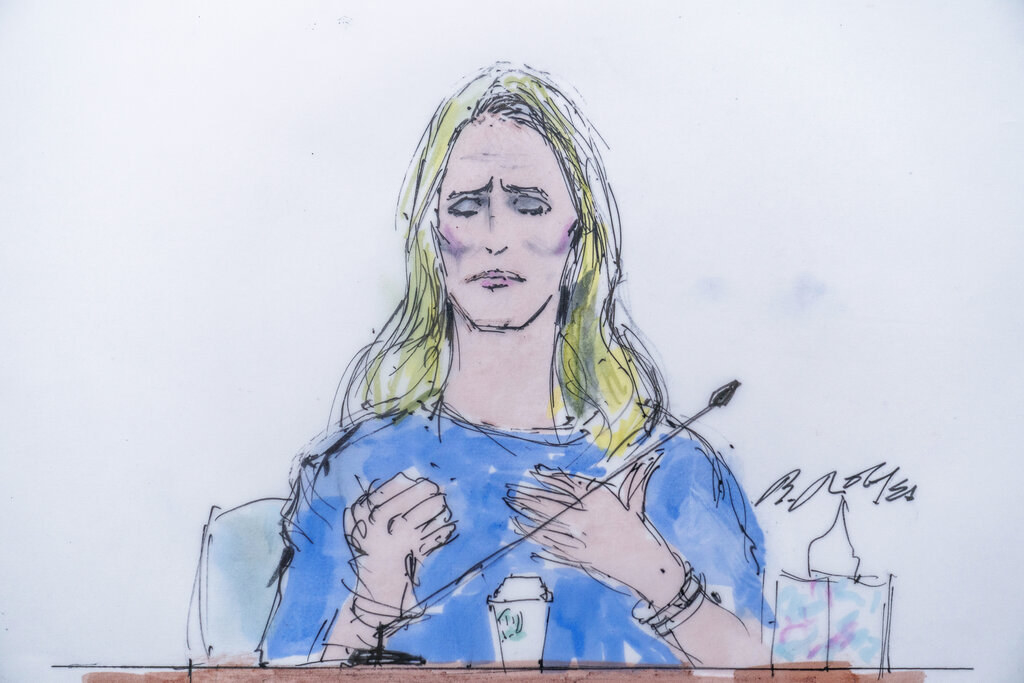 In closing arguments, defense attorney Alan Jackson insisted that too much of the prosecution's case required the jury to take the women at their word.
"Believe us because we're mad. Believe us because we cried. Those are real emotions ... I don't know how to say it more gentle than this, but fury does not make fact," he said during his closing argument. "Tears do not make truth."
Jackson went on to call the women who have accused Weinstein as "fame and fortune seekers."
In the prosecution's closing arguments, Deputy District Attorney Marlene Martinez drew attention to how similar the women's accounts were and how often Weinstein made the same moves, such as inviting a woman to meet in a hotel lobby and then changing the location to his hotel room once she arrived.
"These are eight women who don't know each other," Martinez told the court. "They're all describing the same conduct by the same person."
Before the jurors were sent to deliberations, Martinez urged them to convict the former movie producer.
"It is time for the defendant's reign of terror to end," Martinez said. "And it is time for the kingmaker to be brought to justice.
"The truth is that as you sit here we know the despicable behavior the defendant engaged in. He thought he was so powerful that people would ... excuse his behavior: That's just Harvey being Harvey. That's just Hollywood. And for so long, that's what everyone did. Everyone just turned their heads."
Correction: Weinstein faces up to 18 years in prison for the Los Angeles conviction. A previous version of this story said he could have been sentenced to as many as 24 years, a possibility that only would have existed if the jury had found aggravating factors should apply.