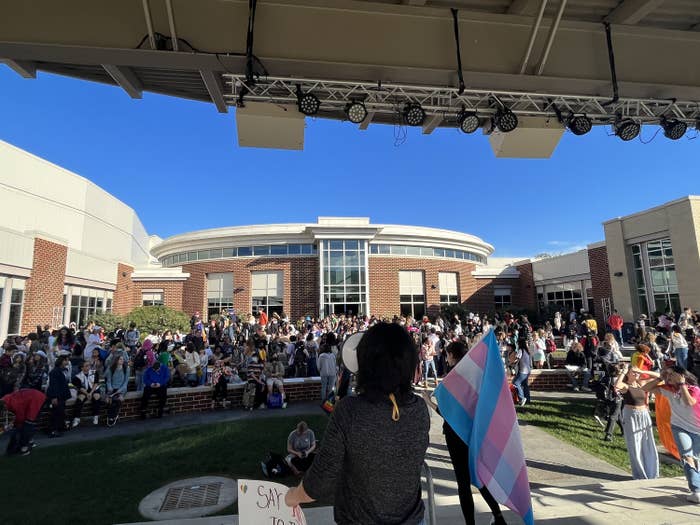 Thousands of students at almost 100 schools in Virginia on Tuesday participated in walkouts to protest a proposed policy put forward by Republican Gov. Glenn Youngkin that would heavily restrict the rights of transgender students in public schools.
Under the new policy, parents would be given the decision-making power about whether their "child expresses a gender that differs with their child's sex while at school" and what pronouns their child uses at school.
The proposal states that a student's legal name and sex could not be changed without an official "legal document" or "court order," adding that teachers and other school officials must "refer to each student using only the pronouns appropriate to the sex appearing in the student's official record." Transgender students would also be forced to use school facilities that match the sex assigned to them at birth.
The previous policy, from 2021, when Democratic Gov. Ralph Northam was in office, allowed schools to let students use their chosen names and the pronouns that reflect their gender identity without needing any legal documentation.
Ranger Balleisen, a 17-year-old high school student in Fairfax County, Virginia, remembers feeling "dread" when they first heard about the new proposals.
"This is a step away from the right direction," Balleisen told BuzzFeed News.
"The knowledge that I wouldn't be safe in a school, and in a school system, in a state that I thought I could be safe in was terrifying," they added. "So I started organizing that evening. We started planning the walkout at my school."
On Tuesday, Balleisen, along with over 10,000 students across the state of Virginia, walked out of school to protest the proposed restrictions.
Balleisen's school walkout took place on Tuesday morning. "It went really well," they said, adding that hundreds of students participated. "Today's walkout and seeing all the other schools' walkout photos from today across the state has really made me believe that we can do this."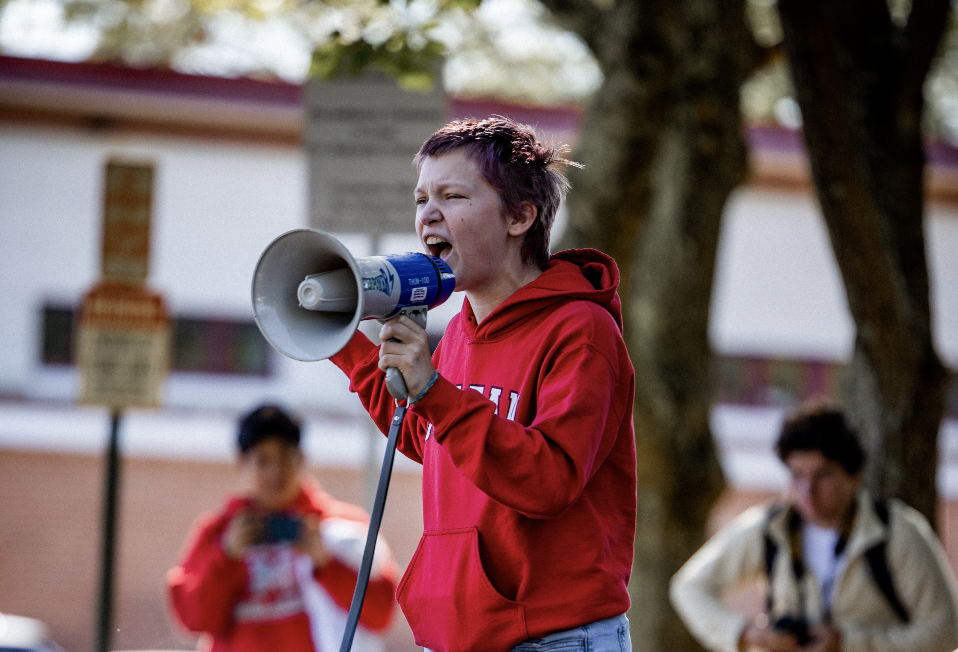 The students are demanding the state Department of Education revoke the guidelines and that individual school districts also reject the proposed changes, said the Pride Liberation Project, a student-run LGBTQIA+ advocacy group with over 500 members who helped organize the walkout on Tuesday.

"So often in issues around education, students are excluded from the conversation, especially queer students," 17-year-old Casey Calabia, who helped organize and participated in the walkout on Tuesday, told BuzzFeed News. "Getting this opportunity to have people listen to what we have to say, all across Virginia, is really imperative to making sure that we are not excluded from conversations that will quite literally change our day-to-day lives."
Calabia was in "disbelief" when they first heard about the policies.
"How could these things get passed? It is so deeply devastating for trans students. I was so heartbroken and scared," they said. "I don't know what these policies are going to mean for the people I love and for myself."
Since that moment, Calabia, along with many other organizers, worked to make the walkouts happen.
"We've had such positive reception, so far," Calabia said. "We have had over 1,000 students walk out of 100 schools. That's amazing numbers that we could never have dreamed of achieving. To have this big of a response and this widespread attention is helpful. I'm hopeful that people will listen to us."
In terms of next steps, Natasha Sanghvi, a high school senior and lead organizer with the Pride Liberation Project, told BuzzFeed News that the walkouts were a great way to make people aware of the situation but that over the next few weeks, the group is planning "to testify and rally at multiple school board meetings."
"Our main goal is to ensure that we get enough pushback to these regulations so that they don't get passed, and even if they do get passed, that school boards will be under enough pressure to reject them," Sanghvi said.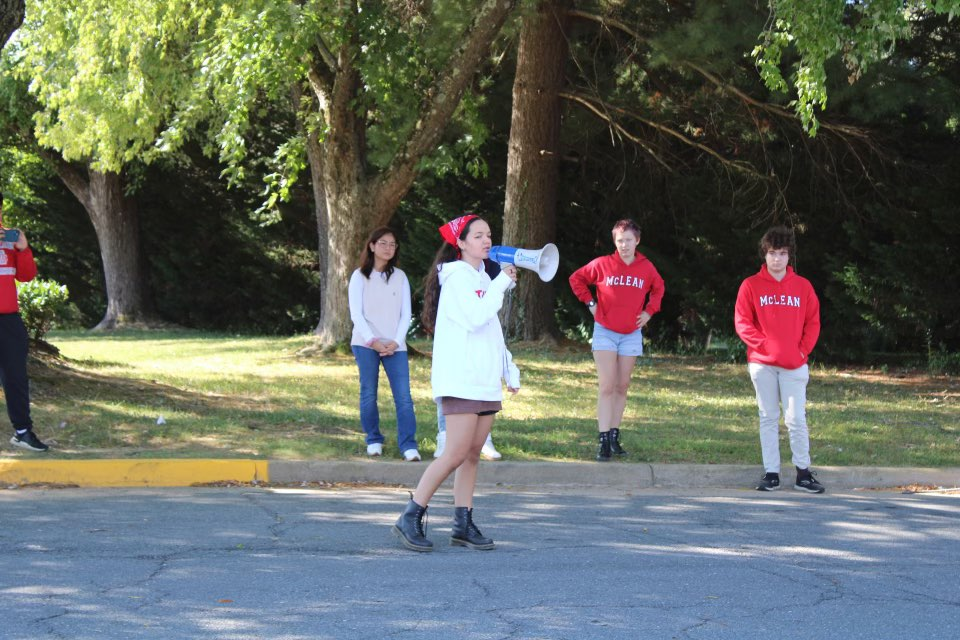 The new guidelines are set to take effect in Virginia after a 30-day public comment period that began on Monday and ends Oct. 26. So far, more than 18,000 comments have been submitted.

The Virginia Department of Education will review the comments, and it will be up to the superintendent whether to approve the policy. If approved, the policies will be adopted in Virginia's 133 school districts next month.
In response to the walkouts today, Youngkin's spokesperson, Macaulay Porter, said in a statement to BuzzFeed News that the guidelines "make it clear that when parents are part of the process, schools will accommodate the requests of children and their families."
"Parents should be a part of their children's lives, and it's apparent through the public protests and on-camera interviews that those objecting to the guidance already have their parents as part of that conversation," Porter added. "While students exercise their free speech today, we'd note that these policies state that students should be treated with compassion and that schools should be free from bullying and harassment. "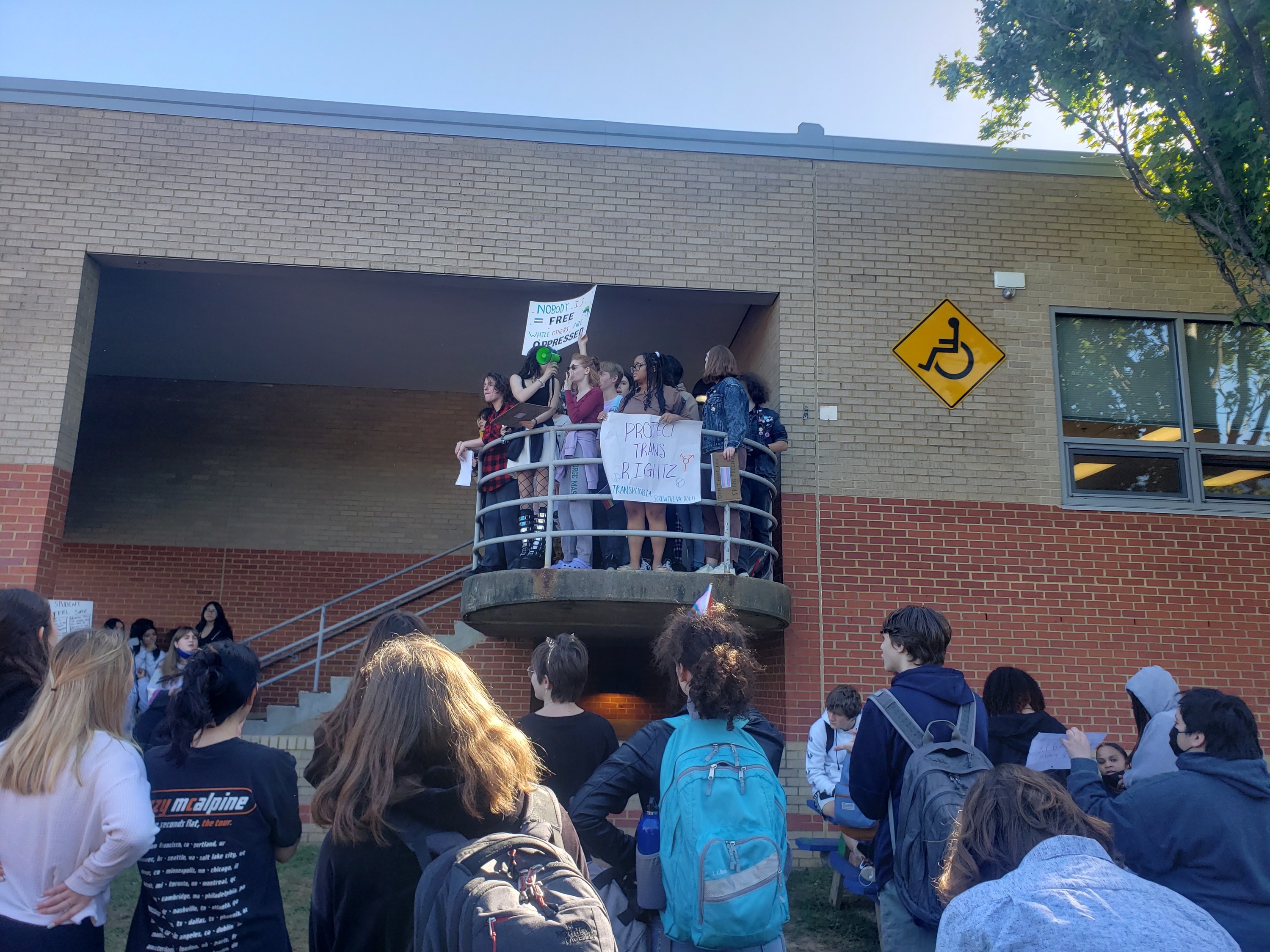 Tuesday's walkouts come at a time when Republican state legislatures and governors continue to pass anti-LGBTQ legislation. Over the last year, students across the country have been holding protests and walkouts in response to several new restrictive anti-LGBTQIA+ policies in schools, such as Florida's "Don't Say Gay" bill.

In March, students in Utah protested a state law that prohibits transgender girls from participating in school sports. In May, middle school students in San Francisco organized a walkout protesting anti-trans laws. And in August, teens in Texas organized a walkout against anti-LGBTQIA policies that targeted pronouns and bathroom use, among other things.
"It feels good to be doing something," Sanghvi said. "But I am also very aware of how all this could possibly end."
"I just want students to be able to exist freely in schools."
UPDATE
This story has been updated to reflect the total number of students who walked out of school.