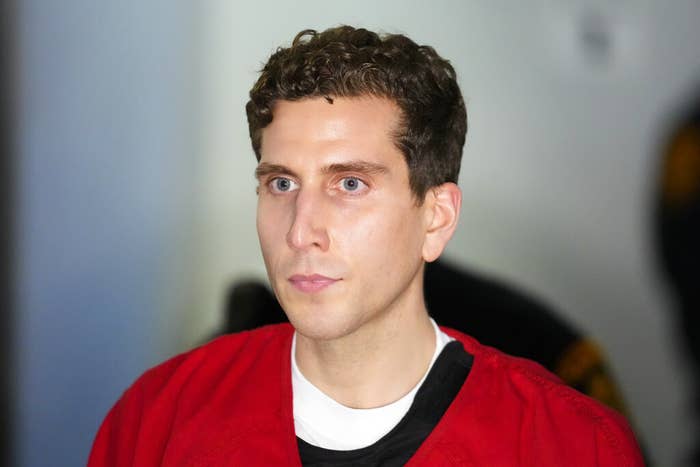 New documents unsealed on Thursday show that a .40-caliber gun, a knife and a pocketknife, and empty gun magazines were found at suspect Bryan Kohberger's family home in Pennsylvania, where he was arrested late last year in connection with the November 2022 killings of four Idaho students.
Kohberger, 28, was arrested on Dec. 30 and charged with the Nov. 13 killings of four University of Idaho students: Kaylee Goncalves, 21, Madison Mogen, 21, Xana Kernodle, 20, and Ethan Chapin, 20.
Per the warrants unsealed on Thursday morning, police seized numerous items on the day of Kohberger's arrest, including a cellphone, multiple laptops, a knife, a pocketknife, a .40-caliber handgun with three empty magazines, black face masks, black gloves, two external hard drives, more articles of dark clothing, and a green leafy substance in a plastic bag.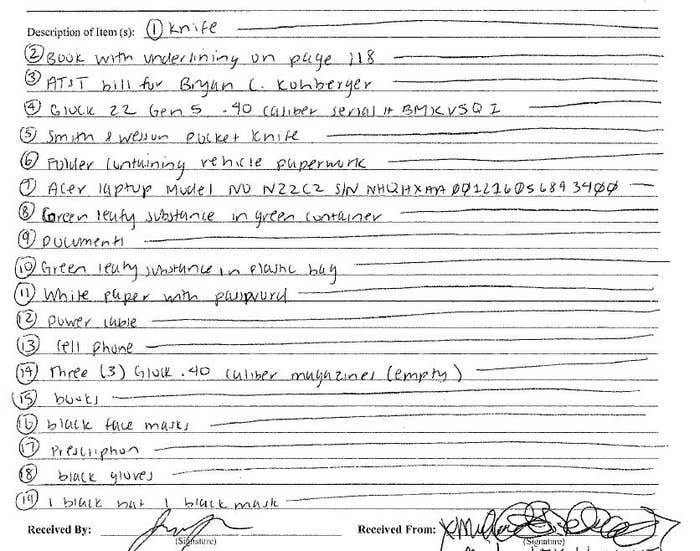 Per the documents, the police also found and seized medical and court documents, along with various criminology books and a criminal psychology book. Authorities also found a "note to dad from Bryan," a "note from Bryan to Montana," in addition to a notebook, a note, and a "man's world drawing."
Additionally, authorities searched Kohberger's white 2015 Hyundai Elantra and found a shovel, gloves, coins, goggles, plastic ziplock bags, floor mats, receipts, hiking books, used water bottles, a wrench, a bandage, maps, and documents, among other items listed in the warrant.
Parts of the car, such as the gas pedals, headrests, seat cushions, seatbelt, and brake, were also seized during the search.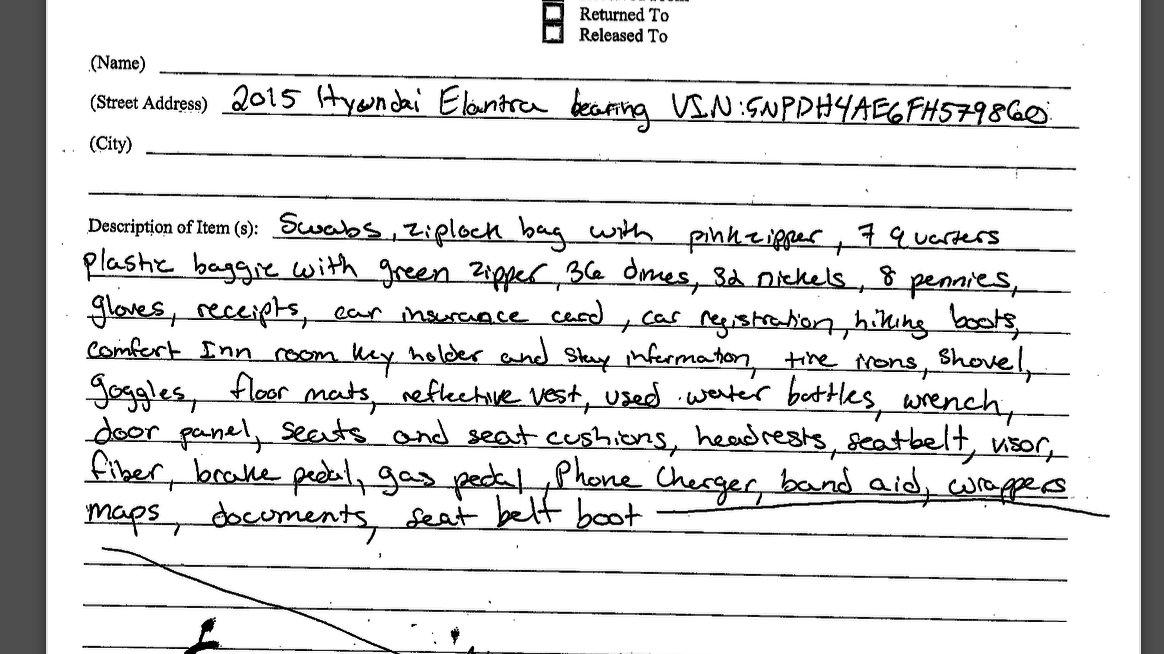 These newly released documents come after a different search warrant was unsealed on Tuesday, which revealed that a silver flashlight, four medical-style gloves, a buccal swab, and dark clothing, among other items, were seized by police when Kohberger was arrested on Dec. 30 in Pennsylvania.
During a search of Kohberger's apartment also conducted at the end of December, authorities found a nitrite-type black glove, eight possible hair strands, a possible animal hair strand, a dark red spot, which was collected without testing, and two cuttings from a reddish brown stain on an uncased pillow.
Kohberger was arrested after police found a knife sheath left behind at the scene of the crime and examined CCTV surveillance footage and cellphone records from the night the killings happened. DNA on the button snap of the knife sheath linked Kohberger to the crime, per the affidavit.
The surveillance footage had also captured a white Hyundai Elantra sedan — like the one Kohberger had — driving in the "immediate area" of the victim's house around the time of the killings. When he was arrested, a white Hyundai Elantra was seized from his parents' house.
It still remains unclear if there is a connection between Kohberger and the victims, and the police have not yet released a possible motive. Kohberger is currently being held in Latah County Jail in Moscow, Idaho, and is facing four counts of first-degree murder and a felony burglary charge.
Before he was flown to Idaho, Kohberger's extradition attorney in Pennsylvania had said that Kohberger believed that he would be exonerated of the charges.
"He said this is not him," the attorney, Jason LaBar, told the Today show on Jan. 3. "He believes he's going to be exonerated. That's what he believes. Those were his words."
BuzzFeed News has reached out to Kohberger's current public defender, Anne Taylor. His next court appearance is set for June 26.