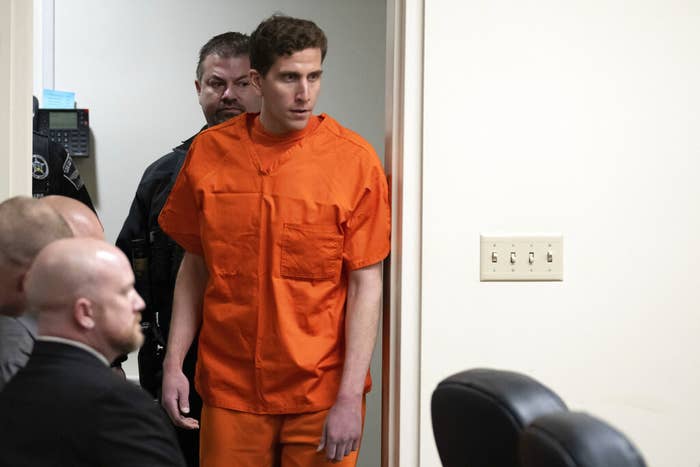 A silver flashlight, medical-style gloves, and dark clothing were among the items seized from Bryan Kohberger when he was arrested at his parents' house in Pennsylvania in late December as part of the investigation into murders of four University of Idaho students, according to a newly unsealed search warrant.
On Tuesday, a court in Pennsylvania unsealed the Dec. 30 search warrant, which led to the arrest of Kohberger, 28, who has been charged with the Nov. 13 killings of four University of Idaho students, Kaylee Goncalves, 21, Madison Mogen, 21, Xana Kernodle, 20, and Ethan Chapin, 20.
According to the search warrant, police seized a silver flashlight, four medical-style gloves, a large white Arizona Jean Co. T-shirt, a black sweatshirt, a pair of black-and-white sneakers, socks, shorts, boxer shorts, and one buccal swab when they arrested Kohberger.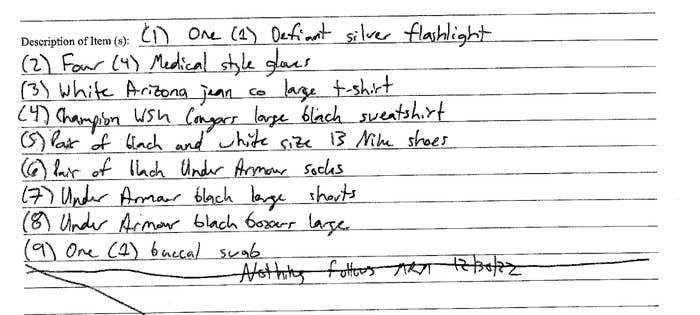 The documents also show that investigators began surveillance of Kohberger and his parents' property days before he was arrested.
"Investigators began physical surveillance of the property and area of 119 Lamsden Drive, Chestnuthill Township, and in the early morning hours of Tuesday, December 27, 2022 [and] observed Bryan Kohberger walking near this residence," the report reads.
"Affiants believe that Kohberger is located inside this residence and in possession of items related to this investigation," it continues. And "based upon the serious and violent nature of these crimes, including the risk of general public safety, your Affiants are requesting a night-time search warrant be issued to execute this search warrant at any time and the affidavit of probable cause be sealed."
Kohberger was arrested after police examined surveillance footage and cellphone records from the night the murders happened and discovered a knife sheath left behind at the scene. DNA on the button snap of the knife sheath linked Kohberger to the crime, per the affidavit.
Surveillance footage from that night also captured a white Hyundai Elantra sedan — like the one Kohberger owned — driving around the neighborhood and in the "immediate area" of the victims' house around the time of the killings. After he was arrested, Moscow police confirmed that they had seized the car from his parents' house.
During a search of Kohberger's apartment also conducted at the end of December, authorities found a nitrite-type black glove, eight possible hair strands, a possible animal hair strand, a dark red spot, which was collected without testing, and two cuttings from a reddish brown stain on an uncased pillow.
Kohberger was a criminology PhD student at Washington State University in Pullman, which is about 10 miles from the University of Idaho, where the victims went to school.
Last week, the University of Idaho announced that the house where the students were killed is scheduled to be demolished. According to the Associated Press, the owner of the home has offered to give it to the university, and the school has accepted and will have the house knocked down by the end of this semester.
It remains unclear if there is a connection between Kohberger and the victims, and the police have not released a motive. He is currently being held in Latah County Jail in Moscow, Idaho, and facing four counts of first-degree murder and a felony burglary charge. His next court date is set for June 26.
Additional warrants from Kohberger's arrest are scheduled to be made public on Wednesday.