For Tyler Keeling, a Starbucks worker in California, his interest in forming a union began after he saw a TikTok video about the union effort at the coffee chain's location in Buffalo.
"I was like, wait, hold on, what is going on?" the 26-year-old said. "And then I started learning about the union effort."
After following the effort at the Buffalo branch and seeing their success, Keeling and his coworkers began discussing forming a union at their own Starbucks store in Long Beach, California.
Around five months later, on May 13, 2022, the workers at Keeling's store won their union vote 24–1.
"Everyone loves an underdog story," Keeling said. "Watching workers fight million- or billion-dollar corporations to take a little bit of power and money back to themselves to ensure better working conditions, people connect with that."
Since the first Starbucks union victory in Buffalo in December 2021, more than 230 Starbucks locations across the United States have voted to unionize.
This Labor Day weekend, unions have reached their highest level of public approval in just under 60 years, according to a new Gallup survey.
The poll, published earlier this week, found that 71% of Americans currently approve of labor unions, the highest Gallup has recorded since 1965.
The results come amid an eruption of recent high-profile union victories, with workers at companies such as Amazon, Starbucks, REI, and others successfully launching unionization efforts since the beginning of the pandemic.
During the first six months of 2022, the National Labor Relations Board reported a 57% increase in union election petitions filed compared to the same six-month period the year before.
Historically, support for unions was at its highest in the 1950s and then dipped drastically below the 50% mark by 2009. But, over the last 13 years, support has grown steadily.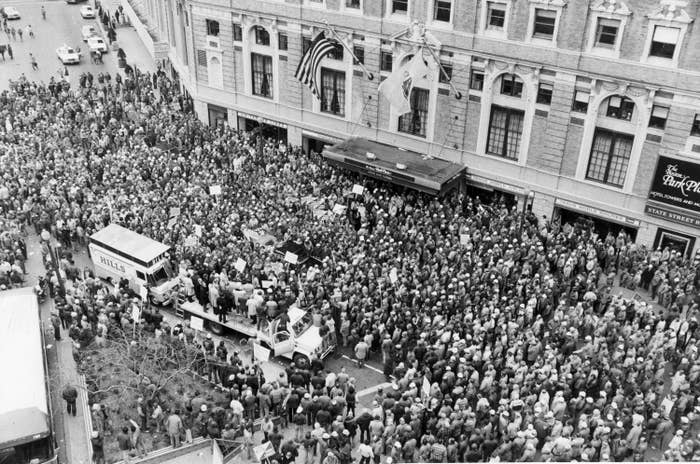 "I think it is a kind of pushback against a sense of growing inequality of power and resources," professor and labor historian Joshua Freeman said. "The disparities between those on top and everybody else have gotten so out of control."
Unions, Freeman explained, have historically been one of the primary methods people used to improve their conditions and increase their power relative to their employers.
On top of that, as per the Gallup survey, the "low unemployment rate that developed during the pandemic altered the balance of power between employers and employees," which created an environment that fostered union membership.
The pandemic and growing inequality seemed to have pushed many Americans to reconsider their relationships with their employers.
"I think COVID has been the leading push to people reaching out and saying we need a union as well."
"Being frontline and seeing the impacts of COVID and the lack of general safety procedures around the country … people thought they had protections, and they didn't," said Joe Crane, the national organizing director for the Doctors Council, the nation's oldest union of attending physicians. "I think COVID has been the leading push to people reaching out and saying we need a union as well."
Leading up to and during the pandemic, many workers began thinking more about "how the system delivers and doesn't deliver," said Ellen Dichner, a labor attorney and lecturer at the City University of New York. "I think they began looking at unions, which are the only institution in this society that potentially has leverage with employers."
Not only did the pandemic expose the need for more worker protections, but the recent wave of unionization efforts appears different from actions in the past.
In April, an independent worker-led labor union won the first-ever US union at a 6,000-employee Amazon warehouse on Staten Island, New York, inspiring more grassroots efforts.
"During the pandemic, we were forced to be essential workers; we had to come into work and risk our lives for a paycheck just to feed our families," said 33-year-old Derrick Palmer, the cofounder and vice president of the Amazon Labor Union.
"The way we dress, act, we're just regular people," Palmer added. "I think approval of unions will continue to grow. The Amazon Labor Union is growing, with facilities organizing in Albany and California. I don't see this being a temporary trend."
The current political climate also helped contribute to the new wave of labor organizing, with President Joe Biden vowing in December 2020 to be the "most pro-union president you've ever seen."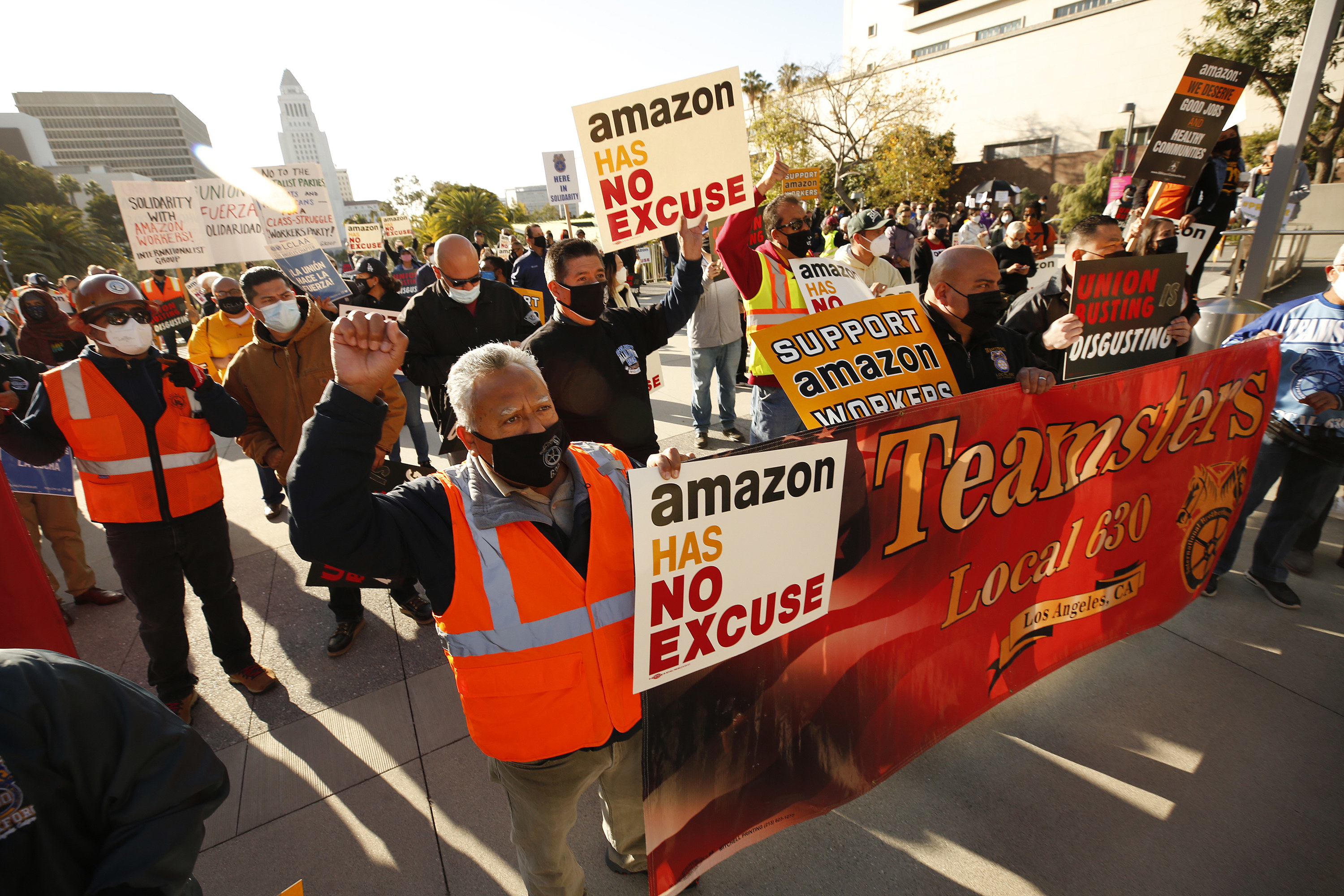 In May of this year, Biden met with Chris Smalls, the leader of the Amazon Labor Union, and voiced his support for the effort.
But even though union approval ratings are at a 57-year high, membership remains low, with data from the National Labor Relations Board showing that just 10.3% of workers in the US are members of unions compared to 20% in 1983.
So, why are the membership numbers so low if public opinion is so high? One reason may be that forming a union in the United States is no easy task.
"There are huge obstacles in the United States to actually forming a union and engaging in collective bargaining," labor historian Joshua Freeman said.
In the past year, the National Labor Relations Board has accused both Starbucks and Amazon, among other corporations, of union busting in the form of surveilling, threatening, and firing workers who were engaging in union activity.
"Employers have a lot of money, and they throw a lot of money at these anti-union campaigns," Dichner said. Not only can it be tough to form a union, "but when people try to unionize, they often face retaliation. They can face a lot of fear and threats on the job."
Despite the low membership numbers, Dichner said she is more optimistic about the labor movement now than she has been in her many decades of being a labor lawyer.
One reason is that although overall union membership remains low, there's an increasing percentage of young workers (aged 25 to 34) becoming members.
From 2019 to 2021, the number of young union members rose from 8.8% to 9.4%, according to the Federal Bureau of Labor Statistics. In addition, around 77% of young adults between 18 and 24 have said they support labor unions, as reported in a Gallup survey from September last year.
"For workers under 35, a lot of them when they came into the labor market, they were either facing the Great Recession or they were facing the pandemic."
"For workers under 35, a lot of them when they came into the labor market, they were either facing the Great Recession or they were facing the pandemic," Hayley Brown, president of the Nonprofit Professional Employees Union, said.
Brown pointed to studies showing that young workers covered by union contracts earn more money than their nonunion counterparts and are more likely to have health and retirement benefits.
"For the first time in our nation's history, many young people are worse off than their parents," said 18-year-old Jack Lobel, communications director at Voters of Tomorrow, a nonprofit organization representing Gen Z'ers in politics and government.
"As Americans face the rising cost of healthcare, food, housing, and college education, we as young people are one of the hardest-hit groups," Lobel said. "That's why unions can be crucial for us."
For Sean Wiggs of Gen-Z for Change, a youth-led nonprofit that promotes civil discourse and political action, having young people as the face of these new union drives is only going to increase interest in unionization.
"When we see young people leading this movement, a lot of other young people say, 'Hey, this person is my age … and if this person could lead a labor movement at their store and get an election at their store, why can't I at my store?'" Wiggs said. ●