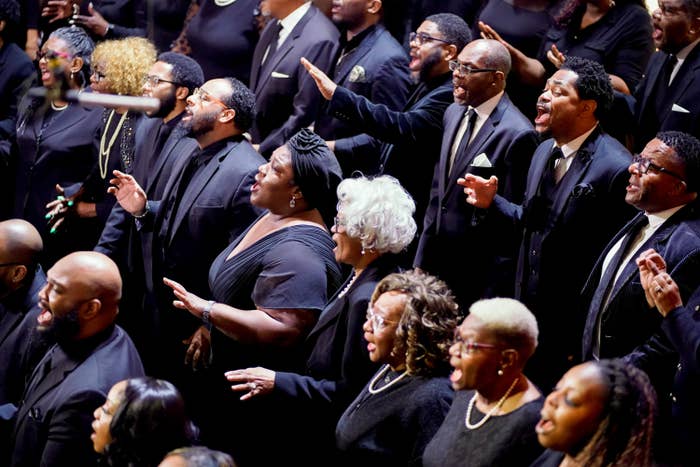 Tyre Nichols, who died three days after being beaten by police officers in Memphis, was remembered at this funeral service Wednesday as "a beautiful soul" as hundreds of mourners packed Mississippi Boulevard Christian Church.
The death of the 29-year-old, and video footage of cops beating him during a traffic stop, once again spurred national outrage and discussions about police brutality, particularly involving Black men such as Nichols.
The Rev. J. Lawrence Turner, a senior pastor at the church, described Nichols as "a good person, a beautiful soul, a son, a father, a brother, a friend, a human being, gone too soon." Nichols, he added, was "denied his rights to life, liberty and the pursuit of happiness...denied the dignity of his humanity, denied the right to see the sunset another day."
"As Memphis demands justice, and as our nation awaits justice, family, we're praying for you," Turner told the crowd.
Since the incident, five Memphis police officers involved in the arrest and beating have been fired and charged with second-degree murder, aggravated assault, aggravated kidnapping, and official misconduct. The unit they were a part of has also been disbanded.
A few days ago, a sixth officer who was involved in the incident was suspended pending an investigation. Two emergency medical workers who treated Nichols at the scene were also fired, along with a fire truck driver who was at the scene.
"We have come with heavy hearts that can only be healed by the grace of God, full transparency, accountability, and comprehensive legislative reform," Turner said.
Tiffany Rachal, the mother of Jalen Randle, a 29-year-old Black man who was fatally shot by a Houston police officer last year, offered her condolences to Nichols's family and performed a gospel song.
"All of the mothers all over the world need to come together, need to come together to stop all of this," she said.
In attendance on Wednesday was Nichols's family, along with the Rev. Al Sharpton, civil rights attorney Ben Crump, Vice President Kamala Harris, director Spike Lee, as well as several relatives of George Floyd, Breonna Taylor, Eric Garner, Botham Jean, and other victims of police violence.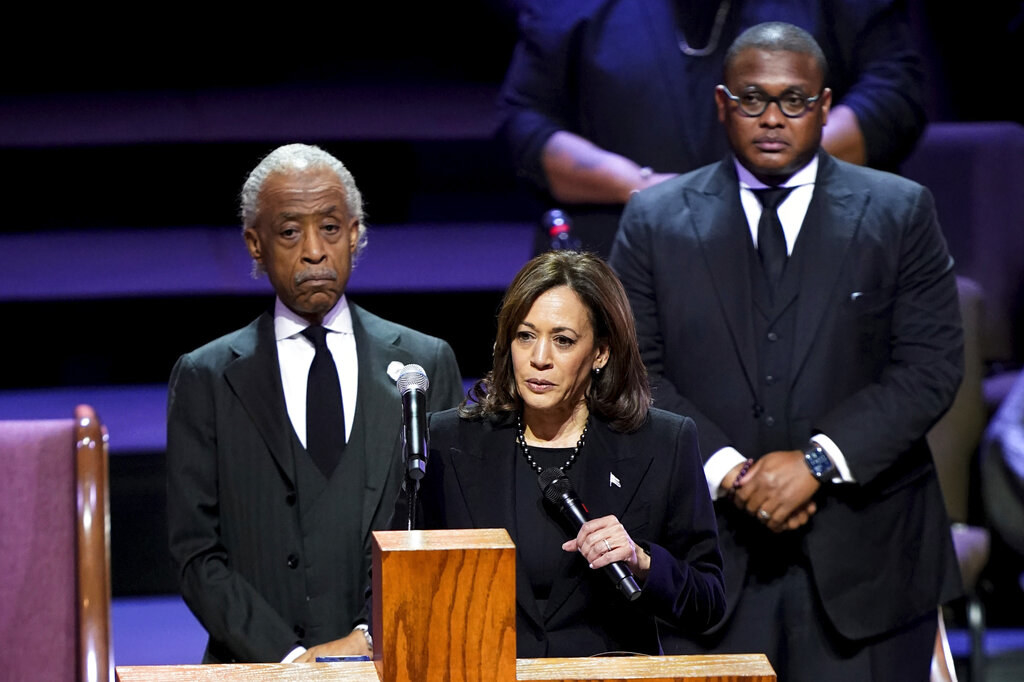 "Mrs. Wells, Mr. Wells, you have been extraordinary in terms of your strength, your courage, and your grace," Harris said in referring to Nichols's parents. "We mourn with you, and the people of our country mourn with you."
Harris condemned the police brutality and violence that led to Nichols's death.
"This violent act was not in pursuit of public safety," she said. "Was he not also entitled to the right to be safe?
"Tyre Nichols should've been safe," she added.
During her speech, Harris called on Congress to pass the George Floyd Justice in Policing Act, which aims to increase accountability for law enforcement misconduct, as well as ban chokeholds and no-knock warrants in certain cases.
"We should not delay, and we will not be denied, it is nonnegotiable," Harris said, adding that "Joe Biden will sign it."
The eulogy was delivered by Sharpton, who called out the Black officers involved in Nichols's death.
"In the city that Dr. King lost his life, not far away from that balcony, you beat a brother to death," Sharpton said. "There's nothing more insulting and offensive to those of us that fight to open doors than you walked through...and act like the folks we had to fight for to get you through them doors.
"You didn't get on the police department by yourself... people had to march and go to jail," Sharpton added. "Some lost their lives to open the doors for you. And how dare you act like that sacrifice was for nothing."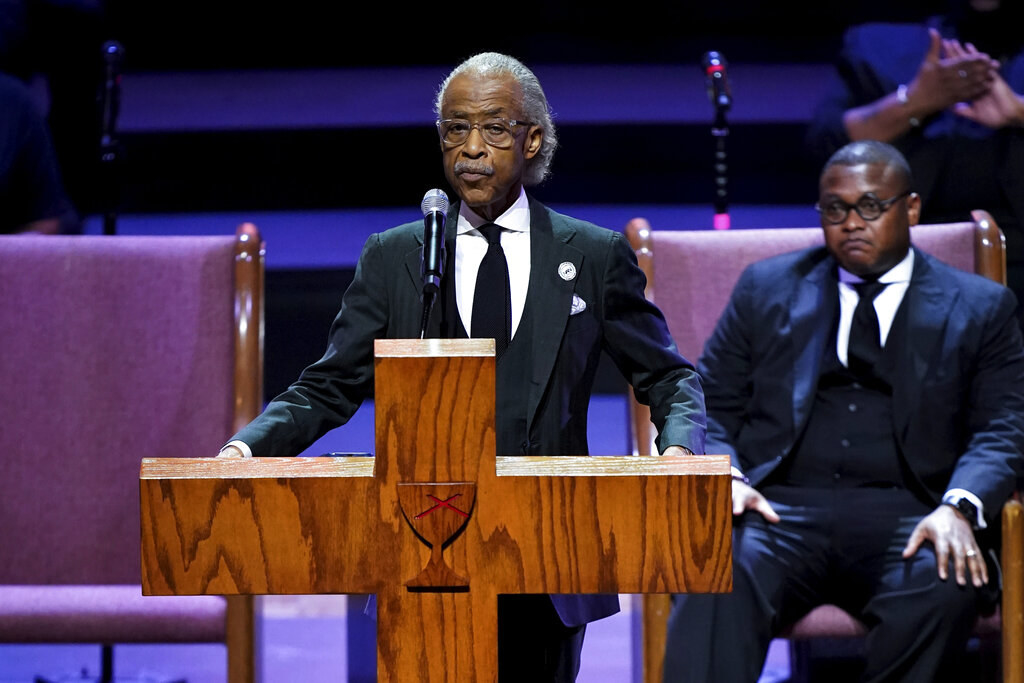 Sharpton added that he believes if Nichols had been white, "you wouldn't have beat him like that."
All Nichols wanted to do was "get home," Sharpton said.
"Home is not just a place... Home is not just a physical location," he said. "Home is where you are at peace. Home is where you don't have to keep your dukes up. Home is where you're not vulnerable. Home is where everything is all right."
One of Nichols's sisters, Keyana Dixon, told the crowd that when she heard the news, she cried and lost her faith.
"My cries turned to anger, and anger turned to deep sorrow. And a pain I never felt when those monsters murdered my baby brother and left me completely heartbroken," Dixon said. "I see the world showing him love and fighting for his justice, but all I want is my baby brother back."
Other members of Nichols's family spoke, including his brother, stepfather, and mother.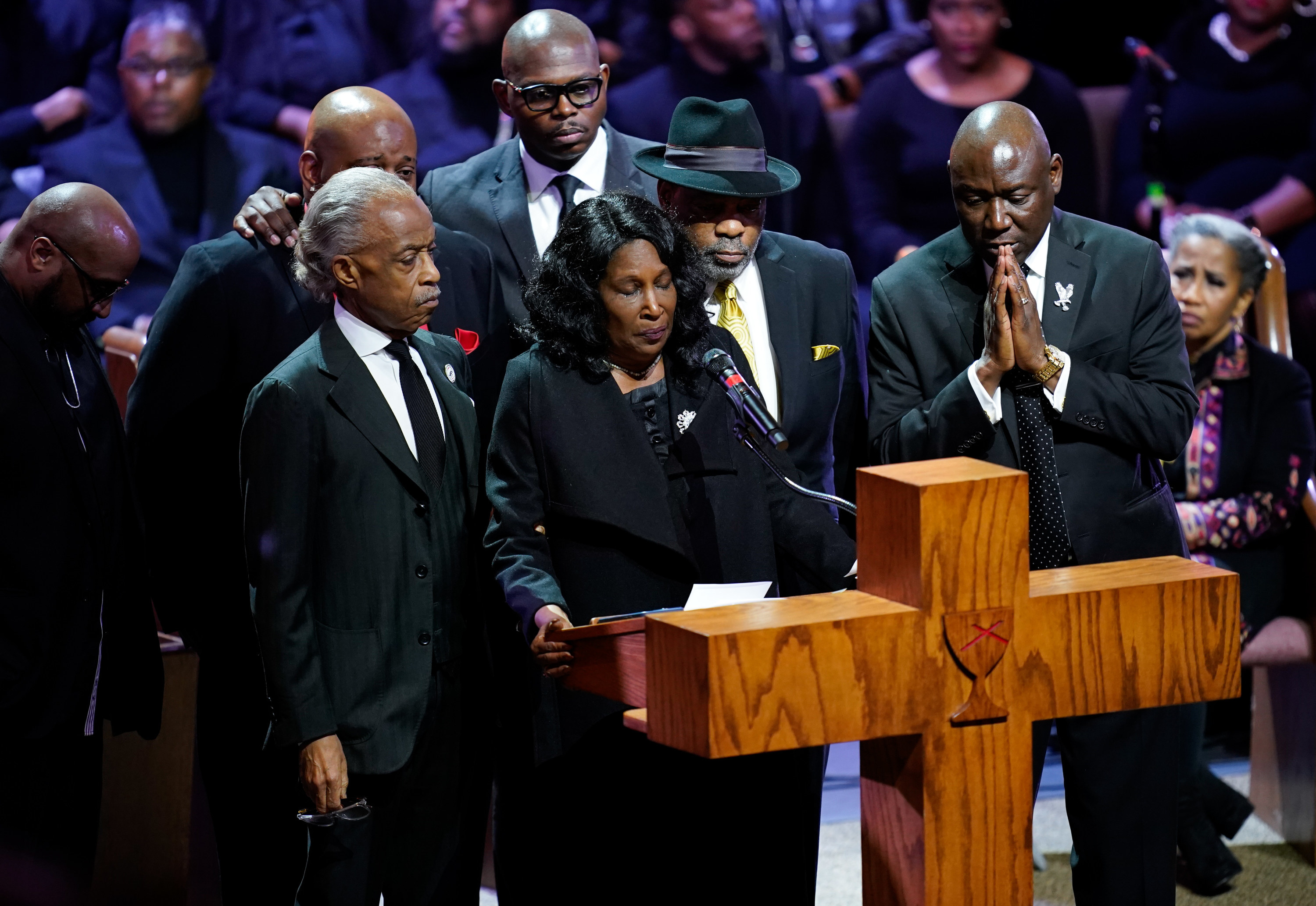 "We have to fight for justice. We cannot continue to let these people brutalize our kids," Nichols's stepfather, Rodney Wells, said. "What's done in a dark will always come to the light, and the light of day is justice for Tyre, justice for all the families that have lost loved ones to brutality of police or anybody."
"Tyre was a beautiful person, and for this to happen to him is just unimaginable," Nichols's mother, RowVaughn Wells, said, adding that the only thing keeping her going is that fact she believes that Nichols was "sent here on an assignment from God," and that now, "his assignment is done. He's been taken home."