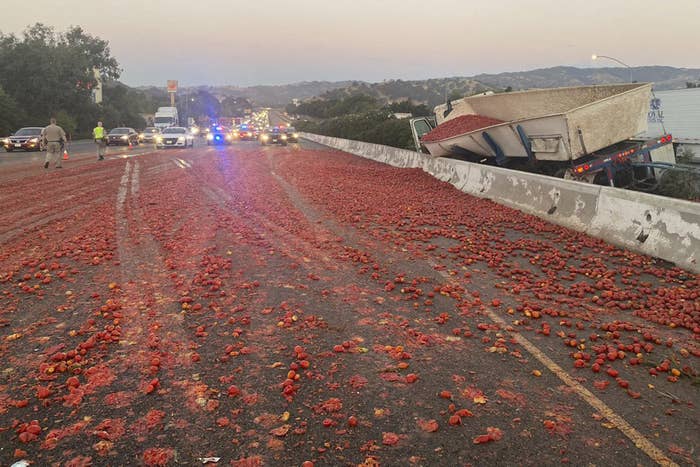 A delivery truck spilled thousands of tomatoes across a highway in Northern California on Monday after colliding with another vehicle and crashing into the center divider.
Three people were injured in the crash, which took place on the westbound lanes of Interstate 80 just after 5 a.m. in Vacaville. California Highway Patrol Officer Jason Tyhurst told BuzzFeed News that when the truck crashed against the center divider, the tomatoes spilled onto the eastbound lanes.
"The cars driving eastbound came upon a sea of tomatoes," he said. "They started to get stuck, and it caused a chain event."
Four vehicles crashed on the eastbound side, and three others crashed in the westbound lanes. Three people were taken to the hospital, including the truck driver, who had minor injuries, and two people from another car, one of whom complained of pain and another who had a broken leg, Tyhurst said.
Drivers were advised to avoid the area while the California Department of Transportation cleaned up. The eastbound lanes fully reopened six hours after the crash.

California produces more than 90% of the country's processed tomatoes and almost half of global processed tomatoes. According to the California Tomato Growers Association, trucks like these typically carry up to 50,000 pounds of tomatoes, equal to around 300,000 tomatoes.
Tomatoes spilling from trucks on country roads in the area isn't unusual, Tyhurst said, but the scale of this crash, and its location on a major highway, was unforgettable. "I've been on many calls like that," he said. "This one just messed up traffic the worst."