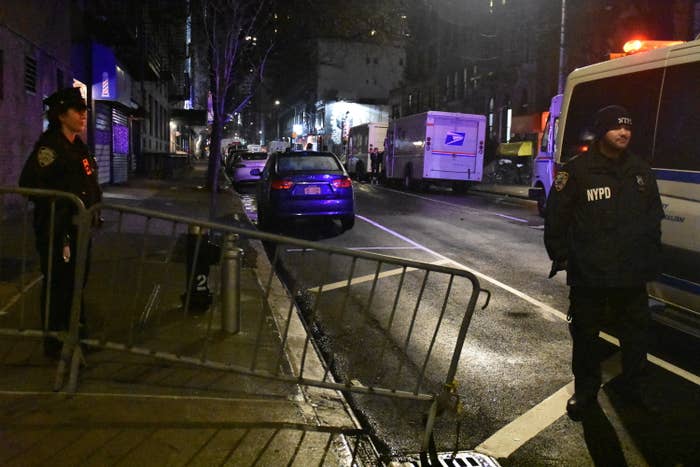 The 19-year-old man who was accused of attacking three police officers with a machete in Times Square on New Year's Eve is facing federal terrorism charges, the Justice Department announced on Tuesday.
Trevor Thomas Bickford has been charged with four counts of attempted murder in connection with his "efforts to wage jihad by killing US Government officials and his knife attack on three NYPD officers in Times Square," the Department of Justice said in a news release.
Each charge carries a maximum sentence of 20 years behind bars, and the charges carry an aggregate potential sentence of 80 years in prison.
The complaint, released by the Department of Justice on Tuesday, states that Bickford is currently in state custody and will be transported to and presented in Manhattan federal court at a later date to face the federal charges.
The Department of Justice alleges that in summer 2022, Bickford began "accessing and consuming materials espousing radical Islamic ideology," including materials promoting the Taliban and "reflecting the teachings of Abu Muhammad al-Maqdisi, a prominent radial Islamic cleric who was a spiritual mentor of al Qaeda."
During the following months, the complaint alleges that Bickford radicalized and devoted himself to "violent Islamic extremism and waging jihad."
By November 2022, prosecutors say Bickford was interested in traveling to the Middle East to support the Taliban and even took steps toward traveling to Afghanistan to ally himself with the Taliban and work with them.
"Bickford dedicated himself to the mission of waging jihad against officials of governments that he believes are anti-Muslim, including the US Government," the statement reads. He even allegedly told a family member that he wanted to travel to the Middle East so that he could be a suicide bomber for his religion.

The teenager from Wells, Maine ultimately decided he would not travel overseas. Instead, he decided to "wage jihad against the US Government from within the United States," the complaint alleges.
Prosecutors say Bickford traveled from Maine to New York City in late December to carry out the attack on New Year's Eve. On the night of the attack, the complaint alleges that he went to Times Square to kill US government officials and was armed with a large curved knife similar to a machete, known as a kukri.

Bickford wounded three officers on New Year's Eve. The officers suffered lacerations and other injuries.
Prosecutors also stated that a bag that Bickford brought with him to Times Square contained a book by al-Maqdisi — which "encourages followers to wage jihad against disbelievers and governments ruled by disbelievers" per the complaint — as well as Bickford's journal.
An entry from his journal from the night of the attack states, "this will likely be my last entry."
A second bag he was carrying allegedly contained a book espousing violent Islamic extremism with certain parts highlighted, such as "Fight in the Name of Allah and in the Cause of Allah. Fight against those who do not believe in Allah. Wage a holy war."
According to prosecutors, Bickford intended to die in the attack. The complaint states that Bickford views this attack as unsuccessful because he did not kill any officers and did not die himself.