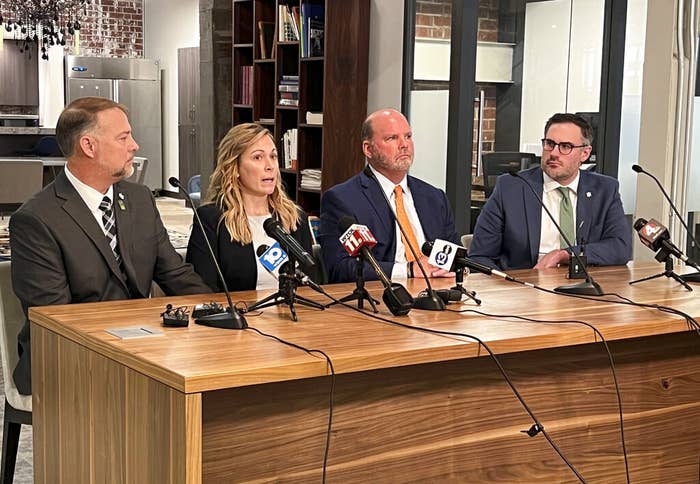 The family of a Bowling Green State University student who died from alcohol poisoning in 2021 while pledging a fraternity announced on Monday that they had reached a settlement with the school.
On March 4, 2021, 20-year-old Stone Foltz died after attending an off-campus fraternity initiation event where he and other Pi Kappa Alpha pledges were given a bottle of liquor each and told to consume all of it, per a university investigation.
"The Foltz family and Bowling Green State University are forever impacted by the tragic death of Stone Foltz," Foltz's family and Bowling Green State University said in a joint statement released on Monday. "This resolution keeps the Foltz family and BGSU community from reliving the tragedy for years to come in the courtroom and allows us to focus on furthering our shared mission of eradicating hazing in Ohio and across the nation. Leading these efforts in our communities is the real work that honors Stone."
After the fraternity event, Foltz was found unconscious in his apartment by his roommate and was not breathing when first responders arrived. He was taken to a hospital and died three days later.
The coroner's office ruled Foltz's death accidental, citing fatal alcohol intoxication with a blood alcohol content of 0.35 — more than four times the legal limit.
The Foltz family filed a lawsuit against the university in 2022, seeking a minimum of $50,000 in damages.
According to the Associated Press, the family will receive nearly $3 million from the university for the settlement. This is on top of the more than $7 million in payouts that were made to Folz's family by the Pi Kappa Alpha fraternity and those who had a role in the hazing, per AP.
Eight former fraternity members involved in the event faced charges, including involuntary manslaughter, hazing, and tampering with evidence, in the death of Foltz. They all either pleaded guilty or were found guilty on various charges, which ranged from reckless homicide to hazing and giving alcohol to a minor.
As part of the settlement announced on Monday, Bowling Green State University and Foltz's family have said that they will work to address and put an end to hazing on college campuses across the US.
Foltz's parents started a foundation, IamStoneFoltz, which is focused on "educating both parents and students on the hazards of hazing," according to its website.
Since the incident, Bowling Green State University hired a hazing prevention coordinator and put steps in place to make it easier for students to tell the school about hazing. A new state law was also passed in Ohio that created tougher criminal penalties for hazing.
The university also expelled Pi Kappa Alpha and said that it would never be recognized on campus, the AP reported.