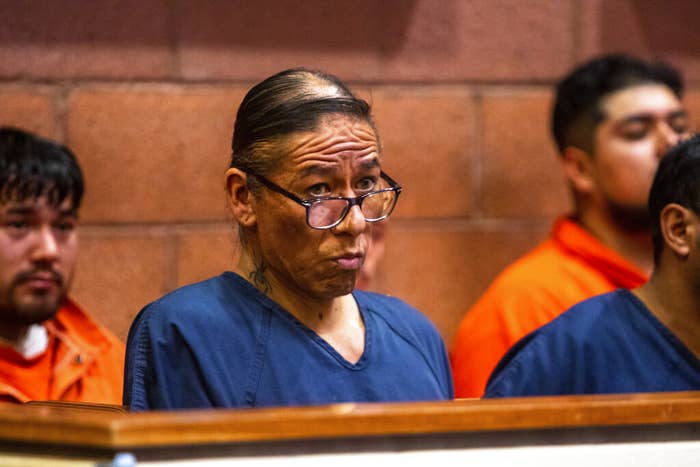 Federal prosecutors filed charges against Dances With Wolves actor Nathan Chasing Horse on Wednesday, adding to the list of sexual abuse and sexual assault charges he is already facing in county court after being arrested in Nevada last month.
On Wednesday afternoon, federal prosecutors charged Chasing Horse with two counts of sexual exploitation of children in connection with incidents that occurred in 2015 and 2016, as well as one count of possession of child sexual abuse materials from earlier this year.
The complaint, obtained by BuzzFeed News, alleges the former actor filmed sexual assaults of children and that in several of the video files reviewed by authorities, he sexually abused the minors.
The document alleges that Chasing Horse did "employ, use, persuade, induce, entice and coerce" two minors "to engage in sexually explicit conduct for the purpose of producing any depiction of such conduct, knowing and having reason to know that such visual depiction would be transported or transmitted."
Authorities added that some of the video footage found depicted an "incident of Chasing Horse engaging in sexually explicit activity with a juvenile female" and that the age of the individual appeared to "vary between the estimated ages of 10 to 15."
The complaint also alleges that he also knowingly possessed a "book, magazine, periodical, film, videotape, computer disk, and other material that contained an image of child pornography."
The federal charges come just weeks after Chasing Horse was arrested by Las Vegas police and days after he was charged in state court with eight felonies, including sexual assault against a child younger than 16, sex trafficking, and child abuse.
Chasing Horse's attorneys did not immediately respond to a request for comment about the charges.
On Wednesday, a state judge granted a $300,000 bail to Chasing Horse, who had been in custody in Las Vegas since Jan. 31, when he was arrested at his home, which he allegedly shares with multiple wives.
According to a search warrant obtained by the Associated Press, Chasing Horse is alleged to be the leader of a cult known as "The Circle" and has been under investigation for months since the police received a tip in October 2022.
The document reportedly states that Las Vegas police have identified at least six alleged victims and uncovered sexual assault allegations against him dating back to the early 2000s.
Earlier this week, it was reported that Canadian police would also be pursuing a criminal case against the former actor for alleged sexual assault that they say occurred in 2018.
In a statement sent to BuzzFeed News on Thursday, a spokesperson for the Royal Canadian Mounted Police said that an unendorsed warrant has been issued for the arrest of Chasing Horse in Canada and that he has been charged with one count of sexual assault that dates back to 2018 or earlier. The warrant was issued on Feb. 2, they said.
Chasing Horse entered the spotlight after playing the role of a young Sioux tribe member, Smiles A Lot, in the 1990 Oscar-winning film Dances With Wolves.
Per the arrest warrant obtained by the Associated Press, Chasing Horse gained a reputation among tribes across the country and was referred to as the "Medicine Man" and "Holy Person" as his followers believed he could communicate with higher powers. The warrant states that he used this as a tool to sexually assault young girls on several occasions.
Chasing Horse will appear in court again in Nevada on Feb. 22 for a hearing on the state charges. It is unclear when he will appear in federal court.