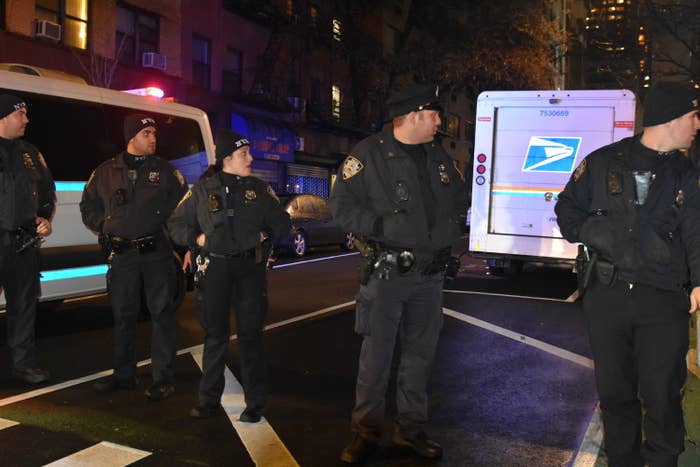 A 19-year-old man accused of attacking three police officers with a machete in Times Square on New Year's Eve was arrested on Monday on attempted murder charges.
The suspect, Trevor Bickford, has been charged with two counts of attempted murder of a police officer and two counts of attempted assault.
On Saturday night, at approximately 10:11 p.m., police say that the suspect tried to attack an NYPD officer in the head with a machete and then struck two other officers before one of them shot the man in the shoulder.
One officer suffered a laceration to the head, and another had a skull fracture.
The suspect was taken into custody, and all three officers and the suspect were sent to a local hospital to treat their injuries. In a news conference on Sunday morning, New York City Mayor Eric Adams confirmed that the officers had been released and were returning home.
"Three officers were attacked," he said. "They were doing their jobs, the jobs and members of the New York City Police Department and other first responders and law enforcement officers due every day."
"All three of the officers are in stable conditions, and there are no critical threats to New Yorkers at this time," the mayor added.

While the suspect's motives are still unknown, authorities are reportedly investigating whether he was inspired by radical Islamic extremism. Law enforcement officials have said that his mother and aunt recently notified them about their concerns that he had been radicalized online, and a police source told CBS2 that the suspect was recently placed on an FBI terror watchlist. He has no prior arrests.
FBI Assistant Director in Charge Mike Driscoll said that the bureau's Joint Terrorism Task Force is working with the NYPD on the investigation to determine the nature of the attack.
Investigators believe that Bickford traveled to New York City on an Amtrak train on Dec. 29 from Maine. They are looking into whether he came explicitly to carry out this attack at one of the biggest New Year's celebrations in the world.
At the scene, police found the weapon and the suspect's backpack, and according to CNBC, investigators found a diary that indicated that the suspect was on a suicide mission.
On Sunday, FBI agents searched the suspect's home in Maine. The investigation is still ongoing.